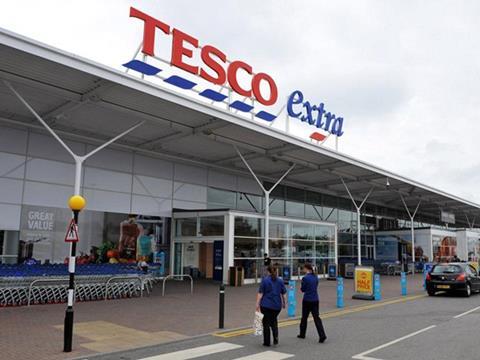 Tesco has followed Aldi in committing to end the sale of eggs sourced from caged hens by 2025.
The retailer said it had come to the decision to phase out eggs from enriched colonies after a "detailed review of its egg sourcing strategy". It comes after it was presented with a 300,000 strong petition against the sale of caged and barn-kept hen eggs by a 14-year old schoolgirl in May.
Tesco currently sources some 43% of the 1.4 billion eggs sold each year come from caged hens, with 57% sourced from free range or organic farms.
It would now begin transitioning to alternative sources, said commercial director for fresh food Matt Simister, who added the 2025 deadline would give suppliers certainty to make investment in new farming systems.
"Our decision on caged hens is one of a number of initiatives designed to ensure sustainable sourcing, and improve animal welfare," he said. "We carried out an extensive and collaborative review with our suppliers and key industry experts to help us work through how best we can move to 100% cage-free eggs."
Sheffield schoolgirl Lucy Gavaghan hit the headlines earlier this year over her petition, and the call for a "compromise between animal welfare and customer affordability".
After meeting the schoolgirl, Tesco told The Grocer she had raised some "important issues" but it stressed all of its food was produced in line with "high animal welfare and food quality standards".
The change in sourcing policy was welcomed by Tesco's largest egg supplier Noble Foods. "We have already started investigating new methods of egg production, and the commitment from Tesco to move away from enriched colony production in a manageable timeframe gives us the confidence and ability to invest for the long term," said MD Veli Moluluo.
It follows a similar commitment by Aldi in May to phase out caged hen eggs across its UK and Australian estates by 2025.
Waitrose, M&S, The Co-op and Sainsbury's are currently the only major UK supermarkets to sell 100% cage-free shell eggs. Asda's parent Walmart has also committed to end their sale by 2025, although Asda itself is yet to commit.