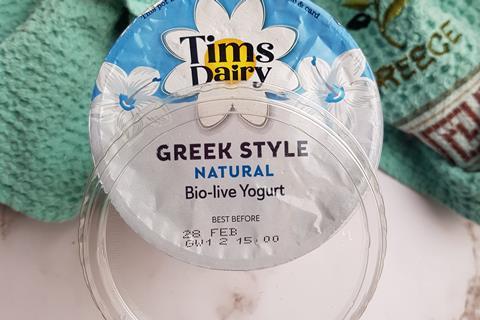 Tims Dairy is removing plastic lids from big pot 450g and 500g yoghurts.
The family-owned yoghurt producer trialled the removal of the lids on its Greek-style kefirs, which were launched without them in October 2020. It said consumers had embraced the change.
Tims is also offering suggestions on what to use instead, including transferring leftover yoghurt to a reusable tupperware tub, using a natural clingfilm beeswax replacement, a silicon stretch lid or saving a plastic lid before they are removed.
"We formed a 'green pot' committee three years ago to look at every aspect of our operation in terms of sustainability. We already use previously recycled plastic and card for our pots and sleeves and now we have taken a further step to reduce the use of single-use plastic by removing the plastic lids from our big pot yogurts," said Chris Timotheau, Tims MD.
"Our wonderful consumers and stockists have wholeheartedly embraced the idea with our big pot kefirs, and it is a natural extension to run this out across the retail range. We are also looking to help consumers with alternatives to the lids if they feel they need one," added Timotheau.
Tims yoghurts are made with 100% recycled and recyclable PET pots.