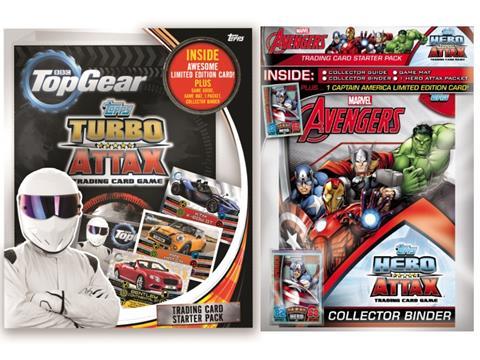 Topps has added Top Gear and a new Marvel Avengers set to its Attax collectible trading card game range
More than 200 collectable cards featuring heroes and villains from cartoon show Avengers Assemble will be available, with cards from upcoming Marvel movie 'Avengers: Age of Ultron' appearing in selected packs.
"With all the favourites such as Iron Man, Captain America, Thor and Hulk battling against the villainous Cosmic Skull, Ultron, Chitauri and Loki, the latest Marvel Avengers Hero Attax trading card collection is sure to satisfy fans,"said Louise Ramplin, Topps entertainment marketing manager. "With the excitement surrounding the upcoming movie release, we anticipate this latest edition to our Attax series of trading card collections to be a huge success at retail."
The company has also launched its first ever Top Gear Turbo Attax trading card game.
Available now, the series of 200-plus trading cards include pictures of 'cool' cars as well as hosts Jeremy Clarkson, Richard Hammond, James May and The Stig.
Starter packs for both games cost £4.99, while a pack of eight cards costs £1.