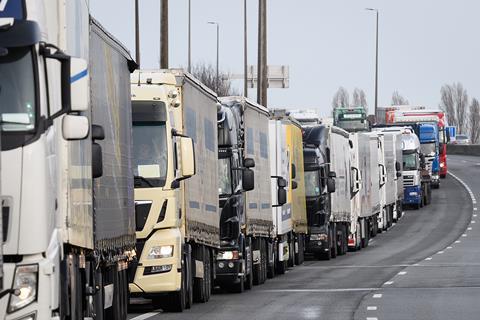 The UK plans to revive its no-deal Brexit border plan to avoid traffic chaos in January, regardless of whether or not it reaches a free trade agreement with the EU.
The government said it would reactivate 'Operation Brock', a traffic management system designed for thousands of lorries to park up on motorways across Kent in the event of tailbacks at the border. The system was first designed as part of no-deal planning last year.
The Department for Transport launched a month-long consultation on the plans on Tuesday, suggesting "any delay due to the new checks could be exacerbated by low levels of trader and haulier readiness".
Although disruption at the cross-Channel ports "is not inevitable", it was "prudent to assume that overall border readiness could be at levels similar to those anticipated for October 2019" when government analysis showed hauliers were poorly prepared.
The government said it believed disruption was "unlikely to extend much beyond the middle of 2021" but it would seek the powers for Operation Brock to run until the end of next October if necessary.
French authorities are expected to impose full customs checks from January, according to the document. There are concerns that trucks without the right paperwork could cause severe delays and disruption, and so failure to provide the correct documentation will lead to on-the-spot fines of £300. Trucks will also risk being held at port until the forms are provided, while their goods could be seized or destroyed, said the government.
Last month the Border Operating Model set out the full range of checks that businesses will need to comply with when trading with the EU. The government estimated there could be up to 400 million extra customs declarations per year, at a cost of £12.8bn to businesses.
Exporters will be required to pre-declare their shipments using the new 'Goods Vehicle Movement Service'. However, the system is still in development.