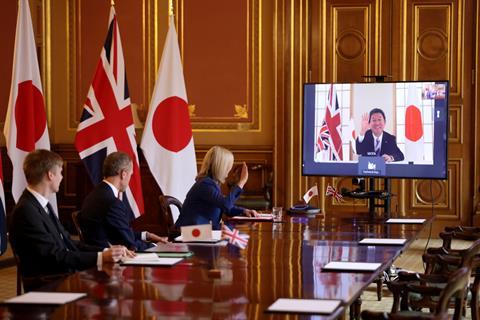 The UK has secured its first post-Brexit free trade deal with Japan.
Trade secretary Liz Truss and Japan's foreign minister Motegi Toshimitsu agreed the deal in principle today during an early morning video call.
It comes as trade talks between the UK and the EU appear close to collapse after Brussels threatened legal action over the UK's plans to undermine last year's Brexit treaty.
The deal with Japan largely replicates the existing EU-Japan free trade agreement, though with some enhanced access for UK food and drink.
Tariffs will be reduced on British agriculture products including pork, beef, and salmon, but despite reports the UK was pressing for greater access for British cheese, it will continue with the same access as while in the EU. Further market access, however, may be granted if the UK joins the Trans-Pacific Partnership, a trade bloc of 11 countries including Japan, Australia and New Zealand.
"This is a historic moment for the UK and Japan as our first major post-Brexit trade deal," said Truss. "Strategically, the deal is an important step towards joining the Trans-Pacific Partnership and placing Britain at the centre of a network of modern free trade agreements with like-minded friends and allies."
The deal includes liberalised 'rules of origin' which determine whether or not a product is produced 'locally' in the UK. The changes will make it easier for food and drink manufacturers to benefit from tariff-free exports to Japan.
Dominic Goudie, head of international trade at the FDF, said he was "delighted" to hear the deal was concluded. "We particularly welcome the additional flexibility this deal delivers in terms of rules of origin which are so crucial for our industry," he said.
The number of recognised UK geographical indicators will also rise from seven to potentially more than 70, giving better protection to goods such as English sparkling wine, Yorkshire wensleydale and Welsh lamb.
Further details of the agreement will be made clear when the full legal text is published in the coming weeks.