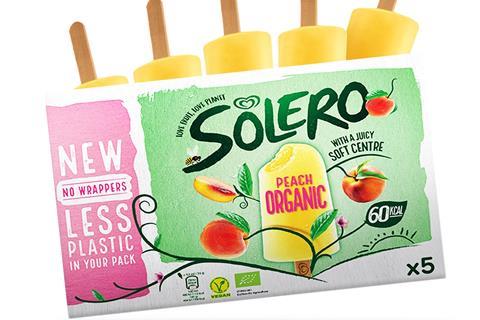 Unilever has axed its wrapper-free Solero ice cream multipacks after a trial, The Grocer can reveal.
The fmcg giant launched the packs, which were made from polyethylene-coated cardboard and contained five 'naked' wrapper-free ice lollies in individual slots, in June 2019, hailing them as the first-ever sustainable ice cream packaging of their kind.
At the time of the launch, Unilever said the innovation would cut plastic use by 35%.
But it had since decided it "wasn't the most sustainable way to solve the issue," Unilever VP for ice cream Andre Burger told The Grocer.
Wrapped versions are still available on supermarket shelves.
"One of the biggest challenges for fmcg is how we bring more sustainable sources of packaging with less plastic, better plastic, no plastic, so [Solero wrapper-free] was a trial we did to see how we could actually change the paradigm around plastic and packaging in ice cream."
He added Unilever was now looking at other areas for packaging.
"You have to be bold and push the barriers in terms of making people think differently, and unfortunately that wasn't scalable from a commercial point of view."
The brand was currently focused on exploring ways to make its wrappers that are technically recyclable "actually recyclable", Burger said.
Different brands needed different solutions, he added, "so there's a different work stream we're looking at now".
It comes amid a slew of sustainable packaging plays from the fmcg giant. Most recently, it redeveloped its Ben & Jerry's ice cream tubs to be 100% recyclable, replacing the plastic coating in the tubs with bioplastic.
It said this removed some 40 tonnes of plastic from the supply chain.