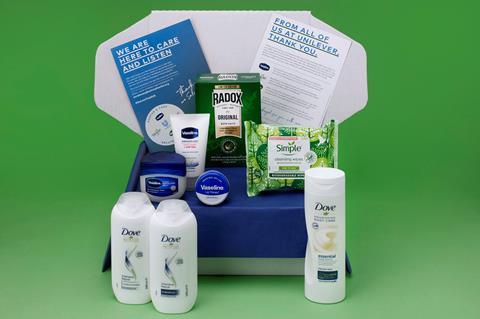 Unilever has partnered with Salute the NHS to donate 500,000 personal care packages to frontline staff.
It has created 'Soothe & Care' packages to be filled with products from its brands such as Vaseline, Dove, Radox and Simple.
They would "mean staff can wash themselves and care for their skin having spent their shift in uncomfortable PPE", said the fmcg giant.
General manager Sebastian Munden called the packs "a small gesture of appreciation, from all of us at Unilever, to NHS staff for everything they are doing".
Salute the NHS is a non-profit campaign working to support NHS key workers with their basic everyday needs to enable them to focus on fighting Covid-19.
It has so far partnered with key food, consumer, logistics, packaging and other specialist companies, such as Absolute Taste, which is preparing meals with food provided by Tesco.
Packs are then delivered to government-designated Covid-19 hospitals and the homes of self-isolating frontline workers.