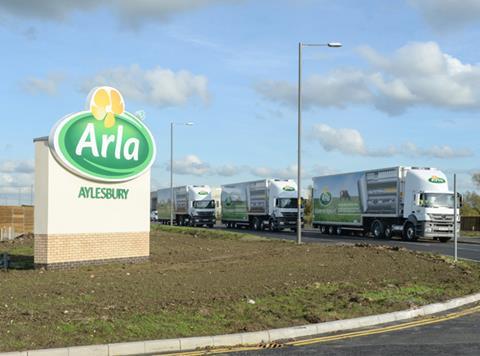 Arla Foods has announced a further cut in its farmgate milk price for members from 6 July, to reflect the continued downward pressure on dairy commodities.
The dairy co-op is reducing its on-account price by one eurocent per kg from next Monday. The cut translates to 77p when applied to a UK standard litre of milk, which – coupled with exchange rate adjustments of 41p – brings down its farmgate price for British farmers by 1.18ppl to 23.81ppl.
It means Arla has reduced its milk price by almost 8% since it increased it to 25.8ppl in April, which reflected a short-lived "upward trend" in markets.
Ash Amirahmadi, Arla's head of UK milk and member services, said the co-op was having to take "significant mitigating actions" due to the ongoing slump in commodity markets, despite a smaller reduction in the most recent Global Dairy Trade auction.
The impact of continued commodity price falls "had been felt on our traded business", he added.
"Unfortunately, these factors are affecting the entire dairy industry and despite our efforts it has not possible to buck the trend. I can confirm that our customers in the UK are supporting us at this very difficult time for our members," Amirahmadi said.
The current climate has also seen Arla reduce its farmgate price to the small amount of suppliers who are contracted to the business but not owners.
The 'direct' price for these suppliers will fall by 1ppl from 1 August, to 22ppl. Between 40-50m litres of milk are supplied to Arla through these arrangements each year.
The National Farmers Union described the cut as "another body blow to dairy farmers whose businesses have been in utter turmoil for the past 12 months, with 450 quitting dairy farming since this time last year in England and Wales".
NFU dairy board chairman Rob Harrison said the price cut reinforced the need for short-term solutions to address the factors affecting the global dairy industry. "Farmers need urgent help from industry and government," he warned, and called for them to insist on best practice in the supply chain, look at growing dairy consumption and support more investment in dairy processing in the UK.
"We also urgently need milk-buyers to be more transparent in pricing," he added. "Although there are a few clear formulas employed by milk processors, these are few and far between."
All dairy processors should improve transparency in pricing and "must stop idly following one another to the bottom; this is a dire situation and we need to see the dairy industry pull through this period of volatility," Harrison said.
"Government has a role here in insisting processors provide up-to-date market and production data so that the whole supply chain can better understand what's happening and how to manage risk in the future."