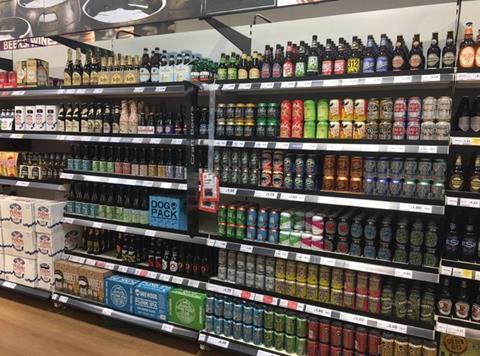 Craft brewers stocked in supermarkets could lose accounts with independents as they seek to differentiate themselves from the mults, retailers have claimed.
Bottle shops and other indies that buy craft beers in small volumes would not be able to compete with supermarkets on price for the same craft beer brands and were likely to delist them, according to Dom Thorpe, founder of craft beer distributor Sparetap.
"The supermarkets and global breweries would benefit from a reduction in craft's price point," he said. "The feeling among independents is that the gap will be too wide between supermarkets, who in some cases will likely sell to break even, compared with bottle shops with high rents and rates who buy in small volumes and charge a premium price."
This could lead to a split between "discount craft and premium craft", with bottle shops avoiding brands also found in supermarkets' aisles, Thorpe added. "The brewers I've spoken to are doubling down on a strong local distribution plan, building relationships with local suppliers and across the board are minimising their exposure to any business that could discount their brand."
Tesco, Asda and Morrisons have all revamped their BWS ranges since the start of the year to focus on craft and premium brews, with mainstream lagers and fruit ciders typically losing shelf space to make room for trendier booze.
"What this will do for us is potentially narrow our list. If we see a brewery going into the multiples, we will de-list. For example, when Stone Brewing Co went into Booths," said Adrian Norris, owner of Kendal bottle shop Kirkland News.
The mults were "gate-crashing the party", he added. "They don't come up with ideas, they steal ideas then run with it and make it cheaper."
In a blog post this week, Russell Bisset, owner of Northern Monk Brewery which is now listed in M&S and Morrisons stores, wrote: "Independent bottle shops and bars have been crucial to us and our growth and we remain committed to working with and developing products exclusively for them.
"We believe the more exposure progressive beer gets, the more everyone in our industry benefits, with craft beer in the UK currently far behind the US in terms of market share."
Northern Monk had created "a whole different product category" with its multipacks to help ensure its products in Morrisons did not compete with those stocked by independents, despite "being told to expect a much lower rate of sale" by selling in the format, he added.