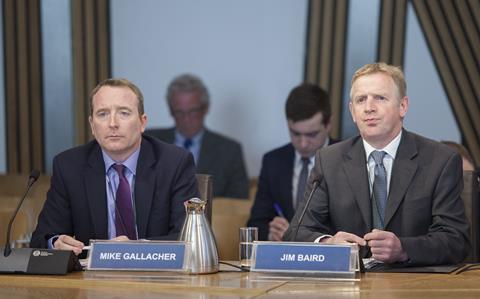 First Milk's new CEO, Mike Gallacher, has raised questions over the future of some parts of the business – including sports nutrition subsidiary CNP – as he battles to turn the dairy co-op around.
Giving evidence to The Scottish Parliament's Rural Affairs, Climate Change and Environment Committee today (28 May), Gallacher reiterated the need for First Milk to "focus on our core business", and cut costs.
He added First Milk had made efforts to premiumise parts of its business in the past but had not always been successful, with the likes of sports nutrition subsidiary CNP having been "dilutive to the performance of the business".
A spokesman for the dairy co-op subsequently told The Grocer that CNP's newly appointed interim MD, Paul Miley, was undertaking a strategic review of the company and working on a set of recommendations for its future, while its performance had "improved significantly" during the past few months. CNP was acquired by First Milk from former British body-building champion Kerry Kayes in 2012.
Gallacher and First Milk director Jim Baird were called in response to First Milk's announcement of a turnaround plan for the business earlier this month. The Committee expressed concerns that the plan "may threaten the sustainability and recovery of the dairy industry in Scotland".
Describing the state of the co-op when he joined it in March, Gallacher conceded the farmgate price First Milk had been paying its members had been "unacceptable", adding "we need to do better on milk prices".
However, he added First Milk was subject to the same market volatility as the rest of the dairy industry, and said he could not "forecast what milk prices will look like in six months".
He warned there was an "existential threat" to the UK dairy industry if current market volatility continued in the long term, and said First Milk undertook regular contingency work on the securing of milk volumes in case its members left the co-op or went out of business.
The pair were grilled by MSP Alec Ferguson over the lower-than-average milk price paid to farmers on the Isle of Bute, but Baird defended First Milk's position, saying it did not have the financial clout of rivals such as Arla.
Gallacher also hinted the First Milk board was looking into how it could capitalise on consumer desire for provenance with the introduction of more local dairy products. "We have discussed with our members on Kintyre and Bute about how to get products from that locality to consumers, and we will look to move that forward," he said.