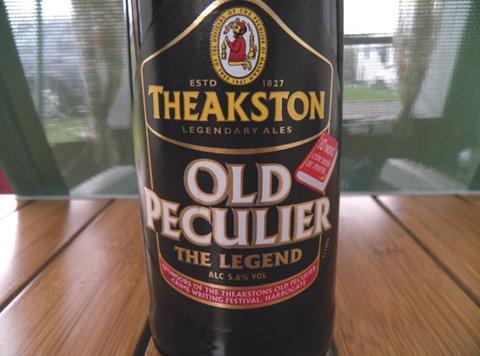 Yorkshire brewer Theakston is seeking a trademark for 'Lunatic's Broth' – the local nickname for its Old Peculier ale.
The business has applied for a class 32 trademark, which covers lager, ale, stout, porter and other beer styles, and a class 33, which includes wines, spirits, liqueurs and cocktails.
Theakston had no plan to launch a Lunatic's Broth beer, said executive director Simon Theakston, stressing the application was "a piece of internal IP housekeeping, relating to a long-established and humorous nickname given to one of our beers by local people, which we now use online in the context of a single item of heritage merchandise".
Branding alluding to mental health has proved contentious for the brewing industry. Cumbria's Eden Brewery invoked the wrath of the Portman Group for its Psycho beer range in November. A member of the public complained Eden Brewery had produced "a stigmatising product, which perpetuates negative stereotypes about mental health".
Prior to the complaint, "thousands of people had bought and enjoyed the product", said Eden Brewery MD Jason Hill at the time. "However, as a small, local business, we have been put in the position of having to make expensive and time-consuming changes to our labelling because of the concerns of one person."
The Portman Group's Independent Complaints Panel ruled that Eden's branding promoted "violent and aggressive" behaviour, and Eden withdrew the name.
"The codes that govern alcohol marketing in the UK prohibit, in any direct or indirect way, any association with violent and aggressive behaviour in the promotion of alcoholic drinks," said a Portman Group spokesman. "Producers in doubt about whether their marketing is in breach of these rules should contact the Portman Group's advice team as soon as possible."