Healthy snack bar launches are 10 a penny in today's competitive market. So what does it take to truly stand out from the crowd?
Talk about a crowded market! Seldom a day seems to pass without a new 'healthy' snack bar hitting shelves previously dominated by chocolate. No wonder confectionery's giants are paying attention. But standing out from the crowd and hitting sales targets is easier said than done.

See, consumers are a picky bunch. In December, we revealed Mars had pulled the plug on fruit & nut bar Goodness Knows after just 18 months on shelf. Mars said the brand, which hit sales of £6.7m following launch in July 2017 [Nielsen 52 w/e 8 September 2018], had not met its expectations.

So, what does the fate of Goodness Knows - Mars' first major UK launch in 20 years - tell us about this market? Why is so much of the growth coming from smaller brands such as Kind, Deliciously Ella and Pulsin? And why are sales of multinational-owned brands such as Belvita and Kellogg's tanking?

The interest from the big confectioners is understandable. Take-home sales of snack bars are up 7.1% on volumes up 3% [Kantar Worldpanel 52 w/e 2 December 2018], driven chiefly by health, nutrition and sports orientated brands that command a significant premium over the market average.

Meanwhile, the chocolate market is undergoing huge structural change. Chocolate is premiumising as consumption patterns change. Sharing it as a treat at the end of the day is on the up. Grabbing a bar and eating it on the hoof is becoming less popular. Value sales of chocolate grew 2% in 2018 but, crucially, volumes dipped 0.2% [Nielsen].
"We're definitely seeing a scalable shift from sweet snacking to healthier alternatives"
Chocolate brands that rely on sharing formats such as slabs and mixed assortments are driving that growth; those more reliant on traditional countlines are in trouble. Lindt Lindor saw volumes surge 16.1% and Mars Celebrations was up 6.5%; Kit Kat fell 8.9%, Mars 2.3% and Snickers 1.9%.

"We're definitely seeing a scalable shift from traditional sweet snacking to healthier snacking alternatives," says Steve Rich, commercial & marketing director at sports nutrition brand Sci-MX, quoting Nielsen numbers for the year ending December 2018.

"The number of consumption occasions in chocolate is declining as consumers chose healthier snacks with functional benefits. We also know the number of snacking occasions chosen for health reasons has increased by over a billion during the past five years. Sports nutrition bars have been growing faster than overall snack bars, up 41% in 2018."
Sport credentials
Indeed, bars defined by Kantar as 'sports and nutrition' are the fastest-growing part of the market, with take-home sales up 19.6% to £99.4m on volumes up 23.5%. Brands such as Sci-MX, Nakd and Trek all fall into this category. That all three have been acquired by larger companies in recent years - Sci-MX by Ginsters owner Samworth Brothers and Trek and Nakd owner Natural Balance Foods by Lotus Bakeries - is significant.

Acquisition seems the least risky strategy. For when the giants start creating their own offerings, things get trickier. "It's no longer enough to simply market a product as 'healthy' and expect consumer buy-in. This explains why even big brands such as Mars have failed to strike a chord with Goodness Knows," says Paul Chiappe, corporate & commercial partner at law firm Joelson.

"This creates space for innovative and nimble brands that can establish identities that fit the current zeitgeist without the weight of years of questionable at best or harmful at worst product offerings. In the M&A space, we can see clearly what's happening with biscuit and confectionery brands like Lotus Bakeries acquiring Nakd and Bear Nibbles, or the recent acquisition of Graze by Unilever."
"The number of snacking occasions chosen for health reasons has risen by over a billion"
There are plenty more examples of the big players' hunger for smaller healthier snacking brands. Last year Hershey's bought popcorn brand SkinnyPop for $1.6bn and PepsiCo snapped up vegan snack bar brand Health Warrior for an undisclosed sum. A year earlier Kellogg's bought sports-orientated protein brand RXBar for $600m. Many are betting on more M&A in the sector.

Goodness Knows' failure may be partly down to the fact that it wasn't actually that good for you (Hugh Fearnley-Whittingstall called the product out for containing more sugar and fat than a Kit Kat). But that was only part of its problem. Lessons can be learned from Nutella B-ready, the 115 calorie per portion chocolate spread-filled wafer launched by Ferrero in August 2017.

It's not just portion control that helped B-ready rack up £15.5m at the tills [Nielsen]. Ferrero forked out £1.9m on traditional advertising space for B-ready last year, making it the most heavily backed snack bar brand [Ebiquity]. Goodness Knows, meanwhile, doesn't even feature in Ebiquity's list of the sector's 10 biggest spenders, though these numbers do not include digital spend.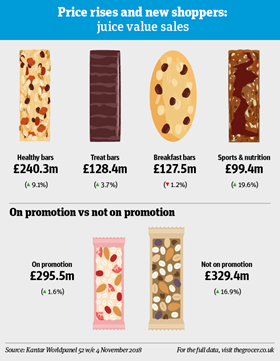 Ferrero customer development director Levi Boorer says multichannel marketing campaigns have been crucial to the success of B-ready. "We know that investing in our brands really works so will continue to back them in this way," he says.

US food giant General Mills' Nature Valley and Fibre One brands are also proof of the power of savvy marketing. Indeed, Fibre One and Nature Valley have grown 62.8% and 13.2% respectively over the past year, making them the market's strongest performers with combined growth worth £14.5m.

"Fibre One has been working closely with the UK's leading weight management groups," explains marketing manager Kat Jones. "This community is highly active on social media, spreading the word, and firmly establishing Fibre One as a leading permissible indulgence brand. This, along with our incredible NPD pipeline, has helped us to deliver significant growth."

Meanwhile, Nature Valley has benefited from the launch of Nut Butter biscuits aimed at the breakfast occasion, alongside its new protein bars. "Protein is a particular sales driver in convenience, with protein bars bought 0.5 times a week in the channel, predominantly as a snack," says Jones, quoting Him figures. "Nature Valley Protein cereal bars contain 10g of protein and are gluten-free - ticking two major boxes for shoppers looking for better for you, functional options."

Indeed, protein has been one of the defining trends of food and drink R&D in recent years. The pace of this protein-fortified NPD shows no sign of slowing (see our gallery of innovations for proof). Eat Natural shows how this innovation can pay off. "Our 'protein packed' bar is now our bestselling bar - because it tastes great and does you good too," says co-founder Praveen Vijh.

"Consumers are more health-conscious these days, hitting the gym or park before or after work. Eat Natural slots perfectly into the busy lifestyle - we are healthier than a traditional confectionery bar, but we're full of deliciously indulgent ingredients too."

Striking the balance between health, functionality and indulgence is crucial. "There is now a consumer expectation for snacks to deliver on several fronts; they want more natural ingredients, diverse flavours and obvious health benefits - such as providing a portion of fruit or vegetables, or a natural energy boost," says Natural Balance Foods marketing manager Marina Love-Smith.

"Research shows that around 40% of the UK population is actively looking to lead a healthier lifestyle by taking more time to exercise and turning to protein-rich snacks to help fuel their exercise and working day. In fact, nearly a third of all snacking occasions are chosen based on 'health'."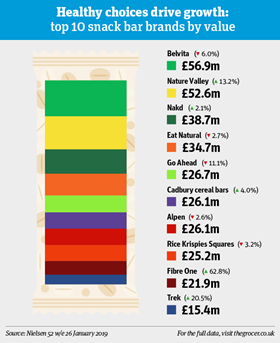 Permissible indulgence
That Nakd's most popular flavours include Blueberry Muffin and Lemon Drizzle proves that permissible indulgence is key. There are more such flavours on the way, says Love-Smith. "Our new salted caramel bar brings consumers hedonistic gratification while the new coffee & walnut bar encapsulates the crunchy nutty textures and bitter sweetness of the rich cake."

Then there's Bounce Energy Balls' new Unguilty Pleasures range, which comprises dark chocolate raspberry, dark chocolate and salted caramel variants. "Snacking is a part of everyday life and we often reach for something sweet," says Nick Morgan, Bounce's resident nutritionist. "Brands are increasingly looking to provide innovative and easy swaps for classic confectionery flavours, without compromising on nutrition."
"Brands are looking to provide innovative and easy swaps for classic confectionery flavours"
The growing list of products available under the Boka brand, which claims to be the first snack bar in Europe to achieve green traffic light front-of-pack nutritional ratings for fat, saturated fat, sugar and salt, reinforces the point. The range currently includes caramel and chocco mallow variants, with granola and sugar and fat-free marshmallows due for launch later this year.

The growth of such brands on the back of health, functionality and wholefood claims is hitting more traditional offerings hard. See the infographic above for the declines of Belvita, Go Ahead and Kellogg's Rice Krispies Squares. However, Mondelez trade communications Susan Nash says the latest data puts Belvita in growth and claims omens are good for the coming year.

"We're confident about continued positive momentum with the strong brand plans we have for 2019, including our upcoming 30% less sugar variant," she says, quoting Nielsen numbers for the year to the end of December. "In addition, Soft Bakes continues to be a massive success, growing at 41%, with Soft Bakes Blueberry NPD already growing to be the second-bestseller flavour in the Soft Bakes platform."

But as the growth in brands such as Pulsin (up 139.3%) and Deliciously Ella (up 144.9%) shows, you don't necessarily need big advertising budgets to carve yourself out a portion of this market. In fact, many say there are better ways of marketing to consumers.

"Here at Kind we question whether traditional advertising is the most effective way to communicate to audiences within better for you snacking," says marketing director John McManus. "In 2019, we'll invest the majority of our budget in direct consumer sampling. We believe we earn trust with consumers by interacting directly with them and sharing the Kind product principles and ethos."
"We believe we earn trust with consumers by interacting directly with them"
Matt Hunt, founder of The Protein Ball Co, is taking a similar tack. "This year we're planning a huge sampling drive," he says. "We will be targeting bloggers, journalists, fitness influencers, buyers and consumers at events around the country. We feel that sampling is our best possible form of advertising."

The big players are taking note. Mars has owned a minority stake in Kind since 2017, and has made sure the small brand stays true to its f0unding strategy. "Our partnership with Mars is centred on leveraging the best of both businesses," says UK general manager Damien Byrne. "Whilst staying close to Mars, Kind operates as a separate team in the UK, with dedicated resources."

This approach has enabled Kind to develop NPD at a blistering rate, while tapping into the multinational's well-established routes to market. In the past year, sales have grown 94.2% to £8.3m [Nielsen]. Byrne is confident the partnership with Mars will enable Kind to double its business in the UK for a third year.

Essentially, Mars is allowing the brand to act more like one of the smaller challengers that have disrupted and shaped the market in recent years. More evidence of the big players thinking like challengers can be seen in General Mills' launch of cult US brand Lärabar and Kellogg's quiet rollout of RXBar into gyms and Crossfit boxes rather than muscling straight into the mults.

The multinationals' appetite for such offerings will continue to grow. There's no shortage of likely targets for acquisition in this market. Some have suggested Primal Pantry or Pulsin could give larger players a leg-up in healthier snacking, but as yet no one will take a punt on what will be the next big deal.

Only goodness knows, you could say.
Innovations in snack bars 2019