Fairtrade products have boomed during the pandemic. But as a recession looms, will consumers continue to buy into ethics?
Fairtrade is booming. Since the pandemic hit UK shores, certified products have added 23% to their take-home value across the likes of hot beverages, booze and biscuits [Kantar 12 w/e 17 May 2020]
OK, so it's unlikely this was driven by a sudden appetite for ethical purchases. Rather, it reflects the initial panic buying in the run-up to lockdown and overall growth in grocery spend, driven by the closure of out-of-home venues. As shoppers raided the shelves, they probably weren't checking whether their coffee was fairly sourced.
Whatever the reason, though, those purchases could prove crucial. Because as Covid-19 continues to spread across the globe, it is more important than ever that businesses and shoppers back ethical trading. That's according to Catherine David, Fairtrade head of commercial partnerships, who says the pandemic has put enormous pressure on vulnerable supply chain farmers and workers.
Disrupted logistics have left exports such as coffee unable to move. And that's if farmers can produce the stuff in the first place. Fairtrade coffee exports from production countries fell 32% in April as local lockdowns made it more difficult to harvest crops, David says. Plus, there is the impact of coronavirus itself: "yet another deadly and infectious disease often in the context where there are already deadly and infectious diseases".
Hence David's entreaty for support. Yet consumer confidence is weak as the threat of a prolonged global recession looms. So will Fairtrade get the support it needs? Or will shoppers turn away from certified ethical goods, which typically carry a premium?
For now, the picture is overwhelmingly positive. Almost all areas of the Fairtrade market have experienced a rise in volume, bar confectionery.
"As soon as consumer confidence is shaken, they stop being picky and selective"
Among the strongest categories are sweet home cooking, which includes sugar. Its 62.1% rise in unit sales was driven by the growth of in-home baking, says Kantar consumer insight director Anish Mashru. "Sweet home cooking is growing fast, and that's the nature of home baking in lockdown. It's riding the wave of lockdown rather than people specifically choosing Fairtrade products."
Herein lies the problem, says Nick Kightley, strategic lead on food, farming and fisheries at the Ethical Trading Initiative. Although panic buying initially drove higher sales, he believes it also exposed a worrying consumer mindset. "Nobody was looking at whether pasta was Fairtrade or organic or anything. As soon as consumer confidence is shaken that supply is always there, they stop being picky and selective."
Rainforest Alliance director of core markets transformation Miguel Zamora also sees declining consumer confidence as a "risk we are concerned with", though there has been no negative impact on volumes so far.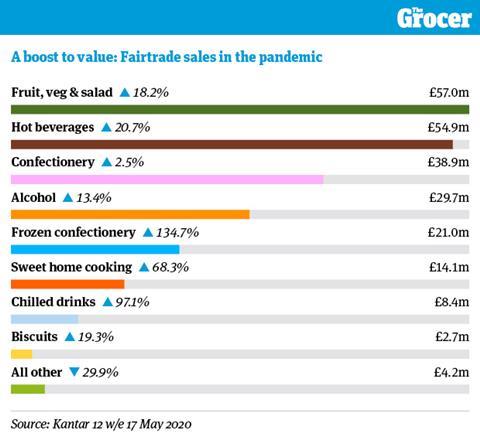 Fairtrade products are up 23% in take-home value sales in the 12 weeks to 17 March 2020, with volumes up 10.5%.
Some indulgent sectors have seen seriously big gains. Frozen confectionery added 134.7% to its value and 131.2% in units as people packed their freezers with ice cream and ice lollies.
Meanwhile, sweet home cooking, which includes sugar, is up 68.3% in value and 62.1% in volumes.
Not all indulgent markets have thrived, though. Regular confectionery has seen volumes slip by 7.2%, with a 2.5% value increase due only to a rise in average price.
The fall in unit sales is in part down to "decrease in spend on bite-sized chocolate confectionery and chocolate boxes" says Kantar consumer insight director Anish Mashru.
Overall, promotion levels have been low on Fairtrade products, resulting in an 11.5% average price rise.
Own label has grown faster in value than branded – sales are up 24% and 21.5% respectively. This reflects growing spend on fruit & veg, where own label accounts for a higher proportion of Fairtrade sales, Mashru says.
Shopper behaviour
So rather than sales figures, consumer research is probably a more accurate picture of what's going on in the market. Kantar carries out bespoke research quarterly for Fairtrade, surveying 1,248 UK shoppers aged 16 and older. The latest results, for quarter two of 2020, reveal small dips in engagement levels. The proportion that "always or often" buys Fairtrade is 27%, down one percentage point on quarter one.
The proportion who "cared about" Fairtrade is down two percentage points at 75%. Awareness of Fairtrade is also down, by one percentage point to 91%.
Although the movement is in the wrong direction, it's slight and broadly encouraging given the level of disruption to supply chains and usual shopping routines, Fairtrade's David argues. "We were wondering, like everyone else, what would happen, and from our perspective we were very pleasantly surprised," she says. "Consumer support for Fairtrade remains very strong."
She points to behaviour during the global recession of 2008 as a reason for optimism. Despite the pressure on household budgets, "a huge number of brands signed up" in the period, she says, including Mars' Maltesers in 2009. New listings were also gained in Aldi, Lidl, Morrisons and Tesco.
The Co-op tells a similar story of ethical claims withstanding financial pressures. Its most recent report on the size of the UK ethical consumer market was published in December, which showed its value had nearly quadrupled over the past two decades – from £11.2bn in 1999 to £41.1bn in 2018.
The most significant growth was in ethical food and drink, from £1bn to £12bn. Crucially, it remained on an upward trajectory throughout 2008 and 2009.
The key is ensuring shoppers are encouraged to spend on ethical goods throughout the upcoming recession, insists Paul Williams, head of ethical trading & human rights at Princes. "There's a clear risk that many consumers are going to face economic hardship. Household budgets are going to reduce," he admits. "But I think, for us, the responsibility sits with the retailers and brands to educate consumers on how important it is to spend a little bit more."
And they may even not have to. An ethical purchase no longer means an expensive one, points out Fairtrade's David. The prevalence of its certified products, including in the discounters, means there are now options at "every price point", she says. "You can buy a Fairtrade coffee at Greggs for £1.50."
Future optimism
Co-op head of food policy Cathryn Higgs is similarly optimistic about the future of ethical food and drink. Covid-19 could have taught shoppers a valuable lesson, she believes.
"I actually think that, coming out of this, there will be an increase in interest in ethics and sustainability as people start to realise what happens when things go wrong."
What Brits value has changed in this pandemic, points out David. "We've started seeing who the key workers really are. I think the public understands that people growing our food fit into that group."
That heightened sense of ethics isn't limited to shoppers. Shirley Goodrick, technical services manager for the Slave-Free Alliance, says businesses are "really focusing on the supply chain because they've found out where it breaks". As a result, she has seen "a lot of passion coming from business leaders to take the human rights agenda forward".
"I think the public understands now that the people growing our food are key workers"
Therein lies an opportunity for sales growth of ethical products, suggests the Rainforest Alliance's Zamora. "Programmes like ours support communities around the world to make progress towards eradicating abuses, including forced labour, modern-day slavery, child labour, gender inequality, and attacks on the rights of Indigenous and traditional peoples. These issues are top of mind for consumers now."
Buying certified ethical products is a way to support this work, he adds. "And if we are clear with our message, we have a strong argument to make."
The view is echoed by the Ethical Trading Initiative's Kightley, though he insists the message must be communicated powerfully through a combination of campaigns, policies and even legislation.
The danger otherwise, he warns, is "there will be a future exactly like the past".
How Covid-19 has scuppered ethical certification schemes
The Covid-19 outbreak has created many new difficulties for farmers working under ethical certification schemes.
For one, the impossibility of overseas site visits has forced schemes to extend producers' certificates in lieu of manual audits.
And while remote virtual audits are some substitute, we'll only be able to measure their efficacy later on, predicts Thomas van Haaren, senior manager of the CGF's Sustainable Supply Chain Initiative. "Are there going to be issues that are discovered with working hours or people being laid off improperly?" he asks.
Plus, workers who are being interviewed remotely are concerned that they could face reprisals for speaking out.
The UK is far from immune to these effects, warns Slave Free Alliance technical services manager Shirley Goodrick. Robust site inspections were in place, but those will also have stalled because of social distancing, she says.
This comes alongside intense demand on producers coupled with labour shortages, Goodrick says. Farmers and processors were already battling with reduced migrant labour on the approach to Brexit. Then came a "sudden, massive escalation and a change in the way people eat" as lockdown hit.
At the same time, there are plenty of illegal immigrants who have been brought into the country, and can no longer work as intended in car washes or nail bars, points out Nick Kightley, strategic lead on food and farming at the Ethical Trading Initiative. Traffickers are now setting their sights on the farming sector. "We've got recruitment agents being approached by shady dealers," Kightley says.
"Agricultural work in the UK is quite well regulated and they would have found the Association of Labour Providers & Gangmasters and Labour Abuse Authority in their way."
Goodrick agrees the UK is "very lucky to have the GLAA" but also points to police resources being stretched in the crisis.
She argues the pressure on producers increases the risk of illegal workers finding their way into UK food production on little or no pay. "Producers may be looking at the viability of a business that has been built over generations, and you'll always have someone who says: 'I know a mate who can do that for you'," she says.


Steve is deputy news editor at The Grocer.

He's responsible for covering online grocery and the discounters, and for editing The Grocer's analysis features. He's an experienced journalist who has contributed to a range of national newspapers including The Mail on Sunday.

Follow Steve on Twitter: @Steve_Farrell_