Shoppers and fmcg suppliers alike have spent big on vitamins and supplements during Covid-19. What's next for the category?
It's no surprise health & wellness supplements are big business right now. So much so, in fact, that fmcg giants have been making headlines by buying into the market.
First, Pharmacare bought kids' vitamin brand Haliborange from Procter & Gamble in the autumn, with the new owner promising "huge investments to make sure the brand is getting the attention it needs".
Then last month, Nestlé boosted its presence in nutrition and supplements with the £4.14bn acquisition of US business The Bountiful Company. Nestlé plans to integrate its new purchase's core brands – including Nature's Bounty vitamins and Osteo Bi-Flex joint care supplements – into Nestlé Health Science, to create a global leader in vitamins, minerals and nutritional supplements.
The deal came just days after Unilever snapped up US supplements & sports nutrition brand Onnit for an undisclosed sum, as part of an ongoing mission to expand its footprint in health and wellness. It means the Marmite owner's portfolio includes Alpha Brain, a nootropic supplement that claims to aid memory, focus and mental processing.
So why are grocery powerhouses getting involved in the supplements category? Just how big is the opportunity post-pandemic?
Whether Brits remember to grab a bottle of Alpha Brain on their shopping missions remains to be seen. Currently, they're focused on maintaining their body rather than mind.
"Vitamins that contribute to the immune system will be driving the category at the moment"
That's because, in the wake of Covid-19, immunity has been the major trend in the category. Vitamins that claim to contribute to the function of the immune system "will clearly be driving the supplement category at this moment in time, including vitamin C, zinc, copper, folate, iron, selenium, vitamin A, vitamin D and more" says Ben May, founder of natural supplements & vitamins brand Skin Woof.
He's not wrong. Value sales of vitamin C, for instance, are up by 17.4%, while cod liver oil, a source of vitamins A and D, has grown by 40.9% [Kantar 52 w/e 21 February 2021]. Biggest of all is the 103% rise of vitamin D supplements – the subject of NHS messaging throughout the pandemic. Brits stuck indoors have been advised to top up their levels of the 'sunshine vitamin'. In percentage terms, it's the fastest grower in a category up 20.7% to £626.2m.
No doubt that was helped by early headlines touting vitamin D as a natural defence against Covid. Some experimental studies have even claimed it could be a treatment.
"Vitamin D has certainly been under the spotlight due to its role in supporting the normal functioning of the immune system," says Skye Lucas-Banks, marketing manager at Bassetts Vitamins.
Emeka Maduka, GB&I vitamin & mineral supplements senior brand manager at GSK Consumer Healthcare, says "we don't expect this to slow in the immediate future," as anxiety over Covid remains rife.
Indeed, even as lockdown restrictions ease and the sun comes out more often, The Bountiful Company agrees that vitamin D's rise is far from over. Now worth £27.7m [Kantar], it's still a relatively small sector "and therefore represents a continued opportunity for the grocery channel" says the business.
"It is typical for sales of immune-focused products to soften in summer months, and we would expect to see that again this year," explains Bountiful category development & product training director Paul Chamberlain. "However the vaccine is not 100% effective and new variants will continue, making it likely that immune products will come to the fore again at their traditional time of year."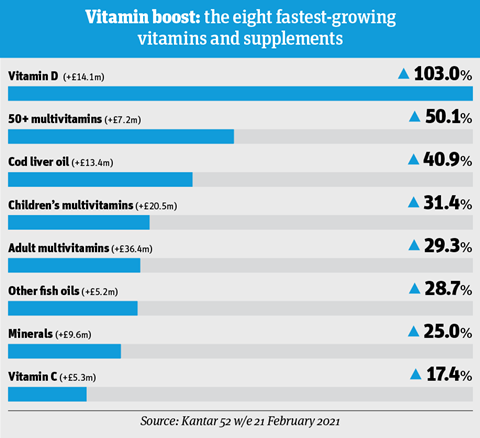 Sales of vitamins and health supplements have grown by 20.7% or £107.4m to £626.2m.
Growth has been driven in part by almost 2.8 million more shoppers buying into the category, as health became a focus during the pandemic, says Issy Monteith, client executive at Kantar.
Bigger baskets also boosted sales, with shoppers buying more units per trip.
Vitamin D is the fastest-growing sector in percentage terms. It's up by 103% to £27.7m on volumes up by 79.4%. That's an extra 3.8 million packs.
In absolute terms, adult multivitamins have dominated sales. They're now worth £160.2m, having attracted 2.3 million more shoppers.
Adult, over-50s and children multivitamins are worth an extra £64.1m between them.
"Multivitamins are an attractive entry point to the vitamins market," says Monteith.
However, sales are likely to slow, she suggests. "As the vaccination scheme rolls out across the country, health is likely to become less of an immediate concern – combined with the increasing financial pressure many people will find themselves under."
Multivitamins
So, vitamin D looks set to remain a standout performer for a while longer. The same goes for multivitamins. They're arguably the biggest stars of the supplements category, having added £64.1m across adult, 50-plus and children's variants [Kantar].
"During the pandemic, we have seen a significant increase in penetration across the vitamins category, notably in multivitamins as consumers look for products that can support their health generally," says Lucas-Banks at Bassetts.
Roxane Bakker, head of nutrition at personalised vitamins supplier Vitl.com, says their appeal will endure. After all, they offer "the simple solution to get a vast range of nutrients in just one tablet," she says. "We expect this trend to continue as consumers spend more time and resources looking after their health and wellbeing."
But not everything will stay the same as we start to recover from Covid. Vitamin D and multivitamins will be joined by new trends, suppliers predict. Mental health will likely be one of them, suggests Vishal Shah, medical director at personal health plan provider Thriva.
"Covid has put a spotlight on mental health issues, and it's likely that supplements that support mental health will continue to be popular. These include B-complex vitamins and magnesium," he says, also forecasting an uptick in omega-3 "because of its links to improving heart and brain health".
"Supplements that support mental health will continue to be popular"
Bountiful's Chamberlain is similarly confident mental wellness will be a driver of supplement sales. Already, as Brits recover from a year of disrupted routines, "stress, sleep and mood are all areas seeing increased interest".
Indeed, this has led to NPD such as Higher Nature's Daily Nutrients range, with variants including For Calm, For A Restful Night and For Energy & Vitality, each containing three supplements a day for 28 days. Each pack "gives consumers everything they need to support specific lifestyle concerns".
The innovation is bang on-trend, suggests Shah, "because people are more aware of health information than they once were, so we are seeing an increase in people looking at personalised and specific supplementation".
That behaviour is driven in part by Brits having educated themselves about supplements during Covid. "There has been an increase in awareness through media, social media and expert advice. Consumers are more aware than ever of their health and the benefits of vitamins," says Trish Singh, head of marketing at Pharmacare Europe.
Such awareness means shoppers will favour products they're confident will have benefits, says Aliza Marogy, founder of supplements startup Inessa.
"Customers have become much more discerning about which products they are taking in the wake of the pandemic, and are looking for science-led complexes. Nutrients with authorised health claims, such as vitamin C, zinc and selenium, are here to stay for a while yet, while those with anecdotal but insufficient evidence for use may become less popular."
So as shoppers acquire knowledge, it seems fmcg giants will need to take particular care in acquiring brands.
The supplements brands gym-bound Brits will be turning to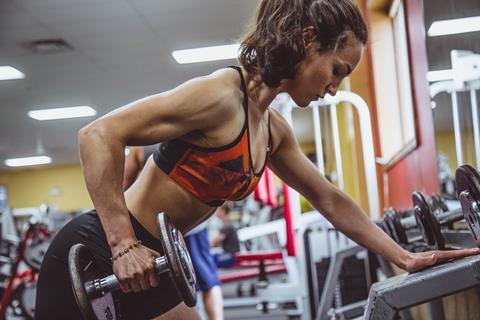 As gyms and leisure centres reopen, many Brits will be taking strenuous exercise for the first time in a while.
With that comes the risk of overexertion or even injury.
So, they'd be wise to have collagen supplements at hand, advises Amy Moring, co-founder of health brand Hunter & Gather. "Taking collagen after exercise supports healthy joints by improving inflammation, supporting the repair of surrounding muscles and improving bone strength, helping to prevent injuries and ensure shorter recovery times," she says.
Collagen is a hot trend in sports supplements, Moring adds. "We're seeing growing demand for our Bovine and Marine Collagen Peptides, as they offer more benefits than traditional whey-based protein powders, which simply build muscle mass."
The best collagen supplements are "sustainably sourced, highly bioavailable, stringently lab-tested for toxins, heavy metal and pesticides, and are made without bulking agents, additives, synthetic ingredients and fillers", she says. "These potentially harmful – and often unnecessary – ingredients can increase exposure to allergens and lessen the potency of the product."
High quality or not, supplements containing animal collagen won't suit people following a plant-based diet. For them, there's the likes of Bio-Synergy, the sports nutrition & supplements brand that's been ramping up its vegan NPD offer. It includes Lean & Green protein powder and Essential Amino Acids food supplement.
The brand has also added a DNA & Epigenetics Testing Kit, "which means we can offer hyper-personalised recommendations via our AI/app on diet, exercise and supplements", says Bio-Synergy founder & director Daniel Herman.
It's a canny innovation, suggests Richard Taylor, managing partner at Brandon Consultants. Successful sports nutrition & supplements brands will be those that "cater for consumers wanting more focused, honed-in products that are tailored to their lives and lifestyle", he says.
It'll help them achieve cut-through in a category that's "like the wild west, with lots of new entrants coming in and chasing the money", Taylor adds. "Brands need to find a niche and bring a level of trust and credibility to cut through the noise."
Fitting advice.


Daniel Selwood is The Grocer's special projects editor, managing Britain's Biggest Brands, Britain's Biggest Alcohol Brands, The Dairymen and Top Products – as well as contributing to news, features, analyses and category reports.

He joined the magazine in January 2016 as food & drink editor, having been at financial & legal publisher LexisNexis for eight years.

He began his journalism career in the mid-1990s at a general interest magazine in his birth city, Sheffield.

Follow Daniel on Twitter: @danielmcselwood