Inspired by craft beer's transformation, adult soft drinks and mixers are becoming more bespoke, adventurous – and pricey
Pop is growing up. Saccharine sweetness, safe citrus flavours or even fizziness are no longer prerequisite. Bitter and spicy notes are all the rage. Average prices are soaring, with some new adult soft drinks now asking for more than the alcoholic equivalent.

It's no coincidence that the UK is also drinking less booze. One in five Brits are on the wagon [Mintel], rising to one in three 18 to 24-year-olds [BMC Public Health 2018]. Many more are simply cutting back. So new premium soft drinks are taking cues from booze to convince drinkers they're not missing out.

When consumers do decide to indulge in a drink, it's more of an occasion. That means quality is trumping quantity. See the flat volumes in spirits, which have only been rescued by pricier 'craft' lines [Kantar 52 w/e 8 September 2019] for proof. Or, indeed, the boom in premium mixers such as Fever-Tree, Fentimans or Merchant's Heart.

It goes to show that the fates of soft drinks and alcohol are largely entwined. As consumers change their attitudes to alcohol consumption - and what they want from a tipple - the adult soft drinks market is responding in kind.

For proof of the premiumisation effect, see the first ever mixers range from the world's biggest soft drink brand: Coca-Cola Signature Mixers. The range, which launched in May, is already worth £700k at the tills.

Simon Harrison, commercial development VP at Coca-Cola European Partners, says changing consumer habits were a key motivation behind the launch. "While one in three consumers are moderating their alcohol intake [Mintel], more than half of UK drinkers say they'd prefer a smaller quantity of a premium spirit than a larger quantity of a standard one [Future Laboratory], which presents an opportunity for premium mixers," he says.
"Discerning drinkers are now exploring the mysterious world of dark spirits"
Spirits trends were another factor, he adds. "Consumers are becoming more adventurous with their spirits choices. Research shows that after a decade-long 'ginaissance', discerning drinkers are now exploring the mysterious world of dark spirits. The UK dark spirits and liqueurs market was estimated at £6bn in 2018, following record growth in the sector from 2013 to 2018 of 20.2% [Mintel]."
That's why Coke is pitching its new lines for mixing with scotch, bourbon and rum. Belvoir Fruit Farms, Luscombe Drinks and Cawston Press are also tipping a bullish dark spirits sector as a key growth opportunity for ginger ales and beers. Fever-Tree is billing its trio of ginger ales - premium, smoky and a new spiced orange variant - as 'what whisky's been waiting for'.

"We continue to see a preference for long drinks with quality components," says Charles Root, customer marketing controller at Fever-Tree.

"The growth in the G&T has demonstrated desire for simple and delicious long mix drinks and we're now seeing the same trend in dark spirits. We're particularly excited about the opportunity around whisky and ginger. This will be really big."
Shoppers know what they want: mixer buyer behaviour
Shopping behaviours in mixers
Don't want to run out
Know what they want before entering the shop
Buy it because they feel like it
Are encouraged to buy through promotions
Consider it a price beacon category
Mixers
35%
56%
26%
16%
44%
Grocer average
62%
67%
4%
8%
29%
Brits don't want to be caught short on mixers. That's the finding of a Shopper Intelligence survey of more than 77,500 shoppers, which found 62% of those buying mixers want to avoid running out. That sharply contrasts with the grocery average of 35%.
Mixers shoppers tend to come with fixed ideas. More than two-thirds of shoppers know the mixer/s they want to buy before setting foot in a shop.
Category purchases are also far less impulsive than the grocery average. In total, just 4% of shoppers buy mixers 'because they feel like it', with the vast majority considering the sector a staple addition to their shopping list.
In the current economic climate, price is impacting every category. Yet mixer consumers are less engaged with promotions than the standard grocery shopper, with less than one in 10 claiming they would buy more from the category if it were on deal. That makes price reductions on mixers largely ineffective as "shoppers will buy them anyway," says Jeremy Garlick, partner at Insight Traction. "Mixers are also less likely than average to be used to judge whether a store is good value."
Base: Shopper Intelligence survey of 77,539 shoppers
Source: Shopper Intelligence is an annual multi category, multi retailer survey of UK shoppers.
Granted, take-home sales of dark spirits don't look too promising on the face of it. Whisky is down 2% on volumes down 3.7%, while rum is down 3% on volumes down 5% [Kantar]. Dig deeper, however, and it's clear where the great expectations for dark spirits have come from. Golden rum is up 29.7% on volumes up 20.4%; imported whiskey is up 7.4% in value and 6.4% in volume.

The development of new serves that can be mixed easily at home could prove crucial to driving further growth in dark spirits. "What led the gin renaissance was the transformation of the serve," BrewDog Distilling CEO David Gates told us in the summer.

"Instead of serving gin in a horrible tumbler with one ice cube and a squirt of Schweppes from a gun, there was a switch to better serves with more exciting flavours. That's what's happening with American and Irish whiskey and what needs to happen with blended scotch - the key driver of whisky's decline; down 5.4% on volumes down 7.1%, says Kantar. It needs to loosen its tie." He tips whisky highballs (scotch, soda and lots of ice) as a serve that could soon have its time in the sun.
"We're particularly excited about the opportunity around whisky and ginger"
Pushing mixers designed for whisky and rum makes sense, given that gin's growth cannot go on indefinitely. Sales of conventional, juniper-based gins have grown 2.9% on volumes up just 1% in the past year [Kantar]. It looks distinctly weak next to the double-digit growth of recent years.

"There's been talk in the industry for some time that the gin bubble is about to burst, but 2020 looks like the year this could happen," says Paul Hargreaves, CEO of fine food distributor Cotswold Fayre. "Rum is starting to come to the forefront."

Still, all this not lost in gin. There remains one area of high growth: flavoured gins are up a staggering 135.2% to £217.2m, on volumes up 130.3%.

This appetite for flavoured variants is being mirrored by rising interest in exotically flavoured tonics. Fever-Tree, for example, has developed an online flavour wheel that allows drinkers to pair a wide range of gins with any of the brand's tonics, including Lemon, Aromatic, Citrus, Cucumber and Mediterranean varieties.

"We've seen real explosion in the variety of gins out there and that's led the consumer to try more unique flavours in their mixers," says Fever-Tree's Root. "We have seen an increase in space dedicated to mixers in store that has been driven by consumer demand for our products. We have been able to build our range and build our presence."

Of course, Fever-Tree is not the only brand developing a wider range of flavours. The premium Merchant's Heart range from LRS boasts tonics and mixers flavoured with pink peppercorns, hibiscus and pear, to name a few. CCEP's Schweppes 1783 includes Salty Lemon and Cucumber tonics along with a Muscovado Dark Spirit Mixer.

"We're really pleased with the performance of the Schweppes brand as a whole," says CCEP's Harrison, quoting Nielsen figures. "Our value share of the segment is up by 2.3% and we're also in volume (7.5%) and value growth (11%). In fact, Schweppes has added more value to the mixer segment than any other brand this year.

"We've continued to invest in our Schweppes 1783 range, which is now in more than 10,000 licensed outlets across Britain and is also available in retail, enabling consumers to recreate these premium experiences at home. This has seen the brand gain a total market value of £12m [Nielsen 52 w/e 2 November 2019] in the two years since launch and remains on the rise."
"Consumers are becoming more adventurous and experimental"
Devon-based Luscombe Drinks has also expanded its range of mixers to include Lime Crush, Hot Ginger Beer and Sicilian Bitter Lemon. "We've seen an explosion in the popularity of craft spirits with consumers becoming more adventurous and experimental with what they drink and demanding original and exciting tastes," says marketing and communications director Emma Cotton.

"With Mintel reporting last year that 35% of drinkers didn't know what to mix with white spirits, we saw this as another excellent opportunity to extend our mixer portfolio. At the moment only a quarter of adults choose a soft drink designed for adults when choosing what to drink, compared to over 40% who choose from the big fizzy drinks brands. This is due to the often limited availability of a wide selection of adult soft drinks when the big brands are almost everywhere."

Well, almost. Fever-Tree is working to increase its distribution in the convenience and online channels and Coke's Signature Mixers range is yet to win a listing at Tesco. Meanwhile, challengers such as The London Essence Co (the product of Britvic-backed brand incubator Wisehead Productions), craft soft drinks brand Gunna Drinks, Cawston Press and others are winning space.
Gin boom continues: spirits value sales
| Spirit performance this year by value | | |
| --- | --- | --- |
| | Value (£m) | % growth |
| Whisky | 1222.8 | -2.0 |
| Gin | 801.2 | 27.9 |
| Vodka | 794.0 | 0.7 |
| Rum | 352.8 | -3.0 |
| Cream Liquers | 239.5 | -3.3 |
| Brandy | 224.4 | 1.4 |
| Cognac | 59.7 | -13.7 |
| Tequila | 7.9 | -11.4 |
| | | |
| Source: Kantar 52 w/e 8 September 2019 | | |
Spirits and adult soft drinks go together like, well, gin & tonic. So soft drinks players will be cheering the performance of spirits over the past year. Granted, growth of 2.5% on flat volumes is slower than last time we looked at the category, when value was up 4%. But the sector is still up a staggering £95.8m overall.
By far the biggest contributors to this gain are flavoured gin (up £124.8m or 153.2%) and gin liqueurs (up £36.7m or 86.3%). Imported whiskey and golden rum are also pulling their weight, up £16m (7.4%) and £5.1m (29.7%) respectively. Still, with growing numbers of consumers, particularly the young, choosing not to drink alcohol at all, the sector could find itself on the rocks in future.
That's illustrated by the growth of the low and no alcohol sector, up 24.5% to £141.2m on volumes up 28%. The £27.8m growth is being primarily driven by low and no alcohol beer.
Low and no alcohol spirits such as Seedlip present another opportunity for soft drinks. But it's still a niche proposition – supermarket sales have reached just £3.9m, according to Kantar.
In-store confusion
London Essence Co says this rise in challenger offerings, again, comes back to what's going on in alcohol. "Retailers have responded to the change in drinking trends by increasing the space dedicated to more premium offerings, which are able to better deliver more elevated experiences," says co-founder Ounal Bailey. "This in turn has led to increasing fragmentation, as choices become more varied. The challenge for retailers is to balance the need for choice with the potential for confusion."

That challenge is growing. "If you look at the beer, wine & spirit aisles, generally you have low and no-alcohol replacements and mixers really well called out and signposted, but soft drinks still sit in a couple of different spaces and is not so clearly laid out," says Steve Kearns, MD at Cawston Press, which has seen 15.6% growth for its sparkling lines on volumes up 10.5% [Nielsen].

"As certain areas, such as flavoured sparkling water and premium adult soft drinks, gain space the fixture has taken on a rather spotty, bitty feel. The lines are greying and there isn't really a flow in store yet. Premium, adult, soft alternatives to alcohol need clear signposting. There's no reason why tonic without the gin or our sparkling rhubarb can't be positioned close to beers, wines and spirits as an alternative to a glass of wine. There's a lot we can learn in soft drinks from what's going on in craft beer."

There's evidence that brands are already learning those lessons. Single 200ml bottles of Coke's Signature Mixers are regularly on deal for £1 a pop (down from £1.25), allowing shoppers to pick from the range of Woody, Smoky, Spicy and Herbal variants. It's reminiscent of how four-for-X type deals in craft beer and premium bottled ale encourage trial of different products.

On the retailer side, Asda now pairs certain spirits with mixers depending on their flavour profiles and bundles them together in deals, allowing online shoppers to buy all elements of a serve with one click. Examples of such link deals include Coke Signature Herbal with Haig Club, Gordon's Pink with Schweppes Lemonade, Extra Dry Prosecco and strawberries and Tanqueray No 10 with Fever-Tree Mediterranean Tonic and basil. Such initiatives suggest mixers are almost as important as the liquor itself in driving growth in spirits. Asda says its share of online gin sales grew from 15.3% to 16.7% in the six months following the introduction of the deals. "The uptake of these deals has been really good," Asda online senior merchandising manager Rob Barlow told us earlier this year. "It is really helping us to unlock halo effects cross-category by helping customers with suggested solutions through bundles."
"If there is consumer demand and higher profit per can, the retailers will find space"
Plus, Cawston saw an uplift when Asda began stocking single cans of its sparkling range in the main soft drinks fixture, in a bid to encourage shoppers to pick and choose variants. "It was a bold move and I saw a higher rate of sale," says Kearns, who has also recently won space in Sainsbury's front of store impulse chillers. "We have a growing business in impulse. There's no reason people won't pick up a beautiful-looking and tasting product like ours for £1.20 rather than the standard £1."

This is a crucial point. As the multiples respond to the challenge of the discounters by building efficiency and margins with leaner ranges and supply chains, the value of stocking well-differentiated soft drinks from challenger brands that fetch a higher price cannot be ignored. "There is a battle for space going on but if there is consumer demand and higher profit per can, the retailers will find space for craft brands," says Gunna Drinks founder Melvin Jay.

Gunna certainly has the differentiation factor. You might be forgiven for confusing it with a craft beer brand, given that its quirky branding and inventive variants have language reminiscent of BrewDog (Gunna's Pink Punk is a raspberry lemonade; Steelworks is a cola with ginger). It even comes in the same cardboard-clad four-packs that craft beer brands now favour. In the past year, Gunna has won listings with the Co-op, Sainsbury's, Asda and Nisa, as well as JD Wetherspoon.

"Retailers are starting to get behind craft soft drinks," says Jay, quoting IRI numbers. "Last time we looked at the craft segment - that would include us and people like Karma Cola, Dalston's Soda Co and Soda Folk - it was growing at 56% and was worth about £7m. Retailers are realising that consumers want it and they can make more money per square cm of shelf space."

Plus, the proposition should chime with younger, millennial and generation Z consumers, who are most likely to be cutting back on alcohol and moving woards independent brands (former Unilever CEO Paul Polman once said his biggest fear was "losing connection with millennials" because of their aversion to big brands). Players such as Gunna and Dalston's Soda Co are clearly looking to engage this group.

"Sodas crafted by real people, with real ingredients and real tastes are winning through and helping to fulfil the soaring demand for better non-alcoholic and lower-sugar options," says Dan Broughton, co-founder of Dalston's. "We're seeing a growing market for people who are bypassing 'fake alcohol' as an alcohol alternative. While there has been a boom in alcohol-free beers and wines and faux spirits, there's also a desire for products that are unashamedly soft and not too sweet - kombuchas, water kefirs, drinking vinegars and seltzers. People want more than a 'mocktail' or diet option."
Experimentation equals growth: top 10 mixers brands by value
| Top 10 Mixers Brands | | |
| --- | --- | --- |
| | Value (£m) | % growth |
| Fever Tree | 113.6 | 6.2 |
| Schweppes | 88.1 | 9.9 |
| Carters English Royal | 2.8 | -6.1 |
| Fentimans | 2.5 | 51.2 |
| Funkin | 1.2 | 7.3 |
| Merchant's Heart | 0.8 | 174.1 |
| The London Essence Co. | 0.7 | 15.9 |
| Coca Cola | 0.7 | - |
| Gin Cocktail Mixers | 0.7 | 540.6 |
| Lifestyle | 0.6 | -13 |
| | | |
| Source: Nielsen, 52 w/e 26 October 2019 | | |
The 10 bestselling mixer brands have turned in combined growth of 8.8% on volumes up 7% in the past year, with only budget players Carters Royal and Lifestyle in decline.
Coca-Cola European Partners (CCEP) has been the biggest winner, with its Schweppes lines delivering £7.9m to the category's £17.2m growth and the new Coke Signature lines racking up £700k after just four months on shelf.
"Trade and consumer feedback has been overwhelmingly positive about the Signature Mixers range and sales are encouraging," says Simon Harrison, VP for commercial development at CCEP. "Christmas will undoubtedly be a key time for the new range."
The growing range of flavours available suggests that spirit of experimentation extends beyond Christmas. "It is important to innovate to create flavours that enhance drinking experiences, and are more than just the latest trend," says Ounal Bailey, co-founder of The London Essence Co. She points to the brand's unusual new flavours: White Peach & Jasmine Soda and Elderberry & Hibiscus Soda.
"Our elegant tonics, such as Grapefruit & Rosemary Tonic and Bitter Orange & Elderflower Tonic, are amongst our bestselling flavours, she says. "Our approach is to use the expertise of our brand ambassadors married with a comprehensive understanding of flavour pairings."
Growth of teetotalism
Posh squash and pressé brands Belvoir and Bottlegreen are also positioning themselves as both alternatives and accompaniments to alcohol. "While mixing with alcohol is a huge opportunity for premium soft drinks, it's important not to forget the growth of teetotalism and people cutting back on alcohol," says Belvoir Fruit Farms MD Pev Manners.

"Our Botanical Juniper & Tonic is the simple go-to for anyone on the hunt for a credible non-alcoholic G&T alternative," he says."The latest addition to Belvoir's ranks is an indulgent take on the classic lime & soda. It taps into the teetotalism trend by being a favourite alcohol-free choice at the pub." On the flip side, Manners says it "makes the best no-fuss Mojito ever" when mixed with white rum, fresh mint leaves and ice.

Belvoir's research reveals that growing numbers of shoppers are buying cordials for mixing with alcohol. This hasn't been missed by Bottlegreen, which shares recipes for cocktails and mocktails online. "Bottlegreen is a premium offering that sits naturally alongside other cocktail elements," says Rosie Jackson, head of soft drinks at brand owner SHS Drinks.
"We're seeing a growing market for people who are bypassing 'fake alcohol'"
"Our seven variants are perfect for enjoying diluted with still, sparkling or tonic water, or for mixing sumptuous cocktails or mocktails at home. Cordials are a simple, cost-effective way to personalise cocktails and introduce interesting flavours with real depth to them. For quick, convenient cocktails at home, our cordials are a really simple way to add a delicious new twist to prosecco."

That such brands come in glass is also worth noting. Because CCEP's Harrison says glass holds a particularly premium appeal. "To cater for the adult straight-drinking occasion we have expanded the distribution of our glass Coke Icon bottles, which are proving incredibly popular in retail and are in growth by 22.4%," he says, quoting Nielsen data for the year ending 19 November.

"In particular, we've increased our focus on our 4x250ml glass Coke Icon bottle multipacks, highlighting them as ideal accompaniments for shared meal nights in chiller displays as consumers move towards smaller, more premium formats for this occasion," Harrison adds. "We've seen some shoppers switch to a wider variety of packs, including smaller formats, which generally have a higher pence per litre, helping to drive category value growth over volume, which is of course beneficial to our customers."

It's also beneficial to manufacturers to push smaller packs that fetch a higher price per litre. Particularly in light of the profit warning issued by Fever-Tree last month, after the brand's five biggest retail customers saw a decline in sales in second half of this year. The brand put it down to a 'slowdown in consumer spending' and stronger sales during the longer, if not hotter, summer of 2018 compared with the summer just gone.

Others also credit the summer of 2018 for a slowdown this year. "We had an extreme year in 2018 with three months of really hot weather and feelgood events like the royal wedding and the World Cup and all of this translated into really good growth," says Kearns at Cawston. "It was a bit like 2012 when we had the Olympics. People felt really good and everything going on was really uplifting, so they drank soft drinks, either on their own or with alcohol."

If there's one thing Britain (and soft drinks) needs right now, it's another feelgood event. Because the prospect of the election and yet more wrangling over Brexit will have many reaching for the hard stuff. And in these less feelgood times, mixers are optional.
Glass and cans overtake plastic in premium pop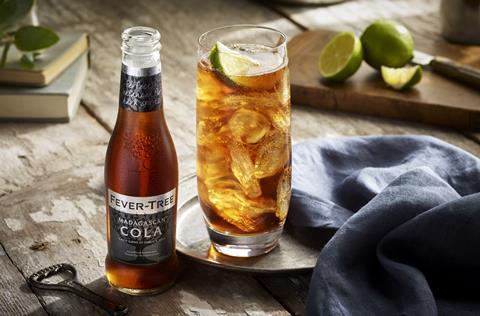 Plastic matters to people. Fifty-three per cent of 1,399 consumers polled for us by Streetbees strongly agree that it's important to reduce the amount of plastic they use. A further 33% say they slightly agree. Or so they say in polls.
What shoppers say and what they actually do can sometimes be worlds apart. Kantar data shows that carbonated soft drinks packaged in plastic have grown 6.8% on volumes up 3.8% [52 w/e 8 September 2019]. That's an extra 67.3 million packs of plastic, making it the fastest-growing packaging format in absolute terms.
"Shoppers think manufacturers should be taking the lead on tackling the issue but we're yet to see how the issue will affect shoppers' behaviour on a bigger scale," says Kantar analyst Matheus Bilate.
Still, the real move away from plastic may not come from environmental concerns, but from changing consumer tastes. Because posher pop is on the rise. These higher-end variants tend to come in glass and cans, which are viewed as more premium.
"Consumers refer to the adult category as 'premium soft drinks' and within this they include premium cordials, mixers and ready-to-drink products like pressé," says Belvoir MD Pev Manners. "For them, what says premium is glass bottles, naturalness and attractive packaging."
The effect is already clear to see in tonics, where growth in glass and cans is far outstripping that of plastic formats. Volume sales of tonic in glass bottles are up 28.5%, driven by premium brands such as Fever-Tree, London Essence Co and Schweppes. These brands have also helped boost sales of cans by 18.1%, while the PET format is up just 5.8%.
Much of the growth in glass and cans is coming from smaller single-serve formats designed to ensure leftover tonic is not left to go flat between serves.
So it may just be the fear of flat tonic, rather than the fear of a global crisis, that finally pushes consumers away from plastic.
Innovations in adult soft drinks 2019