The giants are battling it out in mayo as new craft brands look to spice up sauces. But who'll still be standing after the price war?
There's a tug of war going on in table sauces. On one side is Heinz, heaving with all its might to win more share of mayonnaise, Britain's fastest-growing sauce sector. On the other is Hellmann's, digging deep and diversifying in the face of stiffening competition.
But there's a twist to this contest. As the two giants battle it out, a growing number of smaller craft players and restaurant brands are threatening to cut the rope. With restaurants closing again in areas under local lockdown and suffering from falling trade where they're still open, consumers are increasingly turning to flavours you'd associate with a meal out. So, who's winning?
It's actually quite hard to find any losers, if you're defining success or failure simply by looking at sales figures over the past year. Sunny weather in spring, a hot summer and, of course, lockdown were great news for table sauces. The combination prompted more people to barbecue and cook at home, driving substantial growth for most of the big sauce brands.
That means the overall sauces and condiments sector is up 16.9%, equating to an extra £96.1m in spend. More than a third of that (£36.6m) went on mayonnaise, which is up 21.3% on volumes up 15.7%. Tomato ketchup delivered an extra £26.6m, growing 18.5% on volumes up 8.9% [Kantar 52 w/e 6 September 2020]. No subcategories saw sales decline.
Restaurant brands are the first big winner in this equation. With foodservice off limits for many, shoppers are looking to recreate the out-of-home experience. And brands are building on that advantage. After the retail launch of Nando's Vegan Perinaise in January, April saw the launch of Nando's Garlic Perinaise to tap growing demand for flavoured mayo.
"It made total sense," says Sophie Lindfield, senior brand account manager for All About Food, which manufactures and distributes sauces under established high street brands including Nando's, Pizza Express and Wahaca. "Garlic is the second most popular flavour of peri-peri in restaurants and the second-biggest segment within flavoured mayonnaise, behind chilli."
That has helped Nando's deliver one of the highest percentage gains in the top 10 sauce brands, up 36.1% to £30.9m [Nielsen 52 w/e 5 September 2020]. It's not the only restaurant brand cashing in. Lindfield also points to strong growth for the Pizza Express range of dressings, which are up 27.2% or £1.1m. "Pizza Express' growth has been driven by attracting new shoppers to the category," she says. "Penetration has increased by 36.4%."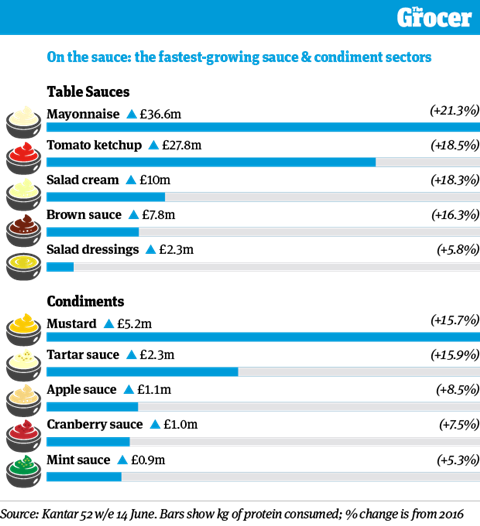 Sauces & condiments have seen robust growth in 2020, with a 17% rise in value on last year. The rise in home cooking has seen consumers seek new flavours to add variety.
The combination of retailers pulling back on promotions, as well as premiumisation, have seen prices increase. Full-price sales are up 29% and account for 69% of spend. "This cut in promotions has been across the board but most keenly in Tesco and Morrisons," says Kantar analyst Lucy Pollock.
Innovation has also been important to growth, especially in flavoured mayo, adds Pollock.
But the category's future still depends on external factors. "Continued working from home coupled with cautious consumer spending will result in more in-home occasions," she says. "The government's revised HFSS bill could also have a significant impact."
Culinary adventures
Of course, the success of this pair isn't all down to the pressure restaurants are under. People eat more salads when the weather is warmer, after all, and retailer ranges have been expanding for some time to reflect growing demand for world flavours such as the signature Nando's peri-peri spice.
Which explains the second big winner: adventurous sauces. "People are much more 'travelled' or 'worldly' and are looking to recreate the flavours and experiences they had on their travels," says Rick Panesar, founder of the startup 2 Fingers, which produces a range of chunky tartare sauces, including Creole and Vegan lines. The brand's Wasabi variant has been enjoying 50% month-on-month growth since July, says Panesar.
That kind of growth isn't unusual in this end of the market. Hot sauce player Dr Trouble has seen sales of its African Lemon Chilli Sauce rise by more than 800% since July. Nielsen's numbers reveal particularly strong performances from the likes of Blue Dragon, Frank's Red Hot, Tabasco and Heinz-owned Bull's Eye BBQ Sauce, among others. Essentially, hot sauce is hot stuff.
"People are looking to recreate flavours and experiences they have had on their travels"
"Mayo, hot and spicy sauces, modern condiments (chilli and bacon jams, beetroot ketchups and the like) and barbecue sauces are growing fastest with the barbecue season helping through lockdown," says Nielsen senior analytical executive Nicholas Corlett. "Heinz has benefited most from this, thanks to its broad product range, although Hellmann's has returned to growth through mayo since Covid."
That brings us neatly to the ultimate winner of the past year: Heinz. Its 21.5% value gain was worth a staggering £43.9m at the tills – the greatest absolute gain in the top 10 by far – while volumes grew 12.4% [Nielsen].
Those figures, of course, denote a rise in average price. That's down to two things. First, the launch of lines such as the posh trio of flavours added to its Seriously Good mayo range back in July – Garlic & Caramelised Onion, Rich & Creamy Truffle and Lemon & Black Pepper.
Because posher, of course, means pricier. Heinz's flavoured variants sell for upwards of £8 a litre, depending on the pack size. That compares with an average of £5.29 across Hellmann's and Heinz's portfolios [Edge by Ascential 26 w/e 11 September 2020 – Tesco].
Second, Covid has put a dampener on the promotions that have characterised the sector, especially in the battle between Heinz and Hellmann's. "Prices have increased, driven predominantly by reduced promotions," says Kantar analyst Lucy Pollock. "This reduction is seen across the board, but most keenly in Tesco and Morrisons."
Still, the prospect of paying more doesn't seem to have deterred shoppers. Heinz junior brand manager Maria Pérez de Ayala partially attributes this to the pressures of 2020. "With measures put in place to keep the public at home, navigating new ways of shopping and widespread stock shortages, shoppers purchased the products they love," she says.
To prove the power of a strong brand, Pérez de Ayala points to the 27% growth of Heinz's Seriously Good mayo over the past year, giving it a 17% stake in the mayonnaise market [Nielsen 52 w/e 5 September 2020]. Not bad for a brand that is only four years old.
"With measures to keep the public at home, shoppers purchased the products they love"
With Hellmann's up 19.5% on volumes up 19.9% over the same period, it seems Heinz is winning the great table sauce tug of war. Indeed, all of Hellmann's growth came from the final six months of that period, driven by peculiar circumstances arising from the pandemic and the good weather. In the six months to February, the brand actually saw sales slip by 2.3% in value terms.
"Hellmann's was in decline before Covid-19 kicked in, despite some innovations," says Nielsen's Corlett, pointing to the now axed Big Night In range of takeaway style sauces (Mexican, Kebab, Pizza and Chicken) and a trio of vinaigrettes. "The impact of other brands on Hellmann's core product – mayo – is showing, with the likes of Heinz and Nando's growing with spice and flavour.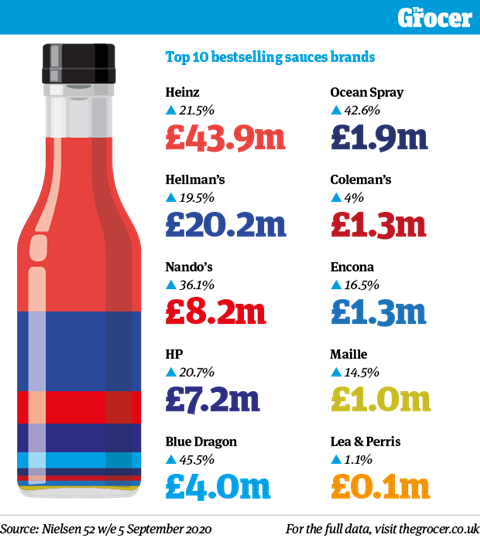 Heinz benefited most from the prolonged barbecue season and the huge growth in at-home eating during lockdown. Thanks to its broad range of products, the brand added an extra £43.9m.
Hellmann's saw a return to growth through its flagship mayonnaise in spring, according to Nielsen figures. Despite some innovations, Hellmann's was in decline before coronavirus kicked in, dropping 2.3% in value in the six months leading to February. But lockdown saw the brand take back its mayo crown with its original flavour and vegan variant.
Heinz and Nando's both capitalised on growing demand for spice and flavoured products in this period.
Mayo still remains the big winner for Heinz, however. Prior to coronavirus, its Seriously Good brand grew more than 30%. "Coronavirus innovations in flavoured mayos have proved popular for Heinz since inception and healthy variants like Heinz reduced salt & sugar tomato ketchup is still growing with different product sizes being launched," says Nicholas Corlett, senior analytical executive at Nielsen.
The overall category has seen 18.1% growth in the past year, according to Nielsen's analysis. A fall in deal frequency and the depth of price reductions, alongside the launch of pricier lines, helped drive value up ahead of volumes, which were up by 10.9%. With ranges being rationalised, can brands stand their ground?
BBQ weather
Unilever marketing director Fikerete Woldegiorgis concedes that the weather was a key driver of Hellmann's return to growth from March onwards. "With a million more BBQ occasions this year due to people staying in and enjoying their gardens, barbecue season was a huge hit," says Woldegiorgis.
"And no barbecue is complete without a selection of sauces, which is why at Hellmann's we've experienced huge growth this year, cementing our position as the market leader in the mayonnaise category with a staggering 51.4% share," she adds, quoting Nielsen numbers.
"With a million more occasions, barbecue season was a huge hit this year"
But the growth wasn't all down to a bumper barbecue season. "By launching Hellmann's Vegan Mayo back in 2018, we led the way in changing perceptions of plant-based alternatives," says Woldegiorgis, citing Nielsen data that confirms the line was the biggest mayo launch of the year. "We proved that vegan products are just as delicious. Demand is skyrocketing."
Hellmann's Vegan Mayo is also notable because it's managed to keep its place on shelf for the two years since it was launched. Since the tug of war between Heinz and Hellmann's began, there have been regular new product launches from both sides, many of which have failed to go the distance.
Innovation
See the duo of ketchups launched by Hellmann's in 2017, for example, which ended up going the same way as the aforementioned vinaigrettes and takeaway sauces. Heinz has also unsuccessfully tried to premiumise ketchup over the years. Back in 2012, the brand launched Balsamic Vinegar, Basil & Oregano and Roasted Garlic, Thyme & Honey ketchups in urn-shaped jars, which soon disappeared. Last year it had another stab with new Gourmet Ketchup lines.
It could do better this time around, as shoppers increasingly respond to pricier lines. Pollock points to Heinz's Gourmet Ketchups and the expansion of Big Tom into ketchup as evidence of this premiumisation in this space. In mayo, the aforementioned new Heinz and Nando's flavours, as well as growing listings for smaller restaurant and craft lines such as Leon Garlic Aioli and Tiptree Truffle Mayonnaise, are noteworthy.
These premium lines may prove a crucial mechanism for brands to drive value into the category. Because now the initial shock of Covid is over, they are under pressure from retailers to commit to EDLP. That's particularly hard for a category that has traditionally been so reliant on deals.
"Brands will have to work harder on recruiting and keeping shoppers and creating loyalty"
"It will mean brands will have to work harder on recruiting and keeping shoppers and creating loyalty through innovation, engaging in-store and online, and communicating a strong brand story and USP," says Flava People MD Scott Dixon, who's already seen a 50% cut in deal frequency on its sauces, rubs and marinades.
Plant-based brand Rubies in the Rubble says it's seen a slide in deals in Sainsbury's, forcing it to rethink its in-store activation. "Waitrose hasn't fully introduced this strategy yet, so we've been able to have twice as many promotions on ketchup since launch in July," says CEO Jenny Costa. "Promotions are a brilliant way to recruit new shoppers."
So brands will have to just think of a new way to recruit. In short, the great table sauce tug of war is about to get really interesting.
Innovations in sauces & condiments 2020