Social distancing is threatening the usual Halloween traditions. But Brits are determined to celebrate the season in their own way
Shhh, don't tell the kids. But trick or treating looks like it will be off this year. In the era of social distancing, the thought of calling on multiple households for sweets that have passed through multiple hands suddenly doesn't seem so appealing.
It's not just a blow for the young'uns. It's also bad news for the grocers. Halloween was worth £431m to them last year [Kantar 2 w/e 3 November 2019], a figure that has been steadily growing each season.
Indeed, chocolate and sweets pulled in an extra £59.8m alone last Halloween. As coronavirus scares off would-be trick or treaters, replicating that growth this year is likely to be a tall order.
"Although we don't know what restrictions will be in place yet, we can be certain people will be more cautious, especially around occasions such as trick or treating," says Mark Roberts, trade marketing manager at confectionery giant Perfetti Van Melle.
So what exactly will a Covid-19 Halloween look like? Is it a spooky picture for the supermarkets? Or could they still scare up some seasonal sales?
It's tricky to know exactly what will happen this Halloween. After all, Covid-19 guidelines are constantly changing, as is the national transmission rate.
The first seasonal occasion of lockdown may offer some clues on what to expect. "The most useful comparison we can look at is Easter," says Kantar consumer insight director Aimee Benson.
That holds some foreboding lessons for Halloween. "What we can see is the Easter category has declined significantly, by 16.7%, with the performance not being replicated in home. If we take any learning from that, it will be that we will see a slowdown and fewer people willing to socialise, share and celebrate."
"Things will be different this year… but there's no indication that demand is slowing"
But don't scratch 31 October off the calendar just yet. Because restrictions have lifted notably since the Easter weekend. And if there's one thing we all need right now, it's an excuse for a party. Parents will be looking forward to the spooky season to unleash their cooped-up kids for some long overdue fun.
Given that adults have been taking a growing interest in Halloween in recent years, it's likely many will also want to dress up for spooky soirées – whether these take place virtually or in person.
In this case, the coronavirus may actually play into the Halloween feel. Think Covid-themed outfits (tasteful or otherwise) such as spooky surgical face coverings, faux hazmat suits or even plague doctors.
"Costume suppliers will certainly be leveraging these topical items," says Vicki Hamilton, UK marketing manager at trade fancy dress supplier Rubie's.
"There's no doubt things will look different this year. One of the trends we've picked up on during the lockdown period is a real passion for dressing up as part of a unified online experience. We're hopeful families will still engage with the occasion in the same way they eagerly adopted Joe Wicks' Fancy Dress Friday. We have seen no indication that demand is slowing."
Rubie's, which specialises in licensed costumes, expects to see a typical uplift in sales of costumes from its Harry Potter range, along with superheroes and villains like Joker and Harley Quinn.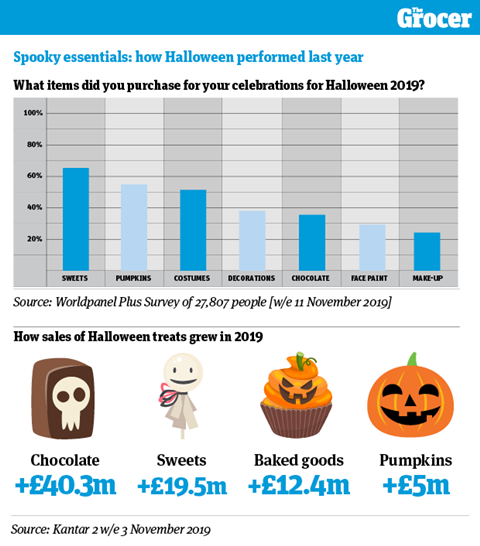 Last year, chocolate, sweets, baked goods and pumpkins brought in an extra £77m combined.
This year, Halloween is looking far scarier for brands. Kantar expects to see declines in all categories.
With fewer people expected to socialise this Halloween, confectionery in particular could miss out. Shoppers are less likely to purchase sweets given the lack of trick or treating and parties, Kantar analysts suggest.
Based on what happened at Easter, they predict the most value will come towards the end of the Halloween season, when retailers promote heavily to shift unsold stock.
This may lead shoppers not celebrating the occasion to buy into the category, bringing forward planned purchases or impulse buying to take advantage of deals.
Such behaviour is likely to be seen in 'less Halloween-specific' categories such as alcohol.
With Brits expected to hold smaller gatherings this year, purchases of alcohol are likely to be led by promotions, rather than households stocking up ahead of big parties.
Sweet treats
The confectionery giants are similarly buoyed by the prospect of parties. Haribo trade marketing manager Claire James sees grounds for optimism in the timing of the event. "What we do know is that Halloween falls on a weekend this year, so we expect an appetite for parties," she says.
PVM's Roberts thinks parties could be just what the doctor ordered by October. "After many months of lockdown, Halloween could be something people really look forward to celebrating," he says. "Whether it takes place at home within family bubbles, or as larger socially distanced parties, we're sure there's going to be an appetite for it."
Still, PVM remains suitably cautious. It has decided against launching Halloween-themed lines this year, choosing instead to push popular existing ones such as Chupa Chups Infernals and Fruittella Juicy Chews, to avoid retailers being left with excess stock once the event is over.
PVM believes its best bet will be ranges of wrapped multipacks, which are outperforming unwrapped bags as germ-conscious shoppers look for the safest sharing options.
"With hygiene and sanitation becoming increasingly important to shoppers, our range of lollipop bags and party bags are the perfect solution to distribute at parties and trick or treating," says Roberts. "Our bag designs don't carry any cross-contamination risks and they're perfect to create in-store theatre."
Seasonal specials
These year-round treats highlight an important point. At Easter, seasonal items were the real casualty – left on the shelves and subject to hefty discounts.
With that in mind, James at Haribo says this year will be all about striking the right balance between seasonal specials and year-round favourites. "No one wants leftover sweets, so retailers and shoppers will be looking for popular brands to be risk-free crowd-pleasers," she says. "Whether these are season-neutral products that are fit for purpose, yet minimise the risk for retailers, or themed and fun treats to deliver that sprinkling of 'spooktacular' that we believe people will welcome after a challenging year."
To that end, Haribo will be bringing back seasonal staples such as its Trick or Treat multipacks, TangfasTricks and Scaremix, as well as the Haribo and Maoam Duo Pack that landed last year.
Mondelez is thinking along the same lines, bringing back individually wrapped seasonal products like Maynards Bassetts Dead Chewy as well as launching two new sharing bags: Cadbury Family Treatsize and Freddo and Friends Treatsize. With these, the supplier hopes to tap the popularity of chocolate at Halloween, which took an extra £40.3m last season [Kantar].
"No one wants leftover sweets, so retailers will be looking for risk-free crowd-pleasers"
It's not just the confectioners feeling optimistic. Kenton Burchell, trading director at Bestway Wholesale, also believes the uncertainty around trick or treating could be mitigated by Halloween falling on the Saturday after payday. "If trick or treating is reduced, parents will inevitably buy more products for parties at home to mark the occasion with a social distancing approach," she says.
After all, parties were already a growing part of the spooky season – Burchell points out that three times more households hosted Halloween parties in 2019 versus the previous year.
It shows that Halloween is becoming increasingly ingrained in the national psyche. That means Brits are likely to still celebrate the occasion, even if it does mean doing it in a slightly different way. So says Asda, which has always gone big on Halloween, partly because of its ties to the US through parent company Walmart.
"We are expecting customers will be looking for new ways to celebrate, whether it be trick or treating locally or spending more time with family and decorating the house for parties indoors," a spokesman says. The supermarket is preparing for this by stocking decorations such as lights, bunting and spiders' webs, as well as expanding its fancy dress range with licensed Peppa Pig and Minnie Mouse products.
Suppliers such as Premier Foods are also preparing for a different approach to Halloween this year. "Many shoppers are looking to keep a sense of normality by marking big seasonal occasions at home, so we're expecting Halloween to appeal to consumers in an alternative way," says brand director for sweet treats Mathew Bird.
One way Premier is helping families to mark the occasion at home is with cake – a category that added £12.4m to Halloween sales last year [Kantar]. It's adding new lines to both its Mr Kipling and Cadbury Cakes ranges. "The category has a strong appeal to families, and 53% of consumers list 'fun for the kids' as their primary reason for celebrating the event," says Bird.
Will home bakers fork out more this Halloween?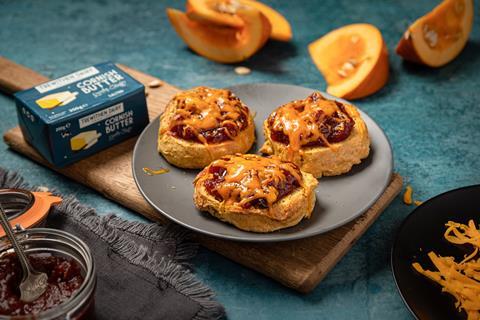 Fancy whipping up pumpkin & cheese scones like the ones pictured above?
The recipe's on the Trewithen Dairy website, as it looks to tempt shoppers into the kitchen at Halloween. It's not the only on brand hoping to cash in on Britain's new-found love of baking.
Dr Oetker is another. "Lockdown has brought an influx of new bakers into the category as they look for new ways to entertain themselves," says Jen Brown, head of marketing for cake & dessert at Dr Oetker UK. "Halloween will be a call to action to inspire families."
She notes that Halloween is already a popular home baking occasion as it gives consumers "the opportunity to express their creativity through weird and wonderful spooky bakes".
Combine that with all the extra people trying their hand at bread, cakes and biscuits since the pandemic began, and Halloween is looking pretty lucrative.
"As the weather gets colder and the evenings get darker, parents look for ways to entertain the kids indoors," says Maeve Judge, marketing manager for meals & baking at General Mills, owner of the Betty Crocker brand.
Brown agrees. "Given the current climate, there could be an opportunity this year to encourage baking together with the family as an alternative activity to trick or treating."
Time-poor parents wanting to keep up the baking could look to quick and easy solutions such as baking mixes, which over-indexed at 365% last Halloween.
Judge says Betty Crocker mixes "provide the perfect family activity, especially with the added fun of Halloween season". The brand is more than doubling marketing spend for the occasion following a "phenomenal performance during the lockdown baking boom".
As Halloween marks seven months since lockdown began, let's hope marketing can keep up that initial enthusiasm.
The fun side
Creating a sense of family fun will, arguably, will be more important than ever this year. That's why Fanta, which normally creates experiential Halloween events, is set to launch its 'Release the Stupid Side of Halloween' campaign this year.
The push has been adapted to the new world, with experiential elements put on hold while social distancing measures are in place. Instead, it will focus on 'digital and added-value entertainment', designed to engage people at home.
"It will provide a light-hearted and fun spin on the Halloween season, tying into the increased focus on comedy and humour at Halloween, which is growing in prominence alongside the traditional 'horror' theme," says Simon Harrison, VP of commercial development at Coca-Cola European Partners.
He is optimistic about Fanta's prospects, given that soft drinks have grown "in both volume and value" over the past two years. That trend is likely to continue even if consumers opt to mark the occasion with a quiet night in. "When consumers see soft drinks, they impulsively pick them up to support key Halloween occasions like watching TV and socialising with family and friends at home," he says.
Boozy Halloween
Not all of these events will be so tame, of course. Brits are also expected to mark the occasion by continuing a lockdown trend and stocking up on beer, wine & spirits at home.
Halloween is the second-biggest sales opportunity for booze brands after New Year's Eve, according to Heineken UK. The brewer, which has been looking to build associations between Halloween and Strongbow Dark Fruit, says retailers should be pushing chilled mid-sized and large packs of its Strongbow Original, Dark Fruit and new Rose lines to cater for the young adult crowd.
"With Halloween particularly popular amongst 18 to 25-year-olds, the cider category tends to receive an uplift in sales during this period, as the younger generation often look to enjoy refreshing and fruity flavours," says category & shopper marketing director Toby Lancaster.
"The main reason we saw such strong growth in alcohol last Halloween was heavy promotions"
Also looking to cash in is Brothers, which recently added Red Apple Cider to its repertoire. "As we approach autumn, we expect to see the trend for mulled cider continue as drinkers look for something a little more warming," says Brothers' senior marketing manager Nicola Randall. "Following an increase of over 100% in sales in winter markets for our Spiced Toffee Apple and Mulled Festival Ciders, we're expecting an increase in households creating their own celebrations at home."
According to Kantar's Benson, promotions will be crucial for booze brands this year. "The main reason why we saw strong growth in alcohol last Halloween is that it was heavily promoted by retailers," she says. "It really depends on whether the retailers decide to promote it as heavily this year."
Going big on booze could be a sensible move for the mults. Because even if trick or treating is under threat, one thing is sure: Brits will still be celebrating Halloween in whatever way they can.
Can trick or treating go virtual post-pandemic?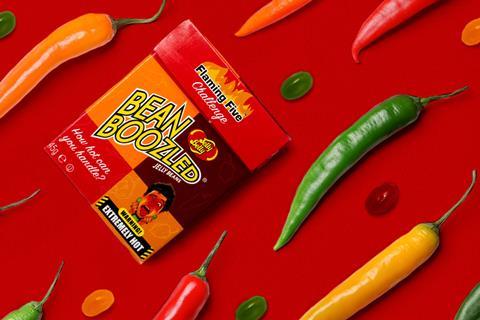 If Covid-19 has taught us anything, it's that you don't have to be with someone to feel close to them. Apps like Zoom can keep us connected. Even at Halloween.
"Due to social distancing, the custom of trick or treating on doorsteps is likely to look different this year," says Rob Swaigen, global marketing VP for Jelly Belly. "We envision trick or treaters turning to video conferencing platforms like Zoom to entertain themselves."
That fits perfectly with the brand's BeanBoozled Flaming Five Challenge, an app that allows users to play a devilish game of Russian roulette with chilli-flavoured candies.
Other brands are similarly adapting their spooky activity for a socially distanced audience this year. For Chewits, character Chewie the Chewitsauraus will host virtual games and giveaways.
The very unique nature of this year's Halloween could also see brands turn to new platforms. Tik Tok represents a potentially big opportunity, suggests Laura Shephard, senior social media strategist at HeyHuman. "One option is to identify a social challenge or trend that's blowing up on social, and adapt it.
"Who's to say challenges can't be replicated with pumpkins, piles of trick-or-treat sweets, or Halloween decorations?"
Camilla Yates, strategy director at creative agency Elvis, also spots potential. "With promoted hashtag challenges and branded effects growing in popularity on Tik Tok and the introduction of age-gated ad products, we predict an explosion in brand activity on the platform," she says.
This follows the June launch of Tik Tok for Business, its call for advertisers to swap traditional marketing for ads on the app.
As the first major seasonal event since the launch, Halloween could be a big opportunity for brands to build a presence on the platform.
Innovations in Halloween 2020