In spring, panic-buying Brits were paying over the odds for their pasta fix. Now retailers are piling on the pressure to lower prices
If Italy is the birthplace of pasta, then Britain is its adoptive home. At least, that's what the latest sales figures suggest. During lockdown, pasta was one of the most stockpiled items in the UK, alongside canned food and loo roll. Dried pasta value sales grew 74% year on year in the first week of March, according to Nielsen figures, while canned pasta was up 60%.
At that time, it seemed Brits would pay anything to get their pasta fix. Gone were the days when shoppers flocked to own-label lines in a bid to save a few pennies. Average prices rose 2.4% as customers snapped up whatever was available [Kantar 52 w/e 6 September 2020].
"During the 'panic-buying' phase, pasta was in high demand thus shoppers were buying any product available on the shelves," says Kantar analyst Isabelle Baker. Now the tables have turned. As a staple food, pasta has been a key focus of the everyday low pricing efforts at the major mults. Average prices have fallen 6% in the past three months, primarily driven by cuts across the major pasta brands [Edge by Ascential 90 days ending 19 October 2020].
It's the start of what could be unprecedented price pressure on pasta brands – especially as Brexit and potentially hefty tariffs loom on the horizon. And it's already provoking some difficult conversations between brands and retailers.
"During the panic-buying phase, shoppers were buying any product available on shelves"
Until now, the picture for pasta has been overwhelmingly positive. Market value grew 15.3% to £533.9m in the past year, as an extra 71.1 million packs went through the tills [Kantar]. All areas of pasta saw substantial increases in value, but particularly dry spaghetti, up 30.6%, and dry fusilli, up 27.8%.
Even the beleaguered pasta sauce category saw a substantial boost, up 12.5% to £363.6m. Market leader Dolmio said its sales grew 14.3% [Nielsen Scantrack 52 w/e 3 October 2020], driven by its "heartland" sauces such as bolognese and lasagne.
The panic-buying period didn't just up consumption – it also changed buying habits. Crucially, the long-term trend towards own-label went into reverse. Branded grew 22.7% to £164.9m, while own label grew at a noticeably slower rate of 12.3% to £369m [Kantar].
The popularity of those branded lines, which tend to command higher prices, was one reason for average price rises in pasta. Another was the general downturn in promotions, which resulted in full-price pasta sales rising 18.3%. Plus, premium own-label lines also became "more important to shoppers", says Kantar.
Availability
These buying habits came down to one simple factor: what was on the shelves. As pasta stocks were stripped bare in spring, many of the big names were able to maintain availability over cheaper own-label lines. Barilla, which saw a staggering 51.8% increase to £6.1m [Nielsen 52 w/e 5 September 2020], said this was a key factor in its success.
"On a global level, we were being asked by every country to double the normal quantity that we produce," says Alberto Costella, Barilla marketing manager for export markets. "We put a strategy in place that enabled us to navigate this crazy and dramatic year as best we could. This included granting product availability to the UK as much as possible."
It was a similar story at leading pasta brand Napolina, up 31.8% to £39.5m [Nielsen]. Commercial director Neil Brownbill says this figure was all down to matching demand with supply. "From the demand side, obviously the impact of lockdown was an increase in home eating. Italian cuisine performed particularly well.
"We were being asked by every country to double the normal quantity that we produce"
"On the supply side of things, there were a number of processes we have as a business that allowed us to satisfy that spike in demand," he explains. "We have a level of stock holding that is roughly two months of demand. We will never go below that level."
Those who met demand were rewarded with substantial sales. The launch of premium pasta brand Le Stagioni d'Italia, which rolled into Sainsbury's and Asda ahead of schedule in spring, perfectly sums up consumer sentiment at the time. It doesn't come cheap: a pack of dry spaghetti weighs in at £1.50 compared with the market average of 60p per pack. But that didn't stop packs flying off the shelves.
"Seeing the depleted shelves of all standard pasta across UK supermarkets, we recognised the opportunity to bring our range of premium Italian pasta to the market," says Lorenzo Fontana, export manager at parent group BF Spa.
"We wanted to act quickly to help replenish the stocks and meet demand so worked with our UK partners, Worldwide Food Associates, to negotiate with Asda and Sainsbury's and in as little as two weeks our stock was present on supermarket shelves across the UK," he adds. "During this time, our sales volumes reached three to four times what would normally be expected during the first three months of a traditional product launch."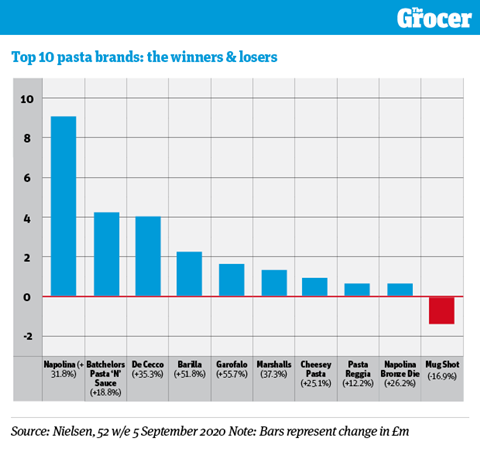 Only one top 10 pasta brand has seen sales decline in the past year, according to Nielsen. That's Mug Shot, which lost space prior to the panic-buying phase. It therefore lost out on the spike in sales across the category, says Nielsen thought leadership activation manager Katrina Bishop.
"Brands grew faster than own label in both value and volumes terms this year," she continues. "Covid-19 clearly benefited brands more than it did own label, allowing them to gain 3.7 percentage points in market share in value terms, bringing it to 49.5%."
Napolina delivered the greatest absolute gain of £9.5m, benefiting from a robust supply chain that allowed it to keep up with soaring demand better than many of its competitors during the peak period.
But Italian brand Barilla, which has been focusing on growing exports to the UK in recent years, realised a higher percentage growth rate than the market leader, with sales up 51.8% to £6.1m. The brand says demand from its export markets doubled in March and it prioritised shipments to the UK. Only premium brand Garofalo saw a higher rate of percentage growth, up 55.7%.
This propelled Barilla and Garofalo a place each up the bestsellers list. Outside the top 10, May launch Le Stagioni D'Italia is now at 15. Banetti and Don Gaetano have also entered the top 20, ranked in 16th and 19th places respectively.
Delisting risk
Not all brands that gained listings during this tumultuous period have lasted the distance, though. "What's happened is a number of brands bought onto the fixture are now being sold and cleared off the shelves," says Brownbill of Napolina. "They used short-term listings to plug the gaps."
That scenario may well return as Britain enters a second national lockdown. But the first one holds long-term lessons. Crucially, pricey propositions may be at particular risk of delisting when panic subsides. Because as availability returns, so does a focus on price.
In the relative calm between the two lockdowns, shoppers once again started to weigh up how much they were prepared to pay for pasta – as did the retailers. Indeed, overall prices have fallen by 7p per pack across the big four in the past three months [Edge by Ascential 90 days ending 19 October 2020].
That may not sound like much, but the decrease has been far more dramatic in certain areas. At Tesco, for example, prices have fallen by an average 20p per pack as the mult pushes ahead with everyday low pricing.
Dry pasta brands appear to be under particular pressure. At Tesco, 500g packs of Napolina penne, rigatoni, spaghetti and tagliatelle have fallen by 28p to £1 – that's a 22% decrease since August. A 500g pack of Barilla spaghetti has fallen to £1.20, down 30p on the summer. Similar patterns are evident across the rest of the big four. Sainsbury's is even pushing through small price cuts across its own-brand range.
"Pasta could well be a marker that retailers use to communicate price to shoppers"
Rachel Cacioppo, consumer insight director at Kantar, can understand the thinking behind the move. "Pasta could well be a marker that retailers use to communicate price to shoppers," she says. "We know pasta is a staple and a go-to item, so it is a key category that needs to be at the heart of their communication to customers."
That focus is likely to grow even further as the supermarket price wars intensify, and the UK enters recession. "During the last recession people traded down, so having affordable options in essentials like pasta is going to be important," says Cacioppo.
Of course, for now, pasta is an eminently affordable product. At Tesco, you can even pick up a 500g pack of its Hearty Food Co penne for as little as 29p per pack. Maintaining those rock-bottom prices could soon get far trickier, though. Napolina points out pasta could be subject to tariffs as high as 14% in the event of a no-deal Brexit, which is becoming an ever more likely prospect.
Those extra costs would be impossible for suppliers to absorb. "Our view is that we will have to pass them on if they're at the 14% level," says Brownbill. "What the implications are for shelf prices, to an extent, will be down to the retailers and what they do." For Napolina's part, it's stocking up ahead of the Brexit deadline to mitigate the initial impact of the uncertainty.
At the same time, that uncertainty could also push new products into the spotlight. So says Michele Conway, sales director at Britain's only dried pasta manufacturer, Pasta Foods. She believes UK-produced pasta could present a more attractive, affordable option than imports with a hefty tariff. "We've been working a lot with our customers around Brexit and we know people are taking it seriously. I just think the tariffs would be an unsustainable big cost on a relatively cheap commoditised price."
Posher pasta
Of course, she has a vested interest in promoting the UK stuff. But B2B supplier Pasta Foods is putting its money where its mouth is with the launch of its first customer-facing brand: Waveney Mills. The range will roll out in spring to take advantage of the Brexit moment. "Retailers and consumers will be keen to avoid increased costs associated with a potential no-deal Brexit, which we will help them avoid," says James Palmer, sales manager at Pasta Foods.
Interestingly, it's far from a budget proposition. The pasta is premium, bronze die and made from "the highest quality wheat" – retailing at £1.50 per pack. That's because Conway believes appetite for premium fare is unlikely to go away in the recession. "We've definitely seen consumers coming through in more premium pasta," she says. "There are more people eating in and they're perhaps missing that out-of-home meal occasion."
"We've definitely seen consumers coming through in more premium pasta"
Indeed, the growth in highly premium pasta delivery services suggests the nation isn't just looking for something cheap to plonk their tomato sauce on. Kantar's Cacioppo says there are essentially two opposite ends of the spectrum. "We know last recession people traded down, but the key thing is that shoppers have options," she says. "Premium own label is also gaining share in pasta as shoppers are looking for higher-quality products. If they're not eating out as much, they may want to treat themselves a bit more."
For that reason, Napolina's Brownbill urges retailers to consider different occasions in their stock choices. "You may make something quick during the week, then something more elaborate at the weekend that requires more scratch cooking," he says. "So pasta can lend itself to a number of meal occasions."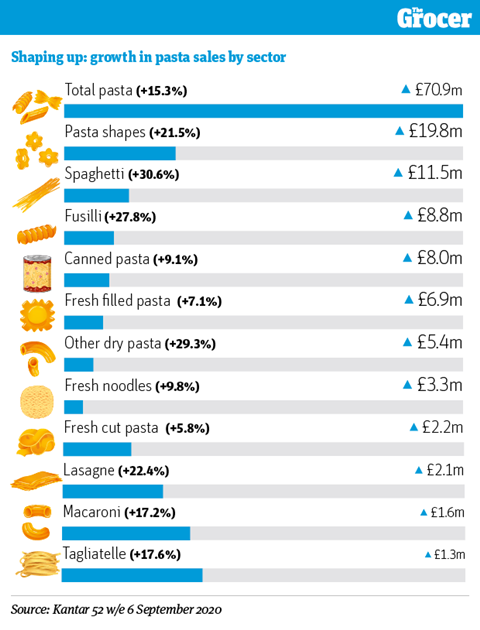 Brits forked out a gut-busting £533.9m on dried pasta in the 52 weeks to 6 September, according to Kantar. That's 15.3% more than they did in the previous year. They brought home an extra 71.1 million packs of the stuff, a rise of 12.8%.
It's no surprise that much of this was driven by people clearing the shelves as the pandemic hit Britain in spring. "Since the panic-buying phase in March, growth has predominantly been driven by an increase in purchase frequency, with the total number of packs bought per trip also growing," says Kantar analyst Isabella Baker.
Value growth was also buoyed by higher average prices. Inflation was driven by a number of factors, including a reduction on promotions to manage demand during the panic-buying (full-price sales rose by 18.3% over the full year) and strong growth for brands during this time. Premium own label lines are also in strong growth.
"Surprisingly, the largest average price increases came from the discounters, with Lidl up 9.5% and Aldi up 5.7% – both overindex in the category also," continues Baker. Lidl saw the highest growth in value sales, up 36.8%.
Rationalisation
Still, it's difficult to convey that message at a time of such widespread rationalisation. Napolina is one brand that has been burned by that particular trend. On 19 October, Tesco was no longer stocking variants such as its Whole Wheat or 50/50 range. Its pasta range was also quietly axed from Waitrose in spring.
It's far from the only one suffering from that movement, as retailers focus on best-selling SKUs and cut more niche propositions. That's also put a dampener on innovation. "In comparison to last year, there has been modest NPD uplift in pasta," says Kantar's Baker.
"We know last recession people traded down, but the key thing is that shoppers have options"
Napolina, for one, will be fighting back against that pressure on SKUs. "We understand what retailers faced in the first round of lockdown was real pressure on supply," says Brownbill. "But we think in the medium and long term, range is important as well. Don't strip the range back to just core basics because, as Italian cuisine is growing and meal repertoires are growing, people want to buy different shapes and textures."
It's a fair point. Because whatever happens with the second lockdown, Covid and Brexit, one thing is for sure: Britain's love of pasta is unlikely to go away.
Boom in orders for DTC pasta brands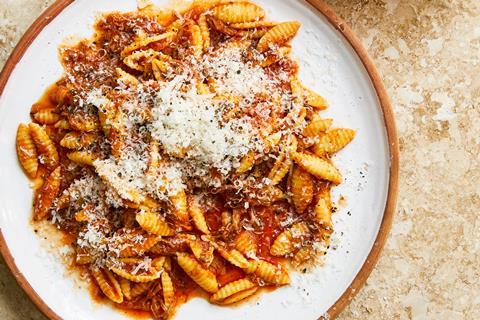 It's not just retailers that saw a massive uplift in pasta sales during the first lockdown. DTC pasta brands also experienced a huge boom in trade as shoppers opted to avoid the supermarket altogether.
Premium pasta producer Pasta Evangelists (pictured) saw online orders increase 10-fold at the start of lockdown. And similarly positioned La Tua Pasta reaped the rewards of branching out beyond its foodservice business – which lost "70-80% of sales within a couple of days" – to a new website.
"We were able to rebuild our sales, and service our end consumer directly to their home," says creative director Patricia Adrian-Hanson. "Sales recovered by about 50%, but importantly we gained thousands of customers who hadn't heard of us before."
It may sound like a flash in the pan. After all, lockdown brought in plenty of favourable conditions for these high-end, direct-to-your-door brands. Namely, supermarket shelves were depleted, online grocery slots were scarce, and the financial impact of Covid-19 hadn't fully hit home.
But these brands say lockdown has established a loyal new following. Sales continue to be far higher than they were last year. "Customers are stickier," says Alessandro Savelli, CEO of Pasta Evangelists. "The peak has lessened but we're still four times bigger than last year. Many customers have stayed."
La Tua Pasta tells a similar story. Although there was an "ebb and flow" over the summer months, October has seen "a return to online shopping". "It has been more of a 'meandering' rather than the desperation of lockdown shopping, but there has definitely been uptake as a way to relieve the frequency of supermarket trips," says Adrian-Hanson.
And Pasta Evangelists is confident not even the UK recession will dampen demand for its pasta, which comes at £7.50 per meal, as shoppers look to treat themselves at home.
Innovations in pasta 2020