Home baking sales have soared as Brits look to beat lockdown boredom. But will they soon start to tire of banana bread, too?
Ah, 'new normal'. It's just one of numerous phrases the Covid-19 pandemic has brought into everyday use. There's also 'social distancing', of course, 'track and trace' and even 'Barnard Castle'.
And there's 'banana bread'. There was a loaf of it in every oven during the early part of the outbreak – or so it seemed. It became the most-searched recipe on the BBC website, while 45,000 new photos of banana bread popped up on Instagram in April alone.
It formed part of a lockdown baking frenzy. As sedentary Brits sought out treats, 86% made cakes and 56% made biscuits, a Streetbees poll for The Grocer found. Pastries and sourdough were also on the menu.
"Home baking became a real stress-buster and distraction from what was going on around us," says Megan Harrison, marketing director at Roberts Bakery. "Celebrity involvement – including Loose Women's Nadia Sawalha, Stephen Fry and ITV presenter Holly Willoughby, who each posted images of their freshly baked bread to their social channels – drove the trend further."
The question is whether the trend has longevity. It's been almost four months since Boris Johnson announced lockdown – which led more than half (51%) of the population to spend more time with their ovens, according to a Waitrose report in May. So, are baking-bonkers Brits still knocking out unicorn-themed cakes with Mary Berry-like skill? Or have they become sick of the sight of their mixing bowls?
The story began back in March, as Brits stuffed their store cupboards with baking ingredients. The immediate uplift was dramatic. Value sales of home baking items soared 49% in the 12 weeks to 14 June [Kantar], with flour – quite predictably – growing fastest. Its unit sales almost doubled as shoppers picked up an extra 21.4 million packs, boosting value to £46.6m.
"Millers produced flour for home baking at full capacity. This still didn't meet demand"
"During lockdown, the UK's millers produced flour for home baking at full capacity, doubling their output from two million 1.5kg bags a week to four million. However, this still didn't meet demand," says Alex Waugh, director general of the National Association of British & Irish Millers (NABIM).
Such has been the level of demand that supermarkets were facing a flour shortage as early as April – leading NABIM to launch an online map directing consumers to outlets where they could buy commercial-sized bags of flour.
"Visits to our online map reached 45k in the first six weeks of going live," Waugh reveals. "Google analytics for the week of 12 to 18 April showed that for every 35 UK Google searches for Covid-19, and every 40 for a recently hospitalised Boris Johnson, there were 100 for flour."
Hannah Marriage, director at the Marriage's brand in Essex, says demand for home baking flour "has been totally unprecedented. We've been flour millers for nearly 200 years and have never seen anything like this before."
In response, Marriage's has doubled its output of home baking flours. And its direct-to-consumer sales have "increased phenomenally" she adds. "For several weeks, we only sold 16kg sacks to home bakers. These are normally only purchased by our professional bakery, wholesale, manufacturing and restaurant customers."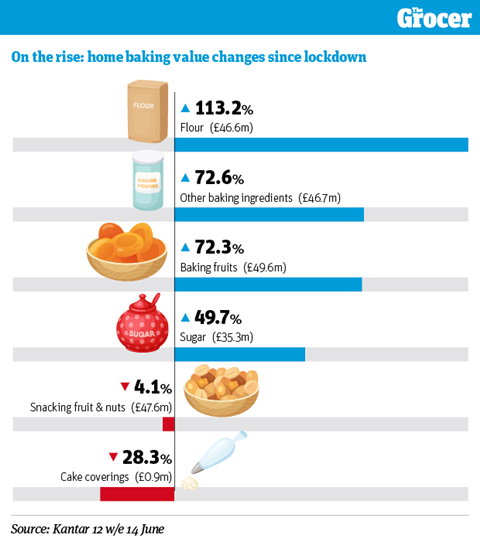 In the 12 weeks to 14 June, home baking has seen a 49% uplift in spend.
"The key driver of performance has been shoppers buying the category more often," says Kantar analyst Amber Trott. "The average shopper bought into home baking 4.7 times in the latest 12 weeks, compared to 3.9 last year." That's a 20.5% increase in frequency.
Higher shopper numbers have also made a major contribution to growth "as we see home baking gain 3.5 million shoppers year on year, which takes the total shopper number up to 21.8 million" she adds.
Flour's standout performance – unit sales nearly doubled – is largely down to increased shopper numbers.
"At a total grocery level, we also see flour rank the second highest for year-on-year value growth out of all total grocery categories," Trott says.
Baking fruit may be up, but smaller bags of snacking fruit saw a 4.1% value decline due to a fall in shopper numbers and frequency.
At category level, average prices are up 3.1% as promotions are cut. "This mirrors what we see at grocery level," Trott notes.
Sugar soars
Flour is just one ingredient in the home baking equation, of course. Sugar has also seen soaring demand. Value sales shot up 49.7% in Kantar's recent data period (see above) – while Nielsen figures show top two sugar brands Silver Spoon and Tate & Lyle added £10.2m between them in the 12 weeks to 27 June.
Such has been shoppers' desire for the sweet stuff that Whitworths Sugar launched a 5kg bag into grocery in May to satisfy "the unprecedented demand over the last 12 weeks" that marked "a clear change in consumption habits in the UK".
Bill Harrower, operations director at the brand's distributor, Tereos UK & Ireland, says the past few months "have been frantic as we have been working around the clock to supply additional sugar volumes and have achieved 99.41% delivery on time and in full throughout this period. This is a key performance indicator for our business and a fantastic achievement under the circumstances."
Other ingredients are similarly flying off the shelves. There's been a 72.3% increase in value sales of baking fruits, for instance, and a 72.6% rise for colourings, decorations and such [Kantar].
"We have been working around the clock to supply additional sugar volumes"
Such take-up is a sign of amateur bakers' growing ambition, suggests Joe Munns, CEO & founder of Bakedin. "We've seen more people baking who've never baked before, but also seeing the more experienced bakers looking for more interesting recipes. Insta and YouTube have encouraged people to want to create 'share worthy' bakes, which encourages people to try new creative recipes.
"We're seeing bakers get more creative and seasonal with cake toppers, for example," Munns adds. "Mermaids, unicorns and dinosaurs have always been popular, but a recent customer poll showed a real demand for garden and tea party-themed products – possibly as people expect to socialise more towards the end of summer."
That creativity is evident in hashtags such as #isolationbaker and #lockdownbaking on Instagram, which show such Brit-made treats as sourdough cinnamon buns, granary rolls, and even a chocolate chip, almond & peanut butter Lego man cake.
Essentially, lockdown means Brits are getting handier with a rolling pin. Our Streetbees poll of 1,131 people found more than half (56%) believed their baking skills had improved since lockdown began.
"People have upskilled themselves in the kitchen," says Helen Touchais, brand director for home baking at Premier Foods. "Many shoppers are more comfortable with their abilities than before, so are willing to create different dishes from scratch, with home baking being a category perfectly placed to enable further experimentation."
It's a trend noticed by Nutella, which has seen "a significant increase" in people using the spread creatively in their baking, according to Levi Boorer. He's customer development director at Ferrero, maker of the hazelnut spread, which saw a value sales gain of 34.3% over the lockdown period.
The brand has been busy updating its recipe hub, which includes creations such as a ciambella cake or a puff pastry tart with Nutella, or "to offer inspiration", Boorer says.
Nutella, of course, is a fairly mainstream baking ingredient. But more experienced bakers are also using their newfound confidence to venture beyond typical ingredients for their homemade treats.
Take ancient grains. Interest in the likes of spelt, rye and buckwheat has grown since the start of lockdown, claims Clare Marriage, founder of Doves Farm. Many shoppers have been "actively looking for the new tastes and textures ancient grain flours offer. Similarly, we saw significant growth in views of ancient grain recipe views on our website."
Other speciality brands to have benefitted include Camp Chicory & Coffee Essence and the Taylor & Colledge range. Both part of RH Amar's portfolio, the former brand saw a 16.9% value sales rise in the first six months of 2020. It was enough to secure it a listing in Waitrose's baking segment this month. Meanwhile, the likes of Taylor & Colledge's Vanilla Bean Paste "are currently growing by 25% in the speciality food channel" says RH Amar.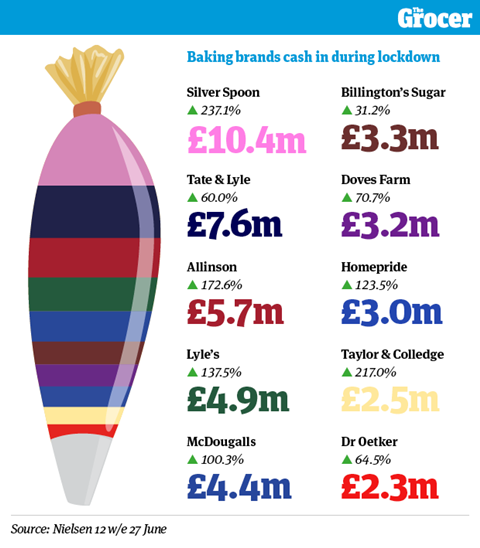 Home baking's top 10 brands added a total of £25.2m in the 12 weeks to 27 June. That's a 114% increase on the same period in 2019.
Silver Spoon's extra £7.3m – a value rise of 237.1% – was accompanied by a 219.6% increase in unit sales, meaning the category leader shifted an additional 4.6 million packs of sugar and sweetener.
By comparison, volume gains made by rival Tate & Lyle were fairly small. It saw an extra 1.6 million units go through tills.
The leading flour brands – Allinson, McDougalls, Doves Farm and Homepride – made an extra £8.8m between them and sold 5.1 million more packs.
"Flour has been so popular for baking during lockdown it was out of stock for a number of weeks in many stores with the supply chain struggling to keep up," notes Nielsen analyst Mathew Fleming.
Though not to the same extent, all of home baking has seen increased demand. "We have seen price inflation as a result, but this has not offset performance, with the majority of brands seeing strong growth," he adds.
Brands now represent 68% of value sales and 58% of volume sales in home baking "as a result of increased growth during this lockdown period", says Fleming.
Indeed, brands grew 129.5% in value and 113.1% in units. Own label, while slower, has still grown value 66.1% and volumes 50.4%.
Convenience baking
Still, not everyone has the confidence – or the time – to bake fancy goods from scratch. That's where convenience baking comes in. The likes of baking kits and cake mixes have experienced their own success due to the sheer simplicity of their proposition.
In fact, Jen Brown, head of marketing for cake & dessert at Dr Oetker, says these products have been standout performers during lockdown. "Sectors with the best performance during Covid-19 include cake mixes, growing at 137% and outperforming the total market," she says. "Both Dr Oetker and Betty Crocker have reported value growth of 70% or more in the total market."
Betty Crocker has also attracted an extra one million shoppers, says Maeve Judge, marketing manager for meals & baking at brand owner General Mills.
"There's a whole cohort of shoppers for whom convenience is key. They want to be able to demonstrate the love of having made something versus just bought it – but they are maybe time-strapped or don't necessarily have the experience."
Touchais of Premier Foods says these products appeal to certain demographics in particular. "Mixes are a great way to introduce novices and children to home baking, with simple recipes and convenient packs containing all the key ingredients," she says. "Themed products that are based on popular trends – such as unicorns – bring natural excitement and provide a springboard for families to get creative with their final decorations."
"Mixes are a great way to introduce novices and children to home baking"
She hits upon another appeal of convenience bakery: keeping bored kids occupied in the downtime from home-schooling. For Betty Crocker, that's been a key driver of sales during lockdown, as families get "a sense of enjoyment from the preparation as well as the consumption" Judge says.
The brand has seen "disproportionate growth of what we call our everyday treat format – things like cookies and brownies. We saw them grow in the 12-week period by 140%." This was largely down to parents' desire to keep their offspring "out of trouble" she adds.
What started as a distraction could turn into a longer-term trend, insists Bill Donnelly, founder & MD of Cake Décor. "Youngsters have shown a keen interest in baking during the lockdown period, with parents using baking as a fun and educational way to keep the kids busy during home schooling activities.
"Home baking activities that encourage creativity and allow children to use their imagination are key."
Phil Gowland, commercial director at Whitworths, believes that appeal will continue to resonate for a few months yet. "For the foreseeable future, or until schools return fully in September, we do expect the high growth in home baking to continue. On top of this, with everyone spending additional time at home instead of travelling abroad, the extra time will potentially lead to more time to bake together."
That sentiment is echoed by other suppliers, who are confident that the home baking boom will forge lasting habits.
Claire Marriage at Doves says it's "sure to continue with so many rediscovering the joys of home baking during the pandemic. With this in mind, it is important that grocery looks to offer a variety of flours outside of the usual plain, self-raising and bread flours to fulfil demand and continue to inspire shoppers."
"Parents have used baking as a fun and educational way to keep the kids busy"
Ferrero's Boorer has a similarly optimistic outlook. "Home baking is a trend that is likely to continue, even as lockdown restrictions begin to be relaxed," he says.
"With more social occasions available, shoppers will be keen to continue experimenting and share their baking skills with friends and family. As such, we are planning a campaign later this year that centres on the versatility of Nutella."
And Allan Burns, sales & marketing director at Carr's Flour, insists the boom has only just begun. "If you look at how the UK has taken up baking with aplomb during lockdown, it is reasonable to expect that many people are only at the beginning of their baking journeys," he says. "Baking is a skill that you develop over time, and we hope that people continue to be excited as they discover more and more baking opportunities."
Looks like plenty more banana bread and unicorn cakes will be cropping up on Instagram, then.
Why banana bread has been a lockdown favourite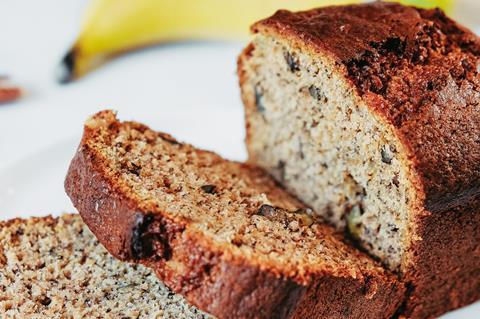 Banana bread has become the ubiquitous star of lockdown's home baking boom. As a search term in the early weeks of lockdown, 'banana bread' far outstripped the likes of 'sponge cake', 'cupcakes' and 'sourdough', Google Trends shows.
So what's so appealing about banana bread?
Well, not only is it tasty, it's simple. It requires few ingredients; little more than bananas, sugar, egg, flour and butter.
And it's so easy to make that even a nine-year-old can do it – as Buddy Oliver proved last month on his dad Jamie's YouTube channel. His video's since gained 138,000 views (at the time of writing).
Crucially, banana bread is also great for tackling food waste. In fact, some food historians believe it was popularised during the 1930s depression by cash-strapped housewives not wanting to waste overripe bananas.
The fruit – which ought to be "the browner the better" according to Oliver Jr – is central to one of the "clever, easy and creative ways" recommended by the campaigners at Sustain to "make tasty dishes whilst reducing food waste".
There are even more reasons for banana bread's popularity. Not only does it stay pleasantly moist for days, it's suitable for any meal occasion.
And it's versatile. Healthy recipes suggest leaving out the sugar or replacing it with honey (à la young Buddy).
For a more indulgent banana bread, add chocolate chips, peanut butter or – as Australian Bananas suggests – bacon.
The Aussie trade body's recipe has sent home bakers "wild", claims the Daily Mail. The "bizarre new treat" also requires basil pesto, baby spinach and cheese.
Whether it'll be a common occurrence in UK kitchens remains to be seen. But regular banana bread looks like it's here to stay: 38% of amateur bakers plan to make it again in the future, according to a YouGov poll.
That's delicious news.
Innovations in home baking 2020


Daniel Selwood is The Grocer's special projects editor, managing Britain's Biggest Brands, Britain's Biggest Alcohol Brands, The Dairymen and Top Products – as well as contributing to news, features, analyses and category reports.

He joined the magazine in January 2016 as food & drink editor, having been at financial & legal publisher LexisNexis for eight years.

He began his journalism career in the mid-1990s at a general interest magazine in his birth city, Sheffield.

Follow Daniel on Twitter: @danielmcselwood