The 'bleeding' meat-free burger has gone mainstream. So what are the next battlegrounds in the war of the plant-based patties?
Hamburgers can be a vicious business. Don't believe it? Just look at the burger wars that have been raging in the US for decades. Since the 1980s, restaurant chains like McDonald's and Burger King have been using ad campaigns to assault each other. The conflict has sometimes been extremely brutal.
Take Jack in the Box. It was sued in 2016 by Carl's Jr and Hardee's for suggesting they used, er, less-than-choice cuts in their Angus beef burgers. (Drop the 'g' in Angus to understand what Jack in the Box implied.)
But now, it seems, the burger sector has put aside its in-fighting to turn against a common enemy: plant-based meat alternatives.
Angry shots were fired in February, when the Center for Consumer Freedom, a lobby group funded in part by the meat and fast food industries, ran an attack ad during the Super Bowl. The TV slot pointed out that plant-based meat alternatives contain the "chemical laxative" methylcellulose. "Fake bacon and burgers can have dozens of chemical ingredients," CCF said. "If you can't spell it or pronounce it, maybe you shouldn't be eating it."
No wonder it's feeling threatened. Meat alternatives are booming in the US, with commentators expecting the market to reach as much as $30m by 2026. In the UK, the story is much the same. In January, Mintel reported: "Such is the popularity of meat-free food that sales are expected to be in excess of £1.1bn by 2024."
That popularity is underlined by the recent sales figures across grocery. During lockdown, the meat-free category has shot up by 18.4% to £134.5m [Kantar 12 w/e 14 June 2020]. And burgers have outpaced the market 37% growth – thanks in part to spells of barbecue weather and Brits' desire to recreate meals from their favourite gastropubs.
So, to what extent are plant-based burgers gaining ground? Which brands are winning in this new landscape? And how are the plant-based brands battling each other?
Almost all plant-based burgers have made strong gains during lockdown. Nine of the top 10 meat-free brands, many of which have burgers front and centre of their offer, have enjoyed double or triple-digit growth in value since March [Nielsen 16 w/e 11 July 2020].
The fastest-growing in percentage terms was Beyond Meat, with a 258.3% gain. Granted, that's from a much smaller base than some of its larger counterparts. But it's indicative of the success of its trademark 'bleeding' burger, hailed as the next generation of plant-based when it hit the UK in 2018. Having gained listings in Tesco, Ocado and Holland & Barrett, Beyond now has its eye on other retailers.
The brand attributes its lockdown gains to "opportunistic tactical changes to our strategy to take advantage of increased demand and emerging opportunities, including aggressively increasing promotional activity to drive greater consumer trial".
The establishment
That's tough talk – and it could have the plant-based establishment worried. Especially market leader Quorn, which was the only meat-free brand in the top 10 to see a decline, having shed 7.8% of its volumes due to a lack of production capacity.
Yet Quorn seems nonplussed. Despite the volume drop, it racked up near £60m over the past 16 weeks, while Beyond made just £2.4m [Nielsen].
"As the UK's number one meat-free brand, worth more than £203m, we are always pleased to see other brands adding growth to the category," says Quorn's commercial director Phil Watson. "We're proud of the fact that Quorn continues to be the biggest contributor of absolute revenue in meat-free, driving frequency and bringing new shoppers into the category all the time."
Plus, the brand points out that it has its own 'bleeding' option to rival the likes of Beyond – the Quorn Ultimate Burger, which it says "has been performing in line with the market's bestsellers, which show average annual sales of £1.1m by SKU".
As Quorn's range shows – it has six burgers including Southern Fried and Hot & Spicy – innovation in this area is rife across all players. 'Bleeding' is no longer a format confined to trendy Californian startups, but has become mainstream.
So, the next phase of the burger wars will be decided on other differentiating factors. Natural ingredients could be one such battleground. Despite the CCF claims, ingredients such as methylcellulose don't seem to be deterring consumers just yet.
Burgers from many fast-growing players such as Beyond Meat, Richmond, Naked Glory, Moving Mountains and many more contain the ingredient. It's commonly used in food manufacturing as a binding agent, and it's deemed safe for use in food in Europe, the US and across the world. (As with other popular ingredients, large doses may have a laxative effect.)
Chuck Muth, chief growth officer at Beyond Meat, is unapologetic about the use of the agent in its burgers. "We do use methylcellulose, which is a plant fibre derivative and can be found in several popular food items such as cakes and ice cream," he says.
However, he is keen to stress the quality of its ingredients. "Our commitment to high-quality, simple, plant-based ingredients without GMOs, soy, gluten or artificially produced ingredients sets the industry standard, of which we're very proud."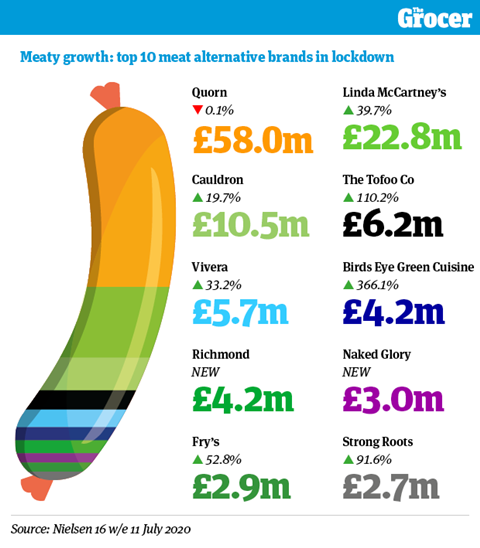 It's not often you see flat sales in the numbers covering lockdown, but there it is: meat-free market leader Quorn has seen a 0.1% dip in value.
Meanwhile, its unit sales are down 7.8%. That's even more surprising given that the total market, not including the discounters, has surged 35.2% in value on volumes up 22.7%.
Quorn ought to have "been ideally placed to tap into growing demand for alternatives to meat, but production capacity constraints have limited its ability" notes Nielsen analyst Carol Ratcliffe. "This left the market wide open for smaller players to take share."
That being said, "Quorn has been investing in growing its production capacity, which could rapidly change the market dynamics as it comes on stream," she adds. "Challengers need to build brand recognition and customer loyalty to defend themselves against a potentially reinvigorated market leader."
Kerry Foods' Richmond and Naked Glory brands have been responsible for £7.5m of the market's £11.6m growth. Richmond unveiled plant-based versions of its pork sausages last September. The same month saw the launch of Kerry's first plant-based brand, Naked Glory.
Chilled and frozen offers have both grown, with the former performing strongly at the beginning of the year and frozen picking up as shoppers stockpiled.
Clean labels
Jane Rayner, CEO of free-from veggie brand Gosh, believes clean label credentials will become ever more important to consumers. "We pride ourselves on using 100% natural ingredients across our range, using only vegetables, pulses, herbs and spices."
As such, the likes of Gosh's Mushroom Burgers and Beetroot Burgers appeal to shoppers who "want more transparency around what goes into meat-free alternatives; 31% believe that meat-free foods are too processed to be healthier than meat, while 41% feel that meat-free foods with a shorter list of ingredients are more appealing than those with longer ones."
Therein lies an opportunity for brands focused on veganism, suggests Derek Sarno, director of plant-based innovation at Tesco and founder of the retailer's Wicked Kitchen brand. "The gap in the market is for more all-natural, limited-ingredient plant-based products," he says. As such, Tesco has just launched a range of flavoured shredded king oyster mushrooms, which the team has "been working on for years".
It's part of a larger driver of the meat alternatives market: health. Hence why Berkshire startup Miami Burger attracts a broad audience of health-conscious punters to its low satfat offer, claims MD Tom Bursnall.
"We have a good following of folks on Slimming World and WeightWatchers who aren't necessarily vegan/veggie, and also gym monsters who like the fact that most of our produce is high in protein."
A focus on health is crucial, considering it is a driving force behind many consumers reducing their meat intake, notes Andre Burger, VP of foods & refreshment at Unilever, owner of The Vegetarian Butcher brand.
"The health benefits of a flexitarian diet are a key driver in cutting down on meat, and it doesn't seem that this change in attitude is just a fad," he says.
Plus, switching to plant-based doesn't mean having to compromise on taste, Burger is quick to insist. "Shoppers are learning for themselves that meat alternatives like The Vegetarian Butcher taste so much like the real thing – shoppers no longer have to compromise on meaty flavour to enjoy a plant-based alternative.
"Newcomers to the brand are surprised by the likeness to meat and have been enjoying the full flavour and exciting combinations these products can offer." Those qualities are essential to meat-free burgers and their continued success with the UK's shoppers, suggests Michael Hunter, chief growth officer at Meatless Farm. "As a young category, we need to encourage more year-round consumption and break down the barriers when it comes to taste and texture."
It's for that reason that Meatless Farm recently reformulated its burger, switching to pea protein – an ingredient increasingly popular in plant-based foods for its fibre and iron content. "We've worked hard to ensure we're making it as easy as possible for consumers to eat more plant-based burgers by really prioritising the taste and texture credentials," Hunter says, adding that the brand's burger sales "have increased by 36% year on year, and over double that if we include channels not covered by Nielsen".
Taste is, of course, a cornerstone of propositions such as Beyond. In June, Chuck Muth told The Grocer the aim was to create a product that "tastes just as good as an animal counterpart". That requires a hefty spend on R&D, which Muth cited as a reason behind its high price point, alongside the cost of importing from the US.
Because there's no getting away from it: Beyond is pricey. It retails at around £5 for a two-pack, higher than any of its rivals in Tesco. Although that doesn't seem to have hampered sales growth so far, Muth admits it is "an issue" in the UK, which it aims to address with its new facilities in the nearby Netherlands.
There isn't necessarily anything wrong with being on the premium side of the market. Moving Mountains retails at £4.50 for two quarter-pounders on Ocado. Brand founder & CEO Simeon Van der Molen sees this as a point of difference. "There aren't really many other players in the quality market other than just us [and Beyond]," he says.
That contrasts with the hot rivalry elsewhere in plant-based burgers. "Down in the middle market, it's getting very crowded with the likes of Quorn, Linda McCartney's and some new players," says Van der Molen. "It is crowded, and it will probably get more and more crowded." A focus on price means shoppers "can buy one from £1", he adds.
But regardless of brand positioning, these up-and-coming cheaper options are something no one in the market can afford to ignore. Take Birds Eye Green Cuisine's burger – star of the nascent brand's 'Whoops, I'm a Bit Veggie' push. It retails for a wallet-friendly £2.50 for pack of two.
Since launching in January 2019, it's become "the number two vegan burger and holds 8% market share in a popular and hard-fought category" according to Anne-Marie Gayer, senior brand manager at Birds Eye. "As a family-orientated brand at our core, we've successfully brought meat-free products to a mainstream audience."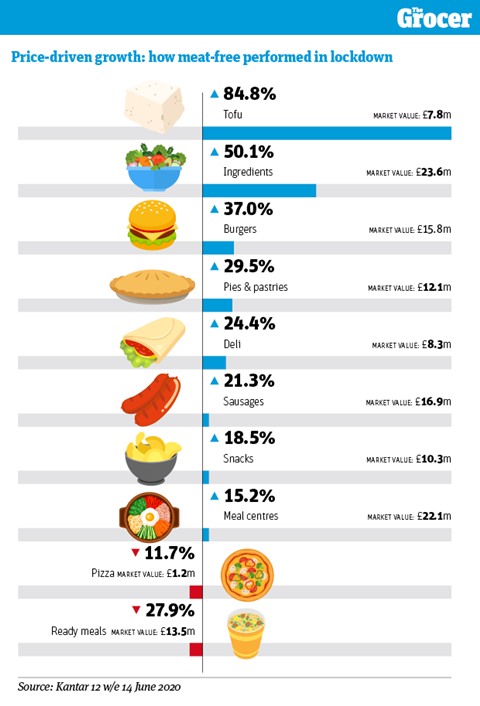 Sales of meat-free products spiked by 18.4% during lockdown. Price has been a major driver.
The slower rate of growth in unit sales, which stood at 6.7%, means average price has grown by 10.8%.
"Full-price sales continue to account for the majority of meat-free sales (84.8%), and they are growing at 42.4%, impacted by reduced use of promotions," says Kantar analyst Jennifer Fletcher.
"This means just one fifth of sales are coming from promotions. Temporary price reductions account for 89% of promoted sales, but all mechanics are declining compared to last year."
Ready meals and pizzas have declined in value by 27.9% and 7.3% respectively due to the rise in scratch cooking that has driven the 50.1% surge in ingredients.
NPD delivered a large chunk of growth, adds Fletcher. "Both brands and own label continue to innovate this year."
Crucial value
Own label options also present a substantial threat, especially as Brits start tightening their purse strings in the wake of Covid-19 and Brexit's full impact.
Aldi's Plant Menu burgers, priced at £1.69 per pack of two, are flying out of the freezers, claims MD of buying Julie Ashfield. "The fact that sales growth of our plant-based burger range is ahead of the rate for the business overall shows just how positively customers have engaged with these products."
Variants such as No Beef and No Chicken are a mouth-watering combo of value and taste, she suggests. "Ultimately, shoppers come to Aldi for quality at the lowest price on the market, so we have to apply that philosophy to our plant-based range. Investing in relationships with the right supply partners has been critical in ensuring we produce a burger that's not only affordable, but also tastier than products you find elsewhere."
It's a similar story for Iceland's exclusive No Bull lineup of vegan options. Its burgers, which come at £2 for two, were the brand's first product in 2018, winning that year's Peta Best Vegan Burger award.
"The amazing response to the product has continued since the launch and we have sold nearly one million individual No Bull Burgers," says an Iceland spokeswoman. "Therefore the No Bull Burger is still one of No Meat's top-selling lines."
And it has almost no equal, she adds. "For the No Bull Burger, we consider our closest competitor Beyond Meat."
In the intensifying battle of the plant-based burgers, that's some serious fighting talk.
The growth of out-of-home plant-based fare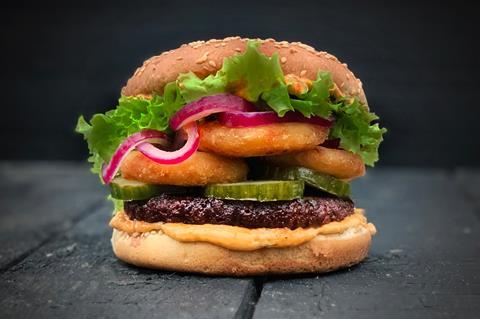 When it comes to plant-based fast food, McDonald's is playing catch-up. Burger King has the Rebel Whopper via The Vegetarian Butcher, and KFC has Vegan Burger courtesy of Quorn. All Maccy D's offers is Veggie Dippers. And that looks unlikely to change soon.
In January, it announced an extension of its Canadian trial of the PLT (plant, lettuce & tomato) sandwich, with a global rollout on the cards.
"This test allows us to learn more about the real-world implications of serving the PLT, including customer demand and restaurant operations," said Anne Wahlgren, McDonald's VP for global menu strategy.
But in late April, the PLT quietly vanished. A dejected fan was told via Twitter: "We have no current plans to bring it back to our menu."
Ethan Brown, founder & CEO of Beyond Meat, will have been equally disappointed. The brand reportedly began developing the PLT with McDonald's after rival Impossible Foods pulled out. "Being of service to McDonald's has been a central and defining goal of mine since founding Beyond Meat over a decade ago," he said in January.
A lot has happened since then, of course, and meat alternative makers have had to move their goalposts. "Prior to the end of March, 80% of our business was through foodservice, and that disappeared overnight," says Simeon van der Molen, founder & CEO of Moving Mountains Foods, which supplies the likes of Hard Rock Café, Marston's, and Slug & Lettuce. "Since Covid-19, we've gone all guns blazing and followed up on grocery leads. We've recently won listings in Waitrose and Ocado, and they've been blown away by the sales," he adds.
Still, there have been pockets of growth in foodservice despite the mass closures. "Vegan delivery orders have sky-rocketed," says Andre Burger, VP for foods & refreshments at Vegetarian Butcher owner Unilever. "This shows that many of us aren't only swapping mid-week meals for meat-free alternatives but are also doing so during treat occasions at weekends."
He points to Unilever's launch of its Ding Dong plant-based hot dog brand as proof of confidence in out-of-home.
And not having to battle McDonald's will be further cause for optimism.
Innovations in plant-based 2020