The seats around the breakfast table once filled by the young are empty. How to lure back the lost generation?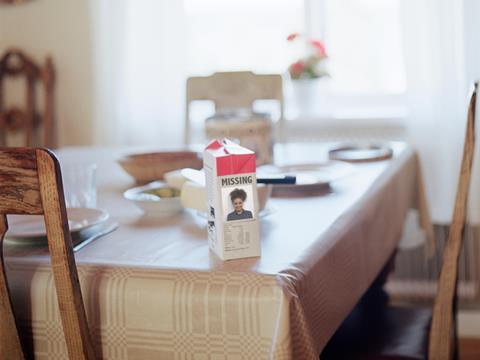 Missing: a generation of breakfast consumers. Millennials may be more clued up to food and health trends than older generations, but in terms of traditional breakfast there are empty seats at the table.

Nearly half of those who skip breakfast are aged between 16 and 34, and over one third of Brits who eat breakfast out fall into this group [Kantar Worldpanel 52 w/e 26 March 2017]. It's no surprise they're being dubbed by some as breakfast's lost generation.
Gavin Loftus, head of brand at Weetabix Drinks, is one of them, claiming these missing consumers are changing the shape of breakfast. "We're trying to recapture that lost generation of cereal eaters," he says. "The breakfast occasion has changed so much over the last five to 10 years and the opportunity is massive. Convenience is driving that, and consumers being very specific about what they want and what they're not willing to trade on - taste and nutrition."

The change in consumption is apparent in the sales figures. None of the key breakfast categories is in value growth, with ready-to-eat cereals faring worst with a £39.1m loss [Kantar Worldpanel 52 w/e 23 April 2017.]

Yet breakfast occasions have risen by 0.7% over the past year to 2.1 billion, suggesting fewer people are skipping the first meal of the day [Kantar Worldpanel 52 w/e 26 March].

So, what are these people eating for breakfast? How can brands and retailers lure back the missing consumers? Who's ahead in the search, and who's being left behind?

On-the-go is key, says David Martin, joint managing director at retail consultancy M Worldwide, as it allows those consumers who previously would have gone without breakfast a host of options to satisfy their morning eating needs. "There really isn't any excuse no matter where you are or what you're doing not to get a good, tasty, often good value breakfast option on the go," he says.

More people are opting for this, with one in 10 breakfasts now eaten out of home, a rise of 1.8% over the past year [Kantar Usage]. This taps into the changing definition of breakfast for younger generations.

"Boomers over 55 tend to have breakfast, lunch and dinner. For Generation Y (millennials) breakfast could be anything from when they first wake up to mid to late morning. They're redefining what that means," says Suzanne Robinson, UK MD at innovation consultancy Happen. "This is having a huge impact on the sorts of products and formats they're looking for."
---
1# What are retailers serving up for breakfast?
---
Pret A Manger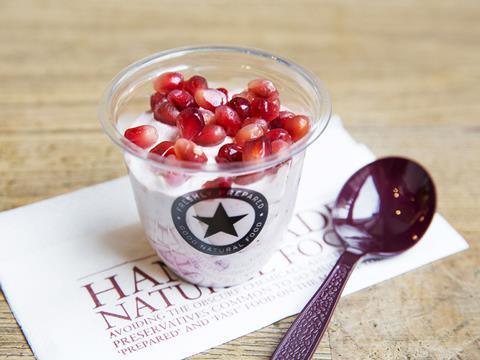 As well as having the locations for on the go consumers on their way to work, Pret also has a "very simple, efficient model" for breakfast, says David Martin from M Worldwide.
"In terms of innovation they are able to introduce new products with enough frequency to keep interest, but without being so frequent that it becomes confusing," says Martin.
Products such as the Egg & Spinach Protein pot have been key innovations for Pret, says Suzanne Robinson from Happen.
However, other breakfast offerings that have drawn in consumers include Pret's dairy-free Coconut Porridge, which now accounts for one in five porridge sales in the UK. Croissants also remain Pret's most popular product in the UK, according to its financial results for 2016.
Lidl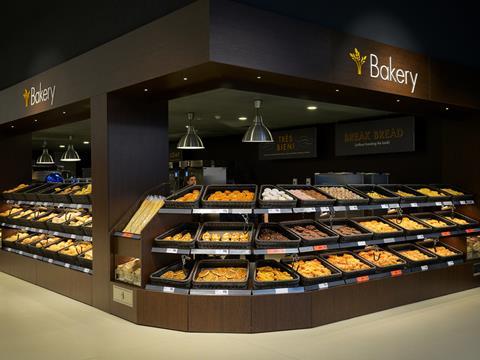 The prominence of the discounters is no different in breakfast to the rest of the grocery market.
"Hard discounters are selling great quality own label at a low price, meaning brands have to evolve," says Toby Baker, marketing director at Nestle Breakfast Cereals.
However, Lidl has also upped its on the go offer by putting bakery sections at the front of stores. This has drawn in consumers, says Martin from M Worldwide.
"Other grocers have it deeper in store because they try to set it up as a hero area," he says. "Whereas Lidl's version is simpler and taps into the senses more at the front where you can see it, but more importantly where you can smell it."
M&S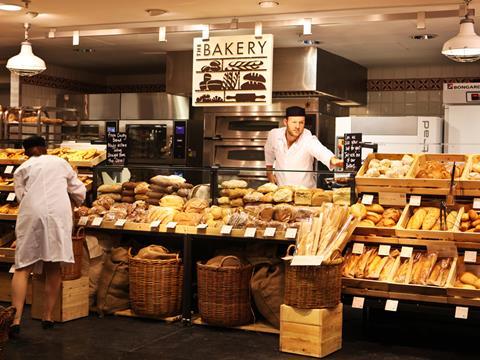 To attract more breakfast consumers, M&S has introduced hot shelves into their food on the go offer, which could stock a range of products from croissants to more savoury options.
"They're really trying to think about the ingredient mix, so not just about the convenient format, but this idea of giving the consumer ingredients they recognise are healthier for them," says Robinson, from Happen consultancy which recently worked with the retailer to help expand its breakfast offerings.
M&S also rotates its shelves depending on the time of day, making sure that breakfast offerings are on show in the morning, but shelves are stocked with evening style snacks in time for the commute home.
---
Breakfast drinks
Weetabix's Loftus believes this has opened up a "massive opportunity" for brands, so long as they can stay relevant to consumers through innovation. Weetabix has been capitalising on this with breakfast drink Weetabix On The Go, which hit the market four years ago.

Following multimillion ad campaigns and range extensions, including Protein, the brand now claims to have an 80% share of the £24m breakfast drinks market. This year it is partnering with entertainment company Live Nation to reach millennial consumers at Reading and V festivals.

"We've developed Weetabix On the Go to suit incredibly busy lives and occasions where eating breakfast in the traditional way is not possible, and festivals are the perfect example of this occasion," says Loftus. "The breakfast drinks category is 2% of total cereals in the country, but the relevance comes as you look at what total cereals has been doing as a whole. It's in value and volume decline, and has been for a number of years."

Australian breakfast drink brand Up & Go is reporting similar success, with sales up 30% since its rebrand earlier this year. The refresh updated the brand's packaging to present a more convenient screwtop format, as opposed to a straw, and change its size from a 250ml to 330ml carton.

While some are sceptical that breakfast drinks can ever truly rival cereals in the UK, Hamish Renton, MD of consultancy HRA, believes there's plenty more growth but it probably won't be in the same format as has been seen so far.

"There's a lot more to come in breakfast drinks," says Renton. "We're in UHT, but the process of doing it boils the life out of the ingredients. What we're going to see is shorter life breakfast drinks closer to what you'd do at home, or similar to what places like Costa do in front of your eyes. It will move from a UHT market to a fresh market - more about flavour, texture and vitamins."

Renton is less optimistic about the future of breakfast biscuits, believing that cereal bars are more aligned with consumers' health needs right now.

Raising the bar
"Breakfast biscuits have had a free run of the market," he says, "but then everybody realised they're not that great, they're quite sugary and full of carbs so could be more likely to make you more hungry than less. Cereal bars are ahead of them when it comes to health."

Consumers are certainly eating them less frequently, with a 3.5% decline in the number of occasions breakfast biscuits have appeared at, despite a 10% increase a year ago. Cereal & fruit bars, meanwhile, recovered from a 2.7% decline in occasions to grow by 7%.

Kellogg's recently made changes to make its range of cereal bars healthier, with sugar cut from and nutrients added to its three-strong cereal and milk bar range. The move saw sugar reduced by an average of 21% per variant, while it ramped up vitamin D and fibre.

Mars is also eyeing the market for growth, having unveiled the Goodness Knows Fruit & Nut bar as it looks to rival Nature Valley and Eat Natural in what it calls the 'lifestyle' category.

Traditional cereal brands are taking note too. "What we've seen in the past two to three years is all the brands bowing to the trend of on-the-go breakfast," says Renton.

The increased competition isn't stopping category heavyweight BelVita, however, which has recently rolled out a Chocolate Hazelnut variant of its Duo Crunch range (see p58) and splashed £4m on its Good Mornings campaign at the start of 2017.

There's every reason for brands like BelVita to keep innovation levels high, as own label is increasing its focus on parts of the breakfast category. Sales of own-label breakfast alternatives, such as biscuits, cereal bars and toaster pastries, are up 8.8% on volumes up 9.6%, compared with a 3.1% value decline on volumes down 4.4% for brands [Kantar].

Breakfast pastries, accompanied by coffee, could offer a further boost for retailers' own offerings as they look to tap the grab & go breakfast market. But they face stiff competition from foodservice outlets such as Pret, Starbucks and Greggs.

"The foodservice industry has led the way in disrupting the breakfast category," says Helene Mills, director of strategy and consumer at retail consultants Pragma. "Grab & go is the fastest growing part of the dining market, and within that breakfast is the part showing the most growth. The options are becoming prolific and consumers are more attuned to the convenience and appeal of buying a coffee and breakfast on the way into work."

And innovation and promotions by the foodservice giants are making this even more appealing to consumers, from boiled egg and spinach protein pots in Pret to Leon's £4.25 breakfast meal deal.

Renton believes the supers still have work to do if they are to properly compete. "Retailers' sites aren't where people want breakfast anymore," he says. "They used to buy breakfast there and eat it in the home. As the home occasion has been frayed and shrunk, retailers' hold over breakfast has correspondingly fallen. What the supermarkets are good at doing is shifting big boxes of stuff, typically purchased in the evenings and eaten throughout the week, and now, the breakfast occasion is very much about impulse, meaning it's entirely dependent on what consumers are doing. The tide is going out for big retailers on breakfast."
Pop-up gallery: Innovations in Breakfast Cereals 2017
Morning goods rise
C-stores and the discounters are reaping the rewards, meanwhile, with morning goods a particular triumph. One in 10 food-to-go shoppers now buy breakfasts from convenience stores, according to data from Him [Meal Occasions: Winning in breakfast, lunch and dinner 2016 report].

"The rise in breakfast sales is, in part, due to the success of our food-to-go and in-store bakery offerings. For instance, in our hot food-to-go category bacon rolls have witnessed a 8% y-o-y rise in sales," says Adrian Prior, category trading manager at Co-op.

Croissant sales rose by 8%, he notes, and the retailer's own-brand pre-packed Irresistible croissants saw a 19% increase. "As a convenience retailer, our customers are often visiting our stores first thing in the morning and picking up their breakfast for the day there and then," Prior adds.

Morning goods appeared at 3.5% more breakfast occasions over the past year [Kantar Usage], which echoes their impressive growth in general. "The continental market (+10.5%) is now one of the fastest growing in food, but we are seeing a movement away from traditional morning goods like scones (-8.7%) and into Continental solutions like brioche (+11.9%) and pain au chocolat (+13%)," says Tim Barkey, marketing director at New York Bakery Co. "Croissants are also growing well (+9%), but half of this value growth is coming from the discounters. Lidl currently holds a 16% share of all croissants, which, alongside Aldi holding a 22% share of brioche, demonstrates an opportunity for other retailers."
Breakfast: winners & losers
This success is thanks to the discounters offering "the same but cheaper", according to James Graemer, strategy director at creative marketing agency Life.

Despite the rise in Continental breakfast goods, Allied Bakeries maintains toast "remains the cornerstone of any breakfast". "Over 70% of bakery products eaten at breakfast are toasted," says Zoe Taphouse, category director at Allied Bakeries. "Appearing at 22% of all breakfasts, it is second only to breakfast cereal in popularity."

Yet the number of occasions it appeared at remained flat, up just 0.1% [Kantar Usage]. Robinson from Happen suggests baked brands are missing a trick by not diversifying more. "There are quite a lot of people who want low or no-carb solutions," she says. "If people can crack ways of giving people something that feels quite substantial and it's easy to consume on the go, then I think you'll find people will grab hold of that."
---
2# What are retailers serving up for breakfast?
---
Waitrose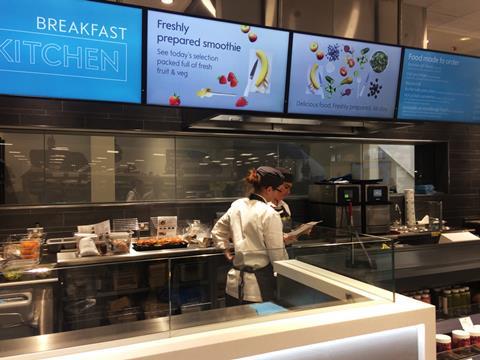 Out of all the major supermarkets, Waitrose has been the one to make significant steps in the breakfast market, according to David Martin from M Worldwide.
Alongside its coffee-to-go offer, Waitrose also offers integrated in-store cafés, which Martin claims are better than their competitors'.
"There was a time when in-store cafés didn't sell any of the food that was being sold in-store," he says. "But Waitrose at King's Cross has a fantastic section, which feels integrated as part of the in-store experience. There are fewer barriers."
It's also included a hot breakfast offering as part of its new open kitchen in the Haywards Heath store – the fourth one to include the counter. Menu items include avocado on sourdough toast, topped with chicken, hard-boiled eggs, salmon or bacon, filled brioche rolls, and freshly prepared smoothies.
Leon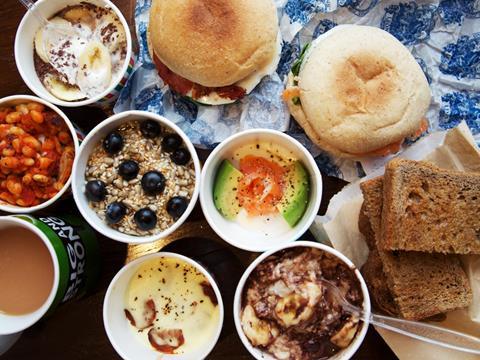 Healthy fast food chain Leon has jumped on the egg bandwagon, with its range of breakfast pots including poached eggs with saucy beans and chorizo, smoked salmon & avocado egg pot, and a veggie pot. It has also recently introduced the Big Breakfast Box – its take on the full English.
The chain also offers a meal deal, with any breakfast item and a coffee for £4.25.
"One of the big wins is to make a whole range of breakfast-style products more conveniently available," Robinson says. "And equally, not just looking at cold solutions but bringing in hot savoury."
Leon has done this by offering traditional options of hot buttered toast alongside porridge pots topped with fruit, nuts and honey.
Like Pret, vegetarian options, such as the smashed avocado and halloumi muffins, are heavily featured.
Co-op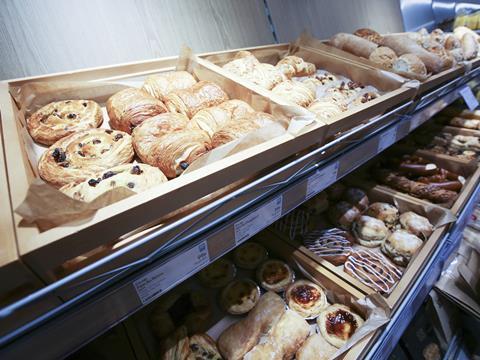 Co-op is one of the strongest performing retailers when it comes to cereals and breakfast alternatives, with value up 5.1% [Kantar].
"Our success is due to the fact that we provide our shoppers with what they want and at the right time. We range our lines to suit each individual store's needs, keeping stock levels high to ensure availability during peak times," says Adrian Prior, category trading manager at The Co-op.
In-store bakery offerings and food to go have also proved a success. "Our hot food-to-go category bacon rolls have witnessed an 8% year-on-year rise in value sales," adds Prior. "Our success is also due to the fact that we provide our shoppers with what they want and at the right time."
Prior also suggests its locations enable consumers to visit in the morning to quickly and easily pick up their breakfast.
---
Can porridge really be cool?
This is a tactic Quaker is trying to use to invigorate its sales, having launched Quaker To Go in July, featuring Breakfast Squares and a revamped Oat & Fruit Pouch. This follows a 2.8% value loss for its Oat So Simple range while its traditional porridge sales fell 2.3% [IRI 52 w/e 18 June 2017].

Marketing manager Eric Williams isn't worried, as "porridge is becoming cool". Well, overnights oats, the highly Instagrammable breakfast, is. Last year the brand collaborated with Deliciously Ella and BuzzFeed to share recipes of overnight oats, which received over five million views in four months.

Williams believes this trend shows "absolutely no signs of slowing down". This year the brand has run another campaign centred around overnight oats, where consumers have a chance to win a free hand-designed jar with packs of rolled oats. Three quarters of the way through the campaign, the brand is "smashing through" its targets, says Williams. "It has really allowed us to capitalise on the idea of a simple, natural healthy breakfast. Overnight oats are the perfect articulation of the consumer who is seeking to understand simple ingredients that go into their breakfast," says Williams. "People love the Instagrammable nature of breakfast."

In April, the brand further tapped this trend by introducing an Overnight Oats pots into Asda, Tesco and Sainsbury's. Consumers can add milk in the evening, refrigerate overnight and then eat in the morning.

"The market for on-the-go breakfast is continuing to grow, with an ever-increasing demand from consumers for convenient but high quality formats," says Tom Mercer, founder of instant porridge brand Moma, which saw volumes rise 82.4% over the past year, albeit from a small base [IRI].
Health
The natural credentials of many of these products play into the wider health trend. Meaning that when it comes to breakfast products, what is in them as well as what format they come in is of growing importance to consumers. But the idea of what is healthy has changed, with cereals previously thought of as healthy, such as Special K, in decline.

The brand launched a £3m campaign in April to try and change perceptions of Special K, after suffering an £11.7m decline over the past year [IRI]. By teaming up with presenter and ex-model Katie Piper as brand ambassador, it hopes to address criticism on social media that has seen the brand called "tasteless" and "unhealthy".

"To date, a challenge we have faced in the cereal category has been the changing attitudes towards breakfast; how Kellogg's remains relevant and how we help consumers include cereal within their day-to-day diet habits," says Ben Simpson, commercial strategy and revenue growth management controller for cereal at Kellogg's. "So far this year we have tackled this head on, reminding and inviting consumers to enjoy our product."

But the decline isn't limited to Special K. Ready-to-eat cereal sales lost £39.1m as consumers switch to different breakfast options [Kantar].

Kellogg's All-Bran suffered the second biggest loss of RTE cereal brands at £7m followed by Dorset Cereals, down £4.1m [IRI]. Market leader Weetabix, on the other hand, saw sales rise £0.6m, despite volumes falling. Its Crispy Minis offering, at just £23.8m in value, bucked the overall market trend with the biggest branded RTE cereal growth of £3.4m.

"Weetabix Minis gives people a mix of a healthy product as well as being enjoyable. Because it's made of wholegrain and it's either got green or amber traffic lights, people are confident it's a really wholesome choice as well as enjoyable," believes Weetabix brand manager Kevin Verbruggen.

The brand further tapped this with the launch of Weetabix Additions in February. The NPD features fruit within the wholegrain rusk and since its launch the brand claims it has racked up sales of over £2.5m. With 100% wholegrain wheat, high fibre, low salt as well as vitamins and iron, Additions fits with changing consumer views on health.

"Health for a Gen X used to be low fat, low calories," explains Robinson from Happen. "For a Gen Y, there's a much more positive and balanced definition of wellbeing. At its broadest, it's looking at your emotional and mental health, not just physical health."
Sugar reduction
Sugar is at the centre of many health discussions, particularly when it comes to cereals. Several leading manufacturers have committed to cutting the sugar content in their key products.

Nestlé recently announced plans to reduce the average sugar content across its portfolio - which includes Shredded Wheat, Cheerios and Shreddies - by the end of 2018. The move will see around 225 million fewer teaspoons of sugar in the nation's diet, according to the manufacturer, which claims to have already reduced its average sugar content by 15%.

"We also know that breakfast cereals can play a part in the efforts to reduce sugar consumption across the nation," says Gharry Eccles, UK regional vice president of Cereal Partners Worldwide. "We'll take every opportunity to drive forward improvements across our range. For example, by the end of this year our cereals will be free from artificial flavours and colours across our entire product portfolio."

Sugar reduction is also high on the agenda at Kellogg's. "Health will continue to be at the forefront of our vision in 2018," says Gareth Maguire, Kellogg's UK marketing director for cereal. "And we will remove 2,000 tonnes of sugar from the nation's diet by the end of 2017." Alpen, sales of which are down 3.7%, is also cutting sugar. "In the next 12 months we will have removed in excess of 10% of sugar in our museli," says head of brand Stuart White.
Paddington's favourite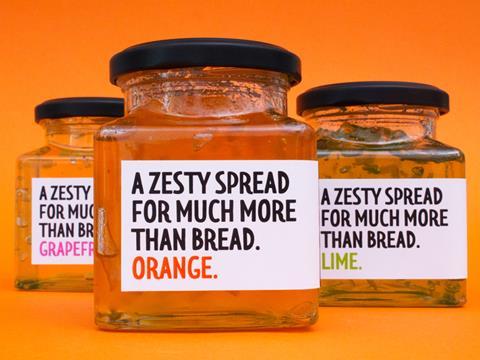 Paddington Bear loves a marmalade sandwich, always keeping one in his hat, but millennials aren't so keen on them.
"It's just seen as a granny's food," says Dean Harding, senior designer at design agency Allgood, which was commissioned by BBC1's Rip Off Britain to make marmalade trendy again. "If you look down the aisle at jams or preserves, a lot of things look the same," says Harding. "They play on the traditional farmhouse look and it looks a bit fake."
Volume sales of jam and marmalade were down 2.2% last year as shoppers cut down on sugar and bread [Kantar Worldpanel 52 w/e 11 September 2016].
However, marmalade is more than just a topping for toast. "You can put it in your cakes, spread it on cakes, glaze ham with it, or put it in porridge," says Harding. To shake it up, Allgood used a square jar and purely typography on the label, with no mention of marmalade. Instead, the line 'A zesty spread for much more than bread' is used, along with a serving suggestion other than toast.
"The younger people loved it. They said they'd definitely pick this up, and that it would look great on Instagram," says Harding. "On the flip side, the older people said they didn't need to be told what to do with their marmalade."
Harding stresses that marmalade brands need to do a lot more than just refresh their packaging. "You see Nutella everywhere. You can personalise a jar with your name, and you're going to put it on Instagram or Twitter or Facebook. Marmalade similarly needs clever marketing."
Nutella faces similar questions to marmalade over sugar, but was up 1.2% in volume sales last year, suggesting it is possible to market a sugary spread effectively [IRI 52 w/e 5 November 2016].
However, Harding warns it may take a "trendy hipster in East London" to create a pop-up marmalade bar before sales of Paddington's favourite snack start to pick up.
And while many are looking to out-of-home occasions for growth, Alpen is focused firmly on the breakfast table. "Although there is more choice at breakfast, in terms of food types and retailers, around 90% of breakfasts are still consumed at home," White adds.

His aim for the next five years is for an extra two million shoppers to be picking up Alpen, and he thinks the trend of posting food on social media will help. "A lot of what people are making and posting on Instagram is in an Alpen muesli. We're just putting all the ingredients back into a bowl again," he adds.

White attributes the loss of cereal's value not to lack of interest from consumers, but promotional tactics. Toby Baker, director of marketing at Nestlé Breakfast Cereals, agrees. "In the last 12 months we have seen a shift in the way cereals are promoted in the mults. This has, in part, been in response to the discounters and also a shift to gain more off-shelf display," he says. "All branded manufacturers have also reduced the number of multibuys and moved to more temporary price reductions. This has meant there are fewer brands on promotion, but the deals are deeper, which has impacted deflation."

Robinson, from Happen, believes cereals fortunes could get worse as consumers demand less sugar alongside more convenient options, leading Brits to move away from the category for alternative breakfasts.

"Increasingly you're seeing demand for products that are not just sweet on-the-go fare like croissants, with people wanting much more savoury, healthier options - take the rise of avocado for breakfast," she says.
Egg-citing breakfasts
Like overnight oats, avocado toast is highly Instagrammable fare. Eggs also feature heavily and were in 5% more breakfasts over the past year [Kantar Usage].

Eggs have seen innovation and growth within the healthy breakfast segment, according to the British Egg Industry Council (BEIC). "Increased demand for eggs is leading to consumers looking for new ways to include them in their diet," says BEIC chairman Andrew Joret. "This has led to strong innovation around grab & go ready prepared egg options across foodservice and retail, as brands and retailers look to capitalise. The rise in availability of pots and protein pots, as well as things like microwaveable soft-boiled eggs, out of home, is helping to satisfy consumer demand."

Retail egg sales topped six billion for the first time this year, after a 4.8% increase in volumes year on year, says the BEIC [52 w/e 18 June 2017]. That has made eggs the most popular cooked breakfast item, with 13% of consumers eating them regularly, and 49% occasionally [YouGov Breakfast Eating Habits Survey 2016].

"Many yet to realise benefits of eggs"

"The exciting thing is, there are still many people yet to realise the many benefits of eggs, and I firmly believe it's only a matter of time before they do," says Joret. "The potential is enormous, particularly when measured against per capita consumption elsewhere in Europe, and I expect sales to keep climbing."

However, as well as healthy options in the week, consumers are looking for more indulgent breakfasts at the weekend in the form of brunch. "It's really taking hold in the UK," says Robinson. "Foodservice has really grabbed hold of that, and that sociable angle. What you're seeing is the growth of indulgence and people really dialling up - it's okay to have waffles, avocado, poached eggs, chilli. It's rewriting the rules, and very Generation Y, and includes things that don't naturally go with breakfast."

In fact, over 22% of out-of-home breakfast visits involved a full English over the past year, rising from 20.8% of visits last year [MCA eating out panel Q1 2017 vs Q1 2016].

AHDB claims that sausages and bacon have "held their own" as breakfast choices over the past few years, as morning in-home usage of bacon has grown by 2% since 2013, and sausages by 12%.

"The driver appears to be increased popularity at the weekend, when consumers seem more willing to be indulgent," says Stewart Batchelor, insight analyst at AHDB. "Sausages enjoy a higher evening meal profile than bacon, but both of these products are much more likely to be part of a less time-pressured breakfast on Saturday or Sunday."

However, Robinson says no one in the retail trade has made the step of making brunch conveniently available to consumers yet. "You have to put it together yourself if you want that," she says.

And while bacon and sausages may be holding their own in terms of usage, they suffered two of the biggest losses when it came to the number of occasions they appeared at. with a 2.2% and 3.8% drop in consumption occasions, respectively.
Can bacon be convenient?
In order to tackle this, the meat market needs to innovate, according to Wall's senior brand manager Jessica Lamb. "Overall sausage and bacon as a category hasn't yet moved into convenience as much as it needs to," she says. "It's still quite a traditional category."


Wall's, however, has launched a ready-baked range to extend its convenience offering. The two new hot breakfast rolls are a Sausage Muffin and a Bacon Baguette, which will be available in both convenience and grocery from August.
Simon Howie, the Scottish butcher, is also trying to "evolve to meet the demands of the millennial market" says creative marketing manager Clair Howison. "Millennials have been hugely responsible for the growth in the low-fat and free-from sectors, and as a business we have been sure to evolve to fit," she says. "We are bringing out a new range of gluten-free, low-fat sausages in September to satisfy the free-from and calorie-conscious breakfast consumer."

Retailers also need to adapt their offering, believes Martin from M Worldwide. "It's connected to grocery stores going through this fusion or morphing into becoming more food and beverage offers in some instances, with the ability to provide time of day solutions properly," he says. "To to do that they have to change the way they think about their products, and how they're offering them. Become more 'grocerant', if you will."

Because if retailers, manufacturers and brands don't adapt to what consumers want, then that lost generation of breakfast consumers might just remain elusive.