Last year, high-strength medicines won the fight for cold & flu sales. Now they are facing fresh competition from natural remedies
It's time to lock and load in the war with cold & flu. At least it is if the Daily Express has it right. 'UK faces coldest winter for a decade' it warned on 24 September, blaming plunging solar activity and the El Niño weather phenomenon for a coming 'four-month whiteout'.

Of course long-term forecasts aren't known for their reliability. The Daily Star predicted three months of unseasonable warmth a week after its sister paper's vision of snowmageddon, so best to hold off on ordering that Ski-Doo for now.
Download the PDF version of this report
---

Winter remedies players will be crossing their fingers for a cold snap. Incidences of cold and flu tend to spike when the mercury falls and, as our winters get more severe, sales are growing. This is the third consecutive year of growth for winter remedies [Kantar Worldpanel], taking the market to £373.6m. That's up 10% on 2015.

Take-home sales have risen 5.3% [Kantar 52 w/e 17 June 2018]. Packs sold rose 1.3%. All but two of the sector's top 10 brands are in growth with big guns Strepsils, Day & Night Nurse and Jakemans up in the high double digits [Nielsen]. Market insiders are unanimous about the key contributing factor to this performance: the weather.

Not just any old weather, of course. Last winter was so severe we even gave it a name. "The 'Beast from the East' did aid the category," says Kantar analyst Charlie Neil. "We usually see a sharp drop in spend around March. This year it was far less acute as snow continued into April. Winter remedies sales in March were up 25% year on year."
"OTC medicines play an important role in helping people manage short-term symptoms"
Brits were bunged up as the Beast did its worst, it seems. And they were prepared to pay for symptom relief in the form of higher-priced decongestants. Sales of decongestants were up 27% in March and are the strongest growing part of the category, with full-year sales up 8.4% on unit sales up 5.3% [Kantar]. That's an extra 1.5 million packs sold.
The performance is even more impressive when you consider NHS guidance released last October stated oral decongestants didn't relieve the symptoms of head colds. Sufferers would be better off taking paracetamol, said the guidelines, which advised GPs against prescribing such products.

"In response, we announced we were calling for 'recommendation prescriptions' to be used by doctors to recommend appropriate over the counter (OTC) treatments for people with self-treatable conditions," says John Smith, chief executive of OTC medicine manufacturers trade body PAGB.

"OTC medicines play an important role in helping people manage short-term symptoms. However, many people lack the knowledge on which medicines are available without a prescription and look to their GP for advice."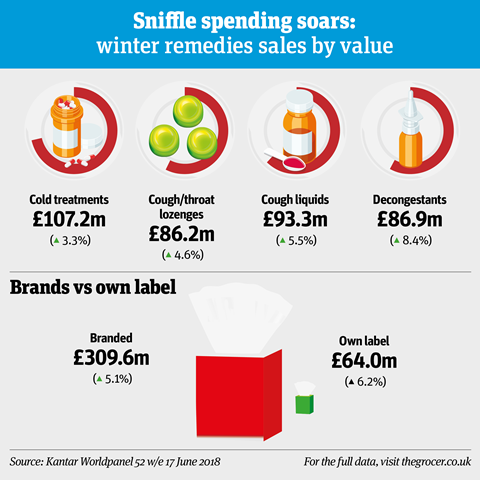 Find the full data at the bottom of this report
Brand power
The negative press (for decongestants brands, at any rate) around the new NHS guidance certainly doesn't seem to have dented big brands Lemsip or Sudafed. Market leader Lemsip has achieved 7.8% growth on units up 3.1% and Sudafed is up 2.5%, though it has sold 1.8% fewer packs [Nielsen].

Both brands were supported with heavyweight TV advertising throughout the cold & flu season. This is perhaps why brands are driving much of the growth in winter remedies, having seen overall sales rise 5.1% on units up 1.7%. That means 82 of every 100 packs of winter remedies sold in Britain is branded. (Own label, on the other hand, recorded a 6.2% spike in value but sold 0.7% fewer units.)
Sudafed maxes out on ad spend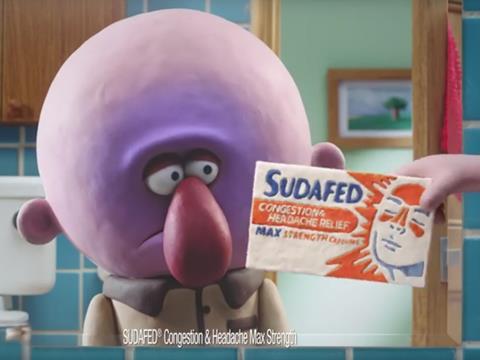 Only Sudafed and Benylin have increased spend on traditional ad space amid the rise of digital.
Sudafed's advertising was timely considering the brand was referenced in stories about new NHS guidelines, which questioned the efficacy of oral decongestants. Its ads claimed its Congestion & Headache Relief line "helps clear the symptoms of your head cold".
Despite the overall dip in investment in traditional advertising, winter remedies brands still spend big. The collective £14.9m was nearly double the amount spent by the bread category's top 10 advertisers in the year to 28 February 2018.
Find the full data at the bottom of this report
Media spend is crucial in this market, suggests a spokeswoman for Pfizer Consumer Healthcare, which attributes 0.5% value growth for Anadin Extra and 4.4% growth for the brand's Joint Pain lines to the cold winter and a return to TV advertising. The sugar-free Robitussin cough brand is up 10.3%, says Pfizer, making it a 'star performer'.

"Robitussin is the brand most likely to be recommended by pharmacists," says the spokeswoman. "We're continuously making sure consumers maintain top of mind awareness of our product efficacy and benefits through TV, online, in-store and pharmacy campaigns."

GSK's Day & Night Nurse brand, meanwhile, has been focusing much of its marketing effort on its 24-hour Cold & Flu Relief Capsules and poking fun at herbal remedies with slogans such as: How's That Eucalyptus Working Out For You?

The approach makes sense. Because while some are turning to high-strength remedies, others are going towards the other end of the spectrum. Natural remedies are growing (eucalyptus-based decongestant Vicks is up 7% in value, 6.8% in volume, for example) as certain consumers look to move away from anything artificial. According to Sunna van Kampen, founder of natural cold & flu treatment Tonic Health, there is growing suspicion of mainstream remedies driven by changing NHS advice.
"Prior to the launch of Tonic, the only option for consumers for winter relief has been paracetamol-based medicines, which only target symptom relief," says van Kampen, who claims his product can be used to treat (and prevent) cold symptoms because of high levels of zinc and vitamins C and D. "Vitamin products target daily consumption, rather than when the virus has taken hold."

Thomas Hal Robson-Kanu, founder of health shots brand Turmeric Co, also notes a growing reluctance among certain consumer groups to pop pills. "We've mixed our turmeric shots with piperine to activate the absorption of curcumin, as well as fruits," he says. "By making these delicious as well as good for you, consumers are enjoying them as part of their daily routine."
"The only option for winter relief has been paracetamol-based medicines"
This desire for something more everyday than a high-strength pill could explain why take-home sales of cough and throat lozenges are up 4.6% on units up 3.7%. Market leader Halls claims sales of its Soothers sub-brand are up 11.6%, though Nielsen's read of the total trademark (including its Mentho-Lyptus lines) puts it down 1.7% on units down 3.5%. Mondelez has rebranded the range for the coming season.

Of course, medicated confectionery players will also be hoping for a cold winter. Fisherman's Friend says sales for the first three months of 2018, when the Beast was battering the UK, were up 33.4% year on year.

"The promising start to the year has continued, as the brand's sales in the seven months to the end of August are ahead by 1% compared with the same period in 2017 - and by an even more impressive 8% in grocery multiples," says area business manager Martin Stimson, quoting Ceuta Healthcare figures.

"Medicated confectionery is widely recognised as a distress purchase and, as such, offers a huge opportunity for retailers."

Particularly if a certain Beast makes a reappearance.