Cereals are getting smashed to pieces in the supermarket price war. Ready-to-eat brands have been the biggest losers of the past year, haemorrhaging an eyewatering £52.6m combined [IRI 52 w/e 5 December 2015].

The overall market is down 2.4%, although volumes are up by the same measure, chiefly due to swingeing price cuts and the resilience of hot cereals [Kantar Worldpanel 52 w/e 8 November 2015], the scene of many launches by RTE brands such as Alpen, Coco Pops and Crunchy Nut in recent years.

With hot cereals an increasingly crowded sector and the overall category suffering from factors such as the breakfast on the go trend and growing concerns about sugar content, if the market ever needed a hero, it does now. So where can one be found?

Kellogg's says it's found one: Disney. The Disney-licensed Frozen and Star Wars cereals the company launched last year have racked up £5.4m between them so far [IRI], offering rare good news in an otherwise soggy market where nine out of the 10 biggest brands (five of which belong to Kellogg's) are in decline.

Now Kellogg's is gearing up for the launch of a chocolate-flavoured Avengers cereal to coincide with the April release of Disney's next superhero epic, Captain America: Civil War. "Disney has been fantastic," says Kellogg's commercial director for cereal Gareth Maguire. "Star Wars was big for us throughout December and we have new packs for the DVD release [expected in spring]."

Licensing deals aren't the only way to rescue sales, of course. Playing the health card is also paying off for some, although increasingly, 'healthy eating' means different things to different shoppers, and brands. For some it's about free-from credentials or low sugar, for others it's about boosted protein levels.

Protein cereals are on the rise. And they're not just being munched by gym-going hulks, says Richard Lawrence, head of brand at Weetabix, which has launched a host of such protein-packed products in the past year. "We're beginning to see protein transitioning from its traditional audience of young males," he says. "We can bring a broad all-family appeal and unlock more of a mass audience than the niche sub-scale brands."

Indeed, there's something of an arms race going on in the burgeoning protein cereals sector. Last January, protein pioneer Fuel10K launched Protibricks, low sugar and fat biscuits with glaring similarities to number one cereal brand Weetabix but for one crucial thing: the 6.3g of protein each serving contains (standard Weetabix contains 4.5g).

A few months later, Weetabix launched Protein Crunch, offering 6g of protein per serving, and followed it up with On The Go protein drinks with 21g. This month, Weetabix has pulled out the big guns with new cereal Weetabix Protein containing 12g of protein per serving, prompting Fuel10K to begin reformulating Protibricks. The new Protibricks will roll out to Sainsbury's, Asda and Ocado in March.

And protein cereals are more than just a flash in the pan (or cereal bowl), adds Lawrence. "We're focusing on making Protein as big as it possibly can be," he says. "Each of our Weetabix flavours range is worth between £3m and £6m in turnover and we'd expect Protein to be bigger than that."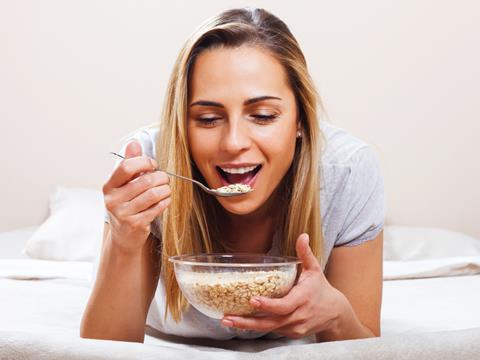 Price deflation continues to drive value sales decline in cereals despite volume being in growth. The major retailers have lowered prices through promotions but there is also a clear shift towards an everyday low price strategy as part of a continuing battle with Aldi & Lidl, while the latter respond by reducing prices on already cheaper lines.
The big four continue to lose cereals share while Waitrose and the hard discounters gain. However, unlike last year, both Aldi and Lidl's y-o-y growth has slowed considerably as they both slash prices, impacting value growth.
The Co-op and Morrisons have markedly improved on their poor performance last year through shoppers making bigger cereal trips.
Granola products have performed extremely well with an additional 5% of the GB population buying them. Manufacturers continue to launch into new segments, such as Kellogg's launching Coco Pops Porridge for kids and Quaker launching granola.
Zainab Khan, Kantar Worldpanel
Porridge
For others, NPD has taken the form of cross-sector extensions into thriving areas such as granola and hot cereals. With varying results; Alpen and Special K's hot cereal offerings, launched in 2012 and 2013 respectively, have failed to retain shopper interest. According to IRI, the former is down 50.5% to £2.2m; the latter's at £4.2m having lost 23.6%. Kellogg's two big hot launches last year, Coco Pops and Crunchy Nut Porridge, haven't yet sold enough to put them in IRI's top 10 hot cereals.

In response to the plummeting sales of Special K Multigrain Porridge, Kellogg's has launched Special K Super Porridge to reflect a shift in positioning from diet food to healthy choices. Other innovation includes Oomf's forthcoming Naked Oats, sachets of golden syrup flavour porridge with no added sugar, and Moma's on-trend Coconut & Chia Porridge Pot, launching this month. Meanwhile, Mornflake has launched a no-added-sugar variant of its Top Porridge pot.

The newcomers are small fry compared with market leader Quaker, whose Oat So Simple and Traditional Oats lines account for 55% of the market combined. Both are in value and volume growth. "Health and convenience have continued to be important drivers," says senior marketing manager Duncan McKay. "Meeting the demand for convenience has allowed the Quaker brand to offer shoppers a range of options. As a result, the customer base has broadened with younger, more urban consumers."
Weetabix puts on a brave face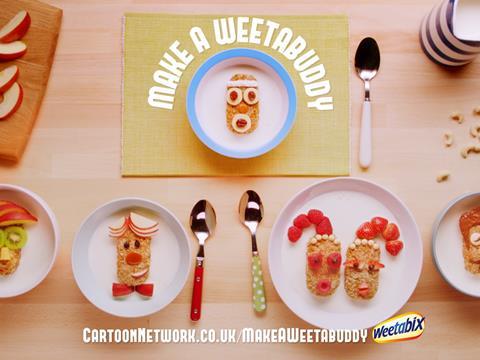 It's lost nearly £2.5m in value, but the leading brand in ready to eat hasn't suffered as much as some. "Weetabix is incredibly well positioned," says head of brand Richard Lawrence. "From a traffic-light perspective it is all green." The success of the Weetabuddies campaign was another bright spot.
In both RTE and hot cereals Special K's double-digit decline has been dramatic. Gareth Maguire of Kellogg's says: "We've got Nourish from Special K coming out (see p52), and Special K will play a role in our Olympic activity."
Oat So Simple's value growth is thanks to its convenience, says Quaker.
Granola
It's not just porridge that's hotting up thanks to a combination of NPD and demand for products perceived to be more wholesome and less processed such as muesli. With value down 0.9% on volumes that have dipped 0.5%, Dorset Cereals is outperforming the struggling RTE market, a fact that hasn't escaped the attention of Kellogg's, which launched All-Bran High Fibre Muesli in the summer.

"It's not all doom and gloom for RTE," says Kantar analyst Zainab Khan. "Granola has performed extremely well, with an additional 5% of the British population buying into these products and propelling growth. Consumers increasingly look for cereals that fulfil growing needs around taste, being filling, less processed and natural."

Established granola players are looking to cash in on this trend. For example, Rude Health has launched Chia Granola, Super Seed Muesli and Coconut & Seed Muesli, and last year Jordans introduced a lighter granola to its range. "While traditional health segments such as high fibre and low calorie are struggling, 'wholesome' cereals, which include granolas, mueslis and oat clusters, have achieved value growth of 2% in a tough market," says Rob Lemon, head of category at Jordans.

Last year PepsiCo's Quaker rebooted its single-variant granola offer, creating an eight-strong collection of Oat Granola, Warm & Crunchy Oat Clusters and Wholesome Crunch Granola formats. "Between September and November 2015 the new Quaker range has become the second-largest granola brand and is responsible for 45% of all the growth within the granola segment [Kantar]," says McKay.

Weetabix's Alpen muesli brand also branched into granola in 2015. "Alpen has often been the way consumers transitioned to muesli," says Lawrence. "We think we can provide that same gateway into granola. For consumers, granola is the sweet spot of healthy and tasty."

But perhaps the boldest bid for the wholesome cereals sector comes from Kellogg's, which has launched Ancient Legends this month. 'Ancient grains' such as spelt, rye and quinoa, along with flax, pumpkin and chia seeds, are the headline ingredients in the range of two mueslis, two granolas and two cereals. "We've tried to create a proposition that is very progressive," says Maguire.
Cravings remain for indulgent cereal offerings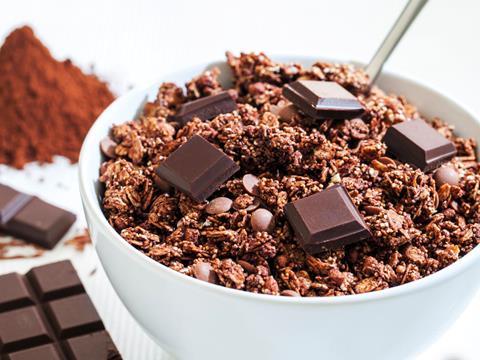 As the only brand of the RTE top 15 to be in value growth [IRI], but packing around 29g of sugar per 100g, Kellogg's Krave is bucking the health trend. Average price, down 8%, is one contributing factor.
"It's funny that in a market where everyone is talking about sugar and sugar reduction, Krave and Coco Pops are doing quite well," says Gareth Maguire, commercial director for cereal at Kellogg's. "It's about consumers continuing to choose to have some balance."
Nevertheless, marketing including a prize giveaway with Hunger Games: Mockingjay Part 2, released in November 2015, has played well with Krave's demographic of teens and young adults. A limited-edition Choco Roulette pack also keyed into the trend for mix & match flavours seen in other fmcg categories and was, says Maguire, "one of the key building blocks this year".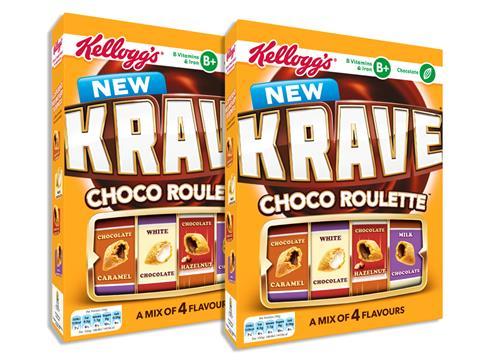 So is there a growing appetite for more indulgent and chocolatey cereals? For younger consumers, yes: Mornflake launched Chocolatey Orange Squares, aimed at teens, in Sainsbury's in 2015.
This year Dorset Cereals will launch a limited-edition raspberry & white chocolate muesli. Marketing manager Virginie Lenfant says: "This muesli will bring a touch of indulgence to breakfast, which recent research [by Illuminas] showed many consumers are looking for."
Not everyone is adding sweet bits. Dorset's ABF stablemate Jordans launched a plain oat granola with no added fruit in late 2014 and a 'lighter' granola in January 2015.
Lizi's Granola, which has had Treacle & Pecan and Belgian Chocolate variants in its range of low glycaemic load cereals since the brand launched in 2003, has no plans in this direction. "We'll be launching two products in February to provide the busy lifestyle and sport & fitness markets with a healthier granola option," says Nick Smallwood, senior business manager at Fayrefield Foods.
Sugar

For many of the brands the real headache is the amount of sugar their recipes contain and how it can be cut. In 2014 Halo Foods even cut it from one of its biggest brand names, rebranding Sugar Puffs as Honey Monster Puffs, and last August Halo launched Honey Monster Multigrain Honeycomb. "We're on a long-term sugar reduction strategy and have taken the next step by creating our first Honey Monster-branded breakfast cereal achieving an amber traffic light [Multigrain Honeycomb contains 22g of sugar per 100g]," says Halo marketing director Andy Valentine.

Nestlé Cereal Partners, meanwhile, launched Low Sugar Oat Cheerios in February 2015, alongside Gluten Free Honey Flakes and Gluten Free Cornflakes; Kellogg's says it removed 10% of the sugar from its Special K recipe. The supplier adds it's cutting even more in 2016. "We've made an external commitment that by the end of 2016 we will remove 723 tonnes of sugar from our cereal products," says Maguire. "That's quite a big deal. As of January 2016 we've reduced the sugar and salt in Bran Flakes by 30% and added oats to improve the overall nutrition. We're going to keep doing more reformulations throughout the year, looking at kids' brands including Frosties and Coco Pops and reducing their sugar."
Special K Nourish

Launched: February 2016 
Manufacturer: Kellogg's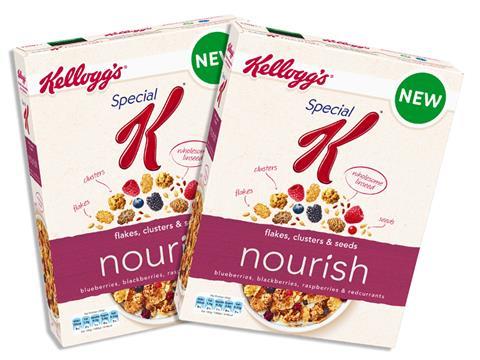 Including multigrain wheat bran flakes and sunflower seeds, the new Special K sub-brand (rsp: £2.99/300g) targets "consumers who want to look after their holistic health". It's available in blueberries, blackberries, raspberries & redcurrants; dark chocolate & coconut; and hazelnuts, almonds & pumpkin seeds variants and launched in Australia in 2015, where Kellogg's says it drove incremental sales. It will be supported by an eight-week TV campaign beginning in April.

Eat Natural Super Granola

Launched: October 2015

Manufacturer: Eat Natural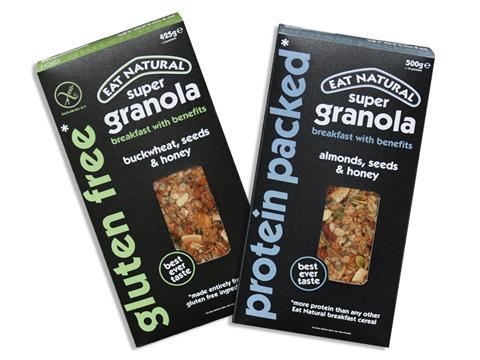 Two new granolas joined Eat Natural's cereals line-up last year. Super Granola with Buckwheat, Seeds and Honey (rsp: £3.25/425g) is gluten free, while Super Granola with Almonds, Seeds and Honey (rsp: £3.69/500g) is the company's highest protein breakfast cereal. Both contain roasted chickpeas and are sweetened with honey.

Dorset Cereals Bircher Muesli Mixes

Launched: August 2015

Manufacturer: Dorset Cereals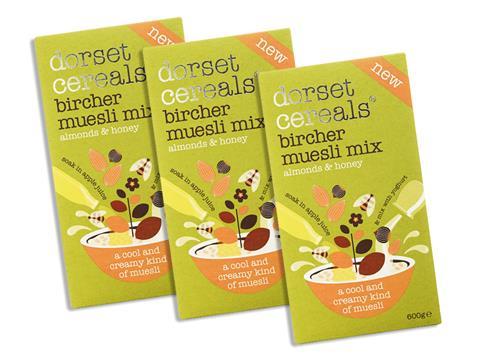 As chilled bircher muesli pots became commonplace in coffee shop fridges, Dorset Cereals launched a ready-to-soak version of the Swiss muesli that is steeped in water, juice, milk or yoghurt overnight. The mixes are available in almond & honey and raspberry & blackcurrant variants (rsp: £3.49/600g).

Weetabix Protein

Launched: January 2016

Manufacturer: The Weetabix Food Company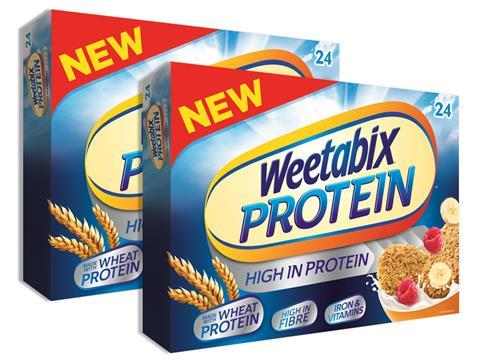 Weetabix's second protein innovation is made with added wheat protein (rsp: £2.99/24). It's high in fibre, low in sugar, salt and fat and fortified with iron and vitamins, with a recommended serving of 40g with 135ml semi-skimmed milk containing 12g of protein. In April, the brand says it will spend £1.3m on advertising the launch.
Reformulation
Reformulation makes sense for these brands, considering their high sugar content currently means the majority of variants cannot be advertised on TV to kids. But it's not without its risks. In 2004, Kellogg's launched a reduced-sugar Frosties variant that was later pulled after it failed to strike a chord with consumers and drew criticism for still containing 25% sugar, down from 38%.

Advertising is still clearly viewed as a worthwhile investment by cereal brands, with the sector's 10 biggest spenders on traditional media upping their combined spend by 20% to £36.7m in the past year [Ebiquity 52 w/e 31 October 2015]. Kellogg's spent the most in an effort to reposition its struggling Special K brand, while Weetabix more than doubled spend and says its child-friendly Weetabuddies campaign in early 2015 delivered a 4% year-on-year value uplift. The commercials return to television this month.

Such investment is going to be crucial if brands are going to be able to justify their prices and avoid the kind of swingeing price cuts the market has seen in the past year. "The top six retailers have lowered prices through promotions this year but there is also a clear shift towards an EDLP strategy," says Kantar's Khan. "Tesco, the biggest retailer in the cereal category with a value share of 29%, has increased the breadth and depth of its promotions and also followed Sainsbury's suit with a move to EDLP. Unfortunately, this strategy has not delivered so far."

Indeed, Tesco's cereal sales have fallen 6.3% in the past year, the second-greatest drop of the year after Asda, which saw 6.5% of its sales wiped out [Kantar]. That equates to a combined loss of £49.3m for these two retailers. In total the market has lost £39m, with the overall loss mitigated by the discounters, Waitrose and The Co-operative's combined £20.7m growth.

So it looks like the market still needs a hero. Kellogg's says it's got one in the shape of Ancient Legends. With a £7.5m marketing budget, it might just live up to the hype.