Prepare for a crash landing. Once the high flier of the soft drinks sector, energy drinks could be about to have their wings clipped. Having enjoyed years of soaring growth with sugary, high-energy formulas guaranteed to make your heart race, the industry is now contending with a new wave of health-conscious shoppers and under-16 sales bans.
The effect is already showing. The sector's take home value has fallen 3.7%, representing a drop of over £8.6m. Volumes are down too, with 2.7 million (1.4%) fewer units sold despite cheaper prices [Kantar Worldpanel 52 w/e 25 February 2018]. Although healthier options are entering the market, they just haven't made up for the tanking sales of their sugar-laden counterparts. Some brands, such as Red Bull, are now even diversifying away from energy drinks to tap into new markets.

So does the future lie in diversification? Or can the introduction of new diet formulas and better distribution help the industry fly high once again?
Download the PDF version of this report
---
Unless you've been hiding under a rock for the past year, it's been hard to miss all the negative press around energy drinks. In January, The Mirror ran a piece that monitored the effect of well-known brands on children. It made for difficult reading. One mother feared she had nearly "killed her daughter" whose blood pressure and heart rate rocketed after consuming an energy drink (thankfully, the child remains very much alive). The editorial pulled no punches. 'Would you let your kids guzzle two cups of coffee for breakfast followed by 16 teaspoons of sugar?' it read. 'Thought not - but this is effectively what millions of children are doing with just one energy drink.'

The Oliver effect

It marked the start of a campaign to ban sales of energy drinks to children. This in itself was nothing new - back in 2015, Action on Sugar called for similar restrictions - but this time it was fronted by chef and long-time health campaigner Jamie Oliver. The National Association of Schoolmasters Union of Women Teachers backed his aim by appearing on BBC Radio 5 Live Investigates. "Energy drinks aren't just another soft drink," explained general secretary Chris Keates. "Young people and parents are often not aware of the very high levels of stimulants they contain, which have serious long-term health implications."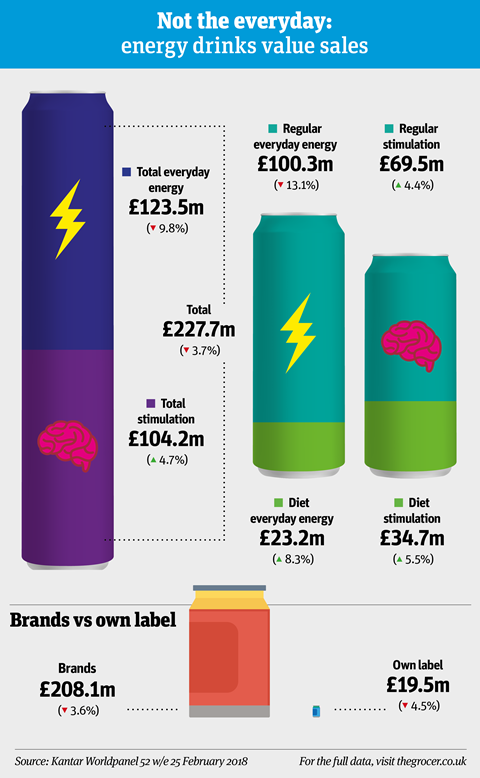 Energy drinks category snapshot 2018

British Soft Drinks Association director Gavin Partington believes the celeb factor helped the campaign really hit home. "Undoubtedly, one of the key reasons for energy drinks being put in the spotlight this year has been Jamie Oliver's decision to campaign for restriction on energy drink sales to under-16s," he says.

Indeed, retailers soon got on board. Waitrose was first to take up the voluntary ban on under-16s purchasing high caffeine energy drinks in January, followed by the likes of Morrisons, Lidl and Sainsbury's.

The industry's response has been measured. While careful to avoid expressing outright support of the ban, Partington is keen to state it is in line with the BSDA code of practice. "We've made it clear for a long time that energy drinks should not be marketed or promoted to under-16s," he explains. As he points out, energy drinks are legally required to warn "high caffeine content" and "not recommended for children" on the label, along with specifying caffeine content per 100ml.

Several brands have been keen to stress they do not market themselves to under-16s. Yet, whether marketed to them or not, children in the UK drink more energy drinks than in any other country in Europe, according to research published in scientific journal Plos One in November 2017. When quizzing children, researchers found "strong brand awareness and preferences".

Our data from Kantar, which looks at annual sales up to February, won't capture much impact from the bans in January. And Partington believes we're unlikely to see much of a fall next year. "I'd caution against imagining a voluntary or mandatory ban is going to have a big impact on sales in the category - under-16s accounted for just 6.5% of energy drink consumption occasions in 2017."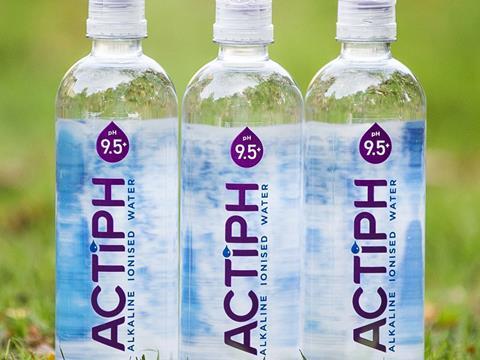 Electrolytes: the new protein for fitness fans?
Forget protein, electrolytes are the latest must-have ingredients for gym buffs. Designed to replenish the minerals lost through sweat during exercise – such as sodium, potassium and calcium – electrolytes are making energy drink manufacturers sit up and take notice.
It's easy to see why. Health-conscious consumers are turning away from sugary, high-caffeine energy drinks and becoming increasingly educated in functional food and drink, with the protein craze proving shoppers are happy to pay extra for products that aid workouts.
Though typically marketed towards gym goers, functional water has a much wider reach than that, says Richard Horwell, brand developer for added vitamin and electrolyte brand LyteWater, which made its debut in April. "Millennials are particularly interested in quick health boosts as they feel their lives are too busy to eat healthily."
You only have to look across the pond to see the potential. "In the US, alkaline water is not only the fastest-growing water category, but also the fastest-growing beverage category, growing by 70% in the last year alone," says Jamie Douglas-Hamilton, founder of functional water brand Actiph. The electrolyte-based drinks have gained several listings including Whole Foods Market, Planet Organic and Harrods since launching in October 2017.
Several manufacturers have caught on to the trend, with a range of functional waters hitting retail shelves in the past year, including Lucozade Sport Fitwater last summer, supported by a £3.5m multimedia campaign employing heavyweight boxer Anthony Joshua.
So, could electrolytes be the next added protein? Actiph's Douglas-Hamilton thinks so. "Consumers are increasingly looking for natural drinks, and the fastest-growing sub-segment of water is functional water, at 27.6%."
As consumers turn away from sugar, electrolytes might just be the next big boost for energy drinks.
Sugar tax

It's still a 6.5% hit the industry could ill afford. Plus, it could have a wider impact, says Jamie Douglas-Hamilton, founder of healthy energy drink brand Actiph Water. "The likely knock-on effect will be that adults will be reconsidering purchasing drinks that could give them the 'jitters' and are clearly not a healthy choice for everyone." All this has coincided with the introduction of the sugar levy in April, which is making consumers pay even more attention to the amount of white stuff in their drinks.

Little wonder, then, that Kantar figures show 'everyday energy' drinks - classed as drinks that rely primarily on glucose for energy - are tanking. Value sales fell 9.8% over the past year, dragging the entire category down. "The everyday energy sector has driven losses over the past year, with 380,000 shoppers leaving the sector," says Kantar analyst Jecentha Shunmugam. "Brands with heavier shoppers are likely to be impacted by the sugar tax as time goes on, as these customers may be unwilling to either pay a price premium or move to a lighter variant. As a consequence, they will start to buy the products less often."

There is a solid ray of hope, though. Despite fears over customers being unwilling to switch to healthy options, sales in this area are growing. Diet everyday energy drinks, which use sweeteners as an alternative to glucose, are up 8.3% in value (although still worth only a fifth of regular variants). The same is true for 'stimulant' drinks, defined by Kantar as those that contain caffeine and an additional stimulant such as taurine or ginseng. Regular variants were in pretty healthy shape, up 4.4%. But diet again proved the winning formula, up 5.5%.

This hasn't been an easy win. "Manufacturers and retailers have been prioritising diet offerings through more shelf space and more promotions with the intent of minimising impact of the sugar tax," explains Shunmugam.

Big brands have also been rushing to reformulate in a bid to appeal to the ever more sugar-conscious consumer - some with more success than others. Monster is a case study in how to do it well. It launched zero-sugar variant Monster Ultra in 2016, which has since expanded to include five flavours. The Ultra range is now worth £38m and Simon Harrison, marketing director at brand owner Coca-Cola European Partners, says low- and no-sugar variants have been "instrumental to Monster's growth over the last two years".

Red Bull has taken a similar tack by unveiling a sugar-free version of each of its SKUs early this year. "Shoppers can now reach for any Red Bull drink and expect to see the sugar-free option sitting right beside it," says head of marketing Gavin Lissimore.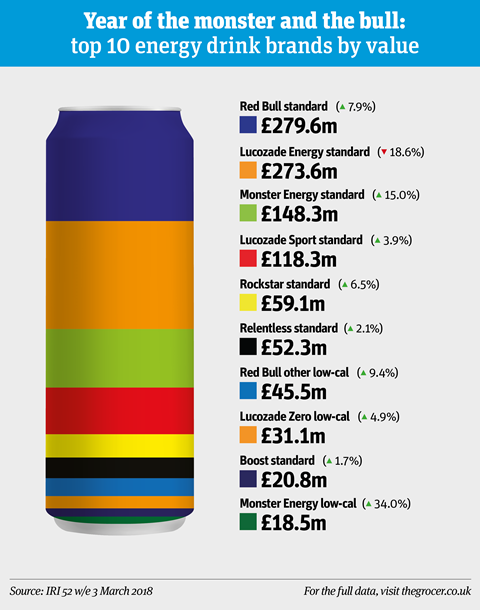 Top 10 energy drink brands 2018
Risky reformulation

The brand is certainly tapping a growth market. Low calorie Red Bull (9.4%) outgrew even its successful regular lines (7.9%) to be worth £45.5m. That's admittedly small fry compared with its £279.6m standard lines, but it's nonetheless encouraging. Buoyed by this trend, others have gone for a riskier strategy of ditching sugary formulas altogether. Boost is one brand to put all its eggs in the reformulation basket. "All of Boost's energy drinks now have the new lower-sugar recipe," says founder Simon Gray. "We will endeavour to ensure all new variants are sugar free."

Carabao also fully committed to the health agenda in 2017 by reformulating its entire range to ensure each of its SKUs is either low or no sugar. It followed this up with the launch of a Mandarin Orange flavour last April. "We know that category growth is being driven primarily by flavours and low-sugar products, which is why we are constantly looking at how to bring new flavours to our exclusively low- and no-sugar range," says MD Mark Young.

It may be on trend, but it's a risk that doesn't always pay off. Lucozade famously suffered a customer backlash after reformulating its classic drink to fall under the sugar levy.

The value of Lucozade Energy plummeted 18.6% as a result, with losses of £62.5m [IRI 52 w/e 3 March 18]. Painful, by any measure.

Plus, reformulation won't necessarily stop shoppers defecting to even healthier options. Kantar's Shunmugam says some consumers are ditching energy drinks altogether in favour of more wholesome alternatives. "Sectors like pure juices and waters are increasingly meeting the energy needs of consumers," she explains.

More energy drinks are popping up to bridge the gap between pure juices and the hard, taurine-tastic stuff. New brand Tenzing describes itself as a "natural" energy drink with marketing that wouldn't look out of place on a health food. It boasts of having "only six key, quality ingredients" and being "crafted by nature". Other brands are taking aim at the sports market with electrolyte content (p56).

Even Red Bull is making its first diversification away from energy drinks with a range of organic drinks, only one of which contains caffeine. The four SKUs - Simply Cola, Bitter Lemon, Ginger Ale and Tonic Water - are targeting the "increasing pool of shoppers" looking for more premium, natural options.
Grab-and-go market

But brands are adamant the era of the standard, more garish energy drink is far from over. Carabao's Young believes there are opportunities to merchandise energy drinks as a grab-and-go option. "Display chillers are often considered to be self-service, and, on a hot summer's day, customers are looking for refreshing, cool energy boosts to replace their usual hot coffee," he points out. "Retailers must make the most of these impulse purchases, by showcasing products in the most appealing way possible. Open deck chillers are becoming a popular way of merchandising in store, as they can be used to display sales-driving products more clearly."

There is also an opportunity to simply get the product out to more distributors. It definitely seems to have worked for Red Bull, which cites increasing distribution as a key reason behind its strong performance over the past year. "Red Bull is now more physically available than ever before," says Lissimore.

Brands boost sales

Kantar marks the discounters as a hot potential growth area. Both Aldi and Lidl are undertrading in energy drinks and hold just 1.7% and 2.6% market share respectively. All that is changing, though. "The discounters are experiencing strong growth in the energy drinks sector - over the past year Aldi and Lidl saw a sales increase of 12.3% and 24.6% respectively," says Shunmugam.

She believes getting in the brands will give a strong boost to sales. True to form, Aldi and Lidl have stuck to own-label drinks - and kept their average price per litre down at 20p less than the overall market (98p). In this brand-loyal sector, Shunmugam argues they could be missing a trick. "Branded sales of energy drinks account for 91% of the total market, yet at Aldi and Lidl 76% of energy drinks sales are own-label products," she says. "Energy drink shoppers are unwaveringly brand loyal: whether consumers prefer Red Bull, Monster or Rockstar, shoppers are steadfast in their brand of choice. For the discounters to flourish in this market, they need to consider upping the availability of branded energy drinks in their stores to entice shoppers."

With sales of diet drinks flying and potential new avenues for growth, energy drinks just may be able to counteract all the damage done from health fears. And who knows, they may even be able to grow themselves a new set of wings.
---
Innovations in energy drinks 2018