Thirst for at-home cocktails during lockdown made mixers the fastest-growing sector of soft drinks. What's next as bars reopen?
Just like frying pans for cooking brekkie and bread knives for making sarnies, cocktail shakers have become essential household utensils during Covid-19. At least, that's how it looks. Because, with their favourite drinking holes closed for much of the past year, thirsty Brits have been mixing cocktails at home with abandon. And that has sent sales of mixers sky high. The sector has grown in value over the past year by 29.6% to £307.1m [Kantar 52 w/e 27 December 2020].
That makes it the strongest-performing segment of the total soft drinks category, notes Kantar analyst Sam Plimmer. "The rise of the sector can only be linked to how in-home alcohol consumption increased throughout the Covid restrictions during the course of the year, meaning that complementary categories also stood to benefit," he says. "In addition, more shoppers are buying spirits than wine for the first time, as shoppers expanded their alcohol repertoire owing particularly to NPD such as cream liqueurs and flavoured gin."
That was during lockdowns, of course. Now, pubs and bars are slowly reopening – and they'll be fully operational from 4 July. So, what's next for the mixers market? Which brands are best positioned to prevent Brits putting away their cocktail shakers?
"The rise of the sector can only be linked to how in-home alcohol consumption increased"
Certainly, the biggest players are in great shape. Take Schweppes, which commands more than a third of market share, having grown value by 28.2% to £193.9m [Nielsen 52 w/e 26 December 2020]. Similarly, its closest rival, Fever-Tree, has risen in value by 22.2% to £141.4m. Both brands have been buoyed by shoppers flocking to familiar, trusted names in a time of uncertainty – a dynamic that has been well documented across the whole of grocery throughout the pandemic.
And shoppers have favoured bigger formats as well as bigger brands – "choosing to stock up during fewer, larger shops" says Simon Harrison, VP for commercial development at Coca-Cola European Partners GB. "Within our Schweppes sharing formats across lemonade and mixers, large PET has grown by 30.1% in the last year and multipacks of cans have grown by 28%."
While Schweppes is a big player in mixers, its sister brand Coca-Cola is even bigger, Harrison suggests. In fact, its world-famous cola is "considered by many to be the original mixer and accounts for 81% of all cola mixing occasions in the home" he says.
"The 2020 mentality was 'if you don't try, you won't know', and mixers benefited"
However, Coke's niche Signature Mixer range, designed for dark spirits, has experienced much more modest fortunes, adding just £14.9k last year [Nielsen]. That means it's reached a value of £1.3m in grocery since its May 2019 debut. The lineup's performance might be surprising given its use of jalapeño, yuzu, basil and lemongrass – the sort of adventurous flavours that have been bang on-trend over the past 12 months.
"The 2020 mentality was 'if you don't try, you won't know' and the mixers category was potentially the biggest beneficiary," says Old Jamaica senior commercial manager Terri Cooper. "Consumers have used the products to find more interesting, unusual, and noteworthy combinations – looking for things that will stand out in terms of both taste and shareability."
Fancy flavours
One factor driving experimentation by shoppers is that, in a time of economic uncertainty, splashing out on a wider range of mixers is a more cost-effective way to add variety and flavour to cocktails than investing in multiple bottles of spirits, explains Lixir drinks co-founder Matt Mahatme.
"People love experimenting with spirits but, if you don't finish off a bottle and you've got 30-odd bottles sitting around, it can get very expensive. Younger consumers don't have a lot of money so why not rationalise your drinks cabinet at home? You can have a few different flavours [of mixers] in the fridge and pull out something interesting very quickly."
To encourage such cut-price experimentation, brands both little and large have added bold NPD – from the Yuzu & Thyme, Lemongrass & Ginger and Hibiscus mixers unveiled in August by startup Muzai, to the Soda quartet added in March 2020 by Fever-Tree.
As well as featuring variants such as Raspberry & Rose and White Grape & Apricot, the Soda lineup provides just 20kcals per 100ml. That makes it bang on-trend as mixer NPD has also been driven by ongoing demand for better-for-you credentials.
"You can have a few mixers in the fridge and pull out something interesting quickly"
Hence Dash Water's latest innovation. It added Soda Water mixers this March in Lime & Garden Mint, Wonky Bitter Orange & Grapefruit and Wonky Rhubarb & Fiery Ginger. All are calorie-free.
As such, "spirit brands are choosing Dash Soda Water as they're tired of the usual category me-too mixers, which are missing the rapidly growing trend of consumers looking for products without both sugar and sweetener" says Dash co-founder Alex Wright.
"We've teamed up with a few of our favourite spirit brands to show our audience how to serve sensational long drinks at home. First, we teamed up with Diageo's Casamigos tequila, then Black Cow Vodka and finally Acorn, the non-alcoholic sister brand of Seedlip."
While clearly turning heads, Dash's NPD is far from unique. Rather, it's part of a growing raft of healthier NPD across the mixers market. In fact, the number of mixer launches touting a no-cal or low-cal claim has grown by 33% over the past five years, according to data from Innova Market Insights.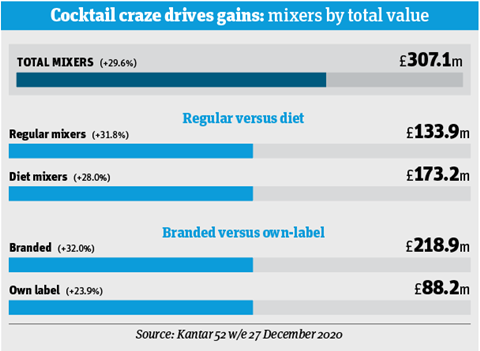 The mixers market grew in value by £70.1m – almost a third – to £307.1m last year, thanks to Brits mixing drinks at home while pubs were closed. It was the best-performing sector of the entire soft drinks category.
Mixers also benefited from a significant shift in the alcohol category as more Brits bought spirits than wine, says Kantar analyst Sam Plimmer.
Consumers have been "expanding their repertoires" with the likes of cream liqueurs and flavoured gins – the latter of which is intrinsically linked to the mixer market, he adds.
Shoppers' focus on health helped diet mixers outgrow their full sugar counterparts. Diet added £37.8m, hitting £173.2m, while regular mixers grew £32.3m to £133.9m.
Brands stole the lion's share of value sales, accounting for £53.1m of extra value, but own-label put in a respectable performance with a £17.0m gain to £88.2m.
Average price per pack rose 7.1% last year, driven by larger format sales.
An uncertain economic environment in 2021 could lead to demand for smaller formats and the prices of relatively cheap packs rising, according to Plimmer.
Challenger brands
Innova's numbers also show a shift in format preference, with cans gaining greater focus for brands' NPD: the share of mixers launched in the UK in aluminium grew from 11.1% in 2018 to 29% in 2020, while glass bottle launches fell from 78% to 50%.
One reason is that cans lend themselves better to multipacks. But also "a can offers more options in terms of playing around with the packaging design, achieving shelf standout and differentiating a product offering from others on the market" says Innova analyst Akhil Aiyar.
And that's crucial for challenger brands hoping to make a dent in the mixers fixture. Times are tough for small players, says Jordan Palmer, Lixir Drinks' other co-founder. "You are going up against some pretty large corporations – and it's no good trying to beat them at what they're doing because they have very deep pockets."
Plus, major retailers are cautious when it comes to listing new tonic brands, opting instead to grow their own-label ranges. "When we look at launches from private labels – including Tesco, Morrisons, Sainsbury's and Asda – there has been a 78% increase in activity within the segment between 2018 and 2019," notes Innova's Aiyar.
Tesco, for instance, has boosted its selections of Indian tonic water for its standard and Finest ranges, bringing in low-calorie and light variants. And last summer, Morrisons launched a range of The Best tonic, with variants including Indian, Elderflower and Rhubarb.
Online sales
While smaller players are having to work hard to win listings in the mults, the rise of e-commerce during Covid has been an easier route to securing sales.
Drinkers are seeking out new brands and flavours online, meaning they're "experimenting a lot more and discovering new brands beyond the market leaders" according to Lixir's Palmer.
Before the first lockdown last spring, the brand was "predominantly on-trade only" he says. "But when all of that shut overnight, we switched straight away to just focusing on online and DTC, managing to whittle together an online store and get on Amazon Prime, shifting all our investment into it."
As a result, Lixir's online revenues grew by 2,500% and the move allowed the brand to differentiate itself from the drinks giants by taking a fresh approach to digital marketing, he adds.
"A lot of the marketing within the category is a bit beige and focuses mainly on serves. We are looking at it as more occasion-based." Younger shoppers buy into brands "based more on when and where they are consuming the drinks" he adds.
While a digital strategy is key to growth, so too are rather more 'analogue' approaches, such as sampling. As lockdown eases further, out-of-home activations will be key this summer for smaller players to gain headway, insists Hannah Glasson, founder of CBD drinks startup Intune.
"Normally, when you launch a business, you would be out there sampling and getting direct feedback – but we need the industry to open up for us to be able to get out there in the way we had planned."
Intune plans to take an electric float to festivals and street food markets, where it will offer "low & no serves of Balthazar vermouth and [non-alcoholic spirit] Everleaf – with the additional benefit of CBD" she adds.
Perhaps Brits ought to keep their cocktail shakers handy for a while longer.
Will CBD regulation boost the sector?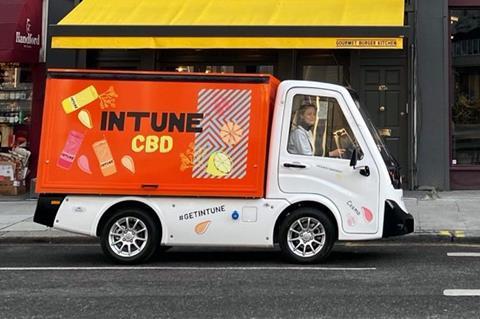 Mixer brands are increasingly playing up their better-for-you benefits to stand out on shelf. Take Skinny Tonic, which makes flavoured tonic with no sugar or calories.
But Brits aren't wholly focused on their waistlines. They also want functional extras, insists Hannah Glasson, founder of CBD soft drinks brand Intune, which makes a range of cannabis-infused mixers.
It comprises three variants: Ginger, made with lime, ginseng and serenade chilli pepper; Lemon featuring yuzu, gooseberry and pink grapefruit; and Tonic with orange zest, cascarilla bark and hops. All provide 5mg of CBD per 200ml can.
They were launched "in response to many conversations we had with people in the bar world, who were interested in CBD and the role it can play in the no & low drinking space, but were looking for a format that they can incorporate into serves" Glasson says.
Rather than take a gamble on unusual flavours, the brand opted to stick with classics by giving them a "twist" via on-trend botanicals, she adds. "A proportion of consumers are becoming more experimental, but at the end of the day you need something that has at least an air of familiarity."
Bringing CBD into the mixer sector is not without its challenges.
"The biggest issue is regulation," Glasson says, highlighting the need for CBD brands now to have novel foods certification from the FSA.
"We've always had high standards of production and safety, but it is an industry that wasn't regulated and now is."
There is also "a lot of education that needs to happen" when it comes to talking to shoppers about CBD and its supposed benefits, she adds.
Increased regulation could actually help on this front. "Consumers will have more trust and know that they are buying top quality, and I think it will definitely bring more consumers into the category itself."
Innovations in mixers 2021