Fred and friends could be forgiven for hitting the sauce right now. After all, it's been a tough year in the cooking sauce aisles as sales fall 3.3% on volumes down 0.4% [Kantar 52 w/e 8 November 2015].

And while grey clouds have been hovering above the category since 2011 - making this the fifth consecutive year sales have fallen - things are looking decidedly stormier with £25.3m wiped off category value. The relentless onslaught of the discounters, the price war, smaller households and trends towards scratch cooking are taking their toll.

So, who's suffering the most? Are there any rays of sunshine in this commoditised sector? And can anything rescue cooking sauces from the downward trajectory?

The biggest factor in cooking sauces' performance is the decline in average price, which is dragging the category value down on relatively static volumes. Rather than harder promotions, this is a result of cuts to base prices as the level of promotions has, in fact, decreased.

Italian sauces have been hit hardest as average prices plummet 5.7%, losing 16p per kg - meaning they're responsible for a hefty £20.4m of cooking sauces' woes.

"Competition between brands and retailers, combined with lower customer own brand prices, has resulted in this value decline," says Dean Towey, marketing director at Napolina. Having strategically exited the bakes category, the brand's sales in cooking sauces, which comprises a minor part of its overall portfolio, fell 21.6% on volumes down 17.2%, resulting in a £1.6m loss [Nielsen 52 w/e 10 October 2015].

This pales in comparison to Dolmio, the category's biggest brand, which lost a whopping £10.4m despite a 2% increase in volumes. Average price reductions of 9.3% (or 31p per kilo) have hit Dolmio hard but marketing manager Ian Nundy remains chipper, claiming penetration has increased.

"Whilst value is a challenge in the current market, Dolmio has had an impressive year - growing GB penetration to 40.6% (up 4.7% MAT) and being bought by almost 11 million households," he says.

But big brands have a lot of work to do if they're to match the performance of own label, which has kicked things up a notch resulting in a positively sunny performance with value up 1.3% on volumes up 2.9%. Their branded counterparts, meanwhile, saw value fall 4.8% on volumes down 4.1% [Kantar].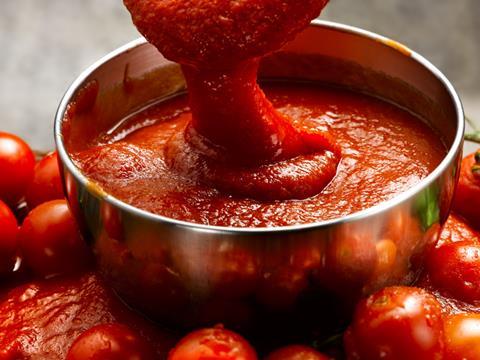 Despite higher shopper numbers and more frequent purchases, the 2.9% fall in average price has taken significant value out of the market. Basket size has also fallen.
The average price has fallen because of price reductions on full-price sales. Promotional levels have decreased year on year. Italian cooking sauces have undergone the most significant decrease, losing 16p per kg. Biggest player Dolmio has lost 25p per kg.
While brands hold a far greater share of the market, it is own label that is growing. Indian has shown the largest increase in value as consumers trade down from more expensive branded Indian cooking sauces such as Patak's. Sainsbury's range of own-label cooking sauces are a significant contributor to own-label growth (50.3%).
With 91.4% penetration, reversing price declines is a priority - challenging when Aldi and Lidl are in very high value growth as their shoppers trade down to cheaper alternatives.
John Kilpatrick, Kantar Worldpane
The discounters
Aldi and Lidl have played a significant part in the triumph of own label with sales up 22.8% and 25.7%, respectively. Lidl increased its SKUs by a third over the past year with the likes of Dolmio, Ainsley Harriot and Blue Dragon added to its repertoire. However, own label remains a core focus of its portfolio.

"It is clear that a contributing factor as to why consumers are switching their shopping habits is because they believe that the quality offering of own label products is equal or even better to some of the big brands," explains Lidl buyer Helmut Moosbrugger.

Consumers are trading down from more expensive brands to own label, says Kantar analyst John Kilpatrick, and with a £1.62 difference per kilo it's easy to see why.

"Own label and discount stores have been a key factor for value decline in previous months," says Yilmaz Erceyes, brand director at Premier Foods which owns Loyd Grossman, Homepride and Sharwood's cooking sauces. One reason for this, he believes, is NPD. "Cooking sauces is a category where rate of innovation in brands is lagging behind own label, and it's no surprise that in that environment there is continued commoditisation of the category," he adds.
Don't write off big jar cooking sauces just yet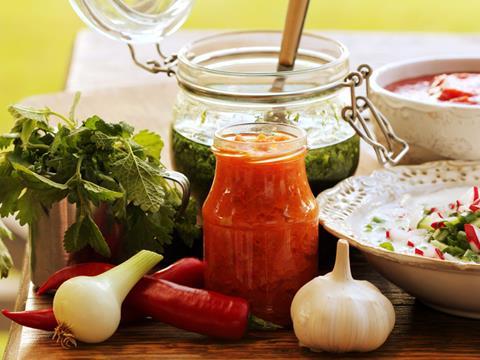 Cracks are beginning to show in jars of cooking sauces. Sales have fallen 6.3% over the past year wiping £30.8m off their value. But the jar isn't dead yet. For starters, it still holds the largest share of the category and a closer look at the numbers reveals the majority of the value decline was wiped off by cuts to average prices as volumes only fell 0.8%.
They are under attack, though, from the new kids on the block. "We're moving to life beyond jars - from pouches to Tetra Pak boxes, there are more options," says Kim Van Elkan, MD of strategic branding agency Hornall Anderson.
Pouches are up 2.9% on volumes up 3.8% while cans are storming ahead with value growth of 17.7% on volumes up 9.4%. "Smaller players continue to develop interesting lines of pastes for home-cooking, pouches and stir-in sauces and these are often a great way to test interest but a lot of NPD has also come from the bigger brands," says Budgens buyer Dani Al-Karaghouli.
But arguably the hottest new format on the market isn't shown in Kantar's figures - the shot. "Sacla' Shots were a really popular launch in 2015, they offer their well-loved basil pesto but in a single portion," Al-Karaghouli adds. Sacla' wasn't the only one. Oxo's sales jumped by a third thanks to new Stock Pots while Loyd Grossman rolled out single-serve flavour pot Pan Melts.
These innovative aren't going to take over the category any time soon argues Al-Karaghouli: "Single-portion products tend to be an add-on purchase and aren't necessarily replacing the larger jars at the moment."
Rise of the new formats
Premier Foods hasn't been quiet on the NPD front over the past year with the likes of Loyd Grossman Pour Over Sauces, Loyd Grossman Pan Melts and Sharwood's Stir Fry Melts all hitting the market. Notably, the manufacturer is focusing on innovative formats such as melts and pouches.

Sales of jarred cooking sauces are under attack from the rise of new formats, having lost £30.8m [Kantar]. Notably, though, volume sales are only down 0.8%, suggesting consumers haven't given up on jars just yet. But they are gaining increased traction. Even Homepride, a stalwart of jarred cooking sauces, is venturing into pouches for the first time with its new All American range of sticky sauces (see innovations).

"Increasingly customers are seeking out simple scratch-cooking format," says Gareth Banton, head of grocery at Japanese food & drink specialist Tazaki Foods. "The larger jar formats are also competing with smaller, single-serve packs, leading to an increase in price cuts and offers." Smaller portions also have the added benefit of meeting the increase in demand for adult meal occasions, as smaller households have less need for a 500g jar. To ensure they're not left on the shelf, those brands content with jars have been downsizing. Napolina says its 175g pack size is perfect for this occasion, while RH Amar introduced a 225g version of one of its most popular offerings - Mary Berry's Lemon & Thyme Sauce, launched in Tesco in April.

Regardless of format, authenticity and taste are important as the scratch cooking trend continues. "We predict growth for products that bridge the gap between simple sauces and scratch cooking or pastes," says Sally Campbell, category manager at Geeta's Foods. "These innovations could see the addition of meal kits and sauce kits to a fixture that has seen single-use paste pouches and spice mixes become well established."

New formats for less familiar ingredients also contain promise. Sacla', distributed by RH Amar, has launched Shots - a 45g single serving of its Classic Basil Pesto. Innovation such as this has helped the brand become one of only two in Nielsen's top 10 to gain value, alongside Schwartz.

Teaching literacy in Japanese cuisine

Outside Italian cuisine, others believe Japanese and umami flavours are ones to watch thanks, in part, to the popularity of high street chains Wagamama and Itsu.

"These have successfully made the once alien Japanese cuisine approachable," explains Tazaki's Banton. "Consumers are more confident in trying these foods at home."

Santa Maria, meanwhile, predicts hot ethnic flavours to be big in 2016 including the ghost pepper from India and harissa, sumac and dukka from North Africa.

"This year will also see consumers further drawn to flavours based on a true story, romanced by product origin, ingredients or inspiration stories," says Bhavika Thakrar, marketing manager for Santa Maria.

Spicy food, however, struggled this year. Sales of Tex Mex fell 2.3% and Santa Maria lost 13.4% in value on volumes down 4%, despite a £1m Better Taste Guarantee campaign launched in April 2015.

Big anniversaries are at the forefront of campaigns for the year. To celebrate its 50th birthday Napolina is rolling out a campaign including online recipe videos, a Telegraph Online-hosted content hub and competition, 30 million bespoke anniversary packs and primetime TV sponsorship of the ITV series Gino's Italian Escape. Dolmio, on the other hand, is hitting the big 30 with a Nothing Beats Homemade Lasagne campaign throughout March and April.

With big anniversaries, a host of NPD and new cuisines on the horizon, Fred and friends may have more to celebrate in 2016.
Homepride All American

Launched: January 2016 
Manufacturer: Premier Foods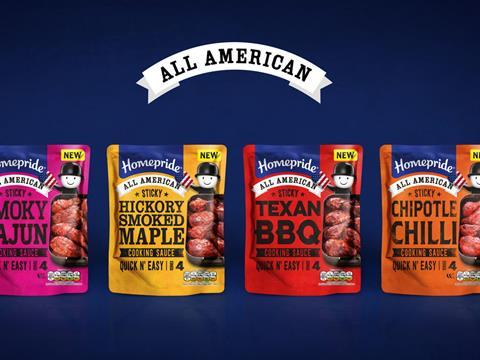 In response to Brits' growing appetite for American flavours, Homepride has launched an All American quartet, which it claims is a first for wet cooking sauces. Available in Texan BBQ, Hickory Smoked Maple, Smoky Cajun and Chipotle Chilli (rsp: £1.69), this is also the first time the brand has ventured into pouches. "Our new pouch format also makes it possible to squeeze out every sticky last drop and evenly coat the chicken," says marketing controller Andy Smith.

Cirio Le Monoporzioni

Launched: February 2016

Manufacturer: Conserve Italia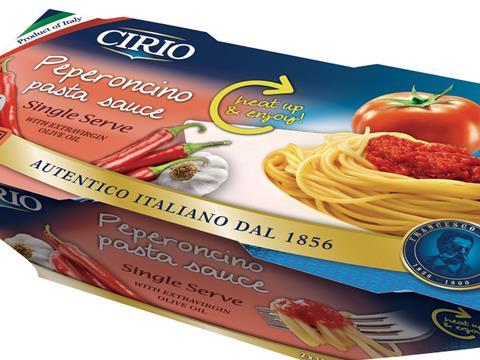 Tapping the need for smaller servings, Cirio has launched Le Monoporzioni. This trio of single-serve pots (rsp: £1.69 for 2x110g) comes in Classic, Basil and Chilli, and contains 76 calories or less per pot. "Le Monoporzioni are the ultimate in convenience, delivering true Italian flavour and heritage," says Cirio UK brand manager Clive Davies.

Mascarpone & Marsala Sauce

Launched: February 2016

Manufacturer: The Bay Tree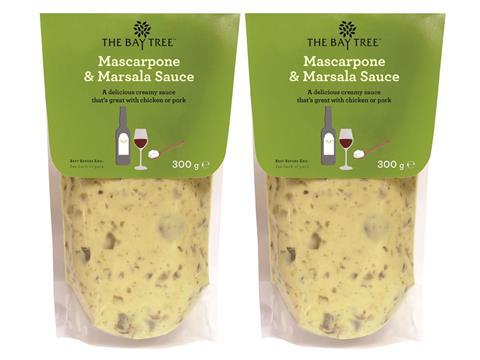 Customers increasingly favour traditional, family-favourite recipes, says The Bay Tree, which expanded its portfolio with Mascarpone & Marsala Sauce (rsp: £3.15). The creamy sauce goes well with pork, chicken and pasta and is designed for consumers who "demand convenience without compromising on taste or quality".

Grangusto Pumpkin Cream

Launched: November 2015

Manufacturer: Finagricola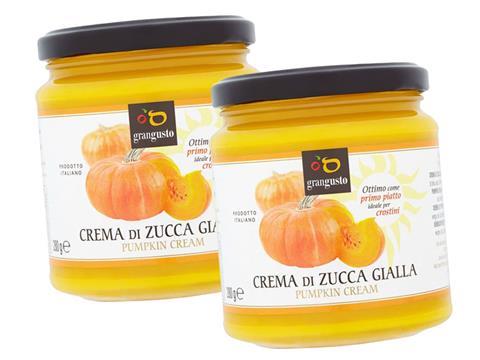 Consumers are looking for something other than tomato-based sauces, says Grangusto, which has rolled out Pumpkin Cream (rsp: £2.99). Made from natural ingredients and with a slightly sweet taste, this sauce is ideal for pasta or risottos, according to the brand. It's sold as part of a seven-strong range through Ocado.