New bosom buddies Donald Trump and Kim Jong-un might have just embarked on the world's most uncomfortable bromance, but the rest of the world's superpowers are already at war: on the football field, that is.
The World Cup has kicked off and it's not just the footie fans and militaristic Russian ultras twitching with excitement. Britain's beer and cider brands are expecting a massive boost to the coffers, presuming our esteemed global leaders can put off the destruction of civilisation until the final whistle's blown.

That's not to say they've had that hard a time of it lately. Value sales of lager, ale, stout and cider are up across the board this year to the tune of almost £191m (+6.3%) in added value - bringing total supermarket beer and cider sales to £3,205m [Kantar Worldpanel 52 w/e 25 February 2018]. So with the tournament underway, how big an effect could the beautiful game have on the beer and cider market? Is there an opportunity for anyone but the big boys? What's going on in the rest of the sector? And how's craft beer faring now it's gone well and truly mainstream?
We may be barely past kick-off but one champion has already been named: Budweiser has overtaken Foster's to become the nation's second-biggest beer after Stella Artois. The brand (not including Bud Light or the recently launched Prohibition Brew) has added a whopping £17.5m to its value, hitting £381.7m. Foster's, meanwhile, is down 11.9% to £354.2m. Its standard lager is down £31.7m (8.4%), while Gold is down £11.4m (68.3%) [Nielsen 52 w/e 21 April 2018].
AB InBev credits a large portion of Budweiser's recent success to its focus on footie, and the brewing giant is now on full attack mode, having landed Budweiser as the tournament's official beer. It's mounting a massive push that it claims 90% of the population will see at least 18 times, and wants to make its mark in-store with more activation than you can shake a red card at, including limited-edition packaging, new aluminium bottles, competitions for tickets and a new, limited edition 'Blessed Beer' that it unveiled with Steven Gerrard at Wembley Stadium. Not to mention a new 'noise-activated cup' that lights up when viewers cheer.
Even if England bows out at the earliest opportunity, the tournament will send sales skyrocketing, says Jerry Maguire, sales director for North Europe at Budweiser-owner AB InBev. "In 2014, the eight-week period around the World Cup saw a spike in beer's penetration equivalent to the population of Birmingham: 603,000 extra households."

Bud's also stepped up its sponsorship with the FA, making it the official sponsor of the FA Cup, England men's football team and Wembley Stadium, which it has taken over from Carlsberg after 22 years.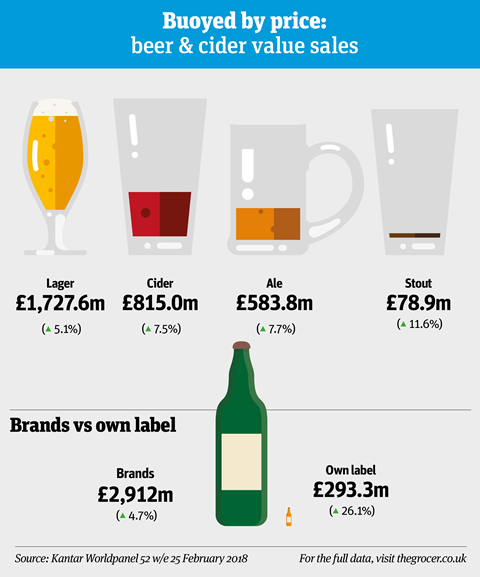 Beer & cider category snapshot 2018
Challenging the big boys
On top of all this advertising, we're in for a fresh raft of promotional activity. Over the past year, there has been a significant drop in promotions across the supermarkets (6%) - though volume deals are up a whopping 27.8%. However, says Kantar analyst Rupert Davies, the increase in volume deals "has not been enough to offset the decline in temporary price reductions (down 19.5%)".

All this looks set to change at kick off. "As we enter the World Cup summer, promotions are likely to play a bigger role," says Davies. "Especially for lager, which accounts for nearly half of all serves in the on-trade for watching football occasions."

Again, this is likely to be led by the big boys. The eye-watering amount of cash they are throwing at the World Cup certainly makes it harder for smaller players to cash in - officially at least. "Smaller craft brewers just won't have the capital," says Pete Hayes, co-founder of brand agency PB Creative. "But there will undoubtedly be many smaller brands leveraging the event through association rather than direct sponsorships."

Indeed, Hogs Back Brewery MD Rupert Thompson is optimistic. "The good news for us as a local craft brewer is that football-loving beer drinkers are no longer a one-size fits all market. A good run for England in the World Cup will drive additional beer sales across the board."

Hogs Back has produced a cask ale especially for the World Cup, called Three Hogs, which is launching exclusively into the on-trade. Thompson says the brand "expects to see a halo effect carry over into the off-trade when it comes to our bottled ale range."

Besides, smaller brands have more on their side than the footie. Outside the World Cup, shoppers are still buying "less but better", says AB InBev's Maguire. "They are upgrading their purchases for a more premium experience."

Giants such as Foster's and Carlsberg (which is down 11.3% to £183.9m) have lost out to trendier craft brands and pricier premium lagers. "When we divide the UK's biggest lager brands, we can see that while a number of brands sitting in the core category are in decline, such as Foster's and Carlsberg," adds Maguire. "The ones that occupy the premium lager space are in growth."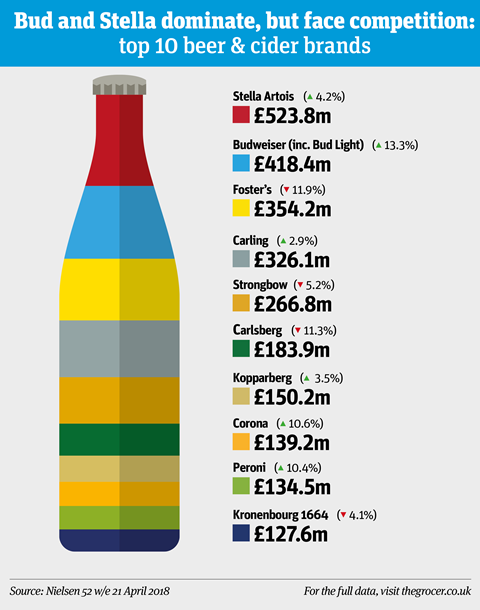 Top 10 beer & cider brands 2018

This much is evident by looking at value and volume sales over the past year. For lagers and ales at least, a lot of the extra cash being spent on the sector has come from price rises. Brits may have sunk an extra £126m on the two combined, but they only drank 0.3% more lager and 2.6% more ale than they did last year in volume terms (compared with respective value growth of 5.1% and 7.7%). Not to mention the average price per litre of both lager and ale is up 5%. The message is clear: premium is where the party is.

Retailers initially responded with drastic measures. Last year supermarkets were culling the big boys with gleeful zeal to make way for cooler, smaller (and pricier) products. Carlsberg and Foster's also faced delistings in Tesco over the past two years - though they've returned to the shelves of the UK's largest retailer now. Heineken is back in full force, Tesco having restored its presence on shelves to some 50 SKUs earlier this year.

Which will come as a serious relief for Heineken, because those delists took a serious chunk out of the equity of some of its biggest brands. Just look at Amstel's performance. Once a rising star for the brewer, the beer's sales plunged this year, falling £6.5m to £22m and wiping away almost a fifth off the brand's value. Proof of how much even a brief absence from Tesco's shelves can hurt.

Still, Heineken category and shopper marketing director Toby Lancaster says Amstel's performance has been "extremely positive" in 2018 regardless, thanks to massive distribution gains in the on-trade, where it is one of the fastest-growing draught lagers.

When it comes to the ailing Foster's, he is upbeat. "We expect to see a much stronger performance from Foster's throughout the remainder of the year," he says, with a raft of marketing activity planned for the brand. This will include on-pack promotions offering shoppers a trip "to the thirstiest place on earth" (Australia, apparently) and marketing centred on "the core brand values of refreshment".
Carlsberg splashes on reinvention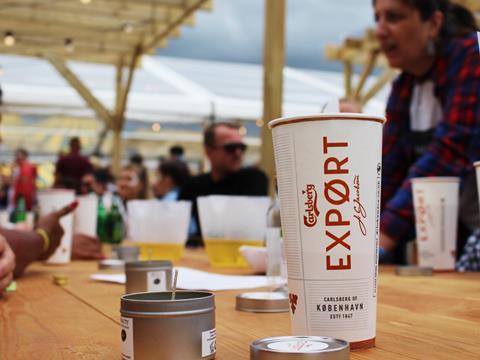 Beer & cider top 10 advertisers 2018
Going the Danish way?
For Carlsberg, too, there are signs of progress. Its Export brand is nearly back in growth after two years of massive decline. This time last year it was down 30%.

Bringing Export back into shape meant choosing between "innovation or renovation" says Carlsberg's UK marketing VP Liam Newton. "Export was well loved in a blind taste-test. It was just the brand the consumers didn't like. This was a clear message to us that there was no need to innovate the brew, just to renovate the brand.
"A new, stylish design, above and below the line activations including a TVC, digital communications, in-store and on-pack promotions and a focus on live music events has resulted in a 4% uplift in the number of people who thought that the beer 'tasted better' despite the recipe staying the same."

This year, it plans to run 'Danish Quarter' pop-up bars at festivals across the summer, reaping the rewards of its tie-up with festival organiser Live Nation, and will be running on-pack promotions across six million packs to "attract younger adult drinkers to the brand in the run-up to event season".

Carlsberg's standard 'green' lager is down 16.4% (£20.8m), making it responsible for the bulk of Carlsberg's overall decline. But it is understood a considerable rebrand and ad campaign are in the works for it.

With big brands still reeling from supermarket resets, the biggest winner has undeniably been BrewDog. Sales of its flagship Punk IPA are up a whopping 51.8% (£13.8m) to £37.7m - making it the UK's fourth-biggest ale brand, bigger than stalwarts such as Doom Bar (up 0.3% to £21.2m), Newcastle Brown (down 9.1% to £13.5m) and Hobgoblin (down 3.8% to £21.5m). In fact, BrewDog's Punk IPA, Elvis Juice (up £5.4m) and Dead Pony Club (up £4.4m) were the three bestselling brands in the ale category (though whether BrewDog, with business in countless countries and all signs pointing to an impending - and potentially very profitable - IPO, can truly be considered 'craft' any more is up for debate).
This growth in craft ale has come partly at the expense of traditional ales such as John Smith's (whose Original and Extra Smooth variants are down 31.8% and 6.2% respectively), Spitfire (whose value has shrunk by more than a quarter), and Greene King's frontrunner Old Speckled Hen (down 4% to £45.6m). "We have seen major retailers scaling back their premium bottled ale (PBA) bays to create more space for 330ml craft and most new SKUs are in cans," says Saltaire Brewery sales and distribution director Nick Helliwell.

PBAs aren't taking it lying down, though. Greene King, for instance, is trying to turn Hen's fortunes around with a massive TV and multimedia campaign encouraging shoppers to "seek a richer life". And there are still success stories to be found in the world of traditional ale. Just take Greene King's Abbot Ale, which has grown 22.9% to £13.6m.

"Consumer interest has risen as a result of craft, which is good for the industry," says Greene King take home director for brewing and brands Neil Jardine. "However, the beers that will succeed will be the ones that meet the needs of the consumer in terms of a strong story and exceptional quality. It is important to remember that volume remains strong for well established brands and consumers still remain loyal to known brewers."
The end of the line for white cider?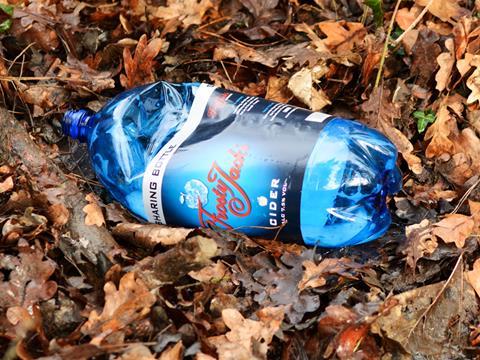 Bad news, Mr Jack: Brits just aren't necking strong cider like they used to. And it's not just because the long-awaited introduction of minimum unit pricing (MUP) in Scotland has sent the cost of super-strength ciders skyrocketing in an effort to curb harmful drinking.
Super-strength ciders have found themselves at the centre of a public relations nightmare in recent years, thanks to pressure not just from the public health lobby but shoppers who have grown increasingly uncomfortable with strong cider's 'problem drinking' image.
If this image problem wasn't enough for strong cider brands to grapple with, the government announced in its November 2017 Budget that white ciders between 6.9% and 7.5% abv would face a higher tax band from February 2019, with the chancellor himself decrying them as "cheap, low-quality products". Ouch.
So does this mean white ciders are on the way out?
Not just yet. Aston Manor-owned Frosty Jack's is still the UK's ninth favourite cider brand, with value sales of £30.5m (though this is down 3.6% on last year). The biggest losses in cider were suffered by bigger brands such as Strongbow Original (down £16.2m) and Stella Artois Cidre (which has lost £8m - half of its value).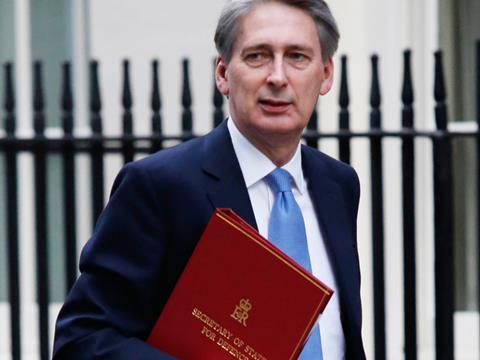 The full effect of MUP on sales is yet to be fully revealed, and it is understood some wholesalers, such as JW Filshill, have already delisted affected lines from their ranges.
Conversely, whether MUP will actually lead to the kind of public health benefits touted by its supporters remains to be seen. Aston Manor CEO Gordon Johncox has argued that, rather than hitting so-called 'problem drinkers', the bill will disproportionately affect mainstream beers and ciders, primarily the domain of moderate drinkers.
Still, MUP for England is now back on the cards after six years, with PHE due to re-examine the evidence for it south of the border.
Considering the size of the English market in comparison, this could spell bad news for purveyors of the strong stuff.
Craft in the crosshairs
And not every craft brewer has been able to share in the success of BrewDog and co. Now that a legion of trendy brewers have made it into the mults, they're being placed under far greater scrutiny when it comes to their ability to generate long-term value for the retailers.

"Tesco have culled a significant number of craft SKUs," says Dan Lowe, founder of Bermondsey-based craft brewer Fourpure. "They have worked out which brands sell and which are working commercially, and the ones that don't work are coming out." That Tesco's value sales of beer and cider grew less than in every other major retailer this year, at a measly 0.1%, suggests this strategy wasn't enough to turn undo the damage done by a 0.7% decline in lager sales for the super [Kantar].

Still, other retailers are likely to follow Tesco's lead. Waitrose, for instance, is "a bit further back on the curve", says Lowe, having recently brought in almost 100 new trendy brews with its latest range update. But "we'd anticipate that SKU number is not something they're looking to sustain long term, so we'd expect to see some reduction", he adds.

So it seems craft beer's 'honeymoon' phase in the mults could be over. Which means the pressure is on for those brands who have retained shelf space to justify it, not just with rate of sale but with product consistency, says Lowe. Irate beer drinkers took to social media in droves this year complaining of supermarket-bought canned craft beers that poured out clear one week and hazy the next.

"Brands that can't offer consistency will naturally fall away," predicts Lowe. "Where you see huge variations in consistency, it can be symptomatic of underlying quality issues, which can lead to other challenges such as re-fermentation in the packaging, which can even lead to ruptured packaging on shelf.

"Understandably, larger retailers aren't prepared to have a brand like that on shelf. So perhaps this is a case of natural selection for those who've been given the opportunity to go wide with their distribution and hit grocery but haven't quite hit the spot."

It's unfair to lay the blame for beer quality issues solely at suppliers' feet. After all, it's still a relatively young category for British retailers. And it seems they're still learning the ropes: the mults have repeatedly taken flak from shoppers and brewers alike this year for selling craft beers well past their use-by dates in some cases.

"Craft beer is predominantly live beer," says Lowe. "That means it's not pasteurised, and needs to be treated as such. In developed craft markets such as the US, it is common and expected and the standard that craft beer gets treated as a cold chain item, but in the UK, because predominantly the beer market has been dominated by macro-owned lagers and premium lagers which don't require cold chain, it's led to an assumption by the grocers that all beer can be treated as ambient."

Brands are already pushing supermarkets to ramp up their chilled storage and distribution. BrewDog last year unveiled its own chilled transport network, and is understood to have been rallying the supers to stock its beers only in fridges.

Still, these teething issues could be a gift for the big boys. With a household name behind them, and the trust that engenders, it's the craft beers that were bought (or started) by the big brewers that have made some of the biggest gains. Diageo's Guinness spin-off Hop House 13, for instance, has added a cool £16.5m to its value.
"Before craft beer, the beer market was, to be blunt, a boring, commoditised category"
"We felt from the outset we had something a bit different with Hop House that could bridge the gap between craft and world lager," says Diageo off-trade sales director Guy Dodwell.

In the past year, Diageo has extended Hop House 13 into cans and introduced new sharing formats, with Dodwell attributing a large portion of its success to strong distribution in the on-trade carrying over into the supermarkets.

That their own craft brands are flying off the shelves means the big boys look less hungry for acquisitions than they have been for a while. 2017 was marked by numerous high-profile acquisitions, such as the sale of a 49% stake in Brixton Brewery to Heineken, and that of London Fields Brewery to Carlsberg. There has been just one major sale this year: Heineken has taken a minority stake (rumoured to be 49%) in London's Beavertown brewery in a £40m deal.

"It's not our sense that the big guys are looking to generate huge craft beer portfolios here in the way that they have done in the US," says Lowe.

"The US is so much bigger and its beer scene is very regional, so it's relevant there for them to have three or four acquisitions to cover the whole country. That doesn't mean it's something that Carlsberg or Heineken won't have considered, but their strategy for craft beer seems to be very much decided on now."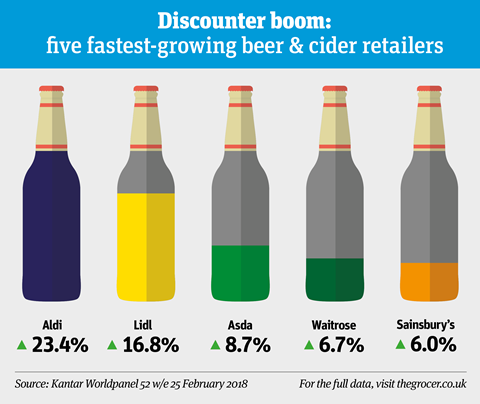 Five fastest-growing beer & cider retailers 2018
Challenger ciders
The British market has also deviated from that of the US when it comes to cider. Whereas Stateside a legion of uber-regional cidermakers are putting the big boys under pressure, there hasn't been a huge influx of challenger brands into the UK. Which flouts the conventional wisdom that developments in US booze can be taken as a bellwether for our own market.

"We have the space for challenger brands in the cider market, but I just don't see much of them," says Darryl Hinksman, head of customer marketing & insight at Westons Cider. "I think that's because before craft beer came along the beer market was, to be blunt, a quite boring, commoditised category. When the craft brewers came along, focused on flavour, ingredients and provenance, this had never really been a thing in the UK market. But in cider we've always had brands like ourselves, Thatchers and Aspall. Perhaps there hasn't been the complacency in cider as there was in beer."
"There hasn't been the same level of complacency in cider as there was in beer"
This may change over the coming years, as craft cider attracts the attention of bigger players: BrewDog, for instance, purchased 'urban cider' brand Hawkes in April, and this year also saw the launch of the UK's first dedicated craft cider wholesaler by Crafty Nectar.

But for now all eyes are on fruit cider, which has grown its share to one-third of all spend [Kantar]. "We're predicting that in five years 48% of the total cider market in the UK will be fruit cider," says Westons' Hinksman.

"It really is a sea change. It's similar to when Magners introduced the 'over ice' thing to the UK. They took it upmarket and brought in youth appeal, which was fantastic, and it absolutely reinvigorated the cider market."

This is exactly what's happening with fruit cider now, he suggests, admitting much of this is down to the success of Strongbow Dark Fruit, which for the first time this year surpassed Strongbow Original in terms of penetration, according to Kantar. Value sales have grown by a cool £7.8m to £98.6m this year - steadily catching up with Original, which fell by £16.2m to £161m [Nielsen].
The Heineken-owned drink has been "the Magners of this era", says Hinksman. "It's bringing in a younger consumer, is more appealing to women and is bringing new people into the category as a whole."

Westons is getting in on the action with its own Mixed Berries version of Stowford Press, which went into the on-trade in March. "I had to brief the team after seven weeks to tell them we were 50% ahead of where we had budgeted to be," says Hinksman. It will launch into retail late this year or early next year.

Posh apple cider is selling strong, too, and the big boys have taken notice. Last year saw brewing giant Molson Coors snap up high-end Suffolk cider brand Aspall, which Kantar's Davies calls "a play on this trend continuing". Only pear cider suffered, falling to a measly 4% share of category spend.
Much ado for industry about boozeless brews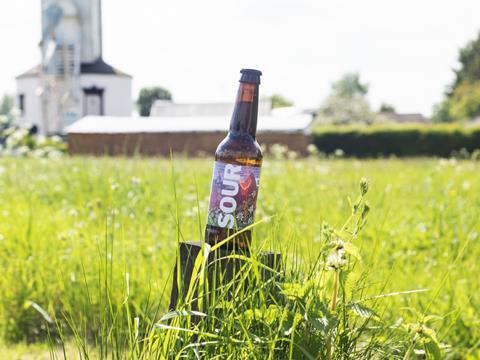 Virtuous booze has gone well and truly mainstream. No and low-alcohol beers have taken the mults by storm, with major releases from the likes of Budweiser, Heineken and BrewDog racking up serious cash over the past year (Nanny State is BrewDog's fifth bestselling beer with £3.5m value sales). Tesco now has a dedicated alcohol-free aisle, and the rate of NPD is snowballing.
Even uber-trendy craft brewers are getting in on the action. Low-alcohol brewer Big Drop (pictured) is preparing to scale up production of its 0.5% lager, pale ale and stout from 10,000 litres per month to some 40,000 litres after winning a major supermarket contract, and cult craft brand Thornbridge announced the impending release of Big Easy, its first 0.5% abv beer, this month.
Yet elements of the drinks industry are at loggerheads over the labelling of low and no-alcohol products. Under current regulations, a drink can only be called 'low-alcohol', if it's below 1.2%, 'non-alcoholic' if it's for religious purposes, such as communion wine, 'alcohol-free' for drinks 0.05% or lower, or 'de-alcoholised' for those lower than 5%.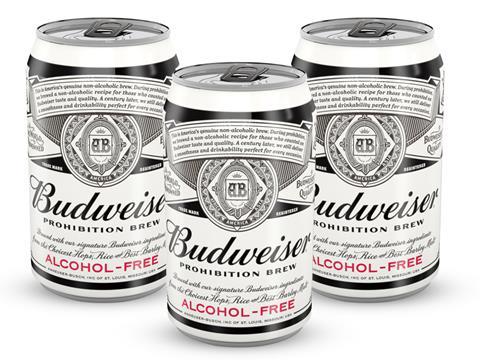 Some argue this is convoluted and puts British brewers at a disadvantage compared with their European counterparts, who are allowed to use the term 'alcohol-free' on brews 0.5% abv or lower.
Industry watchdog the Portman Group has recommended raising the threshold for 'alcohol-free' to 0.5% and ditching the term 'de-alcoholised' on the basis it would provide "much-needed clarity and consistency".
Others believe transparency - even around alcohol levels that cannot physically get someone drunk - is imperative.
"Misinformation on labels has the potential for serious consequences for people like the men and women we support, who are fighting addictions," says St Peter's Brewery founder Steve Magnall. "Just because they have a law in Europe doesn't mean we should follow it. The Spanish law on drink driving alcohol limits is lower than the UK - should we follow that as well?"
Less pressure from Brexit
That the price of cider hasn't risen to the same extent as lagers and ales has also given it an advantage. In fact, the average price per litre of cider is up just 1.6%. This is partly because cidermakers don't rely on imported materials to the same extent as brewers, many of whom saw costs surge when Britain's vote to leave the EU significantly weakened sterling.

The pressures from Brexit are "not as pronounced", on cider, admits Hinksman. "Obviously we are subject to the same macro-economic trends as everybody else such as energy costs and fuel, but the apples we make our cider from come from within 50 miles of the mill. Herefordshire, Worcestershire and Gloucestershire don't have exchange rate issues. It's not like we're going to import costly hops from the west coast of America."

Thatchers Cider off-trade sales director Chris Milton agrees impact is limited. "We're not dependent on Europe for sales or supply of ingredients that could affect our costs so for us it is business as usual. We have a growing market for our ciders globally, and we see this as a great prospect to open up new markets."

Yet despite cider's booming fortunes, some of the most successful innovation to hit the category hasn't actually come from within it. Spirits giants Jack Daniel's and Smirnoff's forays into cider have been incredibly successful. Jack Daniel's Tennessee Cider's sales have hit £4.5m in its first year on the market and Smirnoff Cider is absolutely flying off the shelves, having added £7.8m to the combined value of its three SKUs this year, reaching a total of £14.1m in sales.

"Both [Smirnoff owner Diageo and Jack Daniel's] identified cider as an attractive market to leverage the power of their brands," says Kantar's Davies. "So far, they've proved effective in attracting a younger cider shopper, and both contributed to cider's stellar performance."

The combined success of Hop House 13 and Smirnoff Cider makes Diageo one of the top-performing companies in the sector over the past year. "We're clear that a big source of our future growth will be expanding our trademarks into new alcohol occasions and entering new categories," says Diageo's Guy Dodwell. "The categories are blurring and we're absolutely committed to playing a full part in a competitive beer and cider category as well as spirits."

It's not just spirits brands upping the competition for the sector's brands. Own label beer and ciders massively outperformed their branded counterparts, growing sales by more than a quarter (26.1%) [Kantar].

Hogs Back's Rupert Thompson says the rise of craft is to thank for the surge in own-label. "One important change driven by growing appreciation of craft beer is that as brewers, we no longer have to hide our light under a bushel when it comes to own brand beers."

M&S, for instance (whose value sales of beer and cider are up 4.2%) has made it a point to play up the provenance of its own-label brews and include the name and details of the brewer. Whereas in spirits and wine, the retailer's brand is sacrosanct. "The retailers have needed to differentiate themselves in a crowded market," says Thatchers' Milton. "They have to be different in order to command their share."

And it's looking like there will be a further shake-up on the cards. While the discounters may have traditionally undertraded when it comes to beer and cider, Aldi and Lidl's value sales of beer and cider grew 23.4% and 16.8% respectively. Which means even after the footie's over, all bets are off.
---
Innovations in beer & cider 2018