From probiotic-rich kefir to Lebanese-style yoghurt, brands are using global inspiration to fight back against own label gains
Pale and stale is usually a term applied to boardrooms. Turns out it could just as easily apply to yoghurt brands. Amid a lack of excitement, branded yoghurt volumes are down 3.6%, equating to 134 million fewer pots sold [Kantar Worldpanel 52 w/e 2 December 2018]. The top three brands are all in decline, shedding a combined £19.7m [Nielsen 52 w/e 26 January 2019]. It seems the big names just don't have the power they used to.
All of which prompted Danone Dairies' managing director Craig Read to issue a warning in an interview with The Grocer in September: "We're not attracting enough younger consumers, and we're not making it easy enough for consumers to understand the health benefits of the category."
Step forward a fresh range of yoghurts bringing diversity to the aisles. Everyone from Danone to Müller is investing in the exotic. Products such as kefir, lassi and quark are looking to offer more than a standard yoghurt fix. With the promise of unusual flavours, far-flung credentials and health benefits, brands are hoping these blends will bring excitement back to the dwindling market.
"Previously brand-loyal customers are shopping own label without conscience"
Clearly, they need to do something to stem the rise of own-label products. While retailer yoghurts gained £28.2m last year, brands only mustered an extra £7.1m – a figure that was driven entirely by price rises [Kantar]. Some of this can be attributed to the growth of Aldi and Lidl, which boasted category value increases of 17.1% and 21.2% respectively. Indeed, "the rise of the discounters has given permission to previously brand-loyal customers to shop own label without guilt", says Azhar Zhouq, managing director of Lancashire Farm Dairies.
This has, in turn, shaken things up at the big four. The supers have launched reset after reset of their dairy aisles, culling masses of branded SKUs to remain competitive against the core ranges offered by the discounters.
That means prioritising cheaper own label lines. Although they are only 4p cheaper per pot on average, according to Kantar, it may be enough to sway cash-strapped shoppers. "Private label has became the standout performer in yoghurts, likely driven by shoppers choosing lower-priced items in this time of uncertainty over the economy," says analyst Bertie Lewis.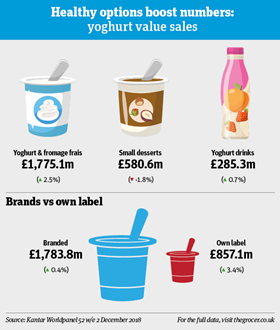 So big brands such as market leader Müller, which has shed £14.5m in the past year [Nielsen], are feeling the pain. As a countermeasure, Müller has jumped on the opportunity to increase its own label production. "We're doubling the size of our Telford facility, which will give us the ability to produce over 500 million yoghurts every year by 2020," says head of category for yoghurt and desserts Carol Hand.
Still, Müller is keenly aware of the need to reinvigorate its branded sales. Hand admits its yoghurt business "has its challenges" – a drop of 33.2 million units, to be precise – but she insists it has "inspired people to live happier and healthier lifestyles".
World influences
It has certainly put a lot of work into making the latter statement come true. This is where the more exotic strategy comes in. Over the past year, Müller's NPD roster has taken inspiration from Greece, Italy and the Alps. Last spring, it debuted its 'Alpine-style' quark range supported by a campaign complete with yodelling and dirndl-clad villagers. In February, it resurrected the Amore sub-brand as a light range with Italian credentials. And earlier this month, it unveiled its first Müller Corner product made with unsweetened, Greek-style yoghurt. Considering Greek yoghurt sales are up 9.1% to £471.2m [Kantar], it's a canny move. Clearly, world influences have the potential to pay off.
Everyone's at it. In July, Danone brought out its world-inspired range, including an Icelandic-style skyr, a Turkish-inspired ayran drink, a Greek-style straggisto yoghurt, an Indian-inspired lassi drink and a Lebanese-style laban yoghurt. The NPD was part of Danone's new Innovation Accelerator scheme, which is looking to bring some of the brand's most popular ranges from overseas markets to the UK.
Granted, some of these world recipes have more potential than others. One that seems to be hitting the mark is Icelandic-style skyr, likely due to its ability to tick multiple consumer trend boxes. Not only does skyr meet the growing demand for high protein, but its naturally low sugar content appeals to the healthy crowd.
Enter plenty of established and specialist challenger brands. One of the latter is Siggi's, which made its UK debut in January. It started life in the US around a decade ago, when Icelandic ex-pat Siggi Hilmarsson found yoghurts in his new home "too sweet and artificial-tasting". So, using a recipe sent to him by his mother, he launched his own brand in downtown farmers' markets, before being acquired by Lactalis in early 2018.
"High-protein yoghurts and quark have seen a 22% sales increase year on year"
Lactalis sees brands such as Siggi's as a hot growth area. "High-protein yoghurts and quark have seen a 22% sales increase year on year as consumers increasingly look to dairy products to fulfil nutritional needs," says the man behind Siggi's launch in the UK, Lactalis marketing manager Paul Wiseman. "The 18 to 34 age category is leading the way as nearly half of UK millennials have adopted a healthier, more balanced diet and lifestyle."
So tempting is this growth that even traditional British dairies have got on board. One such dairy is Hesper Farm Skyr, which trades on being an 'Icelandic-style skyr yoghurt made using British milk'. Founder Sam Moorhouse believes UK "authenticity and provenance" can take the appeal of skyr a step further. If he's right, sales figures suggest he stands to win big. "Skyr has delivered truly incremental sales, with Arla estimating 70% of its skyr sales are incremental to the category," says Moorhouse.
Kefir is another world delicacy that's booming. Sales of the fermented drink, which originated in the mountainous region that divides Asia and Europe, have reached £4.2m [Kantar]. Again, the key here is alignment with consumer trends. As consumers become increasingly aware of gut health, kefir's probiotic content could prove a powerful draw. While yoghurt contains between two and five strains of bacteria, kefir brands are claiming anything from 14 to more than 40. That 40-plus figure belongs to Bio-tiful Dairy, which it says is the most of any kefir product on the market at the moment.
True, these brands are facing the same issues as standard probiotics when it comes to making health claims. In 2017, a Bio-tiful Dairy ad claiming the products aided "better digestion" fell foul of the Advertising Standards Authority, which rapped it for not backing up its message with "a specific authorised health claim".
Still, Bio-tiful founder Natasha Bowes is confident kefir will resonate with health-conscious consumers. Already, she's setting her sights on broadening the market. "The core consumer is affluent and fairly well educated," she says. "The next step is to make it accessible to the family market, where there's plenty of room for incremental growth."
"Consumers are understanding more and more about gut microbiome diversity"
She's not the only one thinking along these lines. Plenty of mainstream brands have taken a leap into kefir, from The Collective's kefir debut in April to the launch of the Yeo Valley range in August. "There is a lot of mileage in this area as the consumers understand more and more about the importance of gut microbiome diversity," says Sebastian Rusu, Yeo Valley's head of brand planning and innovation. Meanwhile, M&S has taken a lead on the retailer side by signing a deal with Bio-tiful to produce own-label kefirs.
Emerging markets
That just about covers the "affluent and fairly well-educated" consumers described by Bowes. Now The Collective is going after her next target market: families. Its Super Yoghurt range, launched in January, was created especially for kids' palates. "I wanted to create a range which combined the gut health benefits of kefir and a wholesome natural yoghurt," founder Amelia Harvey said at the time. "I'm proud to say we have perfected this balance, which we hope will be a huge winning factor for parents and kids."
As the kefir and skyr explosions demonstrate, functional benefits are increasingly important to consumers. Nielsen's dairy client business partner Rupert Austin says this is where bigger yoghurt brands are generally missing a trick.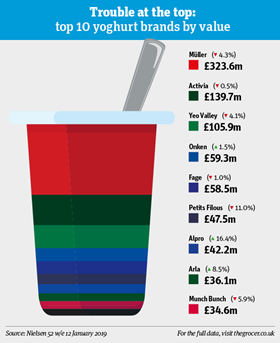 "The category core is declining in relevance to consumers who are looking to fulfil more functional needs and are willing to pay more for it," he says.
Spotting this insight, Arla has made functional a driving force behind innovation. The dairy co-op launched its Fibre range this time last year, timed to neatly coincide with the explosion in gut health and growing awareness of the importance of fibre. If fibre really does go on to become as big a trend as protein, that puts Arla in a good place for expansion. After all, its Protein range went on to spawn milk, cheese and flavoured water incarnations.
Functional need not always be this obviously functional. There is also potential for some more unusual, subtle claims. "The future could well be with less functional health and more mind and body wellbeing claims," says Elayne Read, senior brand planner at design agency Coley Porter Bell, which works with brands including Müller. She points to the example of Yeo Valley's yoghurt containing baobab, which has been associated with cognitive benefits and a reduction in stress levels.
Amid all these new wave claims, more traditional sells such as fat-free are losing their appeal. Yes, fat-free remains a substantial part of the yoghurt market, according to Kantar, worth £414m. And it's still growing. But it's 1.9% increase in value is below the category average of 2.5%. And flagship brand Müller Light has lost almost £20m [Nielsen 52 w/e 29 December 2018]. Read says consumers increasingly want to know what their food is full of, rather than free from, which poses obvious challenges to the fat-free proposition.
"The more traditional perceptions of health within yoghurt are being impacted"
Emmi UK says there is also an evolving understanding of what is healthy. "As health becomes more personalised, the more traditional perceptions of health within the yoghurt category are impacted," says head of marketing Laura Grove. "We've seen a change in shopper behaviour driving 5.5% value decline in diet yoghurts [Kantar 52 w/e 30 December 2018]."
Those shoppers dropping diet yoghurts are likely to switch to low or no fat natural alternatives, she adds. Indeed, Kantar analyst Bertie Lewis says demand for more natural, less processed yoghurts has seen standout growth over the past year. That has driven a £33.3m gain in big pots of plain yoghurt.
The health debate
Today it's not as simple as fat being the enemy. It's all about natural, wholesome nutrition, says head of marketing and innovation at Nomadic Dairy Tom Price. "Diets like keto and paleo are increasing recognition of the value of dairy fats," he says. "Where some brands have had success removing fat and replacing it with other augmented ingredients, we're keen to see whether this trend lasts. The likelihood is there is a market for both but we're on the side of embracing dairy fats as well as the innate protein, carbs and live cultures."
Yet even in this era of nuanced health debate, there is one ingredient that is persona non grata in any health circles: added sugar. It's no secret among brands, which have been working hard to rid themselves of the white stuff in line with Public Health England 20% reduction targets. Some are going beyond requirements. Most notably, Müller is hoping to turn around the fortunes of its Light range with the use of a less sour culture that negates the need for any added sugar at all.
In the world of children's yoghurt, this focus on added sugar is particularly sharp. So it didn't do the sector any favours when a University of Surrey and University of Leeds study found higher-than-desirable levels in many products on the market.
"A single serving could contain close to half of a child's recommended daily sugar intake"
"We found in many of the yoghurt products marketed towards children, a single serving could contain close to half of a child's recommended daily maximum sugar intake," says University of Surrey senior lecturer in human nutrition Barbara Fielding, who co-authored the analysis of product information across 921 yoghurts on sale in the mults. "Many portion sizes for children's yoghurts were identical to adult portion sizes."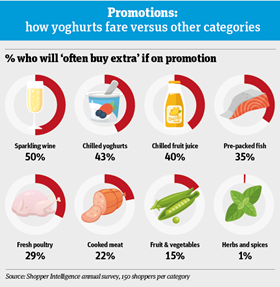 It added to the woes of a sector that has been suffering since the rollout of free school dinners for primary school children. Many yoghurts aimed at children are declining. Yoplait's Petits Filous suffered an 11% blow to value, while its Wildlife range is down 9.5% and Nestlé's Munch Bunch lost 5.9%.
Reformulation has been an obvious counter-strategy. Yoplait, for one, has reduced the sugar content of Petits Filous and Frubes by 17% and 15% respectively over the past two years. Diversification is another tactic. Aware that the lunch occasion is declining, brands are now turning their attention to portable formats. They are hoping these could mirror the success of the adult sector, where on-the-go has been a long-standing focus for innovation.
So while kids' pots may have lost more than a quarter of their value – down from £12.4m to £9m – other formats are rapidly gaining ground. Kids' handheld yoghurts, for example, have shot up 34.2% to £28.3m.
"We're having to look at the new occasion of after-school snacking, which is one of the reasons behind our new easy-to-open format, as it allows children to enjoy Frubes while on the go," explains brand manager for Yoplait Kids Rosanne McDonnell. Petits Filous is going after the same crowd with its new drinkable yoghurt, launched this week, designed to help children "enjoy the great taste and all the goodness of Petits Filous wherever they go".
It turns out diversity doesn't just apply to yoghurt recipes, but to formats as well. New ideas seem to be vital to stopping yoghurts going off. So to survive these testing times, brands and retailers could do worse than to adopt a diversity strategy.
Innovations in Yoghurt 2019