Like an awardwinning Victoria sponge, home baking has risen well. Over the past year it has whipped up value growth of 3.4%, although volumes are practically flat [Kantar Worldpanel 52 w/e 26 April 2015].
This growth, in stark contrast to the year before, indicates a return to the days when home baking was booming. But without the major events of past years, such as the Royal Jubilee, what has driven this growth? Is this a sign the Mary Berry effect is back in full swing? And what are the sector's major players doing to capitalise on it?
Price increases are the main driver as retailers and brands look to capitalise on the demand for premium home baking products. Average prices have risen for four of the top five baking brands in the past year, partly through the launch of pricier products aimed at the discerning baker - such as Dr Oetker's Madagascan Vanilla Bean Paste and Green's Indulgent dessert kits.
"Average prices in the category are up due to consumers choosing accessible premium products as their levels of disposable income improve," says Jan McKee, executive head of marketing at Dr Oetker UK. "While UK consumers are baking less, when they do bake they're opting for higher quality chocolate, colours, flavours and decorations."
Price increases aren't confined to branded products either. In fact, the average price of own-label products is up 3.8% [Kantar]. This is despite the increasing dominance of the discounters in home baking.
"Consumers are choosing accessible premium products as disposable income rises"
In last year's Focus On Home Baking, Tony Baines, MD for corporate buying at Aldi, declared his intention to make the fixture a destination category at the discounter. One year on, home baking in Aldi is booming - sales are up 52.4% as it expanded its range. In September, it added 14 new lines to own-brand range The Pantry, which now includes Wholemeal Crusty Bread Mix, Rhubarb & Custard Baking Jam, and Lime Juice.
Aldi also added branded SKUs to its shelves from the likes of Dr Oetker, Silver Spoon and Wrights. Lidl has followed suit, with an expansion of its home baking range, which now consists of 45 staple home baking products - from sugar and flour to dried fruits and cake decorations - as well as seasonal offerings. Its 'extensive' Christmas range includes marzipan, currants, mixed peel and, for the first time this year, luxury brandy soaked mixed fruit. The latter is an example of the increased focus by the discounters on more premium and technical items for home baking, with Lidl adding vanilla pods and glacé cherries to the mix. The move has proved fruitful - sales are up 15.3%.
"Since the relaunch of Lidl's own-label range, Belbake products are not only presented in a modern and fresh way but also come with useful on-pack information such as recipe suggestions," says a senior buyer.
Despite the march of the discounters, Sainsbury's is flourishing in home baking with the largest value sales increase of the big four (see left). The retailer capitalised on the popularity of The Great British Bake Off by making sure products featured in the programme, such as freeze-dried raspberries, were available, with additional yeast brought in for National Bread Week.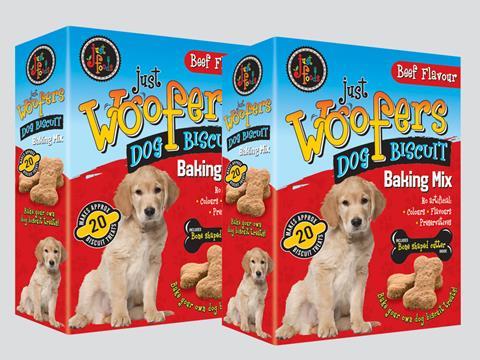 Promotions
A 52.2% increase in promotional activity during the period Bake Off was on air from 2013 to 2014 also helped [Brand View]. Sainsbury's was not alone in this venture - promotions across the big four increased by 13.7% - and Asda bumped up activity by 37.3%. Tesco, meanwhile, slashed promotions by a similar amount, losing sales in the process.
Dr Oetker more than doubled its promotions over the period. "Last year we worked with retailers to maximise the opportunity of the 'Bake Off effect' and findings revealed that a 'save' mechanic worked harder for cake decorations in volume rather than multibuys," adds McKee. These promotional mechanics might have shifted 2.5% more packs, but the brand lost 1.3% in value [IRI 52 w/e 23 May 2015] as it looked to drive penetration and frequency through more accessible price points.
"A save mechanic works harder for cake decorations in volume rather than multibuys"
"This year," says McKee, "Dr Oetker will be running a digital campaign during the Great British Bake Off. Dr Oetker's Even Better Bakealong will be a 10-episode weekly web show that will pair celebrity Stacey Solomon with baking vlogger Emily Leary."
While increased focus is being paid to the Bake Off season, Christmas, Easter and Halloween still provide much-needed support to the category. "For us, the second-biggest event in the home baking calendar has to be Halloween. Sales volumes for the two weeks leading up to Halloween far exceed volumes in the two weeks leading up to Easter," says Danielle Harvey, Cake Décor sales director. The brand releases bespoke seasonal decorations for the holidays, with decorative bats, pumpkins and ghosts hitting shelves in time for Halloween.
But things are not as simple as they used to be. "Whereas one product used to fit all for a seasonal Christmas special, we are now having to look at good, better, best tiering to satisfy the different grocery channels of retail, while at the same time also managing own-label requirements," says Alexandra Balzaretti, commercial controller of Fiddes Payne and Cake Angels. "The challenge is managing a growing amount of SKUs for a growing variety of retailers in a market that is becoming very competitive."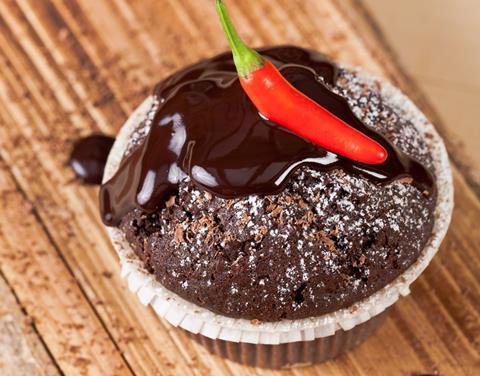 Decorations
Consumers are also becoming more competitive in an age where cakes, bakes and treats are posted on Instagram and Pinterest. "This trend has resulted in experienced bakers looking for new, innovative products but has also encouraged reluctant bakers to look for specific products for a recipe for a birthday cake or brownies. The days of basic cupcakes are over and new, interesting flavour or colour combinations get maximum pins and follows," Balzaretti adds.
"What you add on, in or under the cake are likely to be value-added, higher-priced items"
Cake Décor has capitalised on the demand for value-added decorating products with its multicoloured glimmer sugar, seasonal toppings and sprinkles. "Having baked the cake, it's all about what you add on, in or under the cake, and these are likely to be value-added, higher-priced decorating items," says Harvey.
The brand launched Choco Writers in milk, dark and white (rsp: £1.69/tube) in June 2014 followed by Two Colour Stripes Frosting in Chocoholic Vanilla and Strawberry & Vanilla to tap the ombre cake trend (cakes with coloured frosting from dark to light). Other trends Harvey identifies include naked cakes (layered sponges with fillings but no icing) and mini cakes where Battenbergs and Victoria Sponges are shrunk to single portions.
"Due to the shift of meal occasions, it's evident that home bakers are moving away from larger cakes and sponges," says Dr Oetker's McKee. "The popularity of smaller individual bakes such as cookies, scones and tray bakes is continuing to gain momentum and they are all showing strong growth."
Its recent launches lend themselves to smaller bakes, such as Surprise Inside Cupcakes Centres, while the microwavable Mug Cake range in choc chip, rich chocolate and lemon is suited to individual enjoyment.
The trend for single-serve sized sponges, combined with the growing popularity of home-cooked cookies, is challenging the dominance of cup cakes, says Diane Lunt, marketing communications manager at Renshaw. "There is a growing trend for decorated cookies and perhaps these will overtake the long-lasting cupcake phenomenon," she says. "On social media sites there are myriad designs for flooded designer biscuits and Royal Icing is the ideal product for this new craze."
Elsewhere in the market, snacking fruits are booming, adding £15.1m to the category, more than any other subsector, owing largely to a 5.7% price increase.
Snacking fruit's success is partly due to its versatility as a baking ingredient and snack. Increased interest in more exotic fruits such as mangoes, cranberries and dates (which generally carry a higher price) along with commodity price inflation have helped push the price up. But so has increased demand for single-serve pack sizes suitable for convenient on-the-go snacking.
Whitworths has capitalised on this trend with its Shots fruit snack range, which was doubled from four to eight in 2014. The brand says sales of these were up 145% year on year but they couldn't rescue sales overall - it lost £1.7m on volumes down 8.3%. Phil Gowland, head of marketing at Whitworths, claims Shots are "a taste of what's to come". From August, it will be launching a four-strong range of 'taste-led' mixes called Whitworths Fusions, grazing products that combine 'new and exciting flavours and textures'.
"Later this year we will be relaunching Whitworths in an attempt to create widespread consumer reappraisal," Gowland adds. It's also eyeing the discounters for growth, despite it not having a significant branded range in these retailers as yet.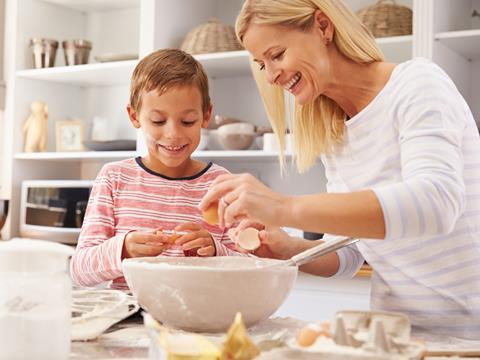 Sugar and fats
While an increased focus on health by consumers is aiding the boom in snacking fruits, it's not at the forefront of consumers' minds when shopping the home baking aisles. Sales of sugar have fallen but it is white granulated sugars leading the decline, rather than baking sugars, which are declining to a lesser extent. Falling sugar prices have caused overall sugars to decline 16.6% by value on volume down 5.3% [Kantar].
Health concerns are providing opportunities in the free-from market, though. Free-from brand Provena has recently gained listings with Waitrose for its Gluten Free Flour Mix with Oats, which will be available in large format stores at the end of August.
"Pushing the boundaries of the cake mix generally comes with higher price points"
Home baking block Trex also markets itself on its free-from credentials. "There is a growing focus on allergens in the ingredients market with dedicated fixtures stocking free-from produce," says Neil Brownbill, marketing director for Trex. "Trex is dairy-free. This has become an increasing focus for our communications on the brand and has now been included in the new pack design."
Butter and spreads face a challenge being located away from the home baking aisles. "Butters and spreads chiller cabinets have a very short dwell time, so it's important that brands offer shoppers extra reasons to visit, such as PoS and recipe inspiration," says Rhiannon Carr, brand manager for Stork at Unilever UK. Stork underwent a relaunch at Easter with new packaging as part of its Bake Someone Happy campaign, which Carr claims increased penetration by 6%. More recently, Unilever launched Stork with Butter, backed by a £3.3m bake-off style TV ad, as it aims to reinvigorate baking spreads.
But Brownbill warns: "Butter brands targeting NPD at specific use in baking have crowded the fixture so education on the usage of products is crucial in influencing consumers before they shop," he says.
Baking mixes and kits is another area that is, arguably, overcrowded. Sales are suffering: sweet cake mixes are down 1.4% in value on volume down 5.9%, while savoury and other mixes have fallen much more steeply with value down 9.4%; volumes fell 14.9%.
"The sweet cake mix market has a high proliferation of SKUs, making it harder and harder to shop the ranges, with very little differentiation and innovation," believes Fiddes Payne's Balzaretti. "For those brand owners that have managed to push the boundaries of the 'cake mix', these have generally come with higher price points, but are also the products helping to avoid a larger decrease in market value."
Licensing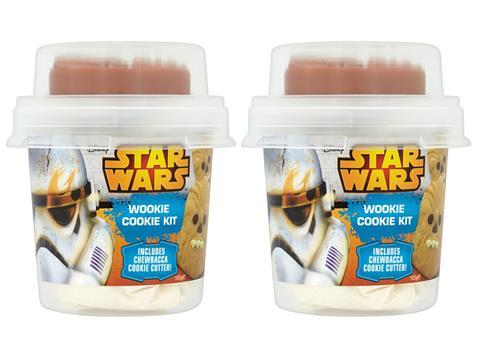 Despite this, Balzaretti reports 60% year-on-year growth for Fiddes Payne in kids activity as a result of working with Disney to drive innovation in the kits on offer. The growth has been fuelled by Frozen, while Spider-Man continues to go from "strength to strength". But the big line tipped for this Christmas is Star Wars, which the brand is already cashing in on (see right).
For Green's, Teenage Mutant Ninja Turtles is one to watch, with another movie planned for 2016. "Tom & Jerry still bucks the licensing trends and remains our bestseller, but the Turtles product is the kids product that is gaining a lot of momentum for us," says licensee manager Sara Renshaw.
In a reaction to a consumer campaign calling for the return of the Rainbow Surprise Cake, the brand is bringing back the product in the hope of reliving its 90s heyday. And, it's looking to fill the demand for affordable, easy-to-use, premium baking kits with its new venture into premium with the Indulgent range (see right).
Aiming for premium quality but everyday prices, Kapak Foods is entering the category for the first time with a branded baking mix proposition called Just Foods (it already manufactures cake mixes for other brands).
"Cake mixes should be a strong market so it needs refreshing, revitalising, new interest and NPD that is creative and captures the imagination as opposed to what we have now, which is too much of the same," says Dr Keith Brewood, CEO of Just Foods and Kapak Foods.
The range (rsp: 99p-£1.69) consists of 24 products, including Jaffa Cup Cakes, Mini Victoria Sponges and Red Velvet Cupcakes as well as two products for dogs (see right). The range launches in September in a number of independents. "We would love to see this in the multiples but you are going up against brand leaders so you are waiting for someone to have the courage to give you a listing. The independents will take more of a risk," adds Brewood. He is targeting £2m in Just Foods' first year, with a five-year goal of £10m.
The established giants of the sector will be licking their lips at the prospect of even bigger gains, especially with the latest series of the Great British Bake Off expected to start in August.
NPD in baking
Wookiee Cookie Kit

Launched: June 2015 
Manufacturer: Fiddes Payne

Fiddes Payne has ramped up the level of creativity offered through its children's kits. The result: two Disney Star Wars kits for kids. The Wookiee Cookie Kit (rsp: £1.99) comes complete with a Chewbacca cookie cutter while the Stormtrooper Pops Kit (rsp: £2.48) contains the essentials for making 10 cake pops. Both are perfectly timed for the start of the school holidays and tap the continuing enthusiasm for Star Wars in the run-up to the release of The Force Awakens in December.

Indulgent Dessert Kits

Launched: July 2015

Manufacturer: Kerry Foods

Looking to fill the demand for affordable and easy to bake luxury desserts, Green's is expanding its portfolio with the launch of the Indulgent range. Available in four varieties - Chocolate Profiteroles, Tiramisu, Chocolate Fondant and Salted Caramel Dessert - the kits (rsp: £2.29) mark the brand's first foray into the luxury dessert sector.

Ready to Use Royal Icing

Launched: September 2015

Manufacturer: Renshaw

Royal icing is difficult and time-consuming for home bakers to make themselves, according to Renshaw. Ready To Use Royal Icing comes in a 400g tub (rsp: £2.49) and offers "a convenient solution to home bakers and cake decorators". It can be used for piping, covering, flooding and added fine detail for all levels of bakers.

Just Woofers

Launched: September 2015

Manufacturer: Kapak Foods

Baking for dogs? That's right; man's best friend will benefit from the launch of Just Foods' extensive range of baking kits, which includes Just Woofers Dog Biscuit Baking Mixes. Available in two flavours - beef and chicken - the kits (rsp: £1.09) come complete with a bone-shaped cutter to make up to 20 biscuit treats.