'Brand Wales' is thriving, with food and drink exports near £7bn. But no-deal Brexit would hit it harder than most. What's the plan?
Unlike Gareth Bale and the Welsh football team - which lost twice in the space of four days in June - the dragon is very much roaring when it comes to Welsh food and drink.

The industry is coming out from behind the shadow of its Celtic cousins to be worth £6.8bn. That figure puts it well on track to exceed its target of hitting £7bn by 2020.

Having built up a strong global reputation for quality and provenance over the past decade, Welsh food and drink is now a "globally renowned success story", says Wales' environment secretary Lesley Griffiths.

The export figures, in particular, would be the envy of many. Annual overseas sales of Welsh food and drink grew more than 30% to £539m from 2014 to 2018, according to Welsh government statistics. That was fuelled by a rise in sales of beef and cereals, alongside consistently high sales of lamb (representing 26% of all Welsh sales outside the UK) and dairy products (20% of all exports).

The global interest in Welsh produce was clear to see at the Welsh government-backed Blas Cymru/Taste Wales exhibition in Newport in March - which saw more than 150 buyers from the UK and across the globe meet with more than 100 Welsh food and drink exhibitors.
"The Welsh brand and that dragon is just so important to the sector. People recognise it"
Still, there is one thing that threatens to derail this roaring interest: Brexit. Because the vast majority of Wales' food and drink exports end up in the EU. Granted, non-EU exports climbed 21% in value over the past year. But they are still only worth £145m, compared with the £395m that comes from Europe. EU countries represent the top five destinations for meat and meat products - generating some £177.7m in export value last year - and four of the top five biggest markets for Welsh dairy. Without easy access to that market, there could be a "devastating" impact on Welsh producers, warns Griffiths.

So how is the sector getting fit for the future, and just how effective is 'Brand Wales'?

The concept of 'Brand Wales' is itself a source of controversy. For many, the brand is represented by the Welsh dragon. However, the UK government has focused on promoting food and drink exports under the union flag umbrella.
Labour's Griffiths fell out with Conservatives over last July's Royal Welsh Show, when a sponsorship deal with Defra's Food is Great campaign saw the event's main exhibition space emblazoned with the union flag.

"I want to see the Welsh dragon all over the food hall," she said in an Assembly debate last October. "We do not want to see the union jack on the Royal Welsh Show food hall. It's our big shop window to the world."
The argument for the Welsh flag, and a strong identity, is clear. The counter-argument is that more far-flung countries are still unaware of exactly what the Welsh flag represents.

Speaking to The Grocer on a trade mission to Japan in March, a number of meat industry experts suggested using the union flag would work better due to more widespread recognition.

Still, Welsh food sector representatives believe this highlights a need for education. NFU Cymru president John Davies says Brexit represents a "unique opportunity" to develop 'Brand Wales' and to present Wales as a country of "high-quality food production underpinned by a strong natural asset base".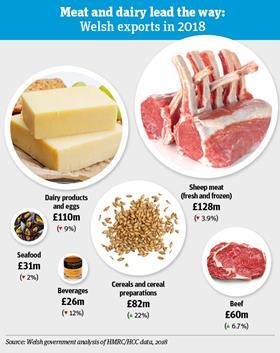 His comments are echoed by Griffiths. "There are no no-go areas for the Welsh brand, and the more people know about the brand the easier it will be to sell it," she adds. "The reason I was so uptight about having union jacks at the Royal Welsh Show is that the Welsh brand and that dragon is just so important to the sector. People recognise it for its quality."

Her call was reinforced in a report by the cross-party Assembly Climate Change, Environment and Rural Affairs Committee on 18 June, which urged the development of a "clear Welsh identity for the food and drink industry after Brexit".

That doesn't necessarily mean slapping a dragon, leek or daffodil on produce and expecting success. Branding expert Glenn Tutssel warns relying on stereotypical Welsh tropes is a big mistake.

"A lot of Welsh food and drink brands are packaged with these symbols, but packaging is not branding," says Tutssel, who is founder of design consultants Brand Inspiration and has been involved with Welsh whisky brand Penderyn since it launched in 1999.

"All brands need to tell a story," he adds, pointing to products such as Penderyn and Colliers Cheese. "While Colliers uses a coal miner on the front, it doesn't say 'I'm Colliers Welsh cheese', it tells the story of its provenance in a much more subtle way."

Still, even if the branding is right, there is a wider issue at play. That is, of course, Brexit. Hybu Cig Cymru (Meat Promotion Wales) CEO Gwyn Howells is clear on the challenges.

"Wales is going to be more exposed than any other country in the UK to Brexit, because our agriculture systems are more focused on sheep and beef than England, for example," he says. "We have one third of the UK's sheep flock and are net exporters of sheepmeat, which leaves us vulnerable and exposed, particularly in a no-deal."
Brexit disruption
As the seasonal production profile is skewed towards the autumn, the upheaval couldn't come at a worse time. "Production is at its highest in October, it's the worst possible month for disruption," says Howells.

In the face of this uncertainty, HCC is actively looking to secure more listings for Welsh lamb among the UK's largest supermarkets and to markets further afield.

"We've also been looking at how we could trade on WTO rules. Theoretically we could still access the EU in the event of a no-deal, but with tariffs ranging from 40% to 90%, we just wouldn't be competitive."
And if Welsh exporters do lose access to that market, "it will be a hell of a job to get it back", Howells warns. "No-deal would lead to a massive realignment of prices, supply would all of a sudden be way over demand, and that would cause big price drops, with many farmers at risk of going out of business."

With this in mind, a Welsh government-backed trade development mission flew to Tokyo on 16 June to try and make more headway in non-EU markets.
"Wales is going to be more exposed than any other country in the UK to Brexit"
That delegation included HCC and well-known brands such as Aber Falls Distillery, as well as smaller operators such as Purple Moose Brewery, Welsh Lady Preserves and the Gower Brewery Company.

While that group was in Japan, the sector was further boosted by the announcement that China had reopened access to British beef exports in a deal worth more than £200m over five years.

Reopening the Chinese beef market is "excellent news" for Welsh suppliers, says Griffiths, who is also "optimistic lamb export barriers will also be lifted soon".

And with the Welsh rugby team set to take centre stage at the Rugby World Cup in Japan this autumn, both Griffiths and Howells think now is the right time to capitalise on "big opportunities" in the Far East. "With the World Cup this year and the Olympics next year, it presents an exciting opportunity for Welsh exporters to present their products to importers from around the world and put Wales on the map," Griffiths says.

"As we prepare to leave the EU, we're determined to support Welsh exporters and give them all the help they need, so they can continue to thrive and boost the Welsh economy."

With no end in sight to the Brexit impasse, they'll be hoping a strong performance from Alun-Wyn Jones' team paves the way for further wins in the Land of the Rising Sun.
Wales innovations 2019


Kevin is The Grocer's fresh foods editor, overseeing coverage of news related to the retail fresh foods sector, including dairy, meat, fish, poultry, fruit & veg and eggs, as well as relevant issues in the agriculture, horticulture and aquaculture industries.

He also assists in production of The Grocer's annual Dairymen and Meat, Fish & Poultry supplements, writes about food commodities, politics and food regulation, and has appeared as a commentator on both radio and TV on the state of the UK food industry.

Prior to joining The Grocer in April 2014, Kevin wrote about retail financial services for a Financial Times business publication, and began his career as a journalist working for regional newspapers in North Wales.

Follow Kevin on Twitter: @KevWhite77