Brits bought cakes and biscuits as fervently as loo roll during the early days of Covid. So has health given way to comfort eating?
Biscuits matter. For some people, they're even more important than that most basic of groceries, toilet paper – 99.6% of households buy biscuits, while a significantly lower percentage of people (94%) buy loo roll [Kantar 52 w/e 6 September 2020].
Both are considered essential items, clearly. That's further evidenced by the large sales spikes during this year's spate of panic buying. Loo roll sales grew 70% year on year in the four weeks to 22 March, the day before we were all ordered to stay at home, while biscuit sales grew 21%. In the next four weeks, loo roll was up 5% and biscuits were up 4% year on year [Kantar].
With many Brits still working from home and growing numbers not working at all, sales of both remain elevated. The tea (and loo) breaks we used to take at work are now taken at home. That means the pandemic has both an impact on the types of biscuits and cakes shoppers are buying and what they're choosing to wipe their backsides with.
So, what has changed? And, with the government cracking down on high salt, fat and sugar foods, what does the future hold for cakes and biscuits?
Both categories have one thing in common: a move to pricier, more premium and indulgent lines. Last year, Cushelle saw sales spike by 22%, thanks in part to strong growth for its Quilted line [Nielsen 52 w/e 8 September] – a trend that has continued in 2020. The past year has also seen an acceleration in the development of posher, indulgent cakes and biscuits.
For example, Pladis launched McVitie's Very Important Biscuits – a trio of luxurious caramel-layered biccies – in July. That was swiftly followed up with the launch of McVitie's Moments Brownies, claiming to be first fully chocolate-covered brownie on the market, a month later. Meanwhile, Mr Kipling has expanded its high-end Signature range with Chocolate Orange Fancies and Millionaire Whirls.
"We expect consumers to turn to products which offer some affordable indulgence"
After the year we've had, we all need a treat, it seems. "With economic challenges on the horizon for many UK families, we expect consumers to turn to products that offer some affordable indulgence," says Pladis customer VP Scott Snell. "Products that help shoppers connect with one another and give them a little lift will be popular."
In short, with winter coming, Covid-19 cases rising and the economy going downhill fast, manufacturers of sweet treats are banking on demand for comfort food growing. Indeed, there's plenty of evidence to suggest that many of us have been seeking solace at the bottom of our biscuit tins since March.
It's in essence the antithesis of what Boris Johnson, who emerged from his personal battle with Covid vowing to tackle the country's weight problem by cracking down on junk food, is trying to promote.
'Healthier' products are out; choccy biccies are in. "Staying at home and working from home disrupted the routines of millions of people," says Snell, citing Nielsen data for the 26 weeks to 12 September. "This had a big impact on sweet healthier biscuits, which, despite being the largest sector in biscuits at £569m [Kantar], declined sharply from March, by 15%." By contrast, chocolate biscuit bars have delivered the highest absolute gain of the past year.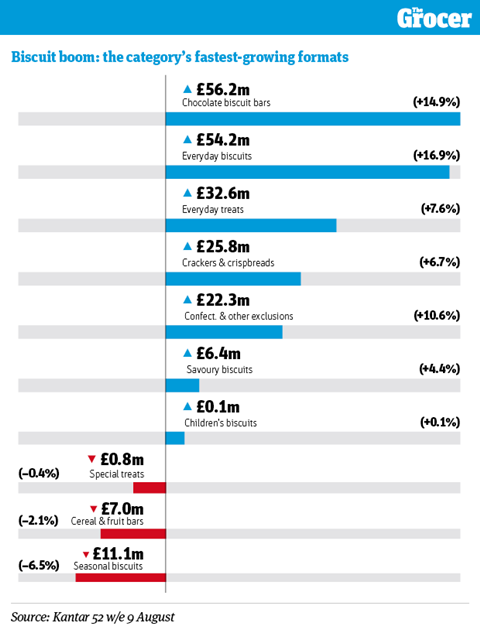 Crumbs! Brits have spent an extra £160.8m on biscuits in the past year, a rise of 5.5%. They've cracked open an extra 144 million packets, equating to a 4.8% increase.
Chocolate biscuit bars, everyday biscuits such as digestives or custard creams and lines classified as 'everyday treats' (chocolate digestives, etc) delivered most of this growth (see above).
"Covid-19 has undoubtedly benefited the biscuit category, as consumers rushed to stock up on traditional favourites," says Kantar analyst Inés Casanovas.
"In recession, we expect increased snacking and a fall in healthy choices. Priorities will lie elsewhere. Health takes a back seat as consumers treat themselves and watch their spend."
McVitie's is leading the sector with strong performances from Digestive, Chocolate Digestive, Jaffa Cakes and Club Chocolate Biscuit Bars, Casanovas adds.
However, innovation has also been crucial. Mars took a bite out of the market with the launch of Maltesers Chocolate Biscuits, while Pladis rolled out its Best of British and Very Important Biscuit (VIB) ranges, and added new Chocolate Digestive lines.
'Healthier' decline
The performance of the top 10 bestselling sweet biscuit brands bears out this behaviour. Choccy treats such as McVitie's Chocolate Digestives have seen sales surge 13.1% on volumes up 12.1%, while Kit Kat is up 17.1% on volumes up 12.6% [Nielsen 52 w/e 29 August 2020]. On the flip side, Belvita and Nature Valley, which are both marketed as healthier, more 'natural' propositions, have seen sales fall 7.5% and 4.8% respectively.
Similar things are happening in cake. "Demand has increased for formats that suit snacking moments at home – such as Cadbury Mini Rolls, which are up 11.9% – as well as small sharing and dessert occasions to reflect people's changing routines," says Mathew Bird, brand director for sweet treats at Premier Foods, quoting IRI figures [52 w/e 11 April 2020].
"Sales of sweet healthier biscuits declined sharply from March, by 15%"
"When looking beyond the immediate impact of the pandemic on the category, it remains very challenging to predict exactly what is going to happen. However, when considering what happened to the category during the last major recession seen by the UK from 2008 to 2010, we saw a small 'lipstick effect' on cake.
"This was caused by shoppers turning to lower-value, accessible treats to replace out-of-home dining, which saw the category grow 4.5%. When people are required to cut back on big expenses and luxuries, they look to treat themselves in different ways, which is where cake can play a role."
While cake hasn't enjoyed the same level of growth experienced by biscuits – biccies are up 5.5% for the full year while cake mustered a gain of just 1% [Kantar 52 w/e 9 August 2020] – there are pockets of strong growth in the category. Cake bars, muffins and swiss rolls are all on the up thanks to the patterns Bird describes (see left).
Finsbury Food Group marketing manager Daryl Newlands says the shine has been taken off cake's overall performance by the lack of big party occasions. "People are still celebrating birthdays with cake and candles," he says. "However, due to lockdown and social distancing, fewer people are celebrating other occasions such as office parties, anniversaries or passing a driving test."
Mood boosters
Instead of a party piece, we're more likely to be eating cakes simply for an emotional pick-me-up. "Cakes are traditionally viewed as mood boosting, with consumers seeking comfort and enjoyment from the category," says Newlands.
"This creates the possibility of a lipstick effect as seen in previous recessions. In times of financial uncertainty, consumers look to purchase smaller, more affordable luxury items, this time in the form of cake treats at home," he adds.
The growing demand for little luxuries perhaps explains why manufacturers are finding it so difficult to hit the spot with the reduced sugar cakes and biscuits.
"Fewer people are celebrating office parties, anniversaries or passing a driving test"
Original Chocolate Chip Maryland Cookies currently outsell the sugar-free variant by 100 to one, according to Burton's Biscuits MD Simon Browne. "It's a challenge because if you want a healthy snack, you're going to have an apple," he says. "If you want a balanced diet with something that's a treat, biscuits are actually quite a good compromise. It's quite permissible as a treat in comparison to something like chocolate, for example."
In that context, the launch of Sugar-free Maryland Cookies – sweetened with maltilol and containing 11.6% fewer calories but marginally more sat fat – in January 2019 looks more like an effort to show willing to an increasingly interventionist government.
Others are more upbeat about the performance of their reduced sugar lines. Take Premier Foods, for instance, which claims to have seen success with its better-for-you Mr Kipling lines. "The Mr Kipling 30% reduced sugar slices appeal to shoppers looking for more permissible treats that give them closer control of their calorie intake, which also has a positive impact on frequency as shoppers feel they can treat themselves more often," according to Bird.
"Shoppers are looking for permissible treats that give them closer control of their calorie intake"
"Now with three variants – Chocolate, Angel and Lemon – the 30% reduced sugar slices are already worth more than £3.4m at retail sales value and are bringing new shoppers to the category, with 40% of sales being incremental," he adds, quoting IRI figures for the year ending 11 April 2020.
Still, there's no getting away from the fact that £3.4m is just a crumb next to Mr Kipling's total brand value of £164.1m [Nielsen 52 w/e 22 August 2020]. This suggests that reducing portion size or gradually lowering the sugar content of existing products – rather than launching new lines with next to none – could be a more effective tactic.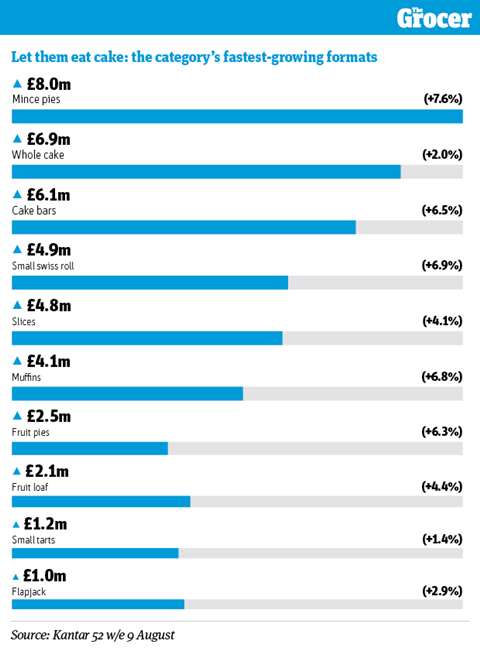 Cake makers must be looking at Christmas with misty eyes. During 2019's festivities, retailers shifted an extra 7.7 million packs of mince pies, a rise of 8.3%, realising sales growth of £8m (7.6%).
The wider category has seen value sales inch up by just 1% (£16.7m), over the full year. Volume sales have declined by 0.9%, with 13.6 million fewer packs sold.
Like most grocery categories, cake sales spiked in the build-up to lockdown in March. However, they later plunged as shoppers used up what they had in their cupboards and visited stores less frequently.
"The cake market has seen a flat performance, after a stronger performance in the previous year, with shoppers buying less often," says Kantar analyst Inés Casanovas.
Covid has also had an impact on the sorts of cake Brits are craving. With more time at home with the family, larger formats such as whole cakes, fruit loaves and small swiss rolls have delivered combined growth of almost £14m.
Essentially, people want comfort. "Priorities are shifting from health to taste and functional needs," says Casanovas. "Indulgent snacks are up."
Reformulation
That certainly seems true in the case of McVitie's Chocolate Digestives, which have grown 40% in the past six months [Nielsen 26 w/e 12 September]. Pladis says the February reformulation of nine of its bestselling biscuit ranges, including Chocolate Digestives and Chocolate Hobnobs, means consumers are eating 785 fewer tonnes of sugar a year. "As Britain's biggest biscuit brand, it's down to us to take sugar out of our bestsellers to help the nation lead healthier lives," says Snell.
"Currently, 96% of Pladis' products contain 200 calories or less per recommended serving, where two biscuits typically equal one serving. Our cake products are designed to be enjoyed as part of a balanced diet and we offer a variety of individually wrapped cake bars and snacks under 100kcals for shoppers looking for permissible treats that offer greater portion control."
"Healthier options are more important – but most consumers won't compromise on taste"
There are other reasons for the lacklustre performance of products marketed as being better for you, however. Mondelez makes much of Belvita's slow release carbohydrate content in positioning the brand as a breakfast option for those who are too busy to eat before leaving the house in the morning.
Of course, since lockdown, far fewer of us have been rushing to leave the house for work. That is likely one reason why Belvita has suffered the greatest loss in the top 10 bestselling biscuits, down £5.9m or 7.5% [Nielsen 52 w/e 29 August 2020]. "According to research in The Grocer, 24% of consumers said they skipped breakfast occasionally or often during lockdown," says Mondelez trade communications manager Susan Nash, who remains upbeat about the brand despite Belvita's recent decline.
"While breakfast on-the-go showed a temporary decline, consumers said that they expect their consumption around this occasion to return. Healthier options are more important for consumers – who are looking for healthier ingredients such as oats and other wholegrains – but most won't compromise on taste."
Permissible indulgence
That explanation is backed up by the popularity of healthier lines that aren't positioned as on-the-go options, but rather permissible indulgence. "Our lower-calorie cake bar brand Fibre One is the fastest-growing weight management snack bar brand with growth of 38% and biggest contributor to category growth at £2.7m," says General Mills marketing manager Adrienne Burke, quoting Nielsen data for the 12 weeks to 25 July.
Strong promotions, big marketing investment and the January launch of a Birthday Cake variant helped drive this growth. Burke says the taste of the Fibre One range – which includes Red Velvet, Salted Caramel and Chocolate Brownie Cake Bars – is also crucial to its success.
"Permissible indulgence has exploded," says Burke. "While shoppers are looking for lower-calorie options, it doesn't mean taste is taking a backseat. Product enjoyment is still very much the most important factor, and brands that meet the permissible indulgence sweet spot are winning big."
That could prove even more of a winner as the government steps up its obesity push and the economy darkens this winter and beyond. Because one thing that Brits won't want to cut back on is their little luxuries.
Innovations in cakes & biscuits 2020