Home baking sales are sinking as Brits bake less often. So can premium launches tempt bakers to pick up their whisks again?
Any amateur baker can tell you the distress of peering into the oven and realising disaster has struck. Be it a soggy bottom, a hefty burn or simply a creation that has fallen flat, there is nothing quite like a baking fail to make your heart sink.
It's a feeling shared across the home baking market this year. Despite last year's brief and shining return to growth, sales are once again sinking. Volumes have fallen 1.5% amid a general decline in shopper engagement [Kantar 52 w/e 24 March 2019]. "The average shopper made 13 home baking trips in the last year, 2.2% less often than the year before," says Kantar analyst Amber Trott.
And unlike last year, prices have remained either flat or declining. Which has resulted in value drops across pretty much every area of home baking – from flour to sugar and baking fruits – that add up to a £11.8m slump. For a category that prides itself on aesthetics, it doesn't paint a pretty picture.
Yet there is some hope on the horizon. A slew of premium products have made their way into the aisles this year, hoping to tickle the (French) fancy of Britain's bakers. These innovations are looking to drum up some much-needed excitement by creating something a little more high-end than your standard vicky sponge.
So is this wave of premium products enough to get another rise out of home baking? And crucially, do they have what it takes to stop shoppers turning away from the category altogether?
The harsh truth is that Brits are baking less. Combined, sweet and savoury baking occasions are down 8% [IRI 52 w/e 25 May 2019]. It's an issue that needs to be addressed head-on if the category is to return to growth, says Jen Brown, head of marketing at Dr Oetker. "It's the role of manufacturers, brands and retailers to inspire consumers and give them more occasions and reasons to bake to drive sales throughout the whole year, not just during peak periods."
The home baking fixture is one area in particular need of inspiration, argues Helen Touchais, home baking brand director at Premier Foods. She believes shopper motivation for home baking starts to decline the moment they approach the aisle. "The home baking fixture is messy," she says. "We know from our consumer research that shoppers find the baking aisle underwhelming and hard to navigate, and that there's a really high ratio of people who browse the fixture but walk away with nothing."
"We know that shoppers find the baking aisle underwhelming and hard to navigate"
Touchais suggests simplification as one way to tackle the problem. "At the moment, there are way too many individual products on shelf, which is leading to confusion."
But simplification may be easier said than done, given the sheer amount of innovation around. And Premier Foods can take credit for two of the major launches. The first came in the form of Cadbury cake mixes, which rolled out into Asda in September and expanded to include ready-to-use icings in June. "The range has helped chocolate cake mixes to grow by nearly 30% since the launch," says Touchais. "It's proving to be really appealing to Asda's core family and younger shoppers."
The next launch was under the Mr Kipling brand, which made its home baking debut in June with a three-strong range of cake mixes and two icings (p43). "These are really famous, loved and trusted brands that are known for providing iconic flavours," says Touchais. "We believe there's a huge opportunity to use those credentials to drum up some excitement into the home baking category."
Premier Foods isn't the only one at it. Overall, Kantar counts 30 new home baking ranges over the past year. That can hardly be a bad thing. After all, new ranges added a total of £10.8m to the market, according to Kantar's figures.
Hot competition
But more brands, more NPD and fewer shoppers can only mean one thing: tougher competition. That's perhaps why six of the top 10 baking brands are down this year [Nielsen 52 w/e 18 May 2019]. Together, they lost a combined £8m.
So to survive in this crowded market, innovation has to capture a real shopper need. Betty Crocker believes it has found just that with its Mug Treats, which launched in January 2018 and have just been on the end of a fresh £800k marketing push.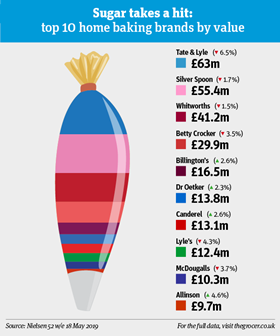 As the name suggests, the range includes mixes that can be baked in a mug. Easier still, the only piece of equipment you need is your microwave. It's part of Betty Crocker's strategy to attract younger shoppers who want a fuss-free approach to baking. "Driving excitement in the category for future generations of bakers is a top priority for Betty Crocker," says marketing manager Lindsay Hill. It seems to be working. The brand reports 60% of its Mug Treats sales have come from new entrants to the category.
Hill believes the single-serve nature of the range has also been a sales driver. "Single-serve continues to be a growing trend, largely due to the rise in single-person households and consumers looking for portion-controlled treats," she says. Indeed, single-serve home baking sales rose 6.2% this year [Nielsen 52 w/e 25 May 2019], though they still account for just 2.5% of the category.
But it's not all about quick fixes for young singletons. When today's consumers do decide to bake, a growing number of them are going all out. The premium home baking market has grown 8% to total £13.4m [IRI 52 w/e 25 May 2019]. "We're seeing a definite shift towards high-end baking," says Dr Oetker's Brown. "Shoppers are increasingly willing to pay a premium for products that help them produce perfect results for special occasions, as well as adding to the indulgence of bakes."
"Shoppers are increasingly willing to pay a premium for products that help them produce perfect results"
So brands that communicate more premium credentials are managing to buck the overall decline in home baking. Luxury brand Food Thoughts, for example, is seeing double-digit growth across its cocoa and cacao range. And premium, all-natural brand Superfood Bakery, whose range of gluten-free mixes includes pancakes with baobab powder and organic brownies with maca powder, says it managed to triple sales in 2018.
Own label is also cashing in on the demand for all things posh. Sales of premium retailer lines are up a whopping 16.8% in value [Kantar]. And Asda has emerged as a front-runner in this area. Its high-end lines include everything from an Extra Special flavour extracts range – boasting flavours such as Moroccan Almond, Sicilian Lemon and Valencia Orange – to a premium Bake in The Box lineup. That's helped Asda's own-label home baking range shoot up a staggering 70.4% to £26.4m.
The trend has also bolstered the one area of home baking in growth, according to Kantar data: 'other baking items'. Including colours, flavours and decorations, this section of the market has grown 2.3% to £126.2m. These are the products that, as St Pierre Groupe founder Jeremy Gilboy puts it, help bakers "unleash their inner Mary Berry".
That desire to channel Berry is good news for the likes of cake decorating brand Renshaw. "Bakers are looking for ways to add a professional finish to their bakes," says marketing manager David Ferguson. "Brands and retailers need to ensure they're providing even the amateur home baker with products that allow them to achieve fantastic cake results in a user-friendly, convenient format."
Dr Oetker has also reaped the rewards with its range of edible decorations, including new lines such as unicorn and dinosaur sprinkles (p43). That's helped it become one of the few home baking brands in growth this year, up 2.3% to £13.8m [Nielsen].
Brown says the same principle has boosted sales of Dr Oetker's premium vanilla flavouring brand Taylor & Colledge, which is up 10.2% to £2.8m [IRI]. "Flavour extracts like vanilla are proving to be key for the premium market, as provenance and credentials such as responsible sourcing play a bigger role in purchasing decisions," she explains.
Specialist boost
As Kantar data shows, all other areas of home baking are in decline. Still, that doesn't mean they're missing out on the premium trend. Although flour sales have dipped £1.9m at a total level, the speciality stuff is flying ahead. It now represents a whopping 45% of the entire flour market.
"In flour we can see two extremes happening," explains Premier Foods' Touchais. In own label, she says shoppers are increasingly looking for the cheapest option. Kantar data backs up her point, showing a 4.2% drop in average price across own label flour. Still, Touchias says "at the other end of the spectrum there are people trading up into premium flours like coconut". And that's resulting in a 4.9% rise in average prices across branded flour lines.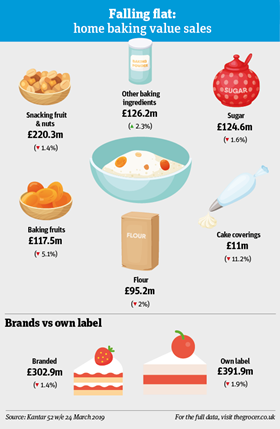 Growing interest in speciality flours bodes well for the likes of Doves Farm, whose premium organic flours include quinoa, teff and brown rice. "Both organic and ancient grain flours are becoming more mainstream," says brand CEO Clare Marriage. "In the past 12 months, sales of organic flour have grown 1.5%, spelt flour is up 16.8% and rye flour is up 34.6%. There's a real demand growing for premium flours that offer something different in home baking."
The same story is apparent in sugar, which dropped £2m this year. Nick James, marketing director at Tate & Lyle Sugars, says certain products are bucking that decline. "Sugar has been declining for several years, but we've started to see value creep back into the market recently," he says. "We can see some shoppers switching from what you might call standard white sugar into the more specialist, baking associated segments like brown and golden sugar this year.
"That's partly due to the more natural cues of brown and golden sugars, but they also add a different, often more premium flavour or colour to a bake."
Then there's cake mixes, which lost 5.3% in value due to fewer shoppers and 4.4% fewer shopping trips [Kantar]. Despite these figures, baking kit brand Bakedin believes there is mileage in a more premium cake mix. That was the inspiration behind launching products such as its decadent Chocolate Cheesecake Brownie Kit and Salted Caramel Cupcake mix in Ocado earlier this year.
"There's only so much you can do with a standard tier, single-bag cake mix," says Bakedin managing director Joseph Munns. "The more premium options contain multiple bags and offer something more exciting and impressive, as well as replicating the baking from scratch experience more closely."
'Weird and wacky creations'
As is so often the case in home baking, The Great British Bake Off is proving an inspiration, he believes. Standard cakes are becoming less acceptable as the show's bakers are putting together ever more complex creations.
"The show has been going for a good few years now, but it's continued to make Brits more adventurous with their bakes," he says. "The increasingly weird and wacky creations produced in the show inspire home bakers, and often they are driven to the premium options in the baking aisle because they're the most interesting to make."
This comes with a proviso, though. Bakedin is keen to emphasise the competitive price point of its lines. "We're looking at a price point that is in line with higher tier own label products," says Munns. Orchard Valley, which is in the midst of developing a high-end range, says it is also keeping a keen eye on price. All of which suggests there is a cap on how much bakers will pay, even for products with premium credentials.
"There seems to be a ceiling of around £5 in home baking ingredients"
Paul Hargreaves, CEO at Cotswold Fayre, believes price will be critical to the success of innovations this year. "There seems to be a ceiling of around £5 in home baking ingredients, and products priced higher than that struggle to gain any real traction," says Hargreaves. "Quality is important for bakers, but so is a decent price."
Indeed, prices have remained flat pretty much across the board in home baking over the past year. Some have even fallen marginally. Flour, for example, costs 1% less per pack than it did the year before. That's largely down to base prices remaining steady, alongside a 2.3% increase in sales on promotion. Temporary price reductions were the driving force behind this, up 5.1%. So it seems price is still very much an important factor for consumers.
That means brands and retailers will need to follow a strict recipe if they want to get the category back in the black. If they can combine premium, exciting innovation with affordable prices and easy recipes for even amateur bakers, they just might avoid another year of falling flat.
Innovations in home baking 2019
Savoury cakes offer an alternative to sugary treats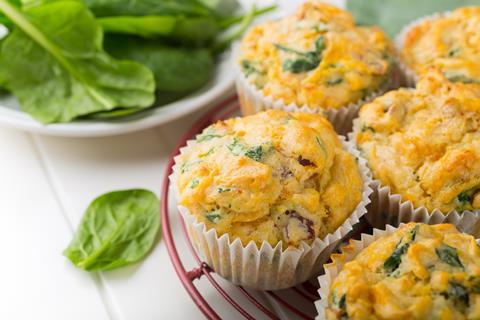 You don't need a sweet tooth to enjoy a cake nowadays. In today's sugar-conscious era, savoury cakes are gaining ground.
Admittedly, they aren't an entirely new concept. Back in 2011, Hugh Fearnley-Whittingstall published a raft of savoury cake recipes including ham and olive cakes in The Guardian. However, such cakes didn't hold much mainstream appeal.
Until now, that is. The savoury cake movement is starting to pick up pace this year, says Lydia Baines, communications manager at bakery ingredient supplier Puratos UK. According to its consumer research, 75% of Brits are interested in savoury cakes – a figure reflected in the large number of recipes online. "The government is pushing for a reduction in sugar, so savoury patisserie is very much in the press at the moment. We're seeing a lot of blogs around savoury muffins, savoury cakes and savoury doughnuts."
Indeed, MasterChef champion Kenny Tutt's new restaurant, Pitch, which opened on the south coast in May, currently features ham hock & cheddar and goats cheese & truffle honey doughnuts on its experimental menu.
The growth of this kind of fare inspired Puratos to launch its own savoury cake mix earlier in July. The mix can be adapted to create cakes, muffins or biscuits. Baines believes the product has the potential to unlock a raft of innovation in the home baking aisle.
"Our customers can add a raft of flavours like cheese or curry paste to the mix before putting it on shelf," she says. "Products that help bakers create savoury cakes like our new mix are a virtually untapped retail sector, and with consumer interest on the up, it opens up a lot of potential growth for the category."
Next up, Puratos plans to launch a savoury choux mix as part of its focus on offering less sugary baking options. It looks like ham and cheese doughnuts may not be the preserve of experimental restaurants for long.