As Brits develop a taste for the finer things at Easter, it's out with the standard shell egg and in with premium products that would give Fabergé a run for its money
What a dazzler! With an estimated value of around £20m, the ornamental Third Imperial is widely regarded as the most expensive Easter egg of all time. Made by Peter Carl Fabergé for Russian tsar Alexander III, he presented it as an Easter gift in 1887 to his wife, Maria Feodorovna. Its elaborately designed exterior comprises an 18-carat gold 'shell' and tripod, coloured gold alloys, diamonds and sapphires. Inside is a 14-carat gold timepiece from luxury watchmaker Vacheron Constantin.

In short, the 8.2cm Third Imperial (pictured above) is very, very posh indeed. Meaning it's well beyond the budget of the average Brit. But there's an affordable alternative of sorts in grocery: retailers and suppliers are flooding supermarket aisles with flashy, eminently giftable chocolate eggs this spring. Because people love them and are happy to shell out for them.

"The trend of premiumisation is set to continue across all categories and seasons in confectionery," says Rodger Seaman, business manager at Lir Chocolates. "People are demanding more from their products than ever before and are willing to spend more money for better quality over quantity."
"The trend of premiumisation is set to continue across all categories and seasons"
Kantar analyst Keith Gowan agrees. "Larger, more expensive shell eggs have again driven growth as shoppers splash out to make an impression with bigger gifts," he says. He's not just referring to swanky old favourites from specialist retailers like Thorntons and Hotel Chocolat (which is once again rolling out the long-standing likes of its £80 Ostrich Egg). The mults are vying for a piece of the posh action, too. "We are starting to see supermarkets' own lines picking up the trend with innovative, pricier eggs stocked on shelves from Waitrose to the discounters," Gowan adds.

That means an Easter egg market last year worth £340.9m [Kantar 16 w/e 21 April 2019] will this year welcome creations such as Waitrose's trio of hand-decorated Squiggle Eggs. Dark Chocolate & Orange, Milk Chocolate with Salted Caramel, and White Chocolate with Raspberry are priced at £7.

Squaring up to its posh rivals, Aldi has also innovated at the fancy end. "More than 50% of our products are new for 2020," says the discounter's MD of buying, Julie Ashfield. "We have developed our Easter egg offering with a particular focus on our premium tier, as customers are increasingly opting for larger and more luxurious eggs as something extra special to give to their friends and family."

Which explains the likes of Aldi's Specially Selected Exquisite Butterfly Flutter & Bloom Egg for £14.99 and its shiny Prosecco & Raspberry Milk Chocolate Egg for £4.99.
Tesco leads the way: how the retailers performed at Easter
| Retailer performance in Easter and Spring confectionery | | |
| --- | --- | --- |
| | Market share | % growth |
| Tesco | 32.8 | 1.9% |
| Asda | 13.1 | -5.1% |
| Sainsbury's | 12.8 | -5.9% |
| Morrisons | 9.3 | 8.1% |
| Aldi | 5.6 | 30.2% |
| The Co-Operative | 5.4 | -6.9% |
| Waitrose | 3.9 | -15.2% |
| Lidl | 3.3 | 13.8% |
| Marks & Spencer | 1.7 | 0.0% |
| | | |
| Source: Kantar 16 w/e 21 April 2019 | | |
Tesco performed "exceptionally well" in shell eggs last Easter, says Kantar analyst Keith Gowan. "This was driven by early promotion with significant discounts – enough to see shoppers return to the market before Easter and spend more overall on the category."
Aldi and Lidl continued to develop their own-label offers, especially in premium (£5-plus) shell eggs. "The discounters' streamlined supply chains allow them to offer a high-quality product at a competitive price," according to Gowan.
High-end grocers Waitrose and Marks & Spencer both suffered a poor 2019, with the former hit by a 15.2% decline after focusing on its own-label offer in a highly brand-led market. M&S's static performance was due to "less disruptive innovation" Gowan says.
He predicts that bigger and better eggs are likely to continue to be a major trend in the leading mults.
"Private label innovation is an example of how retailers can create a USP for their store and bring in shoppers, but ultimately the products have limited reach because they are only stocked in that retailer."
Big brands go premium
Premium egg innovation goes beyond just the retailers. Brands are muscling in the act too, notes Gowan. "Mainstream brands are also launching bigger eggs at price points of £10 or above, providing better value for consumers with the bigger pack but a lower price per kilo," he says.

Chief among those major players is Mondelez, which is capitalising on the early success of its Cadbury Darkmilk and Bournville Orange chocolate bars by expanding them into shell eggs (rsp: £8.15).

Easter NPD "remains a big opportunity at £50m" says Susan Nash, trade communications manager at Mondelez. It "is catering for shoppers looking for quality products that deliver real indulgence with the launch of a range of new eggs for Easter 2020" she adds.

Those fancy innovations are set to face competition from the likes of Mars Wrigley's new Extra Large Egg range. It comes in Celebrations, Twix and Galaxy Buttons (the latter two are exclusive to Asda) variants.

"Across the past few years, Mars Wrigley UK has been focused on adding value to the category with some of our NPD at the more premium end of the range, also appealing to a wider range of shoppers," explains the company's chief Easter officer, Chirag Shah.

With an rsp of £7.99, Mars' Extra Large Egg is a shade cheaper than the £9 offer from smaller rival Doisy & Dam, the ethical confectioner's first foray into seasonal lines. It's made from dark chocolate and contains two packs of the its Nuttercups (previously known as Nut Butter Cups). The premium egg is available exclusively from Holland & Barrett.

The price is "at the top end of shell eggs" says D&D co-founder Ed Smith. He sees a clear opportunity for the brand as demand for mainstream dark chocolate grows.

"We expect to do really well. Dark chocolate is on the rise, but there aren't that many [Easter] options that aren't health-focused. Typically, ones in dark chocolate are focused towards a dietary requirement."

Joining the shell egg market "is certainly going to be a big thing for us this year, and it adds another string to our bow as an all-round confectioner as opposed to a chocolate bar manufacturer. It's going to be a big part of our year," Smith adds.

D&D's shell egg is a combination of loudly coloured packaging, sustainably sourced Colombian cocoa and less sugar than milk chocolate. Smith believes it will give people an "option that is fun and innovative but has the benefits of being ethical and better-for-you".

It's a similar story for Buttermilk. Like D&D, the fudge maker is an Easter egg novice. It entered the chocolate category in 2019 with a duo of dairy-free shell eggs. This year, it's rolling out its mainstream seasonal debut, a large shell egg in milk chocolate Salted Caramel Duo and Hazelnut Duo variants as well as Dark Chocolate Cacao Duo - all hand-finished and filled with individually wrapped chocolate truffle pieces.

Buttermilk is "looking to build on the success we saw last year" at Easter, says sales director Gareth Toms. With an rsp of £10, the new eggs are "premium compared to the big boys - the main, volume-driving eggs - but below some of those super-premium, £20-plus price points".

The brand wants to "get into as many households as possible and appeal to as many consumers as possible" Toms adds. But it's an aim that will have to be achieved without matching the likes of Cadbury and Mars on price, he insists.

"We're a craft, artisanal manufacturer, and big volumes and low price points isn't necessarily where we're geared as a business. We're never going to be at a price point where the consumer says, 'Crikey, let's get 10 of them; look at the price.' But we want to deliver that crafted egg at a price point where people can appreciate they're getting value."

They're also getting sustainability. Buttermilk's new eggs are plastic-free, packed in cardboard and foil, with the chocolates inside wrapped in compostable film.

Similarly, posh chocolate brand Montezuma's has put its entire spring lineup into 100% recyclable, compostable or biodegradable packaging for the first time.

Being green-minded "is beginning to transcend all categories, even seasonal gifting. Consumers are increasingly voting with their purses and seeking out brands which deliver on a great product experience as well as help to protect the planet," says Montezuma's MD Bruce Alexander. "Our 2020 Easter range is the great way for consumers to become eco-warriors, not eco-worriers."
Mini eggs give a boost: Easter & spring confectionery sales
Easter and spring confectionery sales
Value (£m)
% growth
Market share
Shell eggs
208.3
-7.2
61.1
Cream filled eggs
44.9
5.3
13.2
Miniature eggs
43.9
8.7
12.9
Easter novelties
43.8
-13.2
12.9
Brands vs Own Label
Value (£m)
% growth
Brands
307.6
-4.8
Own Label
33.2
-4.1
Source: Kantar 16 w/e 21 April 2019
In 2019, Easter Sunday fell three weeks later than the previous year, leaving an extended build-up period and driving increased frequency in the category as shoppers picked up more miniature and cream-filled eggs.
"In seasonal snacking, mini eggs are a good vehicle for value engineering, as this is relatively easy to do," says Kantar analyst Keith Gowan. "Manufacturers are beginning to reach beyond the £1 price point by producing bigger bags of eggs at £1.50 and £2." However, these are making only a minor impact as yet.
Because of the extended Easter build-up and poor sales performance in the final two weeks, early promotions on smaller eggs resulted in contributing more to the category than larger shell eggs – which are typically most popular in the latter weeks of the pre-holiday period.
In shell eggs, prices per kilo have fallen but prices per pack are rising, Gowan notes. This benefits retailers "because price per kilo does not necessarily make a difference to how much goes through the tills – whereas convincing shoppers to spend more on an Easter gift will do."
Sustainable chocolate
However, shoppers' sustainability concerns go beyond the packaging to the chocolate egg itself. So insists Lucia Bly, retail & NPD director for Devon's Salcombe Dairy, maker of The Bar chocolate brand.

"Our chocolate consumers are becoming much more discerning about where we are buying our cacao, how we process it and what it tastes like," she says.

"Easter is no exception and consumers are careful to ask when purchasing Easter gifts that the plastic element of the packaging is reduced, the chocolate egg itself is of high quality and not full of palm oil, and that it has been locally made in Devon to support the rural economy.

"There is still a good deal of consumer education to be achieved in chocolate, but the demand for better-quality Easter eggs is definitely out there," Bly adds.

So it seems environmentally conscious, artisanal and innovative posh eggs are well positioned to hit the motherlode. But they won't be an instant sensation. They'll have to wait some weeks for their bonanza - because there's a strict pecking order to the rollout and ranging of Easter treats in the run-up to the bank holiday, suggests Levi Boorer, customer development director at Ferrero UK&I. And big eggs come last.
"Retailers should focus on seasonal sharing and self-treat products in-store from February"
"Retailers should focus on seasonal sharing and self-treat products in store from February onwards - the categories get shoppers buying into the season early and repeating their purchases," Boorer says.

"As spring progresses, we recommend retailers to stock more token gifts, with products such as small and medium Easter eggs, as well as novelty items becoming more of a priority to shoppers.

"Towards the last five weeks of the build-up to Easter, larger and more premium Easter eggs encourage shoppers to spend that little extra on gifts for loved ones."

Typically, it's not until after the year's earlier chocolate-gifting occasions - Valentine's Day and Mother's Day - when the bling-tastic eggs see most success, according to Mondelez's Nash.

"After Mother's Day and up until Easter weekend itself, the confectionery category is worth nearly £300m. In 2019, this section of the Easter season accounted for 56% of total sales," she says. "For shoppers it becomes about families and friends, and shell egg sales shift to larger, more gift-worthy options. The top-selling pack types during this part of the season are shell eggs - be they medium, large, giant or luxury.

"Medium shell eggs are the largest footfall driver to stores after Valentine's Day until the final weeks of the Easter season," Nash adds. "Large shell egg sales have grown by £16m since 2017 and giant shell eggs by £10m in that same period, meaning there's a tremendous opportunity at the top end of the egg market."

In the final couple of weeks to the bank holiday weekend, "it's a good idea to put more premium Easter treats in a prominent position in-store so that shoppers can find the last-minute gift that they are looking for" says Mars' Shah, but he stresses that the period immediately following Christmas belongs to smaller formats.

"Early in the year, people seek a little treat to beat the winter blues. With 47% of shoppers feeling excited when Easter treats hit the shelves, retailers can take advantage by maximising displays and creating excitement around impulsive treat products when shoppers are replenishing their overall supplies."

For Mars, such tempting snacks include the Maltesers Bunny - the "second-most popular self-eat treat at Easter and has 350,000 unique shoppers" - and M&M's Eggs. Comprising a crunchy speckled shell with a milk chocolate filling, they made their inaugural appearance in January 2019 to challenge the dominance of Cadbury Mini Eggs.

Mini Eggs' 80g bag "was the number one Easter SKU in 2019 - and the number two Easter brand overall - helping deliver £53.2m in sales" says Nash. "In 2020, Mini Eggs will be supported by a brand-new suite of PoS material, matching the same eye-catching yellow colours of the brand's packaging."
"The new launches aim to build on the popularity of tins during the Christmas period"
The brand is this year also appearing in a tin format for the first time, featuring 10 bags of Mini Eggs. It's joined on shelf by a Cadbury Creme Egg tin containing eight regular Creme Eggs and one bag of Creme Egg Mini Filled.

"The new launches aim to build on the popularity of tins during the Christmas period - the Christmas tins category is worth £10.3m and growing at 40% year on year," Nash says. "The tins have digitally interactive graphics driving shoppers to recipes online, promoting the growing home-baking family occasion."

To further drive sales of the Creme Egg - the UK's biggest Easter chocolate brand - Mondelez is bring back the 'How do you eat yours?' strapline that made its debut in 1990 and appeared in TV ads until the mid-2000s. It's part of a £4m push that includes a Netflix-style website with short films about Creme Egg. "Smaller eggs remain a key opportunity," Nash adds.

Ryan Grange, Easter egg buyer at Co-op, is similarly convinced of the opportunity. "In recent years we have seen a number of new products in Mini Eggs-type products across customers favourite brands such as Smarties, Milkybar, Galaxy and M&M's - which customers have definitely responded to."
Why dark choc could be the next Easter trend
"Premium chocolate containing a higher proportion of cocoa beans is becoming increasingly popular among shoppers," says Rabobank analyst Andrew Rawlings.
He's not wrong. Demand for darker chocolate is being driven by its vegan credentials, presumed health benefits, lower sugar content than milk chocolate, ability to take on exotic and unusual ingredients, and older shoppers' taste for more bitter flavours.
In fact, dark is "one of the biggest growing trends" in chocolate, according to Susan Nash, trade communications manager at Mondelez.
So it's no surprise that the supplier is this Easter hoping to cash in with posh new shell eggs for its higher-cocoa Cadbury Darkmilk and Bournville brands (see p46) – both of them in strong value growth.
Meanwhile, their Mondelez stablemate Green & Black's – best known for its dark chocolate – is "targeting the premium gifting sector by focusing on the range it offers to shoppers" says Nash.
But Brits' desire for darker choc has a darker side: it's helping to keep up the price of cocoa beans and could lead to higher shelf prices in the confectionery aisle, Rawlings warns.
Not that it's the main reason cocoa is costlier right now. Prices have been on the rise since the final quarter of 2019 "as available US stockpiles tightened, dropping to three-year lows" he says.
"This was coupled with speculation over the future pricing of cocoa as the world's two largest producers, Ivory Coast and Ghana, implemented a $400 [£307] premium – on top of the cocoa futures price – on the sale of next season's crop that begins October 2020."
That almost certainly means chocolatiers face higher costs – which are "likely to be passed on to consumers eventually" Rawlings adds. "However, this may not have filtered through by Easter."
Artisanal success
But it's not just the big brands who are capitalising on a miniature eggs category, which last Easter added 8.7% in take-home value sales to £43.9m [Kantar]. Smaller artisanal brands are enjoying a heady amount of success too - at least if Divine's experience is anything to go by.

"Demand [from retailers] for our premium mini eggs is much higher this year - we actually sold out and had to make more," says Divine sales director Chris Noel. "We have some interesting mini eggs, which has kept demand high. These include praline filled ones and 70% dark, which are quite unusual."

Like Noel, Doisy & Dam's Ed Smith is confident of his brand's chances in the small eggs arena. It has launched Good Eggs, which are like Mini Eggs except that the chocolate inside is dark, not milk (see p51). The shells are coloured (but not flavoured) by the likes of beetroot, carrot and spirulina.

At £2 for an 80g pouch, the new Good Eggs are priced "at a lot less than a typical Easter product" Smith claims. "We think they're going to be good gifts, and great for sharing. I'm really expecting Good Eggs to do well. There's not a lot like them."
"Demand for our premium mini eggs is much higher this year - we actually sold out"
Smart NPD is vital to sparking interest and excitement. At the same time, shoppers want to see plenty of familiar treats in the busy Easter treats segment.

Retailers must find "the right balance" of innovations and classics, advises Co-op's Grange. "Customers do expect to see something new and it gives them excitement across the period. However, they also expect to see their favourites making a comeback each year. Kantar data showed us in 2019 that 63 % of shoppers bought an Easter egg they had bought before, so it is always a balance of backing the right new innovations while retaining and increasing our customers' love of old favourites."

To a degree, shoppers have a 'better the devil you know' mindset when browsing Easter confectionery, Lir's Seaman implies. "Consumers like to see something new alongside trusted brands. However, customers also need confidence when purchasing Easter eggs, and seek out brands they can trust, especially when spending over £10. Consumers have an incentive to buy Easter eggs from household name brands they know and love, as it removes any risk."

A mixture of new and familiar, and large and small provides "a huge opportunity to drive growth in 2020 despite the season being a week shorter" says Nestlé marketing manager for seasonal & gifting Rachel Beaufoy.She's touching on the final major influence on Easter sales: the date.

In 2019, Easter Sunday was 21 April. This year, it's the 12th. But a shorter season doesn't necessarily mean fewer sales. As Gowan points out, last year's "sales of shell eggs were hit by the unseasonably warm weather in the final two weeks before Easter, causing retailers to make ice cream and soft drinks more prominent in store, resulting in shoppers buying less in this crucial window for Easter eggs sales". Hence the overall category's 4.7% value decline in spite of big fancy shell eggs' popularity [Kantar].
"Customers seek out brands they can trust, especially when spending over £10"
Those losses could be clawed back with the aid of cooler weather this year, Gowan suggests. And agile merchandising, adds Nash.

"With a shorter season, there are ultimately fewer days, so it's key that retailers are ready for the increased demand during this, making the most of in-store displays and being well stocked with key SKUs," she says.

"Getting a fast start to the season is crucial. In shorter seasons, it is even more significant, as 84% of shoppers who buy early say they intend to buy again - meaning stores that promote the season early can drive sales with returning customers."

It would seem, then, there's many a golden opportunity for fmcg to make Easter a more valuable occasion. Fancy that!
It's not all about choc: the Easter roast dinner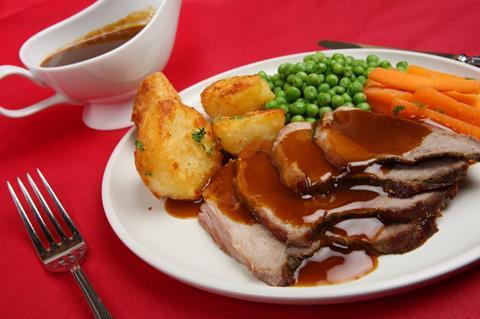 There's more to Easter than chocolate. For many, a slap-up roast dinner is an equally essential part of the bank holiday weekend.
Samantha Dolan, head of marketing at Aunt Bessie's, expects demand for roasts to be higher this year due to the potentially cooler, wetter weather, as this year's bank holiday falls a week earlier than in 2019 (when unexpectedly hot weather hit).
"Easter represents a significant peak in demand for roast dinners and the associated products, such as roast potatoes, yorkshire puddings and frozen vegetables," she says. "The general rule is that the earlier Easter falls in the year, the better."
After Christmas, Easter is the biggest occasion of the year for families to get together over a roast dinner, Dolan adds, and they're going all out to make an event of it. "We are seeing that people are moving towards more complex 'show stopper' roast dinners."
This spring, however, such efforts are likely to be pricier, warns Rabobank analyst Blake Holgate. The cost of lamb, the typical centrepiece of an Easter roast dinner, is set to rise in the face of lower EU/UK production, as well as reduced supplies from New Zealand and Australia, which supplement the UK's lamb stocks.
Rabobank estimates that "global supplies of lamb available for import will decrease again this year following a record low crop in New Zealand in spring 2019" he says.
"This, combined with the year-on-year droughts that Australia's agricultural land will take time to recover from, means we expect there to be less lamb available."
That won't affect Brits' appetite for lamb, Holgate predicts, "and as such, we expect prices to hold at the historically high levels reached during the 2018/19 season".
There's some good news, though: "While the lamb that ends up on consumers' plates will likely be more expensive this year, it won't be off the menu altogether."
Innovations in Easter 2020


Daniel Selwood is The Grocer's special projects editor, managing Britain's Biggest Brands, Britain's Biggest Alcohol Brands, The Dairymen and Top Products – as well as contributing to news, analyses and category reports.

He joined the magazine in January 2016 as food & drink editor, having been at financial & legal publisher LexisNexis for eight years.

He began his journalism career in the mid-1990s at a general interest magazine in Sheffield.

Follow Daniel on Twitter: @danielmcselwood