The cooked breakfast is experiencing a renaissance. Over the past six months, Brits served up elements of the classic Full Monty - such as eggs, bacon , sausages and beans - on 142.4 million more occasions than they did a year earlier [Kantar Worldpanel 28 w/e 25 May]. That's an uplift of 9.8%.
These figures will surprise many. The 1.8% rise in baked beans' appearance at breakfast, for example, defies the category's 1.7% value decline, on volumes down 0.6% in the past year [Kantar 52 w/e 27 April]. More fundamentally, the resurgence of cooked items contradicts received wisdom that fewer of us eat a proper breakfast at home these days.
At the same time, the rise of breakfast on the go is no illusion. It's helped breakfast biscuits hit sales of £84.9m [IRI 52 w/e 25 May] over the past year, and continues to inspire NPD from brands suffering from breakfast cereals' ongoing decline.
Examples of new, convenient breakfast products abound: Weetabix has launched biscuits and drinks; Special K, porridge pots; and last month, Quaker and Fuel launched porridge designed to be eaten from a mug as Alpen unveiled single-serve sachets. Breakfast brands are clearly still chasing the time-pressed.
So what's going on? What are the trends driving more consumers to cook at breakfast, and where does this leave on-the-go options and the traditional breakfast toast?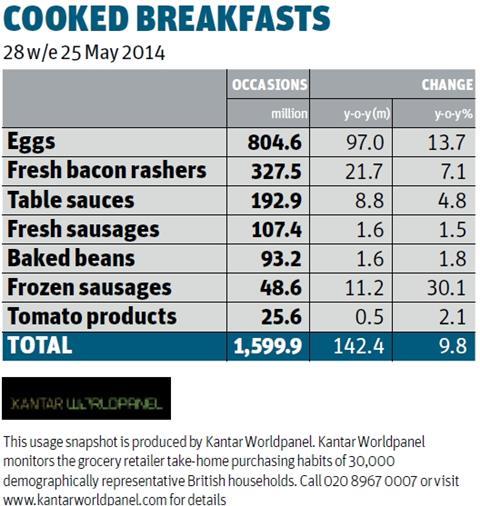 Kantar data certainly suggests the on-the-go breakfast trend could be in trouble. UK consumers had 10.1 billion breakfasts at home in the six months to 25 May - a slight year-on-year increase, of 0.3% [Kantar]. Over the same period, consumers took 104.7 million breakfasts from home to be consumed elsewhere, down 9%. Further evidence that consumers could be moving away from on-the-go breakfasts comes from a Him! survey conducted this May, which found that just 7% of food-to-go missions are for breakfast now, down from 11% in 2013. Average spend has also fallen, from £4.28 to £3.75.
Eggs
That isn't to say consumers are cooking up a full English every morning; instead, experts suggest they are cooking smaller breakfasts more often. One element of the classic fry-up is doing particularly well: eggs have seen a 13.7% increase in consumption at breakfast time over the past year. A year ago eggs featured in one in 14.3 breakfast occasions; now it's one in 12.6 [Kantar].
Given that cooked - particularly fried - breakfasts have long been perceived as unhealthy, eggs' growing popularity may raise a few eyebrows at first glance. But egg suppliers say eggs' natural and unprocessed credentials actually make them perfectly suited for todays health-conscious consumer. "If consumers are looking for unprocessed, natural and healthy breakfast options, eggs are the ideal option as they are a rich and natural source of high quality protein, vitamins and minerals," says Andrew Joret, chairman of the British Egg Industry Council.
And consumers are indeed looking for more natural, less processed foods. According to Kantar, a desire for unprocessed foods informed breakfast food choices on 1.6 billion occasions in the six months to 25 May, an increase of 3.5% year on year (see box, left). Joret says eggs have been a key beneficiary of this trend - you can't get much more unprocessed than a boiled egg, after all.
Growing demand for a more filling breakfast has also been to eggs' benefit. Kantar notes a 13.6% increase in consumer breakfast choices being driven by the need to have something filling - the greatest increase of any of the major motivations for choice of breakfast. Recent research which found eggs can help people manage their weight by keeping them feeling fuller for longer, has further helped boost egg consumption, Joret suggests: "This is encouraging consumers to consider eggs as an integral part of breakfast."
Similar trends are also benefiting eggs' long-standing breakfast bedfellows, bacon and sausages. "Although bacon and sausages are more popular at weekends, the fastest growth has come from weekday breakfasts," says a spokesman for Bpex, the pig levy body. Indeed, there's been a 7.1% increase in bacon consumption at breakfast in the past six months; fresh sausages are up 1.5%; frozen sausages are up 30.1%; and the table sauces that often accompany such products are up 4.8% [Kantar].
Filling up at the start of the day is becoming very important to consumers, with an extra 366 million (13.6%) breakfast choices over the past six months being motivated by the need for a filling option.
Consumers increasingly want breakfast foods that are perceived as more natural and less processed, with this motivation influencing the choice of food at 16% of occasions, an increase of 3.5% year on year. It's now the 16th most common motivation.
Breakfast cereals are still the most popular breakfast choice, with 56% of occasions featuring cereal, though they've experienced a small decline.
Shoppers continue to expand their breakfast repertoire. Lighter and healthier products, such as fruit, eggs and yoghurts, are winning and showing strong growth.
More filling products, such as morning bakery goods, which also benefit from being suitable for on-the-go consumption, are also in strong growth.
Almost all Brits (98%) have breakfast, consuming the meal on average six times a week. The vast majority of breakfasts are consumed in the home - 10.1 billion compared with 104.7 million outside the home.
Brits over 65 have the largest share of breakfast consumption, at 20%.
Sophie Flacks, Kantar Worldpanel
In light of this, experts say it's no coincidence that morning snacking has declined by 8.7% in the past six months. "Consumers want to get through to lunch without spending any money," says Jennifer Leck, strategic insight analyst at the Agriculture and Horticulture Development Board. "Products that help them do this are benefiting."
This dynamic also partly helps explain the 28.9% volume growth of the Princes Hunger Breaks range of canned cooked breakfasts [Kantar Worldpanel 52 w/e 22 June], although NPD - such as the launch last summer of Bacon Sizzler and Mixed Grill variants - and on-pack promotions in partnership with blockbuster films such as Transformers have also helped the brand cement its appeal with its target audience of young males.
Sainsbury 's, meanwhile, attributes some of the growth in cooked breakfasts to the rising popularity of the fry ups it serves at its in store cafés. It's not just about driving footfall, says Sainsbury's café buyer Andrew Ronald; it can also benefit take-home sales. "Our menu allows us to showcase lines that we sell in store," he says. "It also gives an opportunity to communicate important messages, for example that all our meats are British."
"More consumers are looking for unprocessed, natural and healthy breakfast options"
With more Brits opting for cooked breakfasts, it's perhaps little surprise that traditional cereals have continued their decline - they featured in 0.8% fewer breakfast occasions in the past six months than a year earlier [Kantar]. Cereals appear to have suffered from the same trends that are benefitting eggs and bacon, with goods manufactured to be healthier - such as products with high fibre or low sugar or salt content - falling from favour as consumers opt for less processed alternatives with natural health credentials.
Kantar notes that health benefits such as high fibre and reduced satfat, salt or sugar content are now less of a motivation for choice of breakfast food than they were a year ago.
Cereals
In line with this trend, cereals marketed explicitly on such credentials have been suffering. Sales of Kellogg's All-Bran, for example, are down 8.9% in value, to £41.4m, and 14.3% in volume [IRI 52 w/e 24 May]. And Special K - which has been overtaken in the past year by Crunchy Nut as Kellogg's biggest cold cereal brand - has seen sales of its core lines (not including porridge and biscuits) crash 10.8% to £85.1m, on volumes down 7%.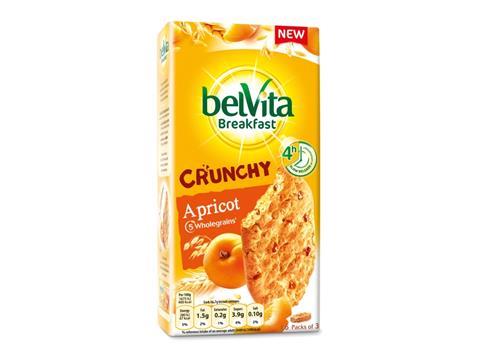 Belvita faces onslaught of major rivals
After launching the first breakfast biscuit in 2010, Belvita enjoyed an impressive run of growth, but other big brands have now muscled in, and value has fallen from last year's £55.1m to £52.3m, though Belvita remains category leader by some distance.
Kellogg's branched into biscuits in July 2012 with the launch of Special K low-calorie Moments, while McVitie's launched Breakfast Porridge Oats biscuits in September 2012. Weetabix launched breakfast biscuits in January 2013 and has seen the biggest absolute growth, worth £2.7m.
Belvita responded with discounting activity and a raft of NPD including its big launch for 2014 - Belvita Crunchy.

Of course, cold cereals have been in decline for some time. And it's not all down to health concerns, though advertising restrictions on high-salt and high-sugar cereals targeted at kids, introduced in 2012, didn't help matters. The market has also suffered from increasing demand for more convenient, on-the-go options and competition from porridge brands such as Quaker Oat So Simple.
"Breakfast biscuits have a long way to go before they reach saturation… 1-in-3 skips breakfast"
No wonder cereal brands are diversifying. "Cereal consumption is changing, and as one of the biggest brands, Special K has been impacted," says Al Wilson, trade sector controller for Kellogg's, stressing it's not all bad for the brand. "Penetration is at a five-year high as more consumers buy a combination of our flakes, porridge and granola."
Such innovation is vital for the overall health of cereal brands. For example, the £10.3m Special K has lost in sales of its core, ready-to-eat cereals has been partially offset by the £5.3m that Special K Multigrain Porridge has generated since its launch last August [IRI]. Likewise, Crunchy Nut has the 2012 launch of a line in granolas to thank for its relatively strong performance, says Wilson: "Crunchy Nut Granola added 68% incremental sales to the Crunchy Nut brand for 2013."

Granola's on a role as core cereals slip
It's no coincidence the only top 10 cereal in volume growth - Kellogg's Corn Flakes - has had one of the sharpest falls in average price; cereals are becoming increasingly price sensitive.
But a 4.1% fall in average price for Special K hasn't been enough to put it back on track after it suffered a backlash against its reformulation in 2013.
Still, Kellogg's has high hopes for the March launch of Special K granolas, claiming most of Crunchy Nut's relatively strong performance is down to the granolas it launched under the brand in 2012.
Weetabix's Fuel for Big Days campaign hasn't been enough to fuel growth. The brand is now pinning its hopes on a banana variant, launched in February.
Kellogg's isn't alone in looking to adjacent breakfast categories for growth. Weetabix has racked up £4.7m in the past year with the on-the-go breakfast biscuits it launched in January 2013 [IRI]. The launch has taken a big chunk out of Belvita, the Mondelez brand that kickstarted the breakfast biscuits market when it was launched in 2010.
"Cereal consumption is changing and Special K has been impacted, as one of the major brands"
Hopes are just as high for the range of Weetabix On-the-Go drinks the brand launched in January 2014 with three variants - chocolate, strawberry and vanilla; a new banana flavour is launching in August. The drinks are a blend of Weetabix cereal and milk . "These are for consumers who may not have time to sit down to a bowl of cereal with milk every morning, but don't want to compromise on nutrition or taste," says Sally Abbott, global marketing director at Weetabix, which launched a banana variant of its core cold cereal in February.
Breakfast biscuits
All this NPD suggests on-the-go breakfast products do still have legs. Mondelez is certainly still optimistic about the future of breakfast biscuits and Belvita, despite the brand suffering a decline of 5.1% in value and 13.6% in volume over the past year [IRI]. "Belvita is now returning to true, organic growth," says Rick Lawrence, UK biscuits category lead for Mondelez, who also points out the brand's performance has been affected by the arrival of a host of new breakfast biscuit players who have resorted to deep deals to encourage trial. "Competitors invested heavily in promotion when their products launched in 2013," he says.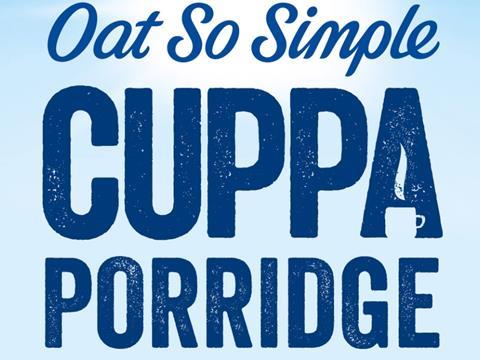 Oat So pots help Quaker buck decline
Overall volumes of porridge and hot cereals are in decline, although values are up. Some attribute declining consumption to the milder winter, others to the rising trend for eating breakfast out of home.
Quaker has bucked the overall decline with its convenient Oat So Simple products. The brand's line-up of sachets and pots was bolstered last month with the launch of Oat So Simple Cuppa Porridge.
Ticking the health and convenience boxes is also working well for Mornflake Superfast pots.
Ready Brek sales continue to decline despite its 2012 launch of a range accompanied by 'squeezy' chocolate and strawberry sauces to enable kids to decorate their breakfast.
A reluctance to lower prices also seems to have taken its toll on Belvita, whose average retail price climbed 9.9% over the year to 24 May and which now fetches a considerably higher price than Weetabix On-the-Go and McVities Breakfast [IRI]. Another reason for the decline, says Lawrence, are tough comparisons with the previous year.
"The fastest growth for bacon and sausages has come from weekday breakfasts"
"We had a strong start to 2013, when a flood of consumers tried breakfast biscuits. These consumers were drawn to the category by the strong communication and promotional support, both of Belvita and its new competitors," he says, adding he expects things to pick up again for the brand thanks to big advertising spend and NPD, which included the April launch of Belvita Crunchy.
The brand's new rivals in breakfast biscuits are likely to keep up the pressure in a bid to further nibble away at Belvita's dominance of the market. Not that Lawrence seems concerned his brand is about to run out of steam. Indeed, with annual sales of £52.3m, Belvita is far larger than the rest of the top 10 breakfast biscuits brands combined [IRI]. "The market has a long way to go before reaching saturation point. One in three people regularly skip breakfast in the UK," he says.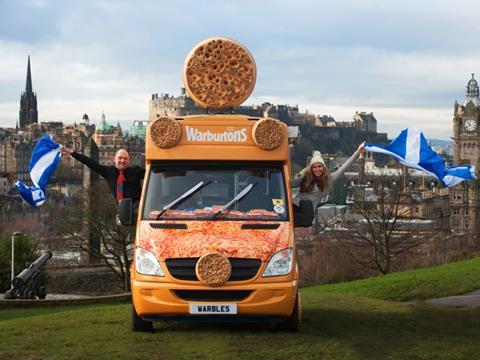 Bakers turn to deals and ads to grow
Breakfast matters for bakers. But with bread's space on the breakfast table in decline, they're pushing alternatives such as muffins and brioche.
In February, Warburtons launched TV ads in support of its new chocolate chip and cookie dough pancakes; a month later it took to the road to convince Scots to eat more crumpets (they eat considerably fewer north of the border).
Warburtons' dip in price reflects a hike in deals to drive impulse sales. Kingsmill says its pancakes and muffins also do well in impulse.
Despite brands' growth, own label still dominates, with offerings baked fresh in store - often selling on three or four for £1 deals - making up most of sales.

Kellogg's is stepping up its efforts to catch this one-in-three outside the home. Last August it rolled out Breakfast Station PoS displays in Tesco and The Co-operative Group c-stores to encourage commuters to pick up single-serve pots of cereal, hot porridge and breakfast biscuits on the hoof. Kellogg's says such efforts have been instrumental in driving growth in its new offerings. Meanwhile, Weetabix is planning to launch single-serve sachets of Alpen muesli later in the year.
Baked goods
Elsewhere, merchandising and promotions have been crucial in driving growth in baked breakfast goods - a market that has seen value sales rise by 5.5% on volumes up 1.9% [IRI]. Warburtons attributes much of its 16.2% value growth (on the back of a 17.8% volume uplift) on the February launch of cookie dough and chocolate chip variants of its pancakes, backed by a £6m marketing campaign and in-store activity.
"There are two types of breakfast: the manic weekday and the relaxed weekend…"
"We did a lot of gondola-end activity and a lot of price-down promotions," says Megan Harrison, brand and portfolio director at Warburtons. She adds Warburtons' own consumer research also shows Brits are increasingly seeking greater variety at breakfast. This will continue to drive innovation, Harrison believes. "It is something that we continually need to be thinking about."
This appetite for variety is driving the growth in non-bread baked goods at breakfast in general. The category is also benefitting from demand for more convenient foods that need little or no preparation in the morning. "The interesting thing about our category is that our products are probably the most convenient in the home," adds Harrison.
Indeed, the rise of at-home breakfast occasions doesn't mean consumers are spending hours over a leisurely breakfast every morning. Speed and convenience still matter. "There are two broad types of breakfast - the manic weekday and the leisurely, relaxed weekend breakfast," says Tim Dummer, head of customer marketing at Hovis , suggesting baked goods are still seen by many as a quick, convenient breakfast option.
Toast
He has a point - there aren't many who haven't torn around the house with a slice of toast in their mouths of a morning, after all. The trouble for bread brands such as Hovis - which rely on classic sliced bread for the majority of their sales - is that consumers are increasingly picking bread alternatives over the traditional breakfast toast. Bread is still the third most frequently consumed food or drink at breakfast (after cereal and tea), featuring in nearly half of all breakfast occasions [Kantar], but its dominance is in decline. The number of breakfast occasions featuring bread has fallen 1.9% year on year.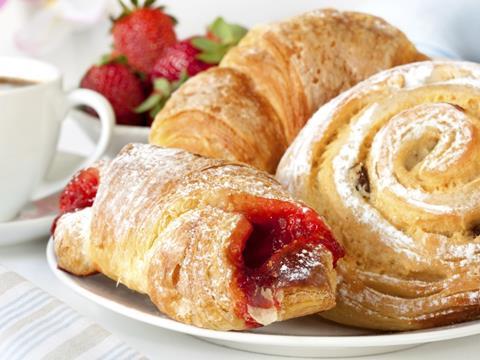 Brioche on a roll as we go Continental
Oh là là! British breakfast is going Continental. In the past year, we've spent an extra £8.2m (8.2%) on croissants, brioche rolls and pains aux raisins.

There are two key factors at play here: the expansion of in-store bakeries, particularly in c-stores, and the diversification of the big bakers as sliced bread sales continue to suffer.

Crumpets outshine croissants when it comes to overall growth, however, with sales up £11.3m (13.7%). See p55 for proof of how Warburtons has been driving growth.

Hot cross buns' 6.4% volume slip reflects fierce competition between the mults and discounters (not measured by IRI) last Easter. In April, Aldi ran national ads for its buns.

The big bread makers believe they can arrest the decline by playing the health card. They are pinning their hopes on half & half loaves, 'bread with bits' and added-fibre loaves in a bid to stay relevant at the breakfast table. Allied Bakeries, for example, claims the March launch of Kingsmill Great White - a loaf containing the same amount of fibre as wholemeal - has so far attracted 131,000 new consumers to white bread.
How successful such health-focused NPD will be in the longer term, however, remains to be seen - after all, Kantar's research suggests health credentials are becoming less important to consumers when choosing breakfast foods, with a 3.7% year-on-year decline in choices motivated by added fibres or vitamins.
Even for Kingsmill, pastries and other non-bread baked goods is where the growth is really at, with sales of such products having risen 17% to £29.1m on volumes up 14.1% in the past year [IRI].
Hot cereals
While bread's decline is part of an ongoing, long-term pattern, the 1.1% dip in volumes of hot cereals [IRI] brings to an end one of breakfast's biggest success stories of recent years, although the sector is still in value growth, with sales up 6.3%.
"Bread is still the third most frequently consumed food or drink at breakfast"
"This can be attributed in part to the mild winter in 2013 to 2014," says Kellogg's Wilson. But this was only part of the problem. Wilson also points the finger at a reduction in promotions, responsible for a 7.5% increase in average price across the hot cereals market [IRI], and the continuing growth of the discounters (not measured by IRI) as other factors at play here. Another influence on hot cereals' value growth and volume decline has been the development of smaller, single-serve porridge pots, which fetch a considerably higher price per kilo than larger, bulk packs of porridge. For example, the average price of Quaker Oats So Simple over the past year has been £6.05 per kilo, compared to £1.96 per kilo across the core Quaker lines [IRI]. For convenience, shoppers will pay considerably more, it seems.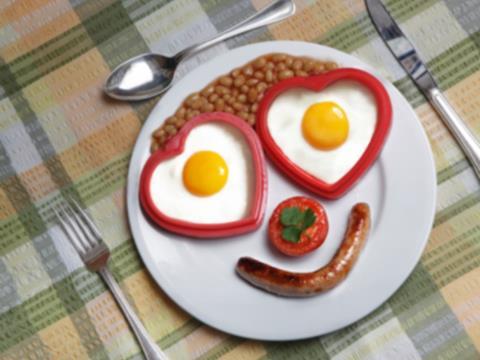 "Customers respond well to new formats such as porridge pots," says Sainsbury's cereals buyer Ashley Davies. This helps explain the motivation of players such as Kellogg's, (which launched Special K multi-grain porridge pots last August) and Mornflake (which unveiled Superfast Porridge pots in March) in entering the on-the-go market. Quaker has gone a step further, launching Oats So Simple Cuppa Porridge last month. The sachets are designed to be emptied into a mug and topped with hot water - no milk or microwave required.
"Bacon and sausages are more popular at week-ends, but fastest growth is weekday breakfasts"
Just as important as convenience, though, is flavour, says Mornflake, which is gearing up to launch a co-branded Lyle's Golden Syrup porridge pot - a move that will be backed with "heavyweight" TV and sponsorship campaign. And Kellogg's says it will launch two new Special K porridge flavours - Apple & Cinnamon and Blueberry & Cranberry - later this year in pots and sachets.
And while traditional cereal players are increasingly branching out into new sectors such as drinks and biscuits to drive growth, the porridge market is also still attracting newcomers. This includes Fuel, the sports brand that helped kickstart the breakfast drinks market when it launched two years ago. Last month, the brand launched Mug of Porridge sachets in Asda , in addition to adding Honey Nut & Raisin and Chocolate flavours to its line of porridge pots."The post-exercise ritual lends itself nicely to hot cereals," says co-founder Sean Uprichard.
Bircher muesli
Another breakfast option that's benefitting from demand for convenient yet wholesome products is Bircher muesli - mixtures of oats and yoghurts that typically come in chilled ready-to eat pots.
"The popularity of Bircher muesli has really taken off and we've seen more retailers responding to this demand," says Tom Mercer, founder of Moma! In the last six months, the brand - which started life selling Bircher pots to commuters at Waterloo Station - has won listings with the Co-operative Group and Sainsbury's. It also launched multipacks in early 2014, and Mercer claims this and widening distribution has helped drive value growth of 40% in the past year. The brand also ran its second ever ad campaign on commuter trains earlier this year.
"Bircher muesli has really taken off and retailers are responding to this demand"
Such growth is attracting new entrants to the Bircher market. Cuckoo, for example, launched in Selfridges in December 2013 and has recently secured listings with Booths and Waitrose . Bircher's popularity is down to several factors, says Cuckoo founder Lucy Wright. "It's different from regular muesli which can be perceived to be dry and dusty. The oats mean it's Low GI and therefore sustaining, and yoghurt is immensely popular in the UK and draws people to Bircher."
Also firing on all cylinders are breakfast drinks. If Weetabix's arrival in the market wasn't proof enough of its burgeoning potential, the latest Kantar data should be. Sales of 'food drinks' have surged by 11.1% to £124.1m, it suggests, with Kantar noting sales of ambient one-shot drinks are fuelling much of the growth, with value sales up 21.7%.
"In Australia, breakfast drinks benefit from multiple bays…such is the momentum"
And there's room for further growth, says Uprichard at Fuel. "In Australia, breakfast drinks benefit from multiple bays of space - such is the size and momentum in the category," he says, adding increased demand for high-protein foods from health-conscious consumers has added new value to the category. "Ninety percent of Fuel's growth has been incremental to the category," he says, citing Kantar data to the end of March.
Protein
With consumer interest in all things high protein still on the rise, breakfast brands such as Fuel are set to continue to benefit. But they shouldn't expect to have an easy run at the category. The very same trend is also helping to boost consumption of traditional breakfast options such as eggs, according to Joret at the BEIC, who points to the growing popularity of high protein/low carb diets such as paleo and 5:2 as another driver.
"Whether consumers are looking to prepare a classic breakfast dish, such as bacon and eggs, or want to follow slimming and health trends, eggs provide a fantastic base for a wide range of meals and snacks ," he says. "Innovative takeaway options, such as boiled eggs and poached egg breakfast pots, served with a range of toppings, are now becoming more widely available as consumer tastes and requirements change."
Eggs on the go? Shoppers' desire for convenience and healthy, filling sources of protein suggest this could well be the next big thing in breakfast.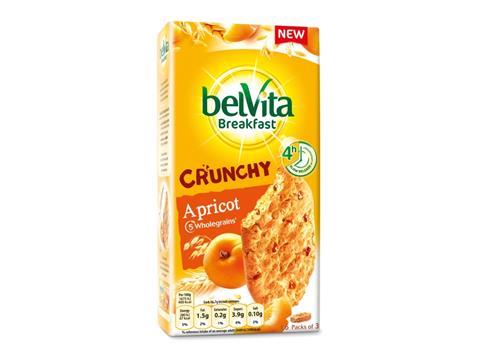 Belvita Crunchy
Launched: April 2014 
Manufacturer: Mondelez International
Belvita's big launch for 2014 is Crunchy. The new breakfast biscuits are 'extra thick and crunchy' and are filled with chunks of fruit or nuts. They are currently available in Apricot and Hazelnut variants in packs of six 50g servings (rsp: £2.59). Mondelez supported the launch with an £8m marketing spend, which continues throughout 2014 and includes TV, out-of-home, digital and sampling activity, plus a six-month sponsorship of the Capital Radio Breakfast Show.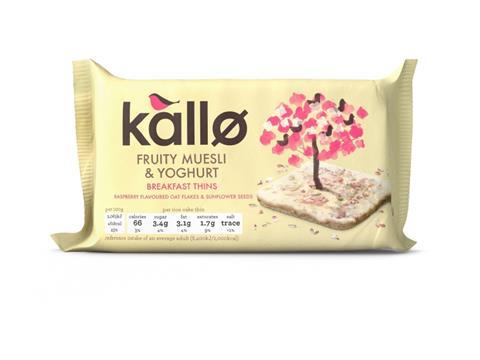 Kallo Breakfast Thins
Launched: June 2014
Manufacturer: Wessanen UK
Kallo's new Breakfast Thins (rsp: £1.99/80g) are made with brown rice and oats, and the launch marks the rice and corn cake manufacturer's first foray into breakfast 0n the go. The Fruity Muesli & Yogurt thins feature a rice base topped with yogurt, raspberry flavoured oat flakes and sunflower seeds. They are stocked in Sainsbury's.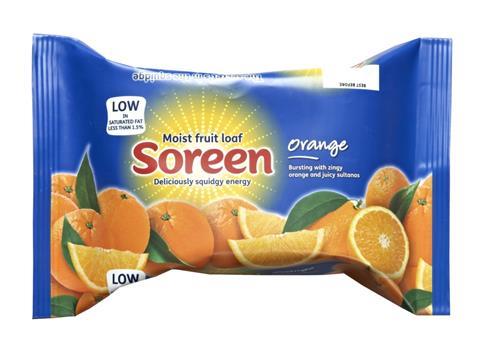 Soreen Orange Loaf
Launched: July 2014
Manufacturer: Samworth Brothers
Samworth Brothers is hoping its latest Soreen line will get breakfast off to a zingy start. New Soreen Orange Loaf (rsp: £1.25) contains orange pieces, fruit juice and sultanas, and serving suggestions include topping it with chocolate spread or marmalade. The brightly packaged loaf is available in Sainsbury's.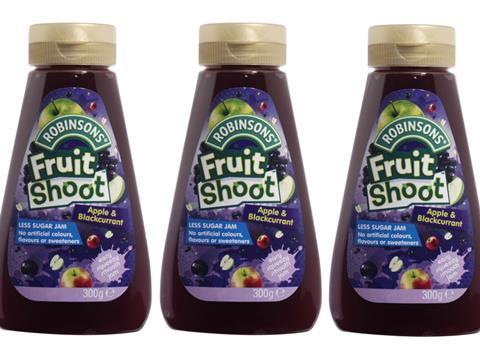 Robinsons Fruit Shoot Jam
Launched: July 2014
Manufacturer: Streamline Foods
Streamline Foods is producing a new Robinsons jam under licence from Britvic. Robinsons Fruit Shoot Jam (£1.59/300g) comes in three flavours matching those of the drinks line - Apple & Blackcurrant, Strawberry & Summer Fruits, and Orange. The jams contain 45% fruit and "30% less sugar than other jams" and are completely smooth.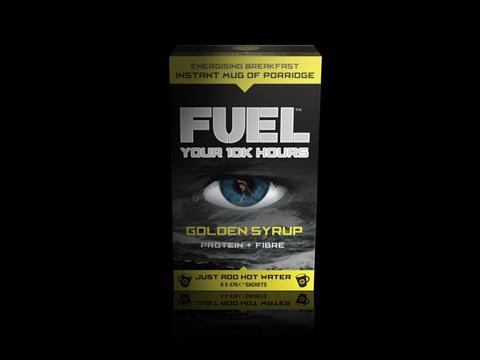 Fuel Mug of Porridge Sachets
Launched: July 2014 
Manufacturer: Fuel Your 10K Hours
Liquid breakfast and granola brand Fuel is expanding its line of porridges with new Mug of Porridge sachets. The sachets are available in four variants - Original, Syrup, Forest Fruits and Apple & Cinnamon - and only require the addition of hot water. They are currently stocked in 350 Asda stores and come in packs of six (£2.69/6x47g). Fuel also has a range of porridge pots, available in three flavours.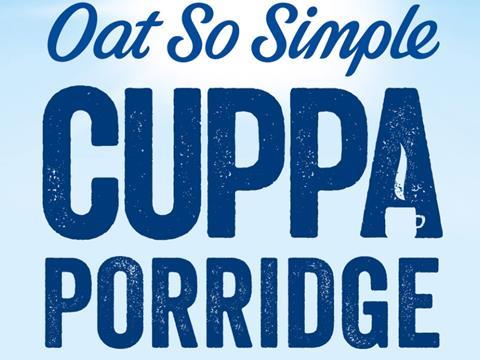 Oats So Simple Cuppa Porridge
Launched: July 2014
Manufacturer: PepsiCo
Also embracing the porridge sachet trend is Quaker, which has launched Oat So Simple Cuppa Porridge (£2.59/5x49g). They come in Original, Blueberry & Apple and Golden Syrup flavours. Quaker is supporting the launch with TV advertising and in-store marketing activity later this October.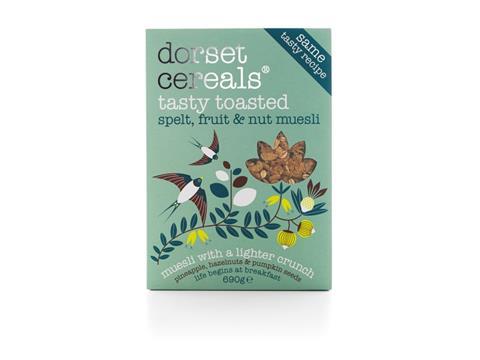 Dorset Cereals Tasty Toasted
Launched: March 2014
Manufacturer: Dorset Cereals
Dorset Cereals says it launched Tasty Toasted after research suggested "while many muesli aficionados love the chewy nature of their cereal, others preferred something lighter in texture and crunch." The new range of toasted mueslis (£3.79/650g) includes Spelt, Fruit & Nut, Raspberry & Apple, and Hazelnut & Brazil variants.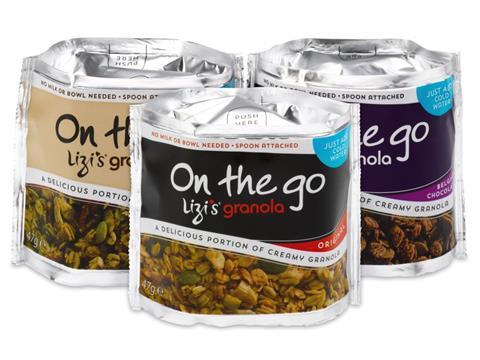 Lizi's Granola On-the-Go
Launched: July 2014
Manufacturer: The Good Carb Food Co
Lizi's is targeting granola lovers on the move with Granola On The Go (£1.29/47g) - a sachet of granola and lactose-free milk powder with spoon included. The slim-fit just-add-water pouches open into a bowl shape. Granola On the Go comes in Original, Treacle & Pecan and Belgian Chocolate, and is currently stocked in Waitrose.