Like butter off a hot crumpet, BSM sales are sliding. Value sales have fallen 1.5% to just under £1.4bn [Kantar Worldpanel 52 w/e 1 March] on volumes down 2.7%. But not all subsectors are softening.

Last year, The Grocer reported on spreadable butter's impressive growth; up 9% in value, it outperformed a market that had declined 1.8% in value and 2.8% in volume. Despite the struggles of the bakery sector, spreadable butter has done it again this year, accelerating growth while dairy spreads lose out, driving the overall category decline.

In block butter, own label is trouncing brands, contributing to falling prices, while manufacturers continue to add butter to dairy spread propositions. So what has driven these mixed performances, and how can brands fight back to have a year worth toasting?

Spreadable's success comes in the form of a 5.3% rise in value on volumes up 3.8%, giving it 29% share of the market [Kantar]. This seems contradictory given the losses sustained by traditional 'host' products. Wrapped bread continues to lose volume, this year by 0.7% [Kantar 52 w/e 1 February 2015].

But spreadable isn't just for spreading, says Mike Walker, business unit director at Lurpak and Anchor owner Arla Foods. "Spreading as an occasion is down 5% year on year. Growth in spreadable performance has been driven by switching gains from dairy spreads and olive. There have also been switching gains from the cooking and baking sector."
Flora dominates butter & spreads ad spend with Gold TV ad
Ad spend across the category bounced back after falling 12.8% in the year to March 2014. Flora Gold took the biggest bite out of the £9.8m spend for the brand with a TV ad featuring a dancing dad preparing a family roast.
Meanwhile, Bertolli with Butter, launched in May 2014, accounted for the brand's ad spend more than doubling. TV ad Giovanni's Butter Farm will get more airtime during 2015.
Flora Pro-Activ's It Takes A Village followed real consumers as they lowered their cholesterol.
The Lurpak budget focused on the new Cook's Range. TV ad Adventure Awaits lured customers into the wild frontiers of creative domestic cooking.
Promotional focus
Spreadable has also benefitted from a shift in promotional focus towards it, says Louise Pike, head of marketing for butter & spreads at Dairy Crest. "Multibuy promotions and temporary price reductions on larger pack formats are encouraging shoppers to increase the volume they purchase, and are attracting shoppers from dairy and wellbeing spreads," she says, adding that Country Life Spreadable has achieved year-on-year value growth of 3.8% [IRI 52 w/e 28 March 2015], despite the brand's overall decline (see p59).

The hit taken by dairy spreads is substantial; the subsector is down 10.2% on volumes down 8.8%, with more than £30m knocked off its value. Spreadable butter, says Mike Harper, director of brands at Adams Foods, is the obvious trade-up from dairy spreads. "Consumers are moving to more natural butter-based spreads that still offer convenience."

Clover, the UK's biggest dairy spread brand, has seen a 5.1% loss in value on volumes up 0.3% [IRI 52 w/e 25 April 2015], with deeper promotions increasing average savings on the brand by 10% [Assosia]. Average price per kilo dropped from £2.89 to £2.74 [IRI]. It could have been worse, Pike says. "Within spreads Clover has outperformed the market and maintained share performance, and our loyalty metrics have been maintained. Recent NPD such as Clover Additions and Clover Lighter than Light, alongside an intelligent promotional programme, helped."

The past year's most high-profile NPD saw butter added to Unilever's spread brands. Flora Gold and Bertolli with Butter, both launched in May 2014, are hybrids that can be seen either as a healthier way to consume butter, or a more natural way to eat spreads (Kantar takes the former approach; defining them as spreadable butters).

Caroline Jary, brand building director for spreads at Unilever, says: "Healthy eating continues to be a key trend but consumers won't accept products that have excellent nutritional values but lack flavour. Gold from Flora and Bertolli with Butter both offer consumers the taste they love but with a healthier proposition. Since launch, Gold from Flora and Bertolli with Butter have generated £4.8m and £6.7m in value sales respectively [Kantar 52 w/e April 26 2015] and combined are the fastest-growing NPD in the butter & spreads category in recent years." With no own-label competitors and a price of £4.36 per kilo (substantially higher than other spreads except specific health products), they have taken a 1% share of the BSM market since launch.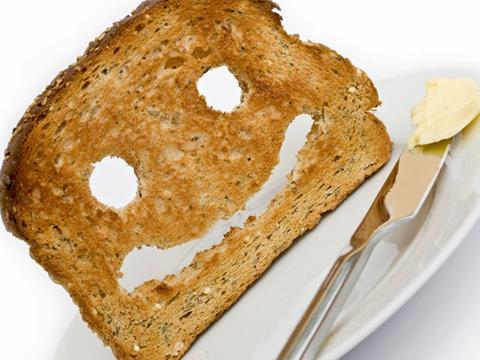 Input costs
Olive oil prices are rising (Mintec says EU production is expected to reach only 1.53 million tonnes in 2014/15, down 0.95 million tonnes year on year), making it a good time to boost olive spreads with butter. Reflecting the launch activity, Bertolli's year was busy, with the number of promotions up from 18 to 60 [Assosia] and a £5m ad campaign. Without Bertolli with Butter in the equation, branded olive spreads have stayed relatively steady, perhaps a result of Unilever's focus on the NPD. Own-label olive spreads, on the other hand, have climbed 5.1% in value and 19.8% in volume, with average prices down 12.3% - a situation that, given the olive oil price hikes, seems unsustainable in the coming year.

Meanwhile, Mintec's proteins team reports that butter prices in the UK have dropped 20% year on year to their lowest level since 2012, due to high milk production and the Russian ban on EU dairy products. "Looking ahead, average prices are coming down," says Kantar Worldpanel's Ant Alford. Thanks to these shifts, it's easy to foresee the words 'with butter' appearing on more tubs in the next 12 months, though current brand NPD is focused on cooking and baking ranges (such as Stork) and downsized formats.

Adding butter isn't limited to table spreads. The biggest recent move in margarine is the launch of Unilever's Stork with Butter in April. It's backed by a £3.3m campaign including a bake-off styled TV ad. Unilever says the launch aims to reinvigorate baking spreads and drive value in the baking category.

Rhiannon Carr, Stork brand manager, adds: "The home baking market is set to grow to £1.9bn from 2014 to 2019 [Mintel] and presents a lucrative sales opportunity for retailers, with Stork perfectly positioned."

Alongside the launch of Stork with Butter, Unilever relaunched the core Stork range for Easter 2015 with new packaging and the brand's first TV ad for 20 years. This activity, it says, grew Stork penetration by 6%; a much-needed fillip for a brand down 10.7% in value [IRI].

Margarine and other spreads have shared in the category's meltdown. Sunflower spreads are down 20% in value on volumes that have dropped 18.1%, while margarine has lost 7.5% of its value [Kantar]. Spread brands in decline include Utterly Butterly, which took an 18% hit on value with a corresponding volume loss [IRI]; owner Dairy Crest is looking to capitalise on its strength in convenience retailers, where it overtrades, with a new £1 price-marked 250g pack (see box).

Another disappointing year for Flora as a whole, which lost 11.6% in value and 14.5% in volume, and losses for I Can't Believe It's Not Butter, which shed 18.3% of its value sales [IRI], led to Unilever tweaking its approach.

Flora upped its featured space deals by 109, running more than triple the number of deals used by its nearest brand rival, Lurpak (see p64). Flora accounted for 45% of promotional activity in the category, though with an average total cost saving down 21p [Assosia].

"In such a competitive market, however, the position of some of our key brands was undermined," says Jary. "In 2015 we have aimed to rebalance this dynamic and the results can be seen on Flora - for the first three periods of the year we have seen both volume and value growth, culminating in a growth of 21% in volume sales in March [Nielsen 4 w/e 28 March 2015]." With the subsector now experiencing a lull innovations-wise, it may be it is this kind of finetuning that influences the fixture over the coming year.
Tucked away in the corners of the blockbuster spread brands, niche butters have had a good year.
Flavoured and alcoholic butters, for instance, are up 10.1% in value and 8.1% in volume [Kantar]. "Our garlic butter is small by Lurpak's standards," says Arla's Mike Walker, "but it performs well unsupported. A natural step for us would be for us to build on the performance of Lurpak Garlic, but it would need to be right for us in terms of its role in the brand and the category."
Over in the functional and free-from niche, Lactofree Spreadable, launched in 2011, has seen growth of 29.3% in value and 23.2% in volume [Nielsen Scantrack 52 w/e 24 April 2015]. It's made from cows milk with an enzyme added to break down the sugars into more easy-to-tolerate forms.
Customers excluding cows milk products from their diets have goats dairy as an alternative. Yorkshire producer St Helen's Farm leads the market in goats butter, which is stocked by Tesco, Sainsbury's, Waitrose and Ocado.
Mike Hind, sales and marketing manager at the brand, says: "We're increasingly positioned as a gourmet product, but there are also people who are avoiding cows milk products because they can't tolerate the proteins in it. The entry product for those consumers is usually goats milk, and they then want a yoghurt, a cheese, a butter."
He adds: "The market is small at £2.29m but it saw growth of 8.5% by value and 6.9% by volume [Nielsen]. St Helen's Farm grew by 13% in value; we've been seeing double-digit growth for the past couple of years and I see no reason for that not to continue provided we've got the cream available."
There's no call for an extension into an unsalted variant yet, however. "We wouldn't have enough demand to justify another SKU, but it's always like this in the goats milk market. Six years ago there was no demand for a skimmed goats milk, and we have that now."
Own label
With volumes up 2.5% and value down 1.4%, block butter has seen price deflation from £4.90 to £4.70 per kilo [Kantar]. Last year, it was spreadable that cannibalised block sales, but this year, thanks to the supermarket price war, the subsector appears to be eating itself. Own label is priced low (down 6.1%, says Kantar) and volumes are flying, growing 22.9% with value up 15.5%.

"The price of block butter has reduced due to deep price cuts in own label brands [down to 85p in some retailers]," says Desa Griffiths, insight director at IRI. "Own label is winning volume sales and stealing from other sectors in the category. However, the price battle has now devalued the entire butter category. A cut in the price of cream has allowed butters to be able to lower price and maintain margins, but if this goes up we could see a shift in price and volume back to spreads."

With own label and brand block having reversed roles in the subsector - where branded sales were worth £173.7m, they're now at £145.7m, while own label rose to £174.9m from £151.4 [Kantar] - block brands are looking to their heritage, flavour, natural and provenance credentials, as well as brand extensions, to maintain share.

Walker says: "We need to be really clear on what differentiates us from a taste perspective for Lurpak, which has a lactic taste, and Anchor, which is traditionally richer."

Pike also sees the benefits of nostalgia. "Despite the challenges facing branded butters there are some opportunities for growth," she says. "Encouraging consumers to bring back old habits by reminding them why they like using BSM products, and driving new usage occasions for butters and spreads, will drive volume per household."

As well as generating positive, buttered-toast vibes around branded block, Arla has taken promotional action. "We've been increasingly competitive from a promotional point of view," says Walker. "We're running deeper promotions currently, particularly on block as we compete to close the gap."

Premium positions

Not all brands are gouging out prices. Harper says. "We've actively chosen not to do the deep deals on Kerrygold. It's a premium offering and we are keen to retain that and not drive value out of the category. We've dialled up some promotional activity with 2-for-£2.50 this year but going forward our plan is to retain our 2-for-£3 promotional price rather than follow competitors to 2-for-£2. The likelihood is that deals will increase, but the category needs to be mindful of the fact butter generates strong customer loyalty, and factors such as taste, provenance and usability are important factors in their buying decision, not simply price."

With this in mind, after a quiet year above the line, Kerrygold is continuing to emphasise the benefits of the grass-led Irish dairy system with its £2m Tales From The Meadow marketing campaign. Anchor's forthcoming brand plans should also boost the profile of its block butter. "This year we will launch a new campaign, starting with Anchor Cheddar, as we develop Anchor as a total dairy brand," says Walker. "We will drive a new look and feel around our brand conditioning, and potentially make some changes in packaging."

Own label's success is causing brand headaches in block, but what about the overall picture? Across the category, branded BSM is down 4.5% in value and 6.7% in volume, while own-label products enjoy double-digit growth of 11.3% in value on volumes up 13.9%.

With block worth £151.2m more than dairy spreads [Kantar], the next biggest seller in own brand, block prices remain the biggest driver of own-label growth. If prices stay low, any perceived quality difference between value and standard own-label block may become blurred.

"The price of the 250g standard block of private-label butter is now under £1," says Desa Griffiths of IRI, "and nearly the same price as value block butter." Retailer attention remains firmly on block, says Pike. "Within spreadable butter, own label has seen SKU reduction year on year [IRI]."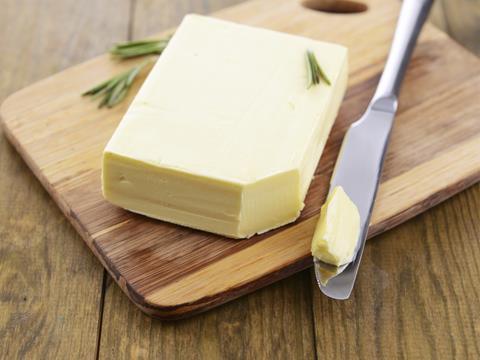 Advertising

Dairy Crest is emphasising the brand equity of Country Life Spreadable and Spreadable Lighter by teaming up with Kingsmill (just rebranded after a value sales crash of £75m year-on-year) for an on-pack money-off promotion.

Lurpak Spreadable is being shored up by a new £7m Go Freestyle marketing campaign, which includes a bold TV commercial with a jazz soundtrack and a cast of young urban cooks throwing freestyle moves in the kitchen. The own-label enemy, says Harper, is not vastly sophisticated. "Own label, especially in block, has not come up with a new trick. There's no silver bullet, nothing really strategic. It's price."

One of last year's key launches was the four-strong Lurpak Cook's Range. Supported by marketing investment above the line and in in-store promotions, it courted foodie customers. Were they seduced? "Lurpak Cook's is a £2m value range and our volume level has driven circa 500 tonnes," says Walker. "The highest rate of sale was in the baking and mist products, and we still have a challenge to develop understanding around liquid and clarified." Having shown they're willing to chop underperforming NPD (Lurpak Slow Churned lasted a year in market- "people didn't really see the need"), Arla is sticking with the Cook's Range. "It's still relatively small but it's something we think we can drive a change in consumer behaviour with."

Dairy Crest made a play for the foodie market with the launch of a trio of Clover flavoured cooking sprays in April 2015, perhaps with one eye on the good fortune of flavoured and alcoholic butters; it's small at a value of £6m, but the only BSM subsector in double-digit value growth. There is also a nod to health, with the sprays containing 10 calories per portion. It seems unlikely that sprays, either from Lurpak or Clover, will be the future of the category. After an uncertain year, however - and with another one in prospect - it might be wise for brands to spread their bets.
NPD in butter & spreads
Graham's Lighter and Organic Spreadable Butter
Manufacturer: Graham's The Family Dairy Launched: May 2015
Stirlingshire-based Graham's has added two new spreadable variants to its existing butter range. The launch of Lighter Slightly Salted Spreadable Scottish Butter (rsp: £2.80/500g) and Organic Slightly Salted Spreadable Scottish Butter (rsp: £3.20/500g) follows a £1m investment at its production facility in Bridge of Allan. The Lighter variant is being stocked at Scottish Tesco, Asda and Sainsbury's stores, while the organic SKU is available at branches of Sainsbury's north of the border.
Stork with Butter
Launched: April 2015
Manufacturer: Unilever
Unilever's move to upgrade its classic baking spread sees Stork blended with butter and given a premium look with a gold lid, curvy tub and prominent royal warrant. A potential rival to Lurpak Cook's Range Baking Butter, it is ready to use from the fridge. It is available in 400g tubs (rsp: £1.99). An eight-week TV campaign started mid-May.
Trex 250g
Launched: May 2015
Manufacturer: Edible Oils Ltd
Block vegetable baking fat Trex has been halved in size to a new 250g SKU (rsp:79p). The move is designed to appeal to the growing number of infrequent event-driven bakers. There will be no change of design for the resized pack, but Trex will be supported by a family baking campaign online, on pack and in consumer media.
Utterly Butterly 250g
Launched: April 2015
Manufacturer: Dairy Crest
Dairy Crest has convenience retailers in its sights with the launch of new, smaller £1 price-marked packs of Utterly Butterly. Larger 500g tubs of Utterly Butterly have also been relaunched with a £1.89 price flash (down from £1.99). Country Life Spreadable also comes in both 250g £1.75 PMPs and 500g packs.
Butters & spreads 2015 promotional activity analysed by Assosia
Growth doesn't come cheap in butters & spreads. The category's 10 most promoted brands have upped their use of featured space deals by 11.2% combined.
Bertolli and Flora have led the charge. The former has ramped up its promotions from just 18 in the previous year to 60; deals on Flora, the sector's most promoted brand, increased by 31.3% to 457.
The surge in deals on these brands follows the May 2014 launch of Flora Gold and Bertolli with Butter, aimed at tapping demand for the more natural credentials of butter and in response to waning popularity of marge and veg spreads.
The Unilever brands' advance on the prime spots in the fixture, such as gondola end chillers and free-standing display units, was backed by sampling campaigns and giveaways and has been at the expense of other dairy spreads.
Clover, Utterly Butterly, Benecol and I Can't Believe It's Not Butter have cut their use of featured deals by 16.8%, 19.4%, 31.3% and 89.1% respectively. Kantar reports a 10.2% value slump in sales of such spreads over the past year, suggesting this category is particularly deal-reliant. The only butter brand to cut deals was Country Life, with a reduction of 61.9%.