Anyone for chocolate-covered potato crisps? It's not much of a stretch to imagine them on UK shop shelves soon.
Sweet and salt is now a mainstream flavour combination - you can even buy a Cadbury Dairy Milk/Ritz biscuit mash-up - so liberally coating a crisp with milk chocolate almost seems a natural step. It's one Walkers owner PepsiCo has taken in the US with the rollout of Lays Milk Chocolate Wavy crisps last year.
While Brits can't yet buy chocolate-covered Walkers,there has been no lack of flavour and format innovation in the confectionery aisle.
"In terms of flavour, salt, which creates the ultimate contrast of sweet and savoury, is continuing to be a real consumer favourite," says Brett Beach, co-founder of premium chocolate brand Madécasse, adding that coffee and coconut are in-vogue flavours, and that texture is becoming increasingly important - with cocoa nibs, coffee beans and coconut shavings playing key roles in this.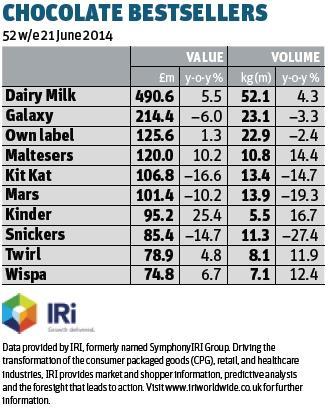 Cadbury, Britain's biggest confectionery brand, has been mixing tastes and textures in NPD such as Marvellous Creations, which has helped drive a 5.5% hike in CDM brand sales to £490.6m [IRI 52 w/e 21 June 2014].
"The most exciting new products have been all about blowing apart category boundaries and bringing together different flavours, textures and brands, which drive new consumers to the category," says Matthew Williams, marketing activation director at Cadbury owner Mondelez International. Continuing a trend it kicked off two years ago with CDM & Oreo, Mondelez has taken advantage of its global brands stable to this year also team CDM with Lu and Chips Ahoy biscuits.
Little wonder, then, that NPD in chocolate tablets is at the highest since 2007 [Mintel], while launches of other chocolate formats are lower than average.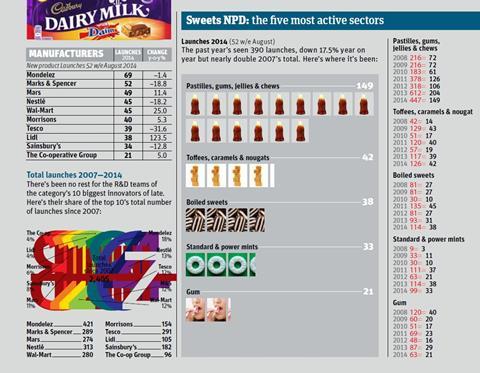 And for all the excitement in the category, the failure of Nestlé's Wonka chocolate tablets and countlines - axed this summer after less than a year on shelf - is a stark reminder of how hard it can be to gain traction in a market driven by excitement and innovation.
Ferrero is pleased - so far - with the performance of Nutella & Go, which brings together savoury and sweet in a portable pack containing hazelnut and cocoa spread and breadsticks for dipping in the other. It has exceeded expectations in the UK since launching in August, says Ferrero.
In addition to tapping demand for interesting taste and textures, Nutella & Go offers a way of controlling portion size - a trend likely to become even more important as concerns about obesity and sugar rage on.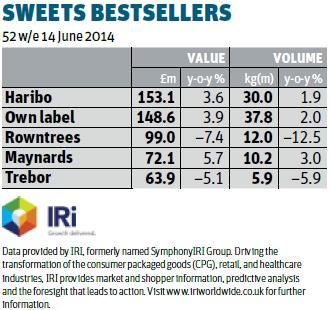 Another example of the push towards portion control is last month's launch of a 23g Galaxy chocolate countline by Mars, which described the products as giving consumers "more choice for an affordable self-indulgence." Mars will be hoping the NPD can help revive sales of the brand, which have fallen 6% year on year.
Smaller packs have a clear attraction for suppliers facing costs such as the price of key ingredient cocoa butter - up by about a third year on year, according to Bon Bon Buddies.
"Mars is presenting a way that they can keep prices lower - smaller products," said Mintel insight director Marcia Mogelonsky at the time of the launch. "This gives them a price point that will seem manageable for the consumer and a new product to promote, leveraging convenience, 'treat-ability' and other positionings that have become popular."
Rising costs help focus the agenda for innovation, suggests Justin Thomas, purchasing and logistics director at Bon Bon Buddies. "It challenges manufacturers to look at alternative sources, suppliers or recipes, change the type of confectionery being produced, or perhaps re-engineer a particular product altogether. Innovation is all about taking fresh approaches and finding new ways to solve problems."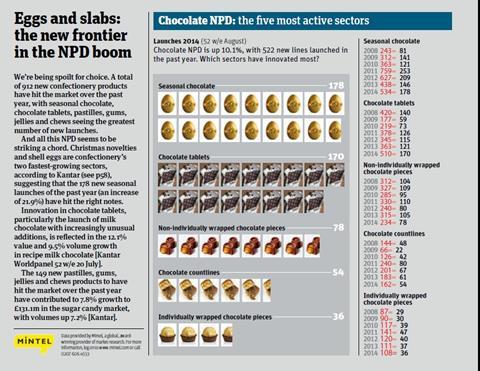 But for all the talk of portion control and less sugar, no one is forgetting confectionery is about treating. "There is a definite trend towards more premium and indulgent confectionery," says Waitrose confectionery buyer Chris Noel. "Premium bars such as Lindt, Divine, Green & Black's and our own Seriously range are growing significantly faster than more mainstream brands."
The trend has prompted Waitrose to become the first UK multiple to stock Madécasse.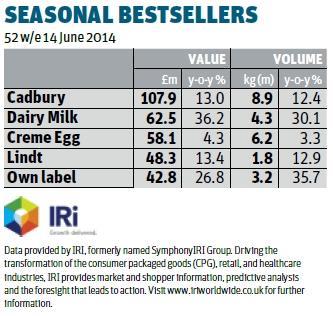 "Increased foreign travel, celebrity chefs and the media have put food firmly back on the agenda, and this has helped breed an increasingly experimental consumer, with many searching out new and trending ingredients and cuisines," says founder Beach. "The same is happening in chocolate with more consumers experimenting with high cocoa content chocolate, cocoa varieties and exotic flavour combinations."
Consumers are also seeking products that demonstrate provenance or play up natural credentials, suggest confectioners Hope & Greenwood. "Our raspberry jam flavour coconut ices are made with real raspberry pieces, and our Sicilian lemon curd flavour coconut ices are made with Sicilian lemon oil," says MD Richard Ruddy.
Another theme shaping innovation is sharing, which goes hand-in-hand with indulgence for many consumers (particularly those revealed in recent Harris research on behalf of The Grocer that found one in four consumers who buy sharing bags eat them in one sitting alone).
Mondelez's Williams says he expects sharing to be "every bit as important to the success of the chocolate category in the coming 12 months as it has over the past 12". Sharing products introduced by Mondelez this year have included bagged Marvellous Creations - Cadbury Dairy Milk Marvellous Mix-Ups.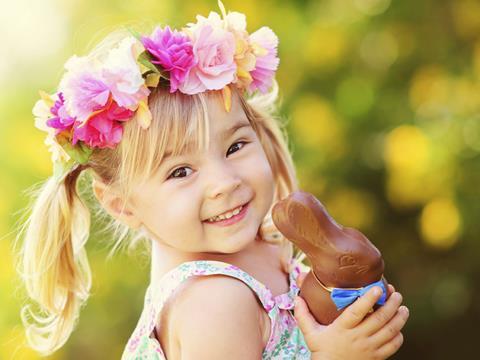 Brands crack the seasonal market with innovation
Whether in the depths of winter or the height of spring, the sun is shining on seasonal confectionery.
Sales have grown by 15.1% year on year to almost £600m [IRI 52 w/e 21 June 2014], and confectioners are determined to bring further growth in the coming year.
Mondelez claims it added £23m to the category this Easter, driven by the likes of Cadbury Dairy Milk Egg n Spoon - which doubled in value year on year to £12.7m [IRI].
Ferrero, meanwhile, says it had a good season following the launch of a new spring range for Kinder. "Premium, value-added seasonal offerings have been a big driver of growth in the latest year." says Ferrero customer development director Levi Boorer. "Shoppers are less profligate than before, but are still willing to treat themselves and others with value-added items, particularly around key gifting occasions."
Ferrero's Christmas 2014 activity will include multimedia marketing and new products such as Raffaello star tree decorations.
For Mondelez, this Christmas will bring TV ads, in-store activity and launches such as Cadbury Dairy Milk Mousse Snowman Chocolate, the follow-up to the vanilla Snowman launched last year. Further innovation will include Cadbury Bitsa Wispa in tube format, while Toblerone will be available in a thinner 60g triangle.
Mars is introducing a Maltesers Giant Cracker and Milky Way Magic Stars tube - but ahead of the Yule festivities has big plans for Halloween. The company this year rolled out Have a Funsize Halloween PoS materials and has launched pouches and treat bags of M&M's in Halloween colours.
Richard Ruddy, MD of Hope and Greenwood, suggests suppliers could be doing more with the Halloween opportunity. "This an interesting occasion that we are still getting to grips with in the UK, as the industry mindset is stuck in the times of big drums of sweets," he says.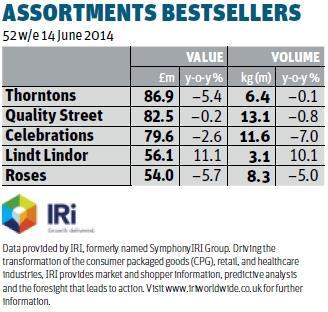 Waitrose says it sees premium sharing as a key opportunity, and is tapping this trend by carrying premium chocolate sharing pouches from Lily O'Brien and products from trendy fashion/confectionery brand Candy Kittens. A correlation between food and fashion is particularly noticeable in confectionery, adds Noel's colleague, Waitrose confectionery product developer Rebecca Neale. "Seasonal assortments are becoming more popular - such as spring/summer chocolate selection boxes," she says. "We're also definitely noticing a trend towards Continental classics, including flavours like praline and the sweeter Alpine chocolates."
Sugar confectionery
In the sugar confectionery market, sour continues to be a key flavour. "Consumers respond well to flavour and sensory confectionery, and our sour products - Chewits Xtreme Sour apple and Tutti Frutti - are performing well," says Cloetta UK trade marketing manager Bev Rushbrook, adding this prompted the launch of a further flavour, pineapple, this year.
Nestlé took Rowntrees Randoms into sours this year with impulse and sharing bags of Sweet N Sour. "Sours has seen consistent growth over the past five years," says a spokesman. "And a large proportion of this has been incremental to fruit sugar confectionery."
And Bon Bon Buddies, which produces a wide range of licensed confectionery, has found success with own brand Brain Blasterz, which carries the warning: 'With great sour comes great responsibility.'
Brain Blasterz is an example of British-born innovation that has proved a hit outside these shores - particularly in Nordic countries - but much of the NPD in the confectionery market has its origins abroad. Cadbury Dairy Milk Marvellous Creations was a hit in Australia before it came to the UK, and another Cadbury launch with its roots outside the UK is Egg 'n' Spoon, which made its debut in the German market under the Milka brand. And Ferrero's Nutella & Go had already been a success in the US, France and Germany before its UK launch.
This helps explain why supermarket buyers' appetite for imported confectionery seems to be growing. "Over recent years we have seen a significant increase in American-style candy stores selling niche imported confectionery," says Bon Bon Buddies' Thomas, adding the trend was becoming more mainstream, and that these products are now making it into the multiple retailers. "However, it is important to be aware that, as these imported products do not need to adhere to the same EU regulations as those manufactured here, they would need to be significantly re-engineered in order to be replicated by UK manufacturers," he adds.
Plant investment
Such re-engineering doesn't come cheap - though confectioners are not shy of making the necessary investment to drive innovation. Mondelez has spent £175m on manufacturing at its Bournville site since 2010, while Mars' recently opened £6m R&D facility in Slough was the birthplace of the Teasers bar it launched last year. Bon Bon Buddies, meanwhile, has invested in 3D printing technology to jumpstart the development process and create 3D mock-ups. "This has enabled us to significantly increase our speed to market," says Thomas. "This is crucial within this industry, and any advantage in reducing project timelines is a key target for the business."
Suppliers continue to look overseas for inspiration, with Waitrose's Neale suggesting Indian snacks have been among the trends inspiring some developers, along with other savoury flavours. "We also expect to see cocktails influencing chocolate flavours more (see innovations, left), as well as bean-to-bar and single-origin chocolates," she adds.
Peanuts and peanut butter are becoming increasingly commonplace in the UK confectionery market, suggests Hope and Greenwood's Ruddy. And he adds that chocolate covered savoury crisps, already big in Japan and rolling out in the US, would work in the UK market. Over to you, PepsiCo.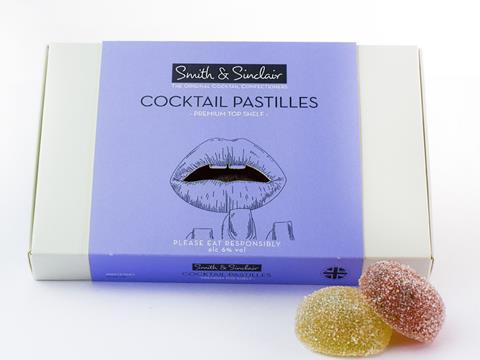 Smith & Sinclair's alcoholic pastilles
Launched: October 2014
Supplier: Smith & Sinclair's
Not one for the kiddies. Smith & Sinclair has blended spirits, fruit and spices to create a range of cocktail-inspired pastilles in flavours such as gin & tonic (violet-infused gin and a lemon sherbet coating), mixed berry daiquiri (with summer berries, dark rum and a pink peppercorn-infused coating) and whisky sour (with a sour grapefruit coating). Priced £8.95 for a box of six - which, at 2.6 alcohol units, would put you over the recommended limit for driving - they roll out this week to Harvey Nichols.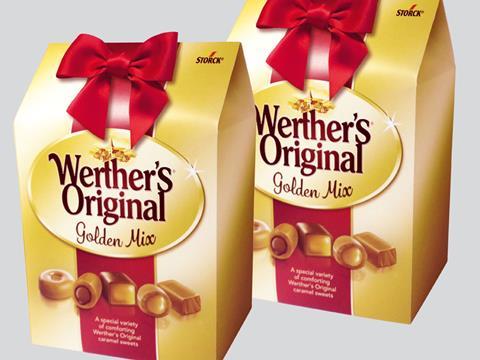 Werther's Original Golden Mix
Launched: August 2014 
Supplier: Storck UK
Storck UK is targeting the Christmas gifting market with its first ever Werther's assortment gift pack (rsp: £5). The company feels there is a gap in the market for an offering targeting the 45+ consumer. The pack contains five different variants - Butter Candies, Creamy Filling, Caramel Fudge, Chewy Toffee and Chocolate Eclairs.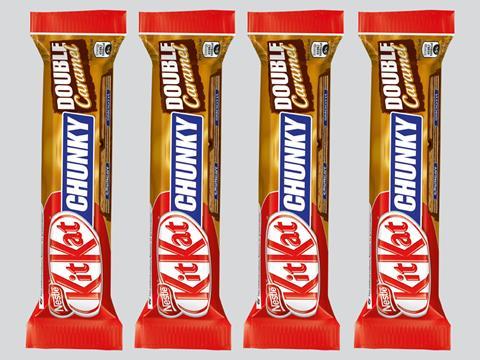 Kit Kat Chunky Double Caramel
Launched: August 2014
Supplier: Nestlé
Billed by Nestlé as 'Kit Kat's most significant new Chunky product in 15 years,' this bar (rsp: 58p) comes in halves that each contain a contrasting texture of caramel - one smooth and runny, and the other crunchy. Aimed at 25 to 35-year-olds, the bar will have broad appeal, says Nestlé. The launch has been supported with a digital campaign.
Snickers limited-edition bars
Launching: October 2014
Supplier: Mars
Mars is again replacing its standard Snickers bar (rsp: 60p) with limited-edition products, for a limited period. This time around the already popular More Nuts and More Caramel special editions will be joined by a More Choc variant. The launch will be supported by a new TV ad for the brand, and PoS material including dump bins.