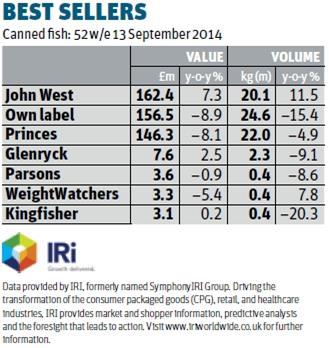 It's enough to drive poor old Captain Birdseye to drink. Sales of frozen fish have continued on their downward trajectory during the past year, while the ambient and fresh categories continue to flourish.
The overall frozen category saw a 2.9% volume drop and a 0.5% value reduction in the year to 17 August; over the same period, value sales of ambient fish grew by 4.6% to £542.9m and fresh fish grew 7.3% to £1.47bn.
So why are consumers turning away from the freezers, who is benefiting, and how do frozen fish brands plan to fight back?
Despite the launch this year of innovations such as its low-fat Fish Chargrills range, frozen market leader Birds Eye has been hit hard by the decline in the category. It experienced a 6.7% fall in value sales to £173m for frozen fish and an 11.2% fall in volume sales to 27.9m kg in the 52 weeks to 13 September [IRI Frozen Outlets].
Birds Eye is facing challenges not just because consumers are buying less frozen fish but because some of its key product categories - especially battered and breaded - have lost ground to alternative fish categories.
Over the past year, branded frozen battered fish sales have fallen 10.3% in value terms, with volumes down 11.7% [Kantar].
Branded frozen breaded fish is down 5.2% in value terms and 3.9% in volume, while fish finger value sales have fallen 1.6% and would have fallen even more had average prices not risen 5.8%. Volume sales for branded fish fingers are down 7%.
Fish has shown strong growth this year, driven by fresh, which has added more than £100m to the category. Behind this is an increase in the average price paid per kilo, despite more volume being sold on deal. Fresh fish is the fastest-growing protein, ahead of meat and poultry. Frozen fish is in value and volume decline.

Prices have risen across the board in both fresh & frozen, with the former being on average 70p per kilo more expensive. The price of fish, generally higher than meat or poultry, can be prohibitive to many consumers so promotions are very important, and the 'Three for £10' deal is still very popular across the major multiple retailers.

In frozen, the majority of sales are still branded, but in fresh over 90% of sales are through own label. The popularity of added value pre-packed fish, as pioneered by The Saucy Fish Co, has led to an influx of 'me too' own-label products, with Waitrose's new seven SKU range the most recent addition.

Exciting NPD included the Harbour Salmon Co's Brazilian Mocequa SKU to tie in with the World Cup.
Rebecca Dunlop, Kantar Worldpanel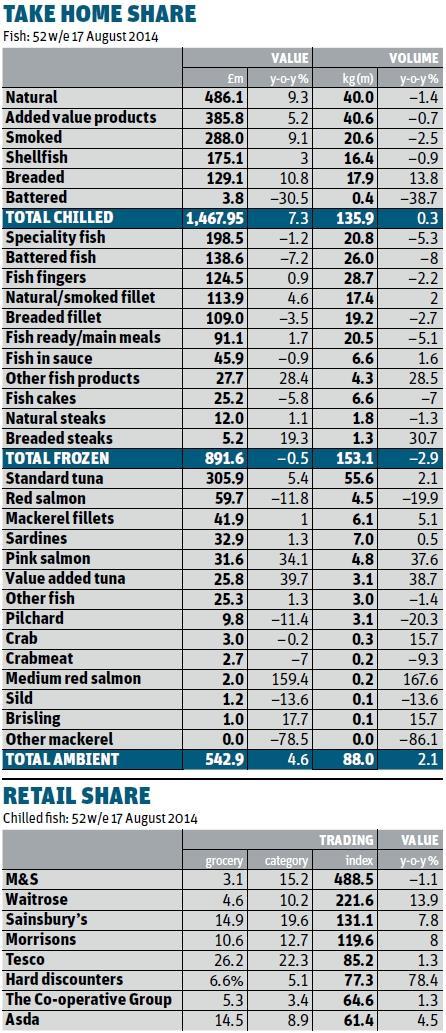 Birds Eye senior brand manager Andrew Foster says the company has noticed a shift by shoppers away from buying battered and breaded frozen fish, and concedes the decline in these mature sectors is down to a "lack of innovation" and a reliance on promotions.
As a result, shoppers are switching to recipe and lightly coated frozen fish, which not only provides "exciting flavour combinations that appeal to the increasingly broad palates of consumers," but also appeals to health-conscious shoppers seeking "delicious, guilt-free meal options," according to Foster.
With shoppers also turning towards the chilled category, the challenge for Birds Eye is to "continue to encourage consumers to keep frozen fish at the front of their minds as a reliable meal option."
This could be achieved through products like the Chargrills range - which has achieved sales of £7m since March this year - and by making products "easy to find, clearly visible and by ensuring stores have a range of brands and SKUs on offer," adds Foster.
Shopper communications
As consumers turn towards chilled, Laura Whittle, CEO of Whitby Seafoods, says the frozen category needs to improve its shopper communications. "The frozen category will continue to be important, but it has definitely lacked innovation."
This month saw Whitby Seafoods unveil a new brand identity and packaging designed to better engage with consumers. "I think frozen seafood can often come across as quite impersonal and corporate," she claims, adding that despite growing sales of its scampi, cod and prawn-focused range from £3.8m in 2012 to £7.9m last year [Nielsen Scantrack October 2013], more can be done to educate consumers about the quality of frozen fish.
"People think scampi is monkfish, but it's the jewel in the crown of British seafood"

"Lots of people think scampi is monkfish, but it's British langoustine and the jewel in the crown of British seafood." Whittle adds: "Just like frozen peas, frozen fish is fresher than fresh fish. This, along with the convenience and quality of the product, is the message that needs to be communicated."
'NPD is key' to added-value tuna sales boost
Sales of value-added ambient tuna rose by 39.7% to £25.8m during the 52 weeks to 17 August, and by 41.6% for the branded category [Kantar Worldpanel].
The buoyant sub-category now represents 4.8% of all ambient fish sales, 6.4% of branded ambient, and 29.8% of own label ambient [Kantar], and has attracted a spate of NPD.
John West's tuna offering now includes Steam Pots, Infusions and the new Spreadables range. "The added-value fish category is enjoying significant year-on-year growth of 33.2%, and this has accelerated in the latest 12 weeks to over 39%," claims marketing director Jon Walsh.
Walsh says NPD is key to this sector of the market, with 27% of recent added-value fish sales coming from products that have launched within the past 52 weeks [Kantar Worldpanel September 2014].
He adds: "We probably didn't do enough regarding innovation in the past, but our learnings around convenience and the rise of single-serve from categories such as cheese and beans highlighted a gap in the market for added-value fish." (see innovations, p71).
New shoppers to the category and shopper frequency are also rising, up by 33% and 3.7% respectively [Kantar].
Princes marketing director Neil Brownbill says the supplier has seen similar growth following distribution wins on its Tuna Pasta Salads, which were "100% incremental" to the category.
Having increased spend to "support NPD and inspire shoppers," Brownbill says Princes is delivering more direct and "deeper engagement" with its target audience to promote the versatility and simplicity of canned and added-value fish.
He adds NPD such as the Tuna Pasta Salads range and the Tuna Pasta Bakes launched last October "successfully meets the consumers' desire for a delicious and quick lunchtime meal."
Yvonne Adam, marketing director at Young's Seafood, agrees frozen producers need to innovate to keep pace with other fish categories. While the overall category was in decline, total frozen value sales for Young's grew in the 52 weeks to 13 September by 4.5% to £151.2m [IRI Frozen Outlets].
A big contributor to this growth was Young's frozen Gastro range, now worth £22.1m (up 50% year on year) and, according to Adam, one of the fastest-growing brands in the category with a 10.8% (2.5 households) penetration [Nielsen].
"Consumers are looking for the best fish, made delicious, which is easy to cook, with Health benefits and value for money promotions," she says. "We're responding to this."
The Young's Gastro brand, which was expanded in September to include meals for one, has been a "huge success", Adam adds, while Young's has also updated recipes for its fish pie range and invested in a "Try me, love me or your money back" on-pack promotion to drive trial.
The success of the Gastro brand, which "offers restaurant-quality fish dishes at home," shows there is a demand for high-quality frozen food, and "if you get it right, you can attract new shoppers to the frozen aisles for fish," claims Adam.
Chilled
While the frozen category has been forced to adapt to new tastes, the overall chilled fish category benefited from a 7.3% increase in value sales to £1.47bn, while average prices rose by 7%, despite significant volumes sold on deal, says Kantar analyst Rebecca Dunlop.
The trend away from battered fish has been even more heightened in chilled, with value sales dropping by 30.5% in total and by 88.6% in the branded market [Kantar].
Value sales of smoked (up 32.7%) and breaded (up 56%) were the best movers within the branded fish category, while own label saw strong value growth in natural (up 9.7%), smoked (up 7.4%) and added the value pre-packed category pioneered by The Saucy Fish Co (up 5.7%) [Kantar].
"In frozen, the majority of sales are still branded, but in fresh, the converse is true, with more than 90% of sales now through own label," says Dunlop. "The popularity of added value pre-packed fish has led to an influx of 'me too' own label products, with the most recent addition to the market being Waitrose's new seven-SKU fresh fish range."
Waitrose is the clear market leader in terms of chilled fish market share, accounting for a whopping 13.9% of the category's sales , compared with just 5% of the total grocery retail market [Kantar].
The retailer's aquaculture and fisheries manager, Jeremy Langley, says this is because it responds to consumers' desire for "freshness, quality, value and customer service," while its commitment to 100% responsible sourcing by 2017 also a key USP.
Branded chilled fish is dominated by Young's and The Saucy Fish Co, which represent 46.4% and 19.4% of the category respectively [Kantar Worldpanel 52 w/e 12 October 2014], with the Young's brand valued at £50m and up 21% year on year, says Adam.
Promotional activity is "tremendously important" says James Purling, category manager for The Saucy Fish Co, who cites the widespread use of price promotions and multibuys "often combined with other proteins" as a key component in supplier strategies.
"Lots of people still see fish as expensive, so it's very important to invest in price engineering"
Some 41.8% of the category's promotional spend is on such deals [Kantar], adds Purling. "Lots of people still see fish as expensive, so it's very important to invest in price engineering." He agrees own-label and other branded added-value products from competitors are helping to drive the category. "There are a lot of imitators, but what we find is that these products can all sit together, and there is a lot of brand loyalty."
Ambient
A flurry of promotional activity by ambient suppliers and strong growth by category leader John West helped value sales increase by 4.6% in the 52 weeks to 17 August and volume sales grow by 2.1% [Kantar].
Tim Eales, director of strategic insight at IRI Worldwide, says the category has seen a "substantial increase in promotion volume sales for tuna, whilst the level of price reduction while on deal remains at over 30%, which is well above the average for groceries of 26%."
This activity helped contribute to a jump in branded value sales of 7.3%, including a 9.7% value increase in standard tuna and a 39% increase in value sales of value added tuna.
With own-label ambient sales down by 8.9% (value) and 15.4% (volume), and some big rival brands suffering sales drops, John West's performance is particularly impressive, claims marketing director Jon Walsh.
The supplier enjoyed an increase in value sales of 7.3% to £162.4m during the period, while volume sales increased by 11.5% to 20.1 million kg. "We're proud of this growth, especially the increase in consumption, which was previously in decline," he says. "This is a result of looking after our core products and developing the added-value channel."
John West's experience shows it is possible to do well even in a challenged category. Brands on the frozen fish side should take note - and heart.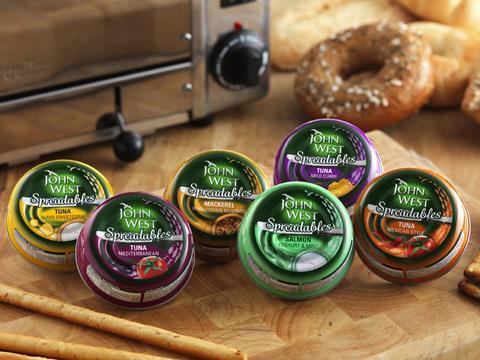 John West Spreadables
Launched: September 2014 
Manufacturer: John West
This range of six single-serve sandwich fillers comes in tuna with mayonnaise and sweetcorn; tuna Mexican; tuna Mediterranean style; tuna mild curry; salmon with mint and yoghurt; and mackerel with wholegrain mustard flavours. Launched across the mults at £1 per pack, it is a response to research that found 71% of consumers made a tuna sandwich for just one person, while 40% of consumers wanted more variety and flavour in their canned fish.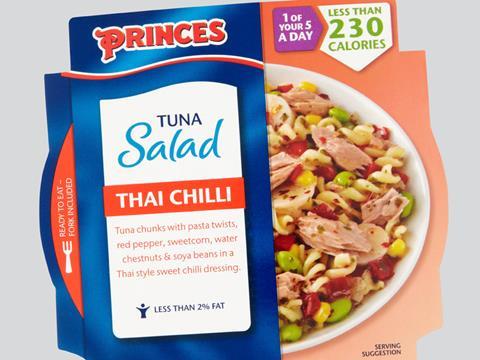 Princes Thai Chilli Tuna Salad
Launched: July 2014
Manufacturer: Princes
This extension to Princes' £1.5m Tuna Salads range offers shoppers a popular flavour choice, contains less than 230 calories, is less than 2% fat, and is one of your five-a-day. The 210g pack retails at £1.99 and was developed to meet consumer demand for convenient meals on the go or at work, says marketing director Neil Brownbill.
Simple Salmon Smoked Salmon Bacon
Launched: October 2014
Manufacturer: MacKnight
These fish rashers are said to crisp up like bacon, while the processor has also launched Salmon Mignons, Salmon Chorizo sausage, Salmon Burgers and Hot Smoked Portions. They are produced using skinless and boneless salmon offcuts that are cured with rock salt, maple syrup and spices, before being air-dried and smoked. Rsp: £3.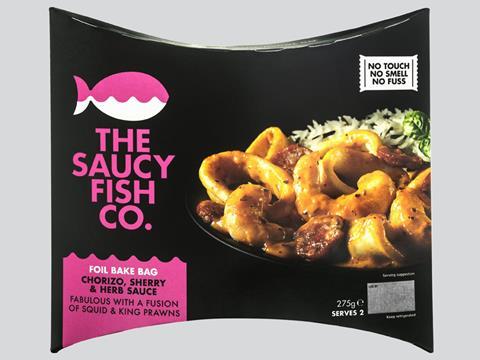 Saucy Fish Co Foil Bake Ready Meal
Launched: October 2014
Manufacturer: Icelandic Seachill
The Saucy Fish Co's first dish containing meat is a meal for two inspired by tapas and includes squid, king prawn & chorizo with a sherry & herb sauce. It went on sale in Waitrose last month and joins the brand's existing foil-bake fish on shelf range. "It really brings something unique to the fish aisle," says MD Simon Smith. Rsp: £4.50.