Infant care is being battered in the health debate. At the end of 2013, the NHS called on parents to avoid giving babies fruit-flavoured 'baby juices'; later Public Health England found one in eight three-year-olds has rotten teeth thanks in part to such products.
Then, in September, a Glasgow University study of 479 shop-bought babyfoods, including products from Heinz, Cow & Gate and Boots, claimed few were meeting infants' dietary needs. Half the products were classified as 'sweet,' raising fears they are sweetening youngsters' palates and steering them towards unhealthy choices later in life.
There's more cause for tears in the baby aisles, particularly those of the major multiples. Of the big four, only Morrisons has achieved category growth in the past year [Kantar Worldpanel 52 w/e 12 October 2014].
A steep decline in the birth rate in 2013 has taken its toll on the market, as has online giant Amazon, which is stealing sales from bricks & mortar retailers with bulk deals on nappies and wipes. Then there are the discounters: Aldi has seen babycare sales surge by a staggering 68.5% [Kantar].
So just how big a bite have all these factors taken out of the market? What are brands and retailers doing to address these issues - particularly the mounting unease about our sweet-toothed youngsters?
At first glance, the overall market appears to have come through the difficulties relatively unscathed, with a 0.7% dip in value to £1.5bn on volumes down just 0.9% [Kantar]. This compares with the previous year's 0.1% value dip on volumes up 1.7%. However, delve deeper and it's clear strong growth in babymilk (see left) is skewing the overall numbers. In fact, take this sector out of the equation and babycare value sales are down 2.7% and volumes are down 1.5%.
Babyfood
Likewise, things aren't as rosy as the babyfood growth recorded by Kantar would suggest. Analysis by Nielsen, based on the EPoS data of the major multiples - without the discounters - suggests much of babyfood's 2.2% value growth (on volumes up 1.8%) in the Kantar numbers is driven by the discounters, with the multiples in decline. Nielsen records a 4.5% decline in wet babyfood on volumes down 9.6% in the supermarkets over the past year [52 w/e 11 October 2014].
Jarred babyfood is dragging down the overall sector, says a spokeswoman for Ella's Kitchen, which has bucked the overall decline to achieve growth of 10.5% on volumes up 9.2% in the past year, thanks in part to an ongoing focus on NPD. By contrast, Cow & Gate has seen its bestselling Baby Balance range suffer a 9.3% value decline [Nielsen].
"Working mums know this category can provide support to work/life balance"
That Ella's relies on a pouch, rather than jar, format is significant. "We've seen that despite pouch sales improving year on year, we've not been able to cover off the decline in jar volumes, which is driven by distribution losses and retailers switching promotional strategies," says the spokeswoman, adding growing concern around nutrition has been a factor for the wider market. "Wet babyfood has been having a tough time since September, which coincides with the time Glasgow University published the results of its babyfood study."
Brands that have cultivated wholesome images based on the quality of their ingredients (both Ella's and Hipp Organic use only organic ingredients) and their nutritional benefits are weathering the storm better than others. Hipp Organic might be down 4% on volumes down 9.3% [Nielsen] - partly as a result of its standing in the declining jars market - but reasons for cheer remain.
Last summer, Hipp unveiled 22 new products, including pouches of fruit, muesli and yoghurt for babies aged six months and up, and two new tray meals (mild chilli con carne and macaroni cheese with carrots and courgettes) aimed at kids aged 18 months to three years. Hipp group project manager Andy Lewis says the launches, which bring the brand's total number of tray meal products to 15, have brought Hipp's share of the kids tray meal sector to 44%. He predicts the sector's 8% year-on-year growth will continue: "Insights show that demand is at an all-time high for convenience, quality and variety."
The fact that more mums are holding down full-time jobs and are increasingly well informed about nutrition is also key. It is driving growth of brands such as Hipp, Ella's and Little Dish, says Hilary Graves, Little Dish co-founder and CEO, who points to research showing the employment rate for women with children is now 70%.
"Working mums know this category can provide fantastic support in helping them achieve a positive work-life balance, and are increasingly reassured by the evolution of healthier, fresher alternatives," she says. "Supermarkets have allocated more space in the chiller to the kids meal category, benefiting both own label and Little Dish, which now fills two shelves in Tesco and Waitrose."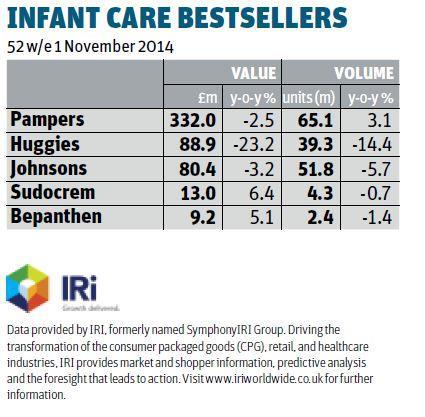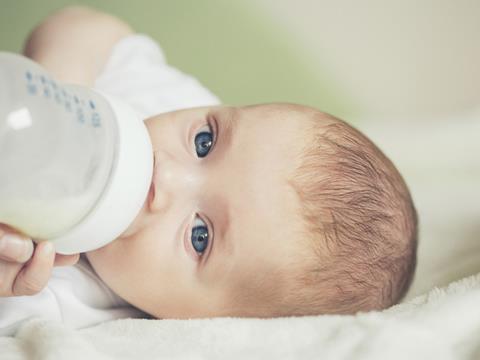 Juices slump
Negative press over the impact of high sugar levels on our kiddies' pearly whites, and growing awareness of nutrition, have led to a slump in sales of juices aimed at infants. Value sales are down 22.4% [Nielsen]; volumes have fallen 21%, and market leader Heinz has taken a 16.5% hit, worth £1.3m in lost sales. The brand says it has responded by lowering sugar levels and launching new products that mix juice with spring water.
Demand for products with lower levels of added sugar is also transforming the baby snacks market, which has grown 3.8% on volumes up 3.5% [Nielsen]. Brands such as Kiddylicious - up 15.7% to £2.9m - are cashing in on this trend with products such as Fruity Puffs and Flying Saucers, which contain no added sugar.
Quoting IRI data to 4 October, Bear claims to be the fastest-growing kids fruit snack brand, with growth worth £1.3m. "From concentrate, nutritionally questionable but 'healthier' positioned finger foods are increasingly scrutinised by mums and dads," says Giles Brook, founding partner of Bear. "Instead they're looking for snacks that are not from concentrate, nutritionally dense and with no added nonsense. This trend is set to continue, in fact, intensify."
A glance at the latest innovations in the sector (see right), suggests Brook is right. Brands are managing to convince parents their products are worth paying a premium for with the help of savvy NPD. In babymilk, for example, value sales are up 8.1% on volumes up 6% [Kantar], with the rise in average price reflecting a move towards RTD liquid products in smaller, more convenient packs.
Nappies
In nappies, brands are having a harder time justifying their higher price points. Particularly Pampers, which has taken a 2.5%, £8.5m hit to value while maintaining volume growth of 3.1% [IRI 52 w/e 1 November 2014]. The brand's 5.5% fall in average price is perhaps not surprising, given a pack of own-label nappies sells for an average of 35% less than brands [Kantar]. But P&G commercial director Victoria Jones makes it clear there is a limit to how low prices will go.
"We'll always be a more premium offering than own label, given the R&D and technology that go into Pampers," she says, pointing to the Active Fit range. "We've continued to innovate to provide quality at various price points. This has included the improvement to our Baby Dry offering, now with double dry zones and longer back sheet to speed wetness away from babies' skin."
Some suggest the sector is still lacking in innovation, however. Diane Titterton, co-founder of potty training pad brand Dry Like Me, says major players are still not realising the opportunity presented by the potty training market, despite claiming a growing number of kids are starting school still in nappies.
"We're in a monopoly position as there is no own-label alternative to us and we have patents to protect the product," says Titterton, adding the brand is in 40% volume growth. "We've enabled supermarkets to help keep customers in the aisle for longer. We offer retailers the opportunity for incremental margin and customers a solution to the issue of the stress and mess of potty training."
And with the mainstream multiples facing growing competition from emerging channels (see box left), keeping parents in the aisle for longer will be vital in the coming year.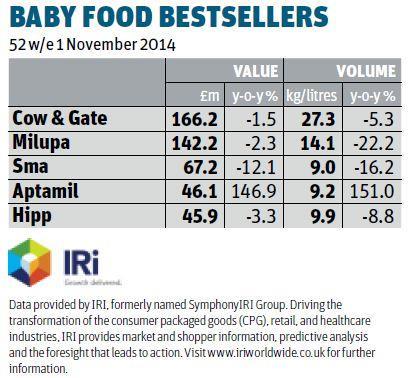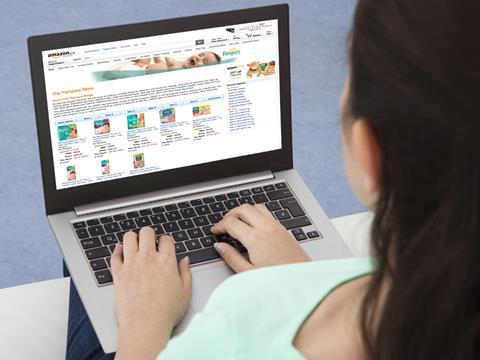 Online and discounters steal infant care share
The mainstream multiples' performance in baby care over the past year doesn't make very happy reading. Of the big four, only Morrisons is in growth, following an overhaul of its Little Big range in 2013 [Kantar].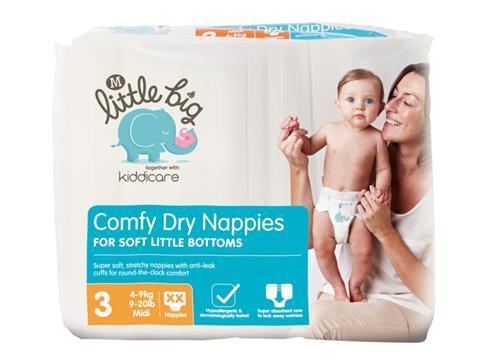 The mults are losing out to discounters Aldi and Lidl, up 68.5% and 21% respectively [Kantar], and websites such as Amazon, which hosts a Pampers brand store and is driving growth in online sales of infant care products of 16%. "Online shoppers can buy in bulk with ease and don't have to worry about the logistics of getting the larger packs back home," explains Kantar analyst Gareth Gwynne.

This is particularly true of products such as nappies, in which the mainstream retailers, barring the discounters, have suffered a 5.4% fall in value and 6.5% in volume in the past year [Nielsen 52 w/e 11 October 2014].

"The nappies category continues to be an intensely competitive market," says Victoria Jones, commercial director at Pampers owner P&G. "We're seeing a number of shifting dynamics in retailer brands and discounter entries. We're also seeing changes in shopping habits as people are increasingly shopping online for their baby products across the major grocers but also on pure-play online retailers like Amazon and uncovered channels such as discounters."

The discounters are certainly paying the sector more attention. In August Aldi launched a range of organic babyfood under its Mamia brand; in 2013 Lidl's Drylock Toujours nappies picked up a host of plaudits, including The Grocer's Top Launch of the Year gong in Paper Products.

The multiples are fighting back with steep deals and special baby events. "Customers are looking for special offers," says Diane Titterton, co-founder of Dry Like Me. "We're happy to support reductions during baby events as they are well supported by retailers and bring in more customers - benefiting everyone."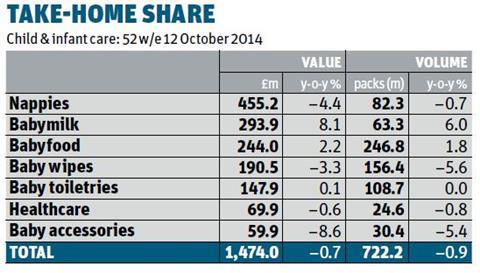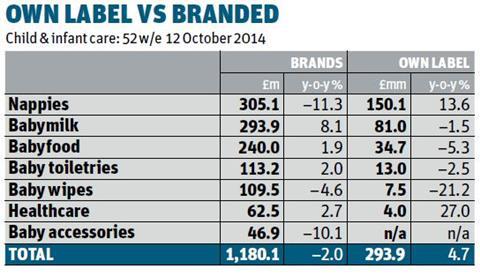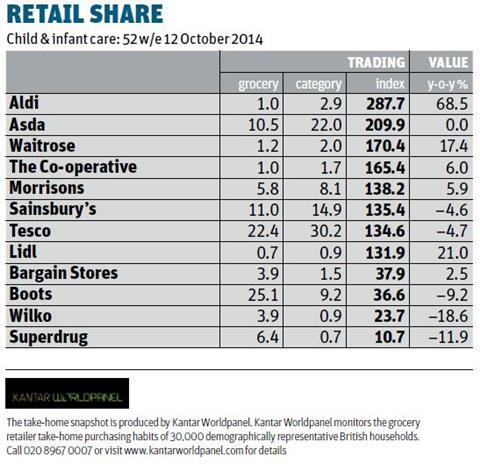 The baby category has remained relatively flat over the course of the year, experiencing a very slight decline in both spend and packs despite more shoppers buying into the category. Basket size and purchase frequency are falling, driving the category decline.

The overall trend in the baby market is towards larger pack sizes. The online channel is well placed to encourage this change in shopping behaviour. Although currently only representing just over 3% of the overall market, internet sales have experienced more than 16% growth over the past year, with double-digit growth from every baby sector. Online shoppers can buy in bulk with ease and as a result don't have to worry about the logistics of getting the larger packs back home.

Brands still represent a significant proportion of the baby market; however, some shoppers are trading down to own-label lines, particularly in nappies. Discounter Aldi is benefiting the most from this own-label switch, with nappies being the key contributor to its growth this year. The move to own label also explains why nappies are the subject of the greatest decrease in average price per pack.

Kiddylicious Wafers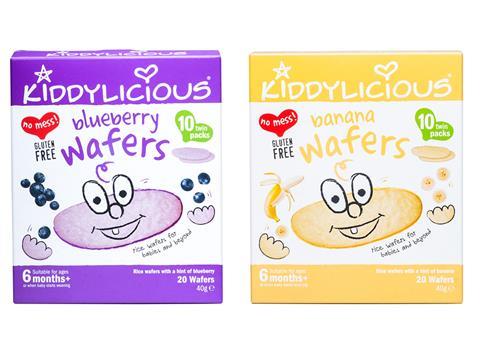 Launching: February 2015 
Manufacturer: The Kids Food Company
Made from rice flour and minimal sugar, Kiddylicious Wafers tap the gluten and wheat-free trend. They are light in texture and dissolve easily in babies' mouths, providing an alternative to rusks. The company says they are easy to hold and create less mess than existing biscuit-type products, and will be promoted as an ideal finger food. The rice wafers are recommended from six months or weaning, and come in banana, carrot and blueberry flavours (rsp: £1.15/five-pack or £2/10-pack).
Nannycare goat-based infant formulas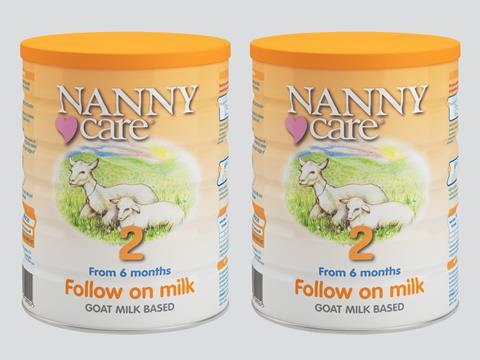 Launched: November 2014
Manufacturer: Nannycare
This product has been available in the UK for the past 20 years as 'fortified milk' but could not be sold as infant formula until now. New EU legislation has now enabled Nannycare to rebrand. It is available as a powder to mix as a first infant milk (900g & 400g); a follow-on milk (900g); and a growing-up milk (900g & 400g). Rsp from £12.45.
Annabel Karmel chilled meals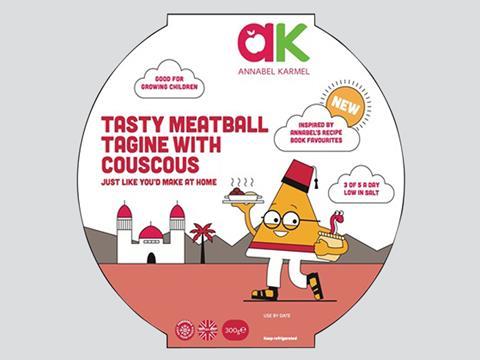 Launched: February 2015
Manufacturer: Annabel Karmel
Annabel Karmel is expanding its kids meal range by offering chilled healthy meals for older children. The three-strong range will launch in Sainsbury's early next month and comprises Tasty Meatball Tagine with Cous Cous; Fruity Chicken Korma with Rice; and Oriental Pork Meatballs with Noodle. Rsp £3.25.
Organix Goodies fruit bars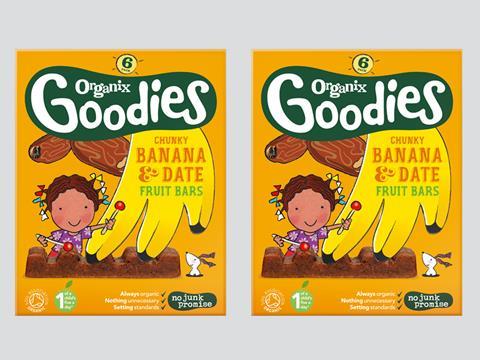 Launched: January 2015
Manufacturer: Organix
Organix plans to launch two new fruit bars this month made from 100% dried fruit 'squished' together so each bar counts as one of a child's 5 a day. Available in banana & date and apple & date, the bars have no added sugar and no artificial colours or flavours. Each box contains six individually wrapped 17g bars and has an rsp of £2.49.