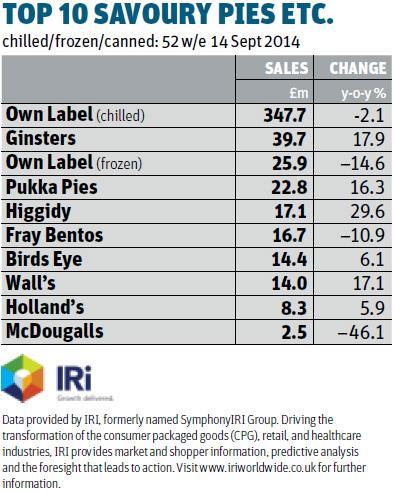 It's almost as if Mrs Lovett's ghastly secret is out… for Brits are feeling a little queasy about pies.
It's not so much chilled pies that are the problem: value sales crept up 1.9% to £240.1m in the past year [Kantar Worldpanel 52 w/e 17 August 2014]; volumes are down 1.5%. And some of the category's ills relate to the success of Aldi and Lidl (up 49.2% combined). IRI, which doesn't measure the discounters, puts chilled pies up 0.3% on volumes down 1.3% [52 w/e 14 Sept]. But canned and frozen have fared far worse, with respective volume falls of 24.2% and 13.1%. Overall, pie value sales are down 1.9%; volumes 5%.
Of course these problems don't relate to what Mrs Lovett, Sweeney Todd's neighbour and purveyor of the 'worst pies in London', put in her pastry, but the sector has certainly suffered from a real life contamination scandal: Horsegate.
Unfairly so, says Birds Eye senior brand manager for meals, pastry and new occasions Pete Johnson. Although Birds Eye shepherd's pie and some 'minced meat' pies sold through the indies were the only pies found to contain horse DNA, Johnson says the entire category has suffered following the scandal.
"In Horsegate's wake there's been a drop-off in promotional features, which is a little unfair to the category," says Johnson. "Ready meals and bakery go hand-in-hand in stores, so bakery was reduced too, even though it was innocent in the equine scandal."
But is the sector's decline really all down to Horsegate? How are some premium brands managing to buck the overall decline? And with meat snack sales up 20.5% on volumes up 22.2% [Kantar], could a move to more convenient, snack-orientated offerings help?
Chilled pies enjoyed mixed fortunes in the past year. Sales were up 1.9%, countered by a 1.5% decline in volume.

lamb's strong growth was from a low base, while beef & chicken - with growth of 1.5% and -1.1% - underperformed. Mixed meat and pork pies had a good year.

Branded fared better than own label with sales up 19.7% compared with a decline of 4.9%. Branded mixed meat, chicken and beef grew 104%, 41% and 15% respectively. Private label has seen sales decline across all markets except pork which has grown 61%.

Chilled pies tend to favour upmarket retailers, though M&S lost share, down 2.4%. Asda leads the major multiples with a 6.8% increase. While discounters Aldi and Lidl grew ahead of the market (and their own run rates) they still underindex.
Charlie McGregor, Kantar Worldpanel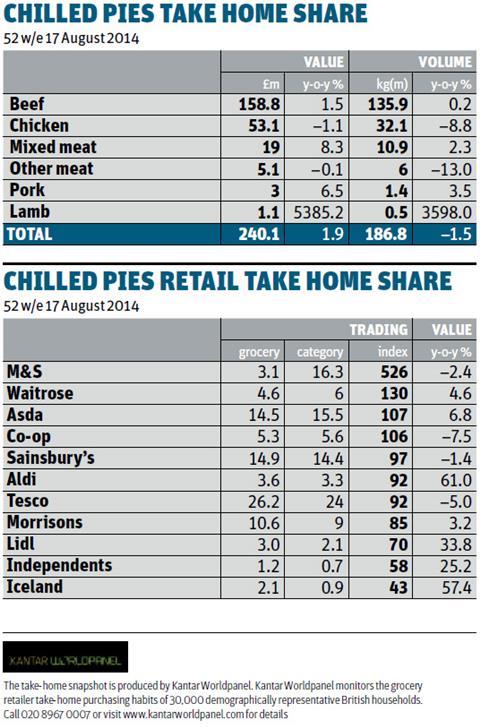 The sector certainly wasn't in the best shape coming into the horsemeat crisis. Brands such as Fray Bentos, whose canned pie sales are down 10.9% on volumes down 19.9% [IRI], were in decline long before Horsegate ever reared its head, as consumers have either sought out more convenient, fresh or better-quality options, or traded out of the category altogether.
With some pies needing 20 minutes in an oven, microwaveable alternatives such as Zugo's Pasta Pots and Rustlers Burgers (marketed as 'one-finger food' as that's all you need to prepare them) have stolen some of the pie's thunder, says John Armstrong, marketing director at Zugo's and Rustlers owner Kepak Convenience Foods. "Ready meals aren't fast enough any more," he says.
Convenience
The category can't be accused of ignoring the convenience trend, however. Back in 2010, Pukka Pies launched a range that can be microwaved from frozen in just three-and-a-half minutes. And in August 2013, Holland's introduced frozen microwaveable sausage rolls and slices to its line-up. In March, Ginsters expanded into microwaveable snacking with sub-brand H+Eat, featuring a bread dough recipe formulated to "microwave to perfection in 90 seconds".
Now piemakers are moving into sausage rolls to appeal to those of us after a quick bite on the hoof. Birds Eye launched a sausage roll in Tesco in February and sausage & bean and cheese & onion rolls in September. "Informal bakery is a growing trend," says Johnson at Birds Eye, which predicts that the overall pie market will stay flat as "informal pastry" continues to grow. "Formal sit-down meals have fallen and the percentage of people eating together has fallen from 62% to 56% in the last six years."
"Informal bakery is a growing trend. Formal sit-down meals have decreased…"
Instead we're eating on the go. Pork Farms claims it's seen 20% growth in multipacks of bite-sized sausage rolls thanks to this trend. "People are putting them in the fridge to use as snacks. Mums tell us they prefer their kids to have sausage rolls as snacks rather than crisps or biscuits," says Andy Naphine, Pork Farms head of marketing. They're winning share of more traditional meal occasions too: "There's a growing trend of using sausage rolls as a main meal solution - as a family tea, for example, with chips and beans."
Posh pie brand Higgidy also wants in: it launched premium Bramley apple & cider sausage rolls in the summer. With an rsp of £2.49 for a pack of two, compared with a market average of about £1 per roll, Higgidy MD Mark Campbell says the company was taking a risk aimed at pushing up the sector's value.
Eat away! Healthy pies revolution is underway
It's not often you hear the words 'healthy eating' and 'pie' in the same sentence. But they're increasingly on the lips of Britain's piemakers as they try to challenge the perception that pies are less than healthy fare.
In February, Pieminister launched a range of lighter pies in response to requests for healthier options. Each of the three-strong range contain fewer than 440 calories per pie (compared with about 600 for the core range) and features a seed and herb lid to keep the calories down.
Other players are addressing meat content as a means of attracting the health conscious. "Some consumers want to reduce their meat consumption, and we'd expect the offer in vegetarian pies to increase," says Pukka Pies marketing head Rob Dixon.
Others are looking to limit the gluten they consume. Pork Farms is looking to attract these shoppers with its gluten-free No G range and Higgidy MD Mark Campbell says his brand is also exploring the opportunities of gluten free. "Health trends are always going to pose a threat to the pie category, but we also see it as an opportunity for niches," says Campbell.
Demand for healthier, low-carb and high-protein snacks has been a key driver of growth in meat snacks over the past year, says Richard Tyler, customer marketing controller of Kerry Foods, maker of Mattessons meat snacks. "Many of us are seeking satisfying protein-rich nibbles, and these are now driving growth in snacking," he says.
Research by Golden Foods, owner of chicken-on-a-stick snack Grabits, shows 40% of consumers are now snacking on healthier items than they did two years ago "Consumers are looking for healthy alternatives to the many calorie-laden snacking products," says David Hays, marketing manager for Golden Foods.
And if this continues to influence the wider sector, there may soon be no shame in eating all the pies.
"The price per 100g was very high in relation to other sausage rolls," says Campbell. "When we launched, we were thinking 'Is anybody going to buy these?' Sales are significantly ahead of expectations. This is the first big, business-changing launch since quiche in 2010. Sausage rolls felt exactly like quiches and pies did three to five years ago, when they were still waiting for a successful premium end to emerge. People had deserted that category because it had essentially been value engineered."
Posh pies
Higgidy's diversification into quiche has helped maintain the brand's growth over recent years (it's grown 29.6% in value, 26.3% in volume in the past year, says IRI), as has demand for premium products that can demonstrate the quality and provenance of their ingredients, a trend that's gathered pace across grocery since the horsemeat scandal.
"Convenience is definitely a big trend, but there is another consumer trend harking back to the value of good ingredients, proper cooking, taking time," says Campbell. "This is a lot of what we are trying to communicate with our brand."
The Horsegate hangover may also explain the growth in branded pies, as customers have turned to trusted names (Findus and Birds Eye's woes notwithstanding). While the chilled pie category remains dominated by own label - which accounts for 61.5% of volume and 67% of value [Kantar] - own-label's value sales slipped 4% while branded products grew 19.7%.
"When we launched we were thinking: 'Is anybody going to eat these?"
But only a fool would rule out own label in this market. Charles Coleman, co-founder of Deli Santé, which sells its own branded pies, tartlets and quiches, and makes own-label pies for Waitrose, says the growth of upper- tier own-label ranges is one to watch. "There are some quite strong own-label brands, such as Menu from Waitrose, Heston from Waitrose, and Marks & Spencer's Gastropub range," says Coleman.
Meat snacks have grown more than 20%. All sectors have seen growth in value, with most expanding volume too.
Salami has grown ahead of the market at 27.6%, with volume up 45%. Chorizo had another great year, with promotions driving sales and volume by 76% and 70%, as a 12% fall in prices encouraged shoppers to visit the category more often (up 7.9%) and buy more volume when they do (up 8.4%).
Own label accounts for just under a quarter of sales, up from 20% last year, growing at 43% in sales and 45% in volume.
Of the big four, Sainsbury's performed best, with sales growing ahead of the market at 36.6%. Aldi, always strong in meat snacks, surged ahead by 85% while Lidl, an underindexer, made up for lost time with 129% growth.
Charlie McGregor, Kantar Worldpanel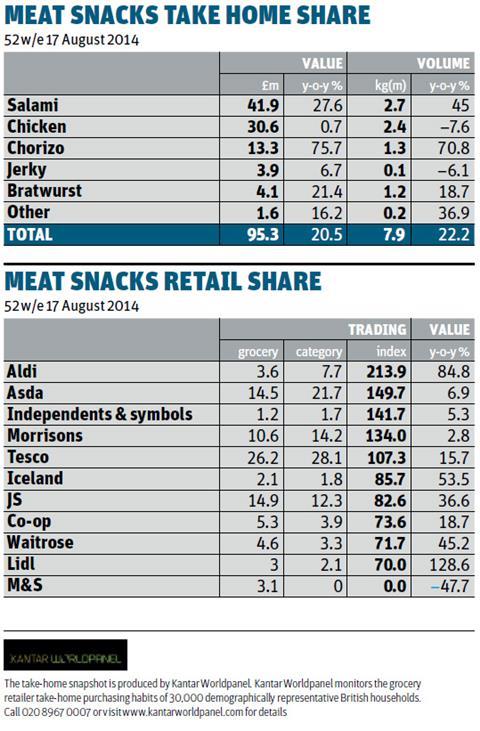 Premium brands such as Higgidy seem unfazed. "Brands can be more inventive and nimble than own label and also support the retailers in differentiation," says Campbell. "The pie category is demonstrating the role brands can have in supporting retailers in their battle with the discounters. Brands offer a point of differentiation and innovation at the top end of the market and allow the retailers to focus on creating a strong core own-label offering."
The supermarkets could certainly do with some differentiation from the discounters as Aldi and Lidl continue to steal share (though it's worth noting that both significantly undertrade when it comes to chilled pies). "Discounters seem to have benefited from increased footfall during the recession and have been able to deliver quality at an affordable cost, albeit a reduced range from the mainstream multiple supermarkets," observes Linda Evans, sales & marketing director at Ginsters.
As brands gain ground in premium pies, the movement is in the other direction in pork pies: branded sales are down 84.1% in value and own label up 61.1% [Kantar]. Category leader Pork Farms has suffered significantly, with value down 38.2% and volumes down 34.9% [IRI] after losing distribution in Tesco in 2013, and having been delisted by Morrisons the previous autumn.
Pork Farms relaunched its brand in April, positioning its products as "Britain's favourite pork pie" and says subsequent sales have been "sizeable". The company won back its listing in Morrisons just before the relaunch and in Tesco in October. "In Morrisons, the overall category has gone up 20%, with Pork Farms outperforming the other brands in there," says Naphine.
Provenance
That Pork Farms can call its pork pies Melton Mowbray Pork Pies gives the brand an advantage over some rivals, adds Naphine. Since 2009, pork pies made in the Leicestershire town of Melton Mowbray have had European Union protected geographical indication (PGI) status. About a third of all pork pies sold in the UK are Melton Mowbray and most of these are own label.
Cornish pasty brands that can demonstrate authentic West Country heritage also claim to have benefited from PGI status (gained in 2011). "The protected status gives consumers confidence that the product is made in the right way," says Mark Muncey, director of Proper Cornish. "With own label taking SKUs away from branded pork pie products, it is partly because they trust the protected status, which gives the product more integrity."
Proper Cornish provides its branded Cornish pasties to the foodservice sector and makes own-label pasties for Tesco. Like Higgidy and Birds Eye, the company recently launched a sausage roll, a format it says is becoming increasingly popular, as the trend towards snacking on meat products continues to gather pace.
The posh pie thrives as pub grub comes home
The posh pie-oneers aren't just branded players such as Higgidy and Pieminister; own label is premiumising too. For proof, just look at such offerings as Heston from Waitrose Pork & Piccalilli Pie (with pepper, ginger and Mace); Tesco Finest Slow Cooked Scotch Steak Pie; Asda Bistro Ultimate Steak & ale Pie or the Chicken, Bacon & mushroom pie in the new top-tier M&S frozen foods range.
Charles Coleman, co-founder of branded and own label supplier Deli Santé, says such products can hold their own against brands and even pub grub. "As the economy improves, people invest a bit more when they shop," he says. "Our products are similar to the fare you'd find in a good pub."
But brands take the credit for beginning the humble pie's push to the posher end of the spectrum. "For many years the pie category had been 'value engineered', quality and innovation had dropped, and the category haemorrhaged consumers," says Mark Campbell, Higgidy MD. "However, activity at the premium end has reinvigorated the category and started to bring consumers back."
Horsegate may also have benefited premium players as customers, turning against cheap meat, sought refuge in quality, where provenance is assured. But Campbell says the scandal was "only contributing to a long-term trend."
Posh pies have also benefited from the recession as people have changed their eating habits, says Ginsters sales & marketing director Linda Evans. "There is evidence that consumers, while cutting back on dining out, have been prepared to spend more money on treating themselves with meal solutions in the home," she says.
There's even evidence that frozen pies can make a comeback via posh own-label offerings. Steve Rowe, executive director of food at M&S, says: "We've had more requests for samples from food press for that range than we have for a long time."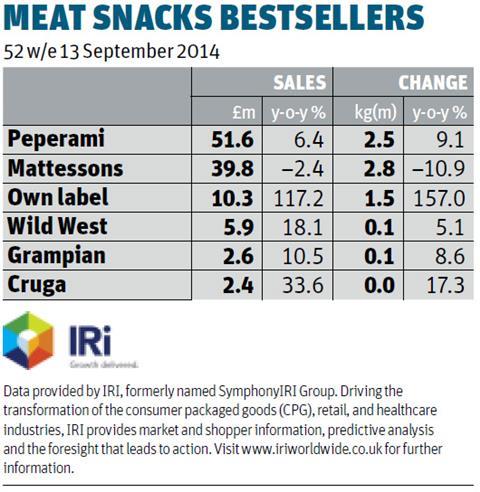 Meat snacking
Kerry Foods, maker of Mattessons meat snacks, believes that, with category penetration at just 23%, there is considerable room for growth to continue by broadening the appeal of meat snacks to a wider audience.
"Adults are continuing to snack more, with many moving from the traditional habit of eating three full meals a day to between five and seven small meals," says Richard Tyler, Kerry Foods customer marketing controller. "The trend for diversification in both adult and kids snacking is set to continue, with demand for snacking throughout the day continuing to drive growth."
However, despite last year's launch of Mattessons Double Dippers bringing new people into meat snacking, the brand lost ground. Even as the category's biggest advertiser, with a spend of £1.7m [Ebiquity 52 w/e 31 July 2014], sales declined 10.9% in volume and 2.4% in value [IRI].
Mattessons remains the second-biggest brand in meat snacks behind Peperami, which was sold by Unilever in April to Jack Link's, the US meat-snacks provider. The deal appears to have worked a treat: while sales of beef jerky were flat overall, Jack Link's doubled its UK sales following new distribution agreements. "Shoppers are becoming more educated on the beef jerky category and its benefits," says Michael Ollerup, managing director of Jack Link's Europe.
Chorizo continues its onward march - sales value up 92% [Kantar] - both as a meat snack and as an ingredient in pies, with chicken and chorizo a popular combination."Everybody's using chorizo," says Tristan Hogg, Pieminister co-founder and managing director. "It appeals to the British palate: it's solid, meaty and spicy, and it is heavily used on TV cooking programmes."
While steak or chicken-based pies seem set to always dominate the market - together they account for 90% of the category [Kantar] - piemakers are showing a growing adventurousness when it comes to the recipes, with limited edition pies featuring an increasingly exotic line-up of ingredients.
NPD
Higgidy's recent special guest pies have included chicken & chorizo, and venison & red wine. It will soon release a turkey and stuffing pie for the Christmas season, but the next recipe will be chosen by consumers: the company is running a "recipe hunt" in Sainsbury's stores, where shoppers are asked to suggest new pie flavours.
Suggestions so far include pulled pork and Bramley apple, which it is easy to imagine Higgidy making. However, other proposals - including ostrich & orange and kangaroo & plantain - seem less likely to make it into the supermarket aisles. "The special guest pies will never be key sellers," says Campbell. "But they keep the category interesting, fresh and seasonal, and reward loyal customers, who are more likely to buy them."
Premium pie rival Pieminister points to the risks of focusing on novel, minority-interest tastes at the expense of the main business, however. "We have to be careful when going after new trends not to forget our core audience," says Hogg, adding that the brand's NPD is focused more on formats than flavours in a bid to address the perception that pies are unhealthy or heavy, inconvenient and only suited for formal, sit-down meal occasions.
Earlier in the year, Pieminister brought out lighter pies, which can be eaten cold, as a way to address these preconceptions. And in mid-November it launched "pie pots" in Sainsbury's, using the flavours of its core pies range but with a potato rather than pastry topping.
"Everybody's using chorizo. It appeals to the British palate: it's solid, meaty and spicy"
Meanwhile, Birds Eye, whose "hero" product is a chicken pie that first found its way to British dining tables in 1955, is sticking to a more traditional path. "There is a lot of consumer loyalty for our chicken pie and there are older ladies who grew up with it and are very nostalgic about it," says Wright. "We stay true to the roots. In pies we have a good core range, hero products, no duplication. But in informal, there is a great opportunity to grow and benefit from new eating habits, such as grab-and-go."
"Promotion is important but ultimately we believe it devalues the premium pie industry"
This, of course, can mean two things: products bought with the intention of being eaten on the go or those picked up in a hurry from convenience stores to be consumed at home. For both definitions, hitting the right price point is key and brands say they are tailoring their promotions to make sure they do just that.
Promotions
"For the convenience channel, round pound is more powerful than multibuy and, as retailers become more channel-focused, suppliers have to think in a channel-specific way," says Hogg, who is launching pie pots at a promotional price of £3, against a standard price of £3.69. He sounds a note of caution, however: "If you adopt a high-low strategy and put the price up artificially to drop prices down on promotion, that's cheating your customers. Ultimately we believe promotion devalues the premium pie industry."
In larger Waitrose stores, Pieminister has adopted the two for £6 mechanic after such deals proved a hit for Higgidy in Sainsbury's. Like Pieminister, Higgidy resists pressure to over promote its products. "Our promotions are relatively shallow and not too frequent because we aren't masking the real value of the product as is done in some other categories," says Campbell.
"We use all promotions sparingly to make sure we add value to the category. We'd use some promotions to trade people up into the premium end (for example, 50p off a £3.50 product). Then we'd follow that with a multibuy two for £6 to retain the new people and encourage volume growth. Then we'd revert to full price."
Peter's Food aims to "continually excite consumers" with a mix of low price and cross-category multibuys in order to attract a wide customer base, says marketing director Clare Morgan. Pork Farms, meanwhile, has moved away from deep-cut promotions towards everyday low price to help drive sales throughout the year.
But if the sector is to escape the shadow unjustly cast on it by the horsemeat scandal, it will take more than just low prices. Marketing and NPD will be crucial.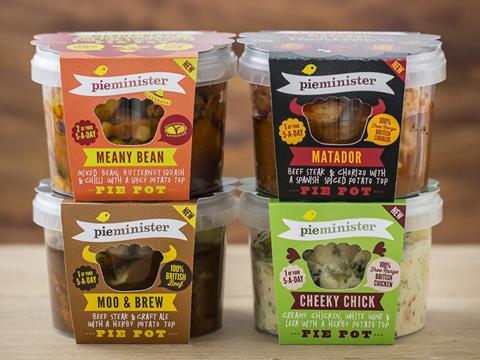 Pieminister Pie Pots
Launched: November 2014 
Supplier: Pieminister
Aimed at people who might find traditional pies too heavy, Pieminister has launched some existing pie flavours in a new "pie pot" format, with a potato topping in place of pastry. Early trials have shown strong demand at lunchtimes, but also people taking them home to eat in the evening. The pots (rsp: £3.69) come in four varieties: Matador (steak & chorizo), Moo & Brew (steak & craft ale), Cheeky Chick (chicken, white wine & leek) and the vegetarian Meany Bean (mixed bean, butternut squash & chilli).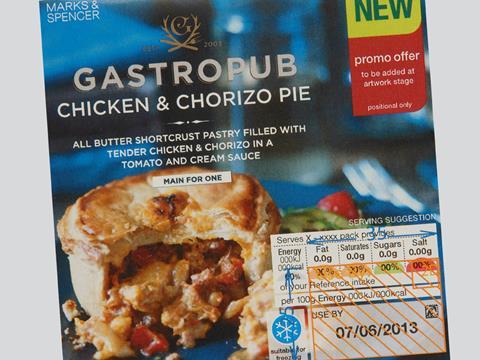 M&S Chicken & Chorizo Pie
Launched: October 2014
Supplier: Marks & Spencer
M&S has included a chicken & chorizo, an increasingly popular combo, pie (rsp: £3.49/250g) as one of eight new products in its Gastropub range. Other Gastropub innovations include slow-cooked pork & Kentish cider en croûte, an open fish pie with salmon, cod & smoked haddock, and a garlic chicken & herb crumb lattice.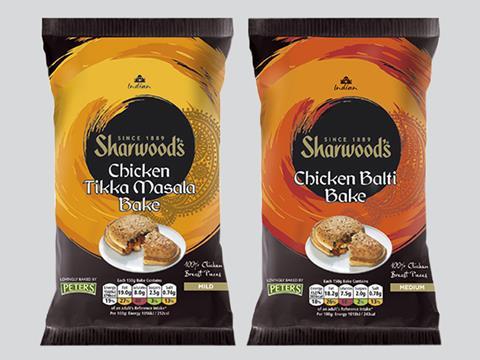 Sharwood's Pastry Bakes
Launched: October 2014
Supplier: Peter's Food Service
South Wales pastry manufacturer Peter's Food Service has struck a licensing deal with Asian cuisine brand Sharwood's to launch a new range of chilled pastry bakes. Launched exclusively in Asda in mid-October to coincide with National Curry Week, the bakes (rsp: £1.50) offer four curry flavours within naan-shaped pastry bakes.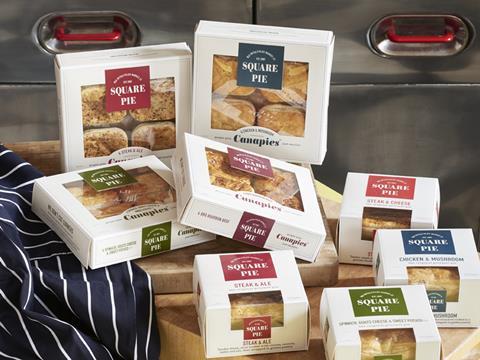 Square Pies 'Canapies'
Launched: May 2014
Supplier: Square Pies
Gourmet pie company Square Pies has combined two concepts - the pie and the canapé - to come up with "canapies". The"three-bite" snacks, available in Selfridges and from Ocado, come in packs of four 60g pies (rsp: £3.79) in a choice of steak & cheese, chicken & mushroom, steak & ale, and spinach, sweet potato & goats cheese flavours.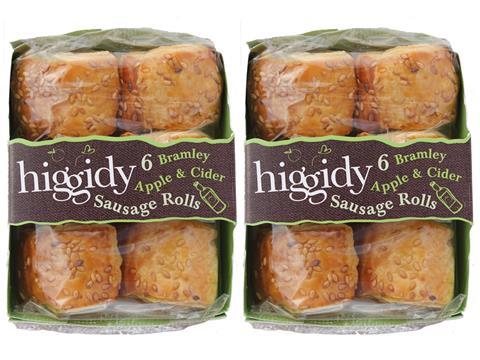 Higgidy Bramley Apple & Cider sausage rolls
Launched: August 2014 
Supplier: Higgidy
Higgidy moved into the branded sausage roll market in May with a trio of flavours - herby pork & pancetta, roasted tomato & pork, and the vegetarian feta & red pepper - which it has followed up this autumn with Bramley apple & cider. The rolls are finished by hand and sold in packs of six in a "picnic basket" box with a window that displays the product (rsp: £2.49). Higgidy sees great potential in sausage rolls, which it believes have been neglected in recent years.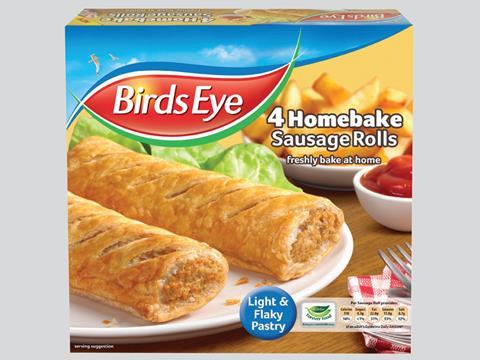 Birds Eye sausage rolls
Launched: February 2014
Supplier: Birds Eye
Frozen food specialist Birds Eye sees great potential in "informal" pastry and launched its sausage roll in February in branches of Tesco before a full rollout in September, when it also introduced additional flavours (sausage & bean, and cheese & onion). The rolls are sold in 350g packs of four (rsp: £1.50).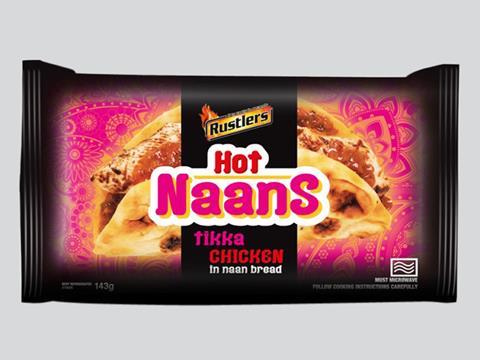 Rustlers Tikka Chicken Hot Naan
Launched: August 2014
Supplier: Kepak Convenience Food
Champions of hot, quick and tasty (HQT) convenience food, Kepak branched out into Indian flavours with the launch of a tikka chicken hot naan in April (rsp. £1.99). It refined the product in August, adding more meat to "provide better chicken coverage across the naan bread", and introduced a "flowrap" pack to gain better standout.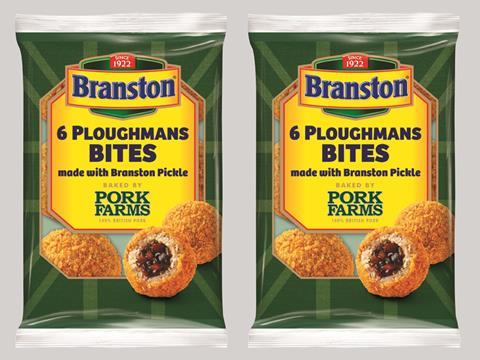 Pork Farms Ploughman's Bites
Launched: April 2014
Supplier: Pork Farms
Pork Farms relaunched this spring, reviving its co-branding partnership with Branston with Ploughman's Bites, a pork bite filled with Branston pickle and covered with breadcrumbs (rsp: £1.50 for a pack of six). At the same time, Pork Farms launched sausage rolls, a sub-category it believes has been neglected.