The rise of health-driven, lifestyle shoppers means today's free-from products are shouting as much about what they do contain as what they don't
A crumbly biscuit base, zesty lemon coconut cream and a curd-style lemon sauce. This lemon cheesecake recipe could hardly sound more decadent. Yet this dessert lovers' dream comes from a somewhat unexpected source: Gü's new free-from dessert range.

It's part of the new wave of free-from products that are just as capable of being decadent, mouth-watering and nutritious as your standard fare. And it's exactly this type of product that has made free-from a near universal category.

Ninety-seven per cent of households now regularly buy food or drink marketed as being free-from [Kantar 52 w/e 24 March 2019]. Take-home sales are up 36%, breaking the £2bn barrier for the first time.

Admittedly, these figures need to be taken with a pinch of salt. Data providers such as Kantar and Nielsen include any products that badge themselves as free-from in their read of the market. So not all will be designed to be free of allergens: Nielsen ranks The Collective as the fourth-biggest free-from brand thanks to its 'gluten-free' yoghurt, for example.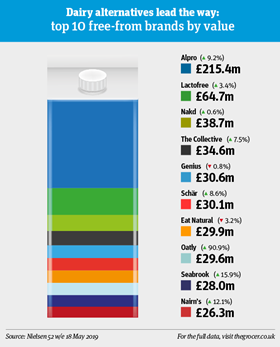 But it is also indicative of the 'lifestylers' - consumers who are buy into the category out of choice, rather than an allergy - becoming more important than ever to free-from sales. Today, half of those who buy into the market do so for their 'general health', a poll of 798 consumers for The Grocer by Streetbees has found. Thirty-seven per cent do so as a 'lifestyle choice'.

This sizeable shopper base has fuelled a boom in free-from products that are as much about what they do contain as what they don't. And that could present a fresh opportunity for this already fast-growing market.

It's a trend Jared Tanna, cultural analyst at consumer insight agency Canvas8, has noticed. "The framing around 'free-from' foods has changed," he explains. "Free-from foods used to focus exclusively on the ingredients being taken out. Today the focus is on the positives of the 'alternative' ingredients that are going in. Free-from shoppers are being drawn to enjoyable 'alternative' ingredients rather than the absence of ingredients.

"For example, almonds and oats are booming as dairy alternatives not just because they imitate dairy products, but because they offer something of their own," says Tanna. "Where 'free-from' brands and products are really winning today, it's because they're making consumers feel like they're making proactive, informed choices."

For proof, look at the marketing of the Innocent's trio of dairy alternative milks, launched last year. The key ingredient of each - almonds, hazelnuts and oats - is front and centre on the packaging. The words 'free-from' don't even appear, though if you look closely you will see that the milks are described as dairy alternatives.
"Plant-based products are in huge demand and there is a gap for a dairy-free factory"
"There has certainly been a communications shift within dairy-free," says Innocent MD Nick Canney. "Historically, the main target market was intolerant consumers looking for an alternative to dairy milk. Now the shopper base is much wider, with many people using it for lifestyle reasons and alongside dairy milk. More brands have also moved into the space, creating more premium products with high-quality ingredients."

Innocent has identified four key motivations for the 'lifestylers': concerns over the environmental impact of dairy; the development of new, tastier options; the spread of dairy-free into new occasions such as hot drinks and home cooking; and personal health.

This is backed up by research from Acosta Europe. "Environmental concerns are revealed as the key motivating factor for changing diets and shopping decisions, with 70% of consumers saying the key reason they had changed, or were considering changing their diet, was due to concerns about how food production affects the planet," says Lindsey Hills, category & business development director at Acosta Europe. "Breadth of range is also driving purchasing decisions in the free-from category."
Taste challenge
And, as Innocent points out, taste is another key credential for attracting new lifestyle shoppers. "It's clear that entrants into the free-from category need products that satisfy in terms of taste," says Hills.

"Thirty-nine per cent of respondents surveyed want dairy-free products that taste as good as the products they are replacing - they don't want the taste of food they use with substitute dairy (teas, coffees or cereals) to be affected," she adds. "We saw similar requirements for better taste products from gluten-free respondents."

Despite the long-running talk about lifestylers, the market isn't necessarily delivering on that front. Our Streetbees research found 34% of consumers feel free-from products taste inferior. "Many consumers in the category are looking for all-natural options to fit with their healthy lifestyle, however taste is even more important when it comes to driving sales with this customer base," explains AMC fresh foods director Mike Bullock.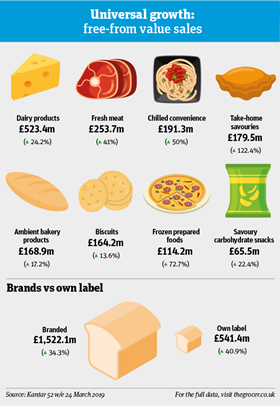 "Taste has historically been a major barrier to buying into the free-from category and in the past customers purchasing these products had to compromise on taste. Many consumers are no longer prepared to buy low-quality products and either opted out of certain categories or made their own at home."

That message is getting through loud and clear to brands. One player taking note is organic and Japanese food supplier Clearspring. "The historical perception of the free-from category was that it was bland, and it was assumed this was a price shoppers had to pay for food that met their dietary requirements," says Clearspring's commercial director Maria Dawson. "This is no way to win shopper loyalty in the long term."

To secure a better chance at loyalty, Clearspring has developed a range of organic free-from Japanese rice crackers, sea vegetable snacks and tofu, as well as an array of pastas and noodles. This aligns with the increasing interest in more adventurous ingredients, says EHL Ingredients joint MD Tasneem Alonzo.

"Beetroot and spinach are popular flour alternatives at the moment, especially for wraps, pittas and breads. Using vegetable flours to bake with, such as pea, spinach, beetroot and even lentil, is on the increase too, and baking that incorporates alternatives to the usual wheat flour is seeing a huge surge in popularity," she says.

"Vibrant red, pink and green wraps, pittas, and flatbreads will certainly appeal to today's health-conscious consumers and the Instagram generation. It also means consumers are getting one of their 5 a day with their lunchtime wrap or in breads alongside meat-free curries, tagines and stews."
"Because of the rules around gluten-free we couldn't enter without a dedicated facility"
This touches on a somewhat prickly subject for the free-from category: health. As our Streetbees poll reveals, that's a key motivation among consumers choosing free-from products for lifestyle reasons. But that isn't necessarily a logical choice. In 2018, a University of Hertfordshire study found that gluten-free foods are typically higher in sugar, fat and salt than standard offerings and have 'no nutritional advantages', despite being almost three times as expensive.

Warburtons is quick to dispel the automatic associations between free-from and health. "The idea that a product must be better for you because it's gluten-free is rubbish," says free-from director Chris Hook.

Indeed, free-from products can use "sugar, salt and fat to mask a poor taste profile and mimic the taste of conventional products". As consumers increasingly wake up to this nutritional profile, Hook sees new opportunities ahead. "There is growing demand for gluten-free products to be healthier and I think this is where we are going to see a lot of growth. As a business we focus rigorously on getting sugar, salt and fat levels down and we do try to get to green and amber levels as much as possible. It is only our gluten-free crumpets that are high in salt."

Hook points to the development of its gluten-free beetroot wraps and artisanal loaves as examples of free-from products that are focused more on the ingredients they do contain, rather than what they don't.

Another brand thinking along the same lines is Freaks of Nature, the vegan and gluten-free desserts business that won a Grocer Gold award for Startup of the Year in June.

The brand markets its desserts as a healthier options with 'incredible flavours' ranging from Cherry Bakewell to Mango & Passionfruit. They also boast a low sugar content, which admittedly comes at a price. "Sugar helps prolong the shelf life of a product because it binds to the water in a product," says founder Peter Ahye. "It helps make it safe for longer, which is important because the rate of sale in free-from is slower."
"The risk with allergens is cross-contamination, particularly with dairy-free products"
But for his brand, Ahye believes cutting out sugar is worth that hit to cost. He may be right. For 26% of consumers polled by Streetbees say they are looking to cut down on sugar, compared with the 19%, 12% and 11% who are dodging dairy, gluten and lactose respectively. A dairy-free option that is higher in sugar than your standard product, therefore, may not be a particularly compelling concept.

Alpro's marketing director David Jiscoot is mindful of these consumer attitudes. "Sugar content is higher on the consumer agenda than ever before, recently replacing price as the number one food concern for consumers," he says, quoting FSA research. "That's why we've used innovation and the 'power of plants' to develop a range of unsweetened products, which contain no sugars and no sweeteners at all."
Health trends
As free-from brands understand the power of virtuous credentials, they are starting to get in on mainstream health trends. One of these is gut health. That could be a sensible move, given the sudden interest. "Gut health is seen as essential to overall health by 68% of UK adults, rising to 72% among over-55s," says Kim Matthews, commercial controller at Edible Oils, owner of dairy-free baking fat brand Trex, citing Mintel research. "But this doesn't always translate to actions; only 20% of adults report to eat foods which support gut health."

Spotting an opportunity, free-from snacks brand Perkier has developed a range of snack bars with prebiotics (see p55). "Gut health is a mega trend, intrinsically linked to our energy levels, recovery from sport and long-term physical health and mental wellbeing," says founder Ann Perkins.

"A healthy gut is vital to reduce the risk of heart disease, diabetes and Parkinson's, and keeping us feeling perky, as 70% of the body's immune cells are located in the gut and 90% of its serotonin, the happy hormone, is generated here."
"Many consumers in the category are looking for all-natural options to fit with healthy lifestyles"
Conversely, we're also seeing gut health products benefit from free-from credentials. "Captain Kombucha has recently launched a new water kefir drink brand, Oh My Gutness, the first of its kind to be listed in one of the top four UK grocers," says James Hudson, UK director of the kombucha brand.

"Brits are clued up on the importance of gut health and probiotic drinks such as kombucha or water kefir - which are low in sugar, organic, vegan and gluten-free - and are high on consumers' wishlists. As a result, the market for kombucha and other all-natural, health-related drinks is expanding. It's for this reason that all-natural drinks brands can benefit from marketing what they are 'full of' as well as what they are 'free from'."

Such products are winning more space in store, says Steven Hegarty, co-founder of dairy-free probiotic drink Biomel, which launched last year and has since racked up £3m in sales. "Dairy-free drinks were traditionally only found in the main aisles," he says. "But retailers are recognising the opportunity to drive incremental sales by giving dairy-free shots a secondary siting front of store in the food and drink-to-go chillers."
Increasing capacity
This ongoing growth and activity in free-from is inspiring many to pour heavy investment into their manufacturing capacity. For example, AMC Group has just opened an £11m facility in Skelmersdale, Lancashire, which is producing free-from products and freshly squeezed juices for the likes of Rebel Kitchen, Bol, Sainsbury's and Waitrose.

"There's an exciting future in store for the site," says AMC's Bullock. "Plant-based products are in huge demand and there is a gap in the market for a dairy-free factory producing fresh, quality products at scale."

Other brands are also looking to fill that gap in production capacity. Eat Real Snacks, which produces vegan lentil, quinoa and houmous snacks free from all 14 allergens, is one such brand. "We're investing up to £20m this year in a new state-of-the-art factory that will more than double our capacity, so we won't have any future limitations," says sales & marketing director Debbie King.
"Sugar is high on the consumer agenda, replacing price as the number one concern"
Then there's EHL Ingredients, which recently spent £1m on a new dedicated free-from facility in Stockport to keep up with growing demand for allergen-free ingredients. Warburtons continues to expand its free-from capacity as sales of its ever-expanding gluten-free range grow 14.6% on volumes up 13.1% [Nielsen 52 w/e 18 May 2019].

Crucially, these facilities need to meet the needs of both the lifestyler and the traditional free-from consumer: those with allergies. That means a potentially substantial investment. "Because of the rules governing gluten-free we couldn't enter the market without a dedicated facility," says Warburtons free-from director Chris Hook. "That was established in 2011 and has had continual investment to improve its productivity and capacity, and to increase range."

The UK's biggest free-from brand, Alpro, also reinforces the importance of stringent checks. The expansion of its Kettering factory has involved "more than just increased production capacity", says Jiscoot. "The design of the plant accounts for the strictest possible segregation of allergens," he stresses. "Production, as well as material flows, are completely segregated throughout the manufacturing process. The site adheres to the most stringent allergen controls in the industry."

If Jiscoot sounds like he's labouring the point, it's for good reason. Because for some regular free-from shoppers, avoiding allergens is a matter of life and death. The tragic deaths of Natasha Ednan-Laperouse and Celia Marsh make that point abundantly clear.

Those who don't make themselves equally clear can quickly find themselves in hot water. In January, M&S came under fire for its new Plant Kitchen vegan range, which carries warnings that the 60-strong lineup is 'not suitable for milk or egg allergy sufferers' because it is made in factories that handle animal-derived allergens such as eggs and milk.
"Free-from foods used to focus exclusively on the ingredients being taken out"
The Vegan Society isn't particularly bothered, stating that products with such warnings are still vegan (its website even has a guide for vegans attending Glastonbury Festival, which takes place on a working dairy farm). But others are more concerned. One vegan tweeted after Plant Kitchen's launch: "It's like putting out gluten-free products with a gluten allergy warning on them." For those with dairy allergies, the consequences of assuming 'vegan' equates to 'dairy-free' could be severe.

That serves to highlight the differences in the rules regarding allergen-free food and drink. Gluten is the only one of the 14 allergens covered by specific legislation that specifies 'gluten-free' products must contain no more than 20mg of gluten per kilo. That is typically achieved by using a separate facility. However, the same rules don't apply to dairy-free and vegan products, so these are often made in factories handling animal-derived ingredients as long as the risk of cross-contamination is rigorously controlled.

That means M&S isn't alone in marketing products as vegan-friendly while warning in the small print that they may contain animal products. For example, Gü's new range of free-from desserts are marketed as being suitable for vegans, but also carry a warning that they may contain milk and eggs.

Of course, that doesn't mean they do. "No gluten is used in the manufacturing of our gluten-free products, and no eggs or dairy ingredients are used in the manufacturing of our vegan products," says innovation director Julian Fletcher. "Every batch is tested to check the final product meets gluten-free/vegan legislation for the UK and the EU."

The warnings are simply because there's not enough standalone dairy and animal-free production capacity in the UK. So brands that want to market products as vegan-friendly or dairy-free often have to manufacture them (or outsource them) in facilities that also handle dairy, eggs and other non-vegan ingredients.

On the one hand, more specific capacity may be unnecessary. Many of these products are appealing to vegans rather than allergy sufferers, and only a minority of vegans will boycott a product because it's been produced in a factory that also handles ingredients derived from animals. Plus, the law doesn't currently require dairy and dairy-free to be segregated in different facilities. But others believe animal-free facilities present a USP in a crowded market.

Freaks of Nature, for one, believes its investment is paying off. "We opened our dedicated 14,000 sq ft facility outside of Leeds in April 2017; as of today we're listed in Tesco, Sainsbury's, Asda, Morrisons, Waitrose and Ocado and by the end of 2019 we'll be producing circa 20 new own-label and co-branded products," says founder Ahye.
"Gut health is a mega trend, intrinsically linked to our energy levels"
"The big risk with allergens is cross-contamination, particularly when you are making dairy-free products. Having our own allergen-free production facility gives us complete control. We can move quickly. We can be developing a product in our kitchen today and showing it to a retailer tomorrow. That's a real USP."

It also helps avoid confusion. "Many free-from products also have 'may contain' or 'made in a factory that contains' warnings on their products, which will confuse some consumers," says Clare Marriage, CEO of gluten-free breakfast cereal and snacks brand Freee by Doves Farm.

"Produced in dedicated production facilities, subject to a rigorous testing regime and always clearly labelled, all Freee by Doves Farm products are easy for those following special diets to understand and none of our products require alibi labelling."

Lucy Wager, founder of vegan and gluten-free desserts brand Pudology, says smaller players have stolen a march on the big boys by investing in dedicated production facilities. "There is a lot more investment to come as the larger manufacturers start to dive further into this market," she forecasts.

"When I was first starting out it really wasn't something the larger companies felt the need to go after as it was considered too small for the investment. This is what gave me and lots of smaller brands the opportunity to carve out the market opportunity by setting up in small units. We could supply the big retailers from a low-cost base in perfectly functioning sites."

In which case, decadent, dairy-free lemon cheesecakes could become a more common presence on the shelves. And that can only mean more consumers digging in.
Free-from innovations
Allergen laws tighten up to protect consumers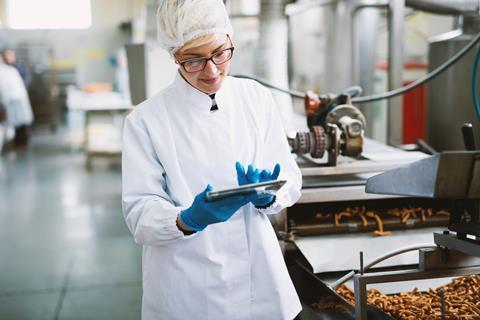 Absence of evidence is not evidence of absence. Any scientist worth their white coat will tell you that.
And producers and retailers of food and drink marketed as being free from any of the 14 declarable allergens defined by the Food Standards Agency need to heed these words.
For in extreme cases, lives could depend on them. See the tragic deaths of Natasha Ednan-Laperouse and Celia Marsh after eating at Pret a Manger for proof.
The Ednan-Laperouse case prompted environment secretary Michael Gove to announce tough new rules in June compelling all food-to-go businesses to list the ingredients contained in their products. 'Natasha's Law' will be introduced by the end of the summer.
What might surprise some is that, by law, gluten is the only one of the 14 allergens that is subject to specific legislation. This legislation stipulates that gluten-free products can only carry that badge if they contain 20mg per kilo or less of the allergen. To achieve this level, many manufacturers choose to handle their products in specific, separate gluten-free facilities.
The same rules don't apply to dairy-free or vegan products, for example. That means they are often produced in factories that also handle milk and eggs.
Of course, manufacturers still need to have rigorous testing procedures in place to ensure no contamination takes place. But, unlike the law on gluten-free products, there are no specific regulations on what can be described as dairy-free. That means different manufacturers are testing for different levels of dairy protein.
That is pushing some dairy-free players to call for change beyond Natasha's Law. "I want someone to assist us in setting a standard for manufacturers on testing to back up dairy-free claims," says Bethany Eaton, founder of dairy alternative brand CoYo.
"They should highlight the best tests to carry out to make a dairy-free claim, allowing companies to be safe in the knowledge they're following best practice," she argues.
New, more stringent rules around products would "undoubtedly" help prevent further deaths linked to allergens, Eaton believes. "I feel this matter is not being taken seriously and that people are ignoring the realities that exist around it."
How dairy-free brands are getting into coffee culture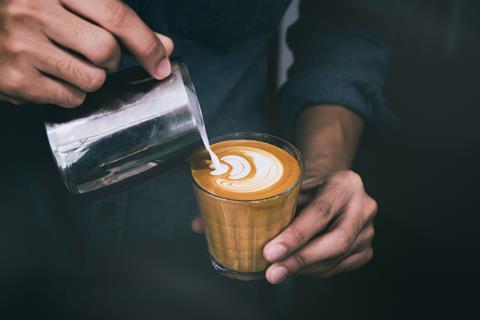 The past year has seen a spate of ready-to-drink coffee launches and new nut milks that are specificially designed for mixing with coffeeFree-from wants a slice of café culture. The past year has seen a spate of ready-to-drink coffee launches and new nut milks that are specifically designed for mixing with coffee.
For example, oat-based drinks brand Oatly claims much of its 89% growth last year is down to establishing its Barista Edition line as a dairy-free alternative to be used in lattes and cappuccinos. It promoted that line at this year's London Coffee Festival.
"Working closely with baristas and coffee shops is an important part of bringing the Oatly brand to a wider consumer audience," says UK general manager Ishen Paran.
"The Barista Edition is fully foamable for coffee, allowing users to create the barista experience at home. For those that prefer to pour it straight, it doesn't separate, making it ideal for both coffee and tea."
Getting that taste and texture right is crucial. But Alpro, which was also a major presence at the London Coffee Festival, says there are other factors too. "We've found taste, health and the environment are among the biggest motivations for choosing plant-based options in coffee shops, so when picking your plant-based coffee partner, these factors should be considered," says marketing director David Jiscoot. The brand's coffee lines include its four-strong For Professionals range, now including an oat milk variant, alongside its RTD coffee products.
Other launches include the new Oat Barista Blend from Califia Farms, which lists its Unsweetened Almond Milk and XX Espresso Cold Brew Coffee among its bestsellers. The oat blend rolls out in August.
"We worked with baristas to ensure it paired well with coffee and espresso drinks from a taste and texture standpoint, foamed easily without splitting for impeccable latte art, and met consumer nutritional demands by being completely unsweetened and free of gums and stabilisers," says founder Greg Steltenpohl.
The rise of free-from innovation in retailer own label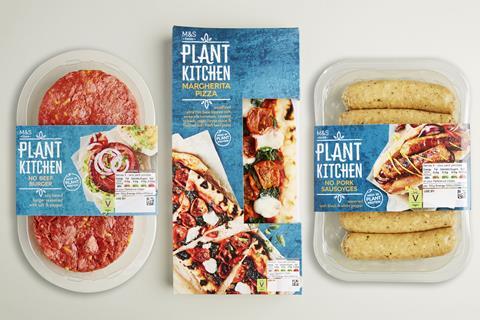 A sure sign that a market is reaching maturity is the development of convincing own-label optionsA sure sign that a market is reaching maturity is the development of convincing own-label options. And Britain's supermarkets have these in spades. That's resulted in own-label sales surging 40.9% to £541.4m in the past year, recruiting an additional 3.3 million households.
Admittedly, this isn't all down to allergen-free options, the traditional heartland of the free-from market. The rise of vegan culture has made dairy-free and meat-free the main areas of innovation. After seeing demand for veggie ready meals and meat substitutes surge by 25% in 2017, Tesco launched plant-based ready meal range Wicked Kitchen (pictured) at the start of last year. It's not the only one. Asda launched a vegan cheeseboard for last Christmas, and Morrisons unveiled its new vegan range V Taste in November. M&S launched its 60-strong Plant Kitchen range (pictured above) at the beginning of the year.
But there are more traditional developments too. Waitrose, which has the greatest share of the free-from category relative to its overall share of grocery – 8.5% versus 4.7% [Kantar] – launched its Waitrose & Partners Free From range last year.
"The launch of our Waitrose & Partners range last year gave our customers a market-leading selection of products with more choice for those looking for delicious-tasting free-from alternatives," says free-from brand manager Elen Ormson. "Our range offers a varied and fulfilled range for our shoppers be they coeliac or health-conscious or simply prefer gluten-free products."
The retailers aren't just innovating in terms of products. They are looking at their in-store positioning, too. "Morrisons has developed a destination free-from shop with ambient, chilled and frozen free-from foods all in one place, making it easy to shop as a free-from consumer," says Ann Perkins, founder of free-from snack brand Perkier.