Food-themed NPD, from prosecco handwash to kale moisturiser, is shaping up to be a big beauty trend. So what's driving this?
Warning: our products are so fruity and juicy you might be tempted to eat them. Well, don't. They're not food. Honestly!'

So reads the front-of-pack blurb on Asda's Nspa range of bath & body products, which was recently expanded with a bath "crumble" made with "real raspberry and coconut".

The warning, while tongue-in-cheek, is not without its merit. A third of shoppers admit they have been tempted to eat or taste their beauty products, exclusive new research for The Grocer reveals.

Little wonder, too, given the slew of beauty and toiletries brands that are now marketing their products with a decidedly foodie bent.
Download the PDF version of this report
---
From edible lip scrubs, 'gluten-free' shampoo and prosecco handwash to caramel face masks, 'superfood' haircare and doughnut-flavoured cosmetics, shoppers could be forgiven for feeling a little peckish in the bath & beauty aisles these days.

So why are food-inspired ingredients, packaging and language such a big trend in beauty right now? And who is best positioned to take advantage of it?
Food-themed beauty products are, of course, nothing new. Sweet and fruity-smelling bath & body lines have long been popular with shoppers, especially younger demographics.
But recently the trend has accelerated. Use of fruit in new personal care launches has more than doubled in the past five years, rising from 5% in 2013 to 10.7% in 2017, reports ingredients supplier Cornelius, citing figures from Innova.
Importantly, new launches don't just smell like fruit - as suppliers search for natural-yet-effective formulations, they increasingly contain it, says Kelly Shenton, personal care business manager at Cornelius.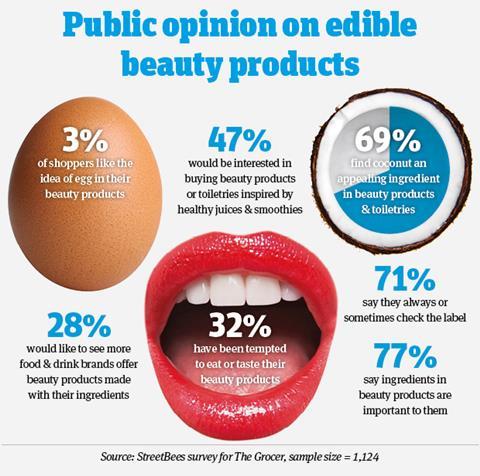 Fruit is just the beginning. In recent months, leafy greens such as kale have increasingly started popping up in beauty NPD such as moisturisers, while experts are also tipping the likes of turmeric, pink salt, pumpkin and quinoa as ingredients to watch.

"With such a wide variety of skin and haircare benefits possible from materials derived from food sources, the range of food ingredients formulators use is set to increase exponentially over the next 18 months," predicts Shenton.

The underlying trend driving all this is growing convergence between the food, health and wellness sectors. Previously three distinct markets, the lines are increasingly blurring as mega-trends such as veganism, organic, 'natural' and clean labelling reshape what consumers expect from the products they eat and put on their skin.
"Food or supplement-grade ingredients resonate with younger consumers who are seeking natural beauty products," says Kirsty Doolan, beauty & personal care editor at Mintel. "And those who are already switched on to 'inside-out' beauty (aka healthy eating) will readily accept the 'outside-in' beauty potential of using nutritious food ingredients in facial skincare."

This has been further buoyed by the DIY beauty craze, which encourages shoppers to make their own skincare and beauty products using ingredients from their kitchens. That Lidl sold a DIY face mask maker as one of its Specialbuys back in March, and M&S's 2018 Christmas gifting range included 'make your own bath bomb and soap' kits, shows just how mainstream this trend has become.

For big, traditional beauty brands, all this is creating considerable challenges around shopper trust.
"The range of food ingredients formulators use is set to increase exponentially"
Where once big research budgets and scientific-sounding ingredient names were the key to beauty consumers' hearts (and wallets), headlines about microbeads and 'toxic' chemicals in skincare mean simple, easy-to-understand ingredients are the new currency in the market.

This is especially important given how social media has changed expectations around transparency and openness, says Tasha Harris, director of bodycare brand Grounded, whose stockists include Boots, Holland & Barrett and Asda. "Social media users, bloggers, YouTubers and influencers are collating information faster than ever before, giving people essentially word-of-mouth beauty recommendations and knowledge on a global scale - and many people feel connected to the product if it's 100% natural and/or has ingredients they immediately recognise."

No wonder major suppliers are busy repositioning their portfolios using food-related terms such as 'vegan', 'plant-based' and 'gluten-free' (as now seen on some of P&G's Herbal Essences SKUs) and formulating NPD around eye-catching 'superfood' ingredients.

L'Oréal's new range of food-inspired hair masks and Unilever's Love Beauty & Planet range, whose 'hero' ingredients include coconut water, are examples of this trend in action.

At the same time, changing consumer expectations are opening up opportunities for challenger brands offering a fresh, uncomplicated take on cosmetics. And with supermarket beauty ranges in flux like never before - thanks to initiatives like Sainsbury's 'big bet' beauty trial stores - these newcomers are in a great position to steal a march on the big corporates.
One such example is Yes To, whose UK sales rose by 154% in 2018 and which has just secured increased distribution with Tesco following strong sales in the retailer's Beauty World stores.

"We are seeing a significant shift away from big, global, dominant businesses to support of smaller challenger and independent brands," says general manager of Europe, Victoria Young. "As a result, beauty has become more accessible and fun, and is now available across multiple platforms, with a huge variety of product and more affordable prices."

The boom around Korean beauty brands, with their well-documented love of food-themed skincare, is set to further diversify supermarket ranges. Already, the likes of Asda and Sainsbury's have put avocado and egg sheet masks from 'K-beauty' brand Sugu on the shelves.
Food brands
At the same time, food brands are eying the foodie beauty trend with growing interest.

Vita Coco, for example, is increasingly pursuing dual sitings for its coconut oil in both food and beauty aisles, as well as offering smaller formats to tap beauty occasions. Its 50ml SKU is now merchandised at till in Holland & Barrett, and the brand has been making inroads into European beauty retail, including with Sephora.
"The vegan trend has really opened up new opportunities for food ingredients and food brands in health & beauty," says MD Tim Rees. "And coconut has been a bit of a trailblazer in terms of multi-usage."

In the US, the brand has even trialled branded wipes, given a key beauty usage for coconut oil is as a make-up remover, though it doesn't plan to roll these out further for the time being.
"The vegan trend has opened up opportunities for food ingredients in health & beauty"
Vita Coco isn't alone. Doughnuts giant Krispy Kreme launched a range of licensed products into Boots earlier this year, including doughnut-flavoured lip balms.

Examples like Krispy Kreme show foodie beauty doesn't always have to be aligned with virtuousness or healthy eating. In fact, the "duvet day treat" is just as important a trend, says Holly Humphreys, licensing and marketing manager at H&A, which produces the Krispy Kreme range under licence.

"Sugary, indulgent flavours such as rich caramels, chocolate and marshmallow are now leading NPD, particularly for beauty gifting and cosmetics," she adds.

This is borne out by our own consumer survey, which found coffee shop flavours and sweet treats like doughnuts were among the food trends shoppers most want to see translated into beauty products.

Mind you, the top trend they picked was 'healthy juices and smoothies', suggesting the desire for healthier living remains an important factor in beauty. Green juice face cream, anyone?
Innovations in beauty 2019
Click on an image to expand