Life-changing; not life-defining. That's how Claudia Winkleman describes the injuries her eight-year-old daughter Matilda suffered when the fancy dress costume she was wearing burst into flames last Halloween.

"I was talking to somebody… then I heard her shout and she was on fire," Winkleman told the BBC's Watchdog in May. "It was like those horrific birthday candles that you blow out and then they come back… it was really fast, it was fast, it wasn't fire like I'd seen."

Her outfit was bought from an unnamed supermarket for £5. Watchdog said 21 kids were burnt severely in similar incidents last October. By law, fancy dress doesn't need to meet the strict fire safety standards governing kids' nightwear. Bizarrely, it's classed as toys instead; fire safety standards are much lower.

Supermarkets must take some of the blame for what the surgeon who treated Matilda's horrific burns calls the annual "mini epidemic" of burns. Supermarket Halloween costume sales are up 25% to £11m [IRI 4 w/e 1 November 2014]. Him! Research & Consulting says Halloween 2014 was worth £280m to UK retailers in total; £64m came from costumes.

So how have the supermarkets responded to the risk? How will sales of costumes and Halloween goods in general fare this year? What else is new for the 2015 witching season?

Of course, retailers had to act when the dangers of the costumes they sell came to light. Asda, which has helped drive Halloween's growing cultural significance in the UK over the past decade by importing many of the products parent company Walmart sells in the US, claims to have been ahead of its peers.

"We saw this coming two years ago and changed the spec of all our dresses," says Asda CEO Andy Clarke, adding that costumes were the retailer's most valuable Halloween line last year. "It will be interesting to see how people feel about dressing up this year given everything that's happened. They will go to trusted retailers and I would say we'll be up there because of the steps we've taken."

Asda, which says it has introduced more rigorous internal tests and imposed the requirement that all Halloween costumes comply with nightware flammability standards since the Winkleman case, isn't the only retailer that's been spurred into action. Aldi now guarantees all its costumes meet BS5722 children's nightwear flammability requirements, rather than just the EN71 toy fire safety standard, the minimum legal requirement that Watchdog argued convincingly is insufficient. "BS5722 goes over and above current requirements," says an Aldi spokesman. "We will not sell any items that do not meet these requirements."
Can costume sales still grow in light of fire risks?
Britain played dressing up last Halloween, according to analysis from IRI. Sales of ghoulish fancy dress costumes surged 25% to £11m [UK supermarkets 4 w/e 1 November 2014].

"Dressing up at Halloween is becoming more popular year on year," says Tim Eales, strategic insight director at IRI."It's boosting what has become a very lucrative market for retailers and manufacturers."

However, while the trend for trick-or-treating and going to fancy dress parties is boosting sales for costumes, it seems the more traditional activities like pumpkin carving are losing out, with sales for squash and pumpkins falling 8.8%. Limited-edition Halloween confectionery also fell significantly, by more than 18%, although the decline in general confectionery during the witching season was much less pronounced (see below), suggesting many Brits stocked up to keep the trick or treaters happy last October.

"We've seen evidence that traditional winter sales have been held back by the unseasonably warm weather but this is unlikely to have had an impact on sales of pumpkins at a time when you'd expect them to be rocketing," adds Eales.

The big test this Halloween will be whether the growth in Halloween fancy dress can be sustained following revelations about the fire risks related to such products. Or will parents rather sacrifice their white sheets to make impromptu ghost costumes?
Retailer pledges
Tesco makes a similar pledge."We've re-tested all our F&F and Tesco children's fancy dress costumes and can confirm they all meet the legally required toy test and the kids nightwear test," says a spokeswoman. Tesco also says it is working with suppliers of the branded costumes it sells online to bring them in line with these new standards.

Lidl, meanwhile, says it will not be selling Halloween costumes this year. "We have stocked them a couple of times in the past but not consistently year on year," says a Lidl spokeswoman. "It's never really been a focus for us like the other retailers."

With many expecting a sharp downturn in costume sales this Halloween as a result of Watchdog's revelations, it's perhaps not surprising that Lidl has taken the decision to not stock fancy dress products this October. Still, this doesn't mean everyone expects this year's event to be a complete damp squib; Asda is forecasting double-digit year-on-year growth this Halloween, with about 5% of space in store dedicated to Halloween goods.

These products extend far beyond fancy dress. Him! estimates that in 2014 Halloween-specific food & drink was worth £117m to UK retailers (not just supermarkets, which IRI's numbers cover), and confectionery and decorations were worth £54m and £49m respectively. One in two adults bought at least one Halloween item, with customers shopping in four categories on average for Halloween last year [IGD ShopperVista, November 2014].

They're not necessarily buying for the kids, either. "Halloween is becoming increasingly popular with adults who are looking for an offering beyond confectionery designed to appeal to youngsters," says Amelia Harvey, co-founder of yoghurt brand The Collective, which last year launched a spiced pumpkin yoghurt for Halloween, and plans another limited edition this year.

Then there's artisan chocolate maker Choc on Choc, which last year launched Halloween bars to cash in on the growing number of adults who are gifting and holding parties, and booze brands. As the 'Unofficial Beer of Halloween', Hobgoblin enjoys a surge in sales during the event, and Jägermeister is after a slice of the action by deploying a Zombie Outbreak marketing campaign later this year.

Of course, Halloween is mostly about the kids. More specifically, their sweet tooth; IRI puts Halloween confectionery's value even higher than Him! (see left), and despite a slight dip in sales last year, the event remains a crucial time for confectionery players.

"Limited editions work well for us," says Bep Dhaliwal, trade communications manager for Mars Chocolate, which is launching limited-edition M&M's (see right). "What works is something novel, something different that's not around all the time, something new for people to indulge in. And that helps the theming that goes around parties."

Good merchandising is crucial. "A retailer can maximise the impact of its Halloween range by combining product categories into one big, impactful display instead of grouping each category separately in different areas of the store," says Jonathan Summerley, purchasing director at wholesaler Hancocks.

Merchandising

Steven Chick, brand manager at Mondelez International, agrees: "Retailers should look to get shoppers excited about the season with impactful PoS, reminding customers to stock up for trick-or-treaters and encouraging impulse purchases. Retailers should focus on bestsellers to drive impulse purchases"

Cadbury will be adding Fudge to its treat size range to keep the trick-or-treaters sweet, while Nestlé is launching a trick-or-treat pumpkin filled with Mini Smarties (see right) and Rowntrees Randoms Spooky Mix. Another Halloween limited edition comes from Butterkist: Grim Green Sweet Popcorn.

Sugar confectioners are also licking their lips at the prospect of a busy October. For example, Tangerine Confectionery will launch two Sweet Champions products for Halloween: a 200g bag and a 500g pouch, each containing sweets such as Dip Dab Lolly, Wham Mini Chews and Kola Frosties.

"Halloween is an important driver of sales for confectionery where trick-or-treating is without doubt the biggest purchase and usage occasion," says Harriet Scales, seasonal brand manager for Haribo. "Shoppers look for multipacks of portion-controlled treats that are well liked by the many ghouls and goblins that come knocking at the door."

Many expect more ghouls at the door this year because Halloween falls on a Saturday. Whether they'll be wearing supermarket-bought costumes is another question…
Product launches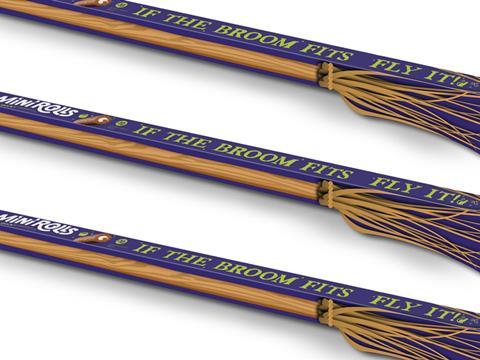 Cadbury Mini Rolls Witch's Broom

Launch date: September 2015 
Manufacturer: Premier Foods
In spite of, or perhaps because of, all the toil and trouble at Premier Foods (it's posted a 1.6% fall in sales for Q1 2015, though this was ahead of analysts' expectations), the company has come up with some wicked packaging innovation for this year's witching season: the Witch's Broom (rsp: £3), comprising 10 individually wrapped milk chocolate mini rolls, and the Cadbury Cauldron, filled with a dozen rolls. Should keep the trick-or-treaters happy.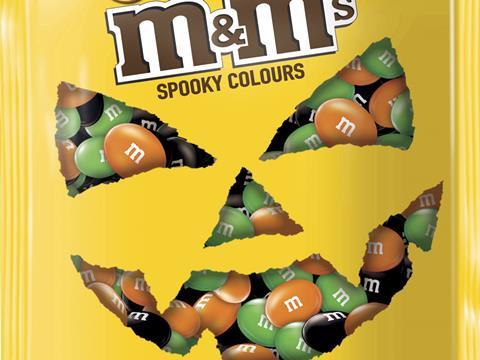 M&M's Halloween Limited Edition

Launch date: September 2015

Manufacturer: Mars
For the second year in a row, Mars is producing a limited edition of its peanut M&M's for Halloween. It's adding a new colour to the previous mix of green and orange sweets: black, claiming this will allow the M&M's cartoon characters to "show their dark side". Comes in treat bags (rsp: £1.19) and multishare packs (rsp: £3.29).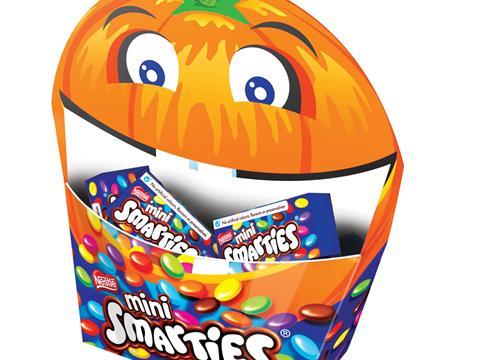 Mini Smarties Trick or Treat Pumpkin

Launch date: August 2015

Manufacturer: Nestlé
Designed for trick-or-treaters, the Mini Smarties Trick or Treat Pumpkin (rsp: £3) contains 10 boxes of Mini Smarties, accessed through a sinister tear strip on the front of the pumpkin's mouth. The display pack, containing eight items, seeks to entice customers with the slogan 'Do you dare to dip?' Well, do you?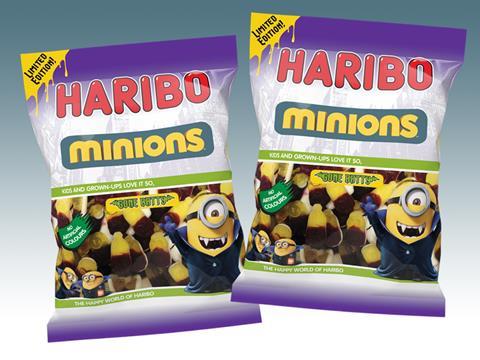 Minions Gone Batty

Launch date: August 2015

Manufacturer: Haribo
Seeking to cash in on the success of kids film Minions, Haribo is launching this range (rsp: £1) featuring Halloween-themed jelly and foam pieces in the shape of Minions characters in new flavour combinations of apple and cherry, orange and lime, and lemon and blueberry. Haribo is also offering a Horror Mix in a variety of formats.