Brits may not be jetting off to sunny climes any time soon, but a growing number are using oils to create holiday moments at home
Going abroad this summer? Probably not. As the government looks set to introduce a 14-day quarantine for travellers entering the UK, an overseas holiday is highly unlikely. After all, who wants to follow a week in sunny Sorrento with a legally enforced fortnight indoors?
It's a frustrating state of affairs for Brits after more than two months of lockdown. No wonder so many have been trying to sate their wanderlust by cooking up a taste of abroad.
According to Tesco research unveiled in April, more than half of the UK's adults have been experimenting in their kitchens and using new ingredients since the pandemic took hold.
That's great news for cooking oils, says Neil Brownbill, commercial director at Napolina. "As people expand their cooking repertoire, they're expanding their oil repertoire so they can cook those different dishes in a more authentic way."
Olive oil is, of course, the obvious choice for recreating authentic dishes from sunny Sorrento. That's helpedboost the overall olive oil market, which has shot up 21.4% in value and 22.1% in volume since lockdown began [Kantar 12 w/e 19 April].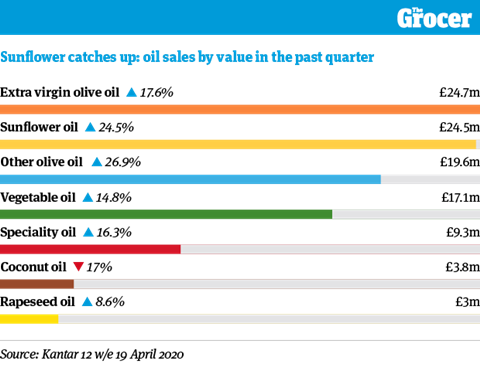 Cooking oils slid through supermarket tills at a rate of knots as the UK went into lockdown, with sales up 18.2% in value and 20.1% in volume, shows Kantar data for the past 12 weeks.
Extra virgin olive oil kept its place as market leader as Covid-19 hit. Taking in £24.7m over that period, it accounts for almost a quarter of the market.
But sunflower oil is hot on its heels, having made just £200k less than that in the past 12 weeks.
There's much larger margin between the two when it comes to average pricer per litre, however. Extra virgin is up 1p to £4.72, while sunflower is down a penny to £1.30. Only vegetable oil is cheaper, at an average of £1.17 a litre.
In percentage terms, other olive oil – not extra virgin– is the fastest grower. It's up 26.9% in value and 29.7% in value.
The only oil not to have made gains during the mass buying of the pandemic is coconut oil. Once favoured by Hollywood royalty like Angelina Jolie and Gwyneth Paltrow, it's fast falling out of favour among UK shoppers. Its value slumped by 17% in Kantar's latest data period – while volumes fell 10.7%.
But it's not just the taste of Italy that consumers are missing as they are confined to British shores. There's also been a "rapid acceleration of eastern cooking" notes Simon Corner, sales & marketing director at oils supplier Kerfoot Group.
"We have seen a notable rise in consumers tackling traditional recipes and dishes from countries such as China and India in an effort to spice up their lockdown diets, as well as replicating culinary trends from South Korea, Thailand, Malaysia and the Middle East," he says.
That's aided a 16.3% rise in value for speciality oils such as sesame, peanut and grapeseed, which have generated an extra £9.3m [Kantar]. All in all, it's looking like Brits are getting more authentic in their oil choices.
"With outdoor living restricted, consumers are making a switch to healthier choices"
Granted, there are some shoppers who "will use one oil for everything", says Kim Matthews, commercial director at Edible Oils, supplier of branded and own-label cooking oils. But the most exacting would-be chefs are ensuring they have an oil for every meal occasion – they "will have two or three or four or five different bottles depending on what they're going to cook", he says.
Edible Oils looked to encourage this behaviour with the launch of a range of speciality blends in March. Available via Tesco and Amazon, the U:ME range is designed to lure shoppers into trying oils they may not know much about by detailing ideal usage and a recipe suggestion on each SKU.
The lineup, which comes in both standard and spray bottle formats, comprises a vegetable & olive oil mix for roasting and frying, and a coconut, rapeseed & sunflower blend aimed at stir-frying and baking.
Healthy choices
Authenticity isn't the only factor swaying Britain towards less mainstream oil choices, though. Fears about coronavirus have made health claims more powerful in all food and drink categories, including oil.
"With outdoor living restricted and a heightened awareness of bodily health, many consumers are taking a closer look at the ingredients in their food, and are making a proactive switch to healthier, authentic and traceable choices to meet the challenges of isolation," says Corner of Kerfoot Group. As such, he has seen an increasing "demand for speciality fats and oils that come with specific flavours and dietary benefits".
That's has played a crucial part in the recent success of avocado oil, suggests Amy Moring. She's the founder of Hunter & Gather Foods, which produces an avocado oil made from hand-picked 'wonky' avocados that are rejected by the grocers.
According to Moring, sales of the brand's 250ml avocado oil were up 144% year on year on Ocado in February, while Hunter & Gather's DTC sales "are up 365% for the month of April 2020 versus April 2019 on avocado oil". Lockdown seems to have accelerated the trend. "For the full month of April 2020 on our site versus January 2020, we have seen a 145% increase on sales of avocado oil," she adds.
"It's unlikely we will sustain growth at the rate we have seen over the past two months"
For Moring, health associations have been key. "Avocado has become the poster child of the health movement," she says. That's thanks to numerous studies, which have found the oil improves cholesterol and lowers cardiovascular risk due to its high levels of oleic acid, the same omega-9 fatty acid commonly found in olive oil. Avocado oil is also rich in lutein, an antioxidant that is said to benefit skin and eye health. These benefits have led big names such as Khloe Kardashian, Kylie Jenner and Teresa 'The Healthy Chef' Cutter to sing its praises.
Avocado oil, basically, is ever so trendy – but it's also pricey. Take Hunter & Gather's 500ml bottle. At around £11, it's vastly more expensive than extra virgin olive oil, which retails at an average of £4.72 per litre, or vegetable oil, which is just £1.17 per litre [Kantar].
So these oils may never be mass market. Adam Palmer, MD of cold-pressed rapeseed oil brand Littleseed, admits growth is likely to slow. "We're realistic about the fact that it's unlikely we will sustain growth at the rate we have seen over the past two months."
Even if speciality fare does continue on an upwards trajectory, its market share will still be tiny. Just look at the numbers: speciality oils made £9.3m in the past three months, which was just a fraction of £102.3m worth of sales in the total market [Kantar]. Market leader extra virgin olive oil is worth a far more substantial £24.7m, and is growing faster than speciality fare at a rate of 17.6%.
That's why Lisa Mullins, marketing manager at olive oil leader Filippo Berio, is pretty unfazed. "You might find there are some niches that come into play, but they are small and destined to come and go."
Plus she has particular reason to feel confident. The Filippo Berio brand has grown ahead of the market, up 42% to £11.1m [Nielsen 12 w/e 2 May 2020]. It's one of the six oil brands in the top 10 to see growth of more than 40%.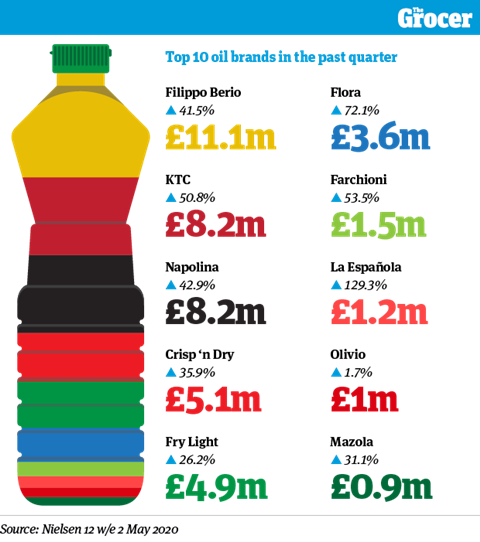 Six of the top 10 oil brands have achieved more than 40% value growth so far this year. This is partly due to "shoppers stocking up on essential cooking ingredients, including oils, in order to cook from scratch" notes Karl Ruggiero, Nielsen retailer services client manager.
"In terms of absolute sales value, private label and branded products over the latest 12-week period now make up an exact 50-50 split for the total cooking oils category," he adds.
Filippo Berio continues to lead the branded oil market with a 41.5% value gain. It comes after the Italian supplier won a three-month battle with TfL in November to be allowed to advertise on London taxis. That was followed in February by a change for its one-litre bottle from plastic to glass.
The only brand failing to fully capitalise on the sales boom is Olivio. Its value might be up 1.7% but that's due only to a rise in average price. Volumes slipped 6.1% after the US brand's orchards were hit by the fires in California last year. That caused serious supply issues for Olivio, which is now out of stock in most UK retailers, says Ruggiero.
However, Olivio's UK distributor Edible Oils is seeing more success with its other brands Mazola and Crisp 'n Dry, both up more than 30% in value and over 20% in volume. Kim Matthews, commercial director at Edible Oils, claims the lines are doing well "because customers trust the brands".
There is a good reason why these brands have performed so well. Because the panic buying start of the pandemic rendered the price difference between brands and own label irrelevant. While own label suppliers struggled to keep up with elevated demand, higher-priced brands cashed in on their ability to keep supply chains flowing smoothly, according to Filippo Berio MD Walter Zanre. "Whoever's got stock on the shelf sells – and in March, brands did a better job of keeping product on shelf, so we gained some share."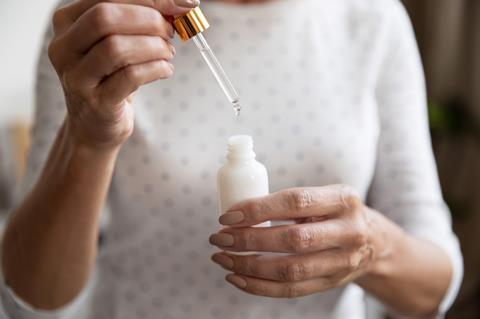 How olive oil has turned wellbeing ingredient
Olive oil doesn't just add authenticity to a home-cooked Mediterranean dish. It also has numerous health benefits. At least, that's been the belief for centuries.
Hippocrates, the master physician of ancient Greece, branded it "the great healer". More recently, it was described by domestic doyenne Mrs Beeton as "an antidote against flatulency" in her 1861 Book of Household Management. Neither claim has been scientifically substantiated.
Nor has the efficacy of olive oil as a skincare product been proven – though some studies have touted its anti-inflammatory, hydrating and protective qualities.
Nevertheless, rubbing it on your face is probably a waste of time and money. "You can totally use olive oil if you really want to, especially if you're not prone to acne or dryness. But it's not likely to transform your skin," Yale University dermatologist Mona Gohara told Cosmopolitan in October.
Quite the opposite in fact, she went on to suggest. "Olive oil is a naturally heavy oil, making it a breeding ground for bacteria that can clog pores and cause acne."
And yet, olive oil abides as an ingredient in beauty products – some of them premium. A 30ml bottle of DHC Olive Virgin Oil for dry and combination skin, for instance, retails at around £29, while Korres Pure Greek Olive 3 in 1 Nourishing Oil comes at about £21.
It's not just olive oil commanding a pretty penny in the personal care market. Endorsements from such celebrities as Khloe Kardashian have fuelled the popularity of all sorts of cooking oils as a means to revitalise skin, deep-condition hair and even eliminate earwax.
In the US, their popularity is so great that the Wonder Valley brand is happy to charge a whopping $65 (£52.65) for a 200ml bottle of geranium oil combined with avocado, olive and grapeseed oils – "to brighten, tone, and enhance elasticity".
In the end, however, there is only one sure-fire benefit of cooking oil to wellbeing. One of the numerous health-protective antioxidants found in extra virgin olive oil, polyphenols, have been scientifically proven to help the body fight against disease and cancer.
Now, more than ever, it's a claim that could hit home with consumers.
Climate emergency
Of course, that's only a temporary effect. As supply returns to normal levels, brands will have to work harder to justify higher prices. And they could face much tougher conditions as the economic fallout of the Covid-19 crisis becomes apparent. Zanre admits previous economic crises saw people move into private label and smaller pack sizes.
There is also the threat of shoppers moving out of extra virgin towards cheaper options such as sunflower, which is already vying for the title of Britain's favourite oil. Because as the climate crisis tightens its grip on the key producing regions of the Mediterranean, olive oil is only set to get pricier. The effect of droughts, spring frosts and erratic rain patterns is already clear to see. "If you look at the past eight years, the price of olive oil has been highly volatile," notes Vito Martielli, senior analyst at Rabobank. "We used to have a supply shock every five to six years, but now we've had them four times in the past eight years."
These shocks can be drastic. Appalling weather in Italy last year led to the price gulf between Italian and Spanish olive oil reaching its largest margin in 25 years. Other olive-growing areas are equally at risk. Greece's harvest in December was devastated by abnormal autumnal rainfall, while southern Spain could soon become a desert, warns Edible Oil's Matthews.
"The big risk we've got is around the temperatures. If the reservoirs are empty and the temperatures are high, that's when you start to have a lower output in terms of the tonnage and the quality."
Spanish success
The good news is that the key players are taking preventative measures. Spain, for one, has invested heavily in water storage and irrigation systems to ensure dry weather does not spell demise for its olive oil industry.
And it has big plans for the future. Spain hopes to grow its market-leading position – it already produces about half of the world's olive oil, more than three times as much as Italy – even further through intensive cultivation. "Part of the Spanish strategy is to become so dominant that the other players give up," claims Zanre.
Portugal is similarly vying for a larger slice of the market, having quadrupled its production in the past decade. The country is now on course to become the third-largest global olive oil producer by 2030, according to a recent report by Consulai & Juan Vilar Strategic Consultants.
"Part of the Spanish olive oil strategy is to become so dominant that the other players give up"
These efforts will be crucial to maintaining global supply. Iberian production is meeting growing demand in non-traditional markets such as Brazil and China, says Mintel. Indeed, Spain supplies four-fifths of China's olive oil imports. "There are more and more rich people that recognise the high value of this oil in these countries," Mintel says.
And other countries will struggle to step in to fulfil this need. Italy's olive oil industry has been lacking serious investment for years, which means it risks losing its status as the king of quality olive oil, Zanre fears. "Unless the Italians start to pump some serious money into their agriculture side, the Italian crop could become so small that it's insignificant," he says.
Greece, the world's third-largest producer, is also hindered to a degree. Its mountainous geography limits the introduction of industrialised processes, says Kamil Shah, co-founder of the Olive Branch brand, so production is "mainly done by hand".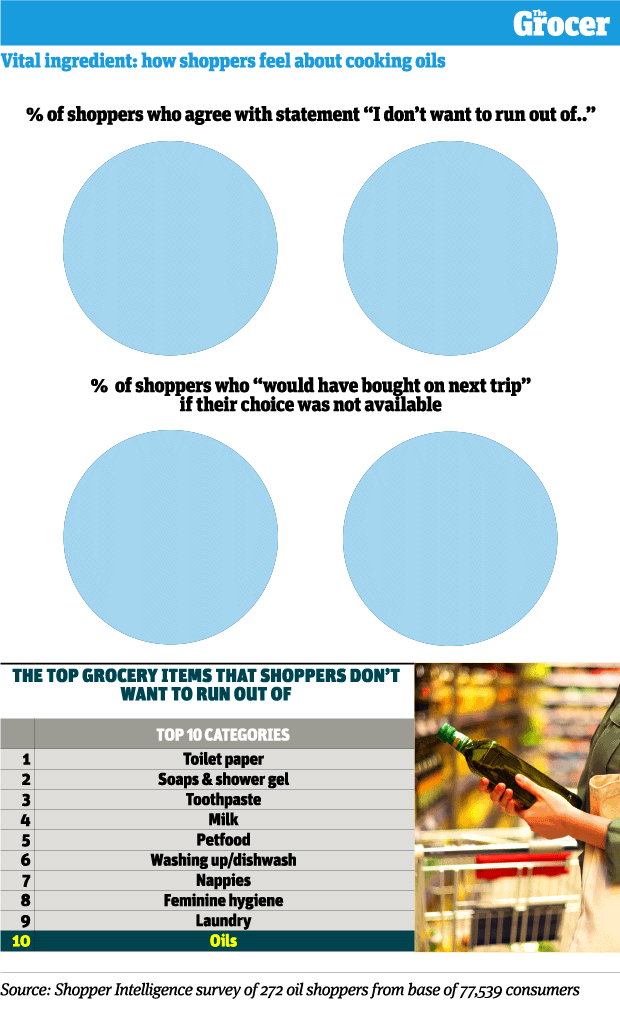 Cooking oil is a vital category for the vast majority of supermarket shoppers – 83% agree with the statement 'I don't want to run out of oils'.
"Such a high level of importance around this metric results in oils being among the top 10 categories across the store," notes Shopper Intelligence MD Chris Adkins. "Clearly, availability is going to be critical," he adds.
Poor availability could put the category under more pressure than most, Shopper Intelligence warns. In the oils aisle, shoppers are more likely than average to defer their purchase if their usual choice is not available: 18% versus 13%.
"The risk associated with availability is much greater in the oils category," points out Adkins. "We cannot be sure the shopper's next visit will be back to the same retailer or store."
Disease threat
Plus, all of the above regions are battling with a microscopic yet deadly threat: the xylella fastidiosa bacteria. Spread by insects, it has killed millions of olive trees since being discovered in 2013, and there is no cure for infected plants.
Most prominent in Puglia (the 'heel' of Italy), the disease has spread to Spain, France, Portugal and Greece. It is now considered by the European Food Safety Authority as a "very serious threat" to the European olive oil industry. Multiple studies have warned of extensive shortages and crippling costs.
In April, research by the CNR Institute for Sustainable Plant Protection in Italy warned the financial impact of xylella fastidiosa could run to over €20bn (£18bn). Nevertheless, Filippo Berio's Mullins is hopeful. "That study was alarming but it's assuming interventions don't start to bear fruit," she says. "The latest predictions are a bit overstated because there are things being done to try and combat the disease."
Indeed, a growing number of scientific initiatives are taking the fight to the bacterium, using methods such as insect repelling clays, vegetative barriers and genetic analysis to determine why some plants are more susceptible to the infection than others.
Edible Oils' Matthews similarly has faith in how farmers are coping with xylella. "It's managed really well, so if there are any cases, the farmers just cut it down and burn it to make sure it doesn't move across. Unless it changes fundamentally, there won't be any issues from a pricing point of view and a supply point of view."
That's a heartening prospect for the UK's new raft of culinary enthusiasts