Pets aren't only ruling the web in entertainment terms. They are also becoming high-value customers as digital petfood businesses rapidly gain ground
From Grumpy Cat to 'Oh Long Johnson', felines rule the worldwide web. Don't believe it? Google 'cat video' and scroll through the 2,740 million results. Wikipedia even has a 'Cats and the Internet' page - which states that Tiddles, Mittens et al 'make up some of the most viewed content on the web'.

In 2018, these prized pets are also sought-after customers. The rise of personalised, specialist petfood websites is becoming big business. So big, in fact, it is threatening the traditional bricks-and-mortar model. Brits took home almost 24 million fewer kilos of food to their cats and dogs in the past year [Kantar Worldpanel 52 w/e 15 July 2018] as direct-to-consumer services gained momentum.
In response, traditional pet retailers have had to change their ways of working - and fast. From Amazon Dash buttons to surprise acquisitions, petcare is moving faster than a YouTube clip of a cat on a rollercoaster.

In a world of failed online startups, it would be easy to dismiss petcare subscription models as a fad. That couldn't be further from the truth, says Amit Sharma, CEO and founder of retail technology provider Narvar. "They are popular with consumers because they offer convenient, personalised and authentic interactions over transactional one-off experiences," he says. "Subscriptions allow brands to create an ongoing relationship with customers, recording their preferences and communicating with them at the most convenient time, and across the most convenient channel."

Don't just take Sharma's word for it, though. Plenty of big brands have demonstrated their faith in the rise of digital with some significant innovation and investment. Earlier this month, for instance, Inspired Pet Nutrition unveiled Amazon Dash buttons for its Wagg and Harringtons brands in a move to make online shopping "even more convenient".
Perhaps the most notable recognition of the commercial potential of DTC came in April, when Nestlé Purina PetCare acquired personalised dog nutrition business Tails.com to take a majority stake. It was undoubtedly a coup for the digital-first business, which launched in 2014 and now feeds more than 100,000 dogs in the UK, providing bespoke nourishment created according to factors such as age, breed, size and level of activity.
"Greater digital engagement has allowed brands to discover consumer preferences"
"Tails.com is Europe's most advanced player in the direct-to-consumer, tailor-made petfood category," says Liz Wood, Purina's marketing development organisation director. "A seamless, end-to-end, algorithm-driven operation combines individually customised recipes with best-in-class service, to deliver a truly tailor-made product and experience at competitive prices."

Taking control of Tails.com demonstrated Purina's commitment to invest in innovative business models and respond to consumer trends in high-growth categories, Wood adds. "According to a report by Forbes, subscription businesses grew at over 800% from 2014 to 2017. This is in part driven by the changes that technology has had on consumer behaviour, along with the change in retail tastes.

"Greater digital engagement has allowed brands to discover consumer preferences. This gives them the ability to target communication on an individual basis and offer products tailored to each person's needs."

Those needs include convenience and more bang per buck, says Nathan Perry, co-founder of healthy dog snacks startup Denzel's, which offers its own subscription service. "As urbanisation and premiumisation continues to grow, consumers look to online offerings for ease of delivery to their door, rather than carrying heavy bags of food with their weekly shop, and find value for money by skipping the middle man."
Brand interaction
Pet owners are also demanding to interact directly with brands, Perry adds. Denzel's DTC customers get their name on every 'suitcase' of snacks they order, and each comes with hand-written note (supposedly) from Denzel, the brand's cocker spaniel mascot. "This level of attention to detail and care is vital for our consumers to feel appreciated and share with their friends on social media, which gains huge free exposure and creates a platform to challenge mainstream brands."

They are indeed challenging the norm. The creation of trust and brand loyalty already sees 13% of dog owners buy food by online subscription, says Chris Lock, general manager of Lily's Kitchen. "The revolution is yet to happen in catfood, which is still predominantly a grocery purchase, but it is just a matter of time."

While waiting for the catfood revolution, one brand bridging that gap between traditional and digital is Perfect Fit. The Mars Petcare brand of cat and dogfood is available in the mults - but also invites owners to sign up to an online wellness programme based on three areas: eating, moving and playing.
Case study: rabbits
It's far more than just cats and dogs out there. Other pets need tailored nutrition too. That's why petfood brand Burgess has worked with retailers to explain the "complicated nutritional needs" of rabbits, which are "often forgotten". Bunnies need a diet largely of "fresh grass or good-quality feeding hay", prompting it to launch Excel Feeding Hay with Meadow Flowers this summer.
"Perfect Fit is a brand that goes beyond food by offering a holistic experience," says Mars Petcare sales director Helen Warren-Piper.
"Not only does Perfect Fit provide products that meet the nutritional needs of cats and dogs, it also provides a range of services that cater for their broader health needs - from exercise to mental stimulation."
The online programme, called Plus, is "the first of its kind in the UK for a petcare brand" she adds. It provides weekly tips for owners through a chatbot on Facebook Messenger, and gathers information from the user to create personalised tips for each animal. It describes the service as being like a Fitbit, tracking the health of a pet and what it needs to eat (see the rise of petcare technology).

"This is something Mars is getting very interested in - and we think about it as what we call the ecosystem," says Warren-Piper, while stressing that Perfect Fit Plus is "just an experiment" for the time being. "That's where we see the future of the business."

This interest in personalisation is a gift for DTC retailers. Crucially, because they offer "significantly wider variety to owners and better control of their pets' nutrition" says Dylan Watkins, founder of Poppy's Picnic, which sells raw dogfood online with plans to expand to cats.
"There is also big potential for DTC businesses to steal a share of the market because smaller companies can offer a more bespoke service, better traceability, and, arguably, a simpler manufacturing process that results in a fresher product."
That's not to say mainstream brands have been completely left behind. The petfood category's volumes may be down, but take-home value sales of food for cats and dogs are up 1.9% to £2,507.4m [Kantar], after years of decline, as brands have pushed up average price. This has largely been through high-end NPD that caters for the animal wellness trend - in essence, the ethos of the Hemsley sisters but for pets. This has resulted in recipes like Cold-Pressed Duck with Vegetables from Forthglade, which describes itself as 'gluten -free, natural petfood'.

Purina has taken note. "When it comes to market trends in the pet category, shoppers are increasingly seeking out luxury and premium food options in both main meal and snacks, and are prepared to pay more for them," says Wood.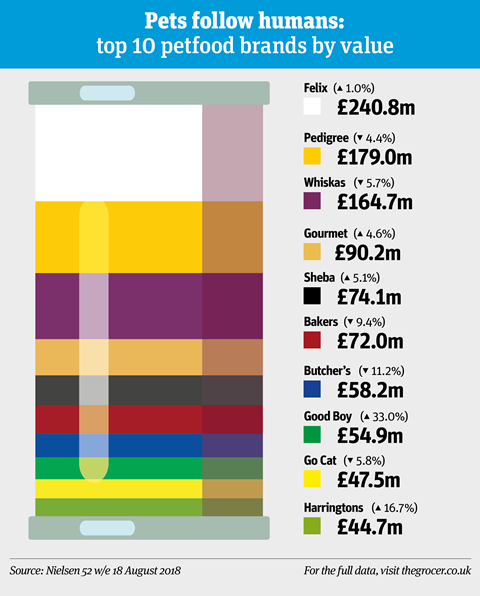 Find the full data at the bottom of this report
'Fur babies'
It is no coincidence that a human-led trend such as wellness has made its way into the animal world. The increasing humanisation of pets has led to the coining of phrases such as 'pet parents' and 'fur babies'. That mentality "continues to be a core driver behind new product development in the petfood sector" notes Ashleigh Foster, senior brand manager at Iams.
"That's because, as we would with our children, we want the best for our pets. That means providing them with healthy and tasty nutrition that not only supports vitality but is also enjoyable to eat. In fact, 87% of cat owners and 83% of dog owners claim visible health benefits are key when it comes to selecting a brand."
Case study: birdcare
Wild birds offer "a huge opportunity", says Damian Cooper, channel marketing & insight director for horticulture supplier Gardman. Although "everyone has an opportunity to care for a feathered friend", birdfood penetration is still relatively low. "Only 30% of people feed the birds each week," he says. That figure could soon change as sales are in "rapid growth".
In the health and wellbeing space, "nearly half the growth in the category is going to come out of natural products" over the next three to five years, predicts Warren-Piper. "If you're not in the natural space, you won't be going where the category is going to go."
Laurie Offer, marketing & development director at design agency Cowan, says natural petfood "has been in hot demand this year. In a recent survey, 97% of small pet owners told our client Supreme Petfoods they prefer natural food, and 93% believe there is a benefit to feeding grain free. Data analyst GfK showed that in 2017, natural petfood made up more than a third of the UK's total £940m spend within the pet specialty market."

As yet, many natural products are available only in specialist stores such as Pets at Home. These are the destination of "early adopters and consumers coming into the category" says Warren-Piper. They seek advice and assistance, and Pets at Home "plays a very important role in that area. You've got a big shop window of all the big speciality brands, and you've got somebody who'll be giving you advice on how to set up your home and the right diet for your new pet."

Natural petfood is now beginning to find its way into the mults. As such, Warren-Piper believes similar advice services could be on the cards. "Some of the grocers have had conversations with us about scoping that. It's quite an investment, but I wouldn't rule it out based on the direction some of the retailers are going with additional services. It'd be very difficult for them to support the range and depth of some of the speciality brands without giving advice."
"Despite the rise of DTC, there is still a consumer appetite for traditional petfood brands"
For now, though, it's the well-known big brands that dominate the supermarkets. "It's easy to write off long-standing brands as old-fashioned or outdated, but the truth is that they still represent the lion's share of the market and play a vital role in the viability of the British meat industry," says Tony Parkinson, MD of HiLife petfood.

Purina's Wood agrees: "Despite the rise of DTC services and tailored nutrition offerings, there is still a consumer appetite for traditional petfood brands."

The supermarkets themselves still serve a useful purpose, points out Iams' Foster. "Ultimately, shoppers continue to use online, pet speciality, convenience and grocery channels to fulfil different purchasing goals," she says.
"For example, with pet speciality stores, consumers are looking for a breadth of products, combined with expert knowledge from retail staff, whereas with grocery stores, it's all about convenience and affordability. Despite the rise in online sales, in-store grocery remains the largest and most important channel."

Supermarkets have another natural advantage. While branded has been the winner in absolute value this year with a 0.3% rise to £1,9bn, own label is the breakout star in terms of growth, with a 7.7% rise in take-home sales to £577.3m [Kantar Worldpanel].

"After being quiet for some time, own label is now getting some of the attention it deserves," says Parkinson. "Supermarkets and discounters are seeing strong growth, but they're still not offering products in some key sectors. Lots of good work is being done by Pets at Home, and Wilko deserves a mention too. Both are backing own label to the hilt and they're not afraid to be bold and take a chance or two."
Inspired Pet Nutrition marketing manager Dan Reeves agrees. "Own label is shaking off its stereotype of being just an entry-level product, with many own label ranges catering for a wide range of customer needs, with multi-tier offerings available," he says. "Two examples are Asda's Naturals range and Sainsbury's hypoallergenic range, which both feature heavily in current product sets."

Such lineups illustrate a shift in focus by own label to tap demand for health benefits, adds Laura Rafferty, head of marketing at Northern Ireland's Naturo, maker of natural food for dogs. "The retailers enjoying growth are those who listen to their consumers and develop products to meet their needs."
The mults have also taken note of consumer trends for their treats and snacks, which have been a big part of own label's success across cats and dogs this year. Retailers earned £175m as the larger sub-category became worth £629m, with nibbles and drinks for cats up by 10.8% [Kantar Worldpanel].
"Pet parents are learning that healthy treats keep their pets happy without causing weight gain"
"The treats that are winning are those with more human flavours and cues," says Reeves. "As we have seen the rise in popularity of peanut butter and a greater understanding of its benefits in the human market, we launched our Wagg peanut butter cookies, and they have proven very popular."

And as the UK's human snacking market grows to offer more protein-based options, so pet treats will follow, predicts Louis Chalabi, co-founder of Edgard & Cooper, which next month will launch a range of jerky for dogs.

Again, wellbeing is a big driver. "Healthy and natural treats is a big driver of the growth in this area as pet parents are learning that healthy treats keep their pets happy and stimulated without causing them to gain weight," notes Chris Lock of Lily's Kitchen. "Dental products are also fuelling growth as they act as both a treat for the pet and help them to keep their teeth and gums healthy."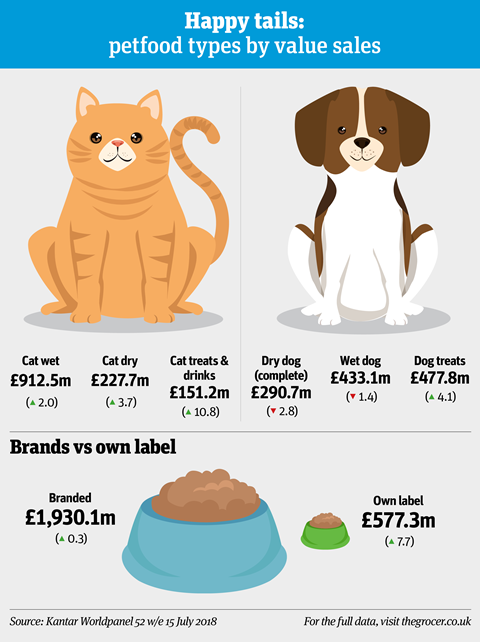 Find the full data at the bottom of this report
The environment
Petfood brands are also taking cues from human grocery when it comes to another area of responsibility: the environment. Butcher's Pet Care this month announced it would remove "the equivalent of 4.2 million plastic bottles from its supply chain" by replacing the shrink wrap on its canned food for dogs. New cardboard packs will put the brand "well on track to being 99% recyclable" says general manager Rachel Collinson.

Edgard & Cooper's packaging, meanwhile, comprises 100% biodegradable bags, made with corn starch and recyclable aluminium and tin cans. "Consumers are becoming increasingly conscious on sustainability and limiting plastic consumption," says Chalabi.

The environment and the recyclability of packaging "is one of the most important issues at the moment" adds Pooch & Mutt founder Guy Blaskey. "Petfood pouches are notoriously difficult to recycle. The solution would be working with TerraCycle, a company that can recycle this difficult-to-recycle packaging. Pooch & Mutt, along with a few other petfood companies, has been in discussions with TerraCycle about launching a national recycling scheme for pouches."

Essentially, where humans go, petfood will tend to follow. Or if cats have their way, we'll soon be the ones following.