From katsu curry to Moroccan tagine, babyfood brands have gone all exotic. Retailers are upping their culinary game in response
Forget mashed banana and turkey dinosaurs. Today's generation of kids are far more discerning. At least if the growing choice in the baby aisles is anything to go by.
Quinoa, amaranth and turmeric are among the ingredients making their way into a new generation of highfalutin baby and infant products. And the trend doesn't stop with ancient grains and trendy spices.
Dishes such as grass-fed beef lasagne with Parmigiano Reggiano as well as katsu curry and Moroccan chicken tagine are now a common sight in the baby aisles.
Parents are prepared to fork out for it, too. A 1.9% rise in average prices helped boost babyfood sales by £10.4m to £291.1m. That was a driving force behind the extra £14.8m added to the total market, now worth £1,479.7m [Kantar Worldpanel 52 w/e 7 October 2018].
In a market facing massive declines in areas such as nappies and baby wipes, exotic food could provide a welcome boost to sales.
"This has been a really exciting year for NPD across the babyfood sector," says Cat Gazzoli, founder of organic babyfood brand Piccolo. Over the past year, she has secured listings in Tesco and Sainsbury's, which has helped Piccolo become the fastest-growing babyfood brand with value up 87.8% to £2.4m on volumes up 72.4% [Nielsen 52 w/e 12 January 2019]. Her range includes everything from snacks with acerola cherries to pasta with a kale pesto - and Gazzoli believes this is the way the market is going.
"Parents themselves are more adventurous with their food habits and more aware of the health properties of different ingredients, which they then want to pass on to their children."
Then there's For Aisha, whose new recipes for 2018 included Cambodian Fish and Coconut Curry, Chicken Guisada and a revamped Moroccan Chermoula. "Our bespoke recipes are revolutionary," claims owner Mark Salter. "Little ones love spices and they're widely believed to be healthy."
A similar focus on giving kids the same stuff as adults is evident at new brand Heavenly Kids, which launched in 2018. Its dishes, such as Italian Rosemary Breadsticks and Sweetbeet & Shallot Veggie Waffles, have won the brand listings in Ocado, Sainsbury's, Morrisons and Waitrose. "Consumers have access to more and more food ideas from around the world via social media and our preferences are becoming more global," says MD Shauna Blair. "Parents who are experimenting with different flavours want to offer their child the same."
"Parents want to pass their more adventurous food habits on to their children"
This adventurous fare isn't confined to trendy brands. Own label - a standout performer, boasting a near 50% gain in babyfood sales to £26.9m - is getting in on the act.
Sainsbury's led the exotic charge with the launch of its 50-strong Little Ones food range last April, including everything from a katsu chicken curry to BBQ pulled pork. Then in November, Tesco unveiled its own 15-strong 'exclusive to Tesco' babyfood range featuring Courgette, Aubergine & Red Pepper and Pea, Parsnip & Pear pouches.
And so the more traditional giants of babyfood are getting more experimental. Danone has introduced 15 new recipes to its Cow & Gate babyfood range, including Courgette & Hake Rice and a Vegetable, Chicken & Mango curry. It has also added grains including buckwheat, barley and millet to its cereals.
"We brought more textures and flavours to Cow & Gate babyfood products, which is reflective of adult taste trends," says Roz Davies, head of category development at Danone Early Life Nutrition. However, though there is demand for "diverse and convenient options", Davies stresses core ranges are "still hugely important".
"Parents often want a familiar range that they know their little ones will enjoy, plus some interesting or new tastes. Finding the right balance is important," she explains.
Indeed, it's not all about katsu curries. A Streetbees poll for The Grocer found shepherd's pie was the favourite baby-friendly dish among UK parents, while spaghetti was the top choice for kids aged one to five.
In line with these findings, Ella's Kitchen says its Spag Bol with a sprinkle of cheese and Chick-chick-chicken Casserole remain its bestsellers. Heinz is also catering for traditionalists with its By Nature range, launched last year to include dishes such as spaghetti bolognese and cottage pie. Meanwhile ready meal brand Little Dish, which is preparing to launch in the US in April, says its classic fish pie is its most popular product.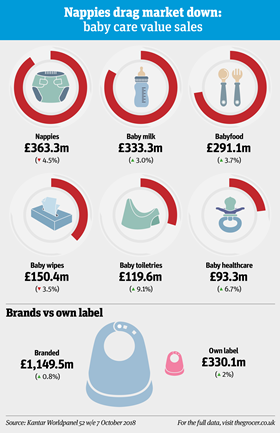 Organic battle
Still, exotic cuisine isn't the only battle established brands are fighting. There is also increased competition on the organic front. Last April, Lidl's new Lupilu range hit the shelves featuring products such as organic tray meals. The NPD helped the discounter grow value sales by 27.8% [Kantar].
Then there's Aldi. In September it launched its first 'stage 4' meals - four organic tray meals featuring dishes including Tomato & Mozzarella Spaghetti - under its Mamia brand. The discounter freely admits the NPD is 'inspired by' Hipp Organic's ­offering but crucially, it's almost 50% cheaper at 95p each.
This flurry of activity is taking its toll on beacon organic brands. Hipp Organic, for example, is down £7.7m [Nielsen 52 w/e 12 January 2019], while Organix has suffered to the tune of £4.1m. Which raises the question: are organic credentials enough on their own?
"There is a job to be done in reminding consumers why the quality of organic is so important," admits John Allaway, general manager at Hipp, which is doubling its marketing investment to over £4m this year following the brand's first-ever TV ad in 2018.
Hipp Organic says it has joined forces with YouGov to research parental behaviours and attitudes to nutrition, babyfood and health, the findings of which will shape Hipp's brand positioning and marketing in 2019.
"Almost half of parents (46%) worry they are not supporting their child's nutritional needs," he says. "We have removed sugar as an ingredient from our entire range and in 2019 we will continue to improve our range."
"Parents are voting with their feet and looking beyond price to choose products for their kids"
Meanwhile, Organix is focusing on NPD including the January launch of Jammie Monsters, a 'no junk' biscuit treat, the April launch of Mini Space Cheese Bites under its Goodies brand, and a £1m 'Fuel Their Wonder' TV campaign from January.
For Organix MD Philipp von Jagow, the focus is on attracting new customers. "Own label can provide healthy competition to brands but the true test will be if it succeeds in bringing new shoppers into the category and driving incremental growth," he says.
New organic babyfood brand Little Freddie goes as far as seeing the fresh competition as a positive development. Its lineup includes Sweet Potato & Carrot Greek-Style Yoghurt and lasagne made from British grass-fed beef and Parmigiano Reggiano.
"We see the arrival of retailer offerings as a major opportunity to raise awareness of the need to improve nutritional standards in the category," says MD Rachel Kelley.
"Parents are voting with their feet and are looking beyond price to choose products for their children that are nutritious, delicious and have a sustainable angle. More established brands have continued to struggle where they have not evolved their offer.
He has a point. For established organic brands such as Hipp and Organix are not just facing increased competition from own label, but also from smaller rivals such as Piccolo, up £1.2m over the past year [Nielsen].
Founder Gazzoli says it has achieved growth through NPD such as its snacks. "The importance of snack ranges cannot be underestimated. This sector has really helped ensure the infant and childcare category as a whole is back in growth," she says.
Indeed, demand for all-natural, wholesome products isn't reserved for traditional meals. It is playing out in other areas such as baby toiletries, this year's best-performing subcategory with value sales up 9.1% to £119.6m on volumes up 6.2% [Kantar].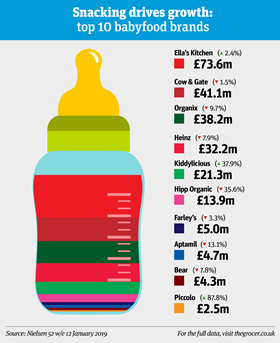 Natural toiletries
Joanna Jensen, founder and chief executive of natural toiletries business Childs Farm, is testament to this demand. She says her brand is on track to be bigger than market leader Johnson's Baby by the end of 2019, having secured a value increase of £11.8m last year [Kantar Worldpanel 52 w/e 30 December 2018]. Jensen says Childs Farm has more sales than Johnson's Baby, Aveeno and Dove Baby combined in Boots. Since launching in Sainsbury's last July, the company has added 16% to the supermarket's baby toiletries category, more than all the other brands combined.
"In the last few years we have seen a shift in baby toiletries towards the same trends that swept babyfood: a move to more natural and organic solutions," says Jensen.
"Consumers want products that suit their individual skin types," she says. "This is precisely why niche, independent brands are performing well against the big corporates."
"We've seen a shift in baby toiletries towards the same trends that swept babyfood"
Yet the rise of Aldi in this area shows consumers are still partial to a bargain. The discounter grabbed all the headlines with its 2017 baby formula launch, which sent sales of own-label baby milk soaring 201.4% to £11m [Kantar]. That has opened up other avenues.
"Aldi remains the only private-label baby milk offering and it continues to capitalise on this shopper attraction by branching into other popular segments such as baby skincare," explains Kantar Worldpanel analyst Julia Brown.
This shows no sign of stopping, as Aldi's managing director of buying Julie Ashfield says it has "exciting new product launches coming up in 2019".
Its success in nappies shows Aldi is a force to be reckoned with. Overall nappy volumes are down 1.4%, but Aldi sold more than 820 million last year, cementing its position as the UK's second-biggest nappy brand [Kantar].
With fierce competitors on all fronts, baby brands can't afford to sit back. For it will take far more than mashed banana and turkey dinosaurs to tempt today's shopper.
Data for this report
Click for a pop-up table