Brits have turned to the comfort of a cuppa to see them through lockdown. And with coffee shops closed, grocers have cashed in
Downloads
Britain runs on caffeine. Whether it's a slow Saturday morning cafetière, a quick catch-up over a cuppa or an enlivening Americano on the 07.30 to London Victoria, tea and coffee are as crucial to our culinary culture as fish & chips or a gin & tonic.
In times of crisis, we put the kettle on. That's shown by the 13.3% rise in take-home value sales of hot beverages in the 12 weeks to 12 July, which cover the spread of Covid-19 across Britain and lockdown. That's an extra £64.2m put through the tills by tea, coffee, hot chocolate and malted drinks [Kantar].
"Coffee continues to be the second most consumed drink in the UK, behind water"
Of course, these numbers don't tell the whole story. Britain's almost 26,000 coffee shops [Allegra] were forced to close with the imposition of lockdown at the end of March. Even now, not all of them have reopened. Inevitably, the coffee shop sector's loss has been the supermarkets' gain, with shoppers looking to get the caffeine fix they'd usually get from Costa or Starbucks from the grocers.
So which hot drinks have seen the most growth in the supermarkets in recent months? Have any seen sales decline? And, with fears of a second wave mounting, what does the future look like for the hot beverage aisles, the coffee shop sector and their suppliers?
Regardless of what they say about tea being our national drink, coffee is king of hot beverages in Britain. "Coffee continues to be the second most consumed drink in the UK, just behind water, but ahead of all other hot beverages and soft drinks," says Emily Turner, Costa brand manager at All About Food, which manufactures and markets many of the brand's retail products.
The sales figures bear this out. Coffee was responsible for £49.7m of the total market's £64.2m growth [Kantar 12 w/e 12 July 2020]. In absolute terms, that was driven primarily by the £29m gain in instant, which accounts for 67% of the coffee market.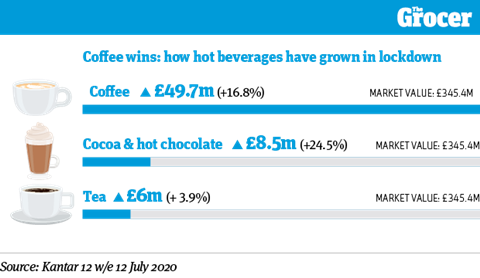 Covid-19 drove strong growth in take-home sales of hot beverages. The market switched from 1.7% value decline [Kantar 12 w/e 26 January 2020] to 13.3% growth in the latest period.
With most of the UK's 26,000 coffee shops closing at the end of March, the lion's share of growth was driven by coffee. It was up 16.8% in value, while volumes rose 15.2%.
"The growth centres around roast & ground coffee," explains Kantar analyst Madeleine Peck. "Pods saw strong growth of 19.9% alongside 21.2% for filter cafetières and 32.9% for beans. Coffee bags are the smallest sector by value, but grew by 55.3%."
This suggests shoppers have been trying to recreate that coffee shop experience at home. The growth of coffee bags also reflects the focus on the format at Nescafé Azera and Taylors.
Tea fared less well, with value up 3.9% on volumes down 2.8%.
"Tea's decline is mainly driven by standard black," says Peck. "Decaffeinated black tea saw 14% growth. Some shoppers have switched from standard to decaffeinated, a movement worth almost £600k." So it seems we're not entirely a nation of caffeine addicts.
So it stands to reason that the king of instant, Nescafé, was the fastest-growing hot beverage brand during this period (Nielsen, see p42). Crucially, consumers weren't buying any old instant – Nielsen's read of Nescafé includes premium sub-brand Azera.
"Azera Americano saw the greatest growth in Nescafé's top 10 sub-brands," says Nielsen senior analytics executive Angus Gadsden. He can understand why. "Azera has been promoting a fair amount since January and given that many consumers are stuck working from home and still want a premium coffee, it has fit the bill well."
Pods and machines
So, despite Britain's growing love of premium coffees, most of us would still rather pour hot water over a spoonful of instant then go to all the faff and expense of trying to make our own lattes or espressos at home. Indeed, for every pound spent on ground coffee, pods, whole beans or bags, shoppers spend £2.25 on instant. Which helps explain why Costa is taking the plunge into premium instant coffee (see p40).
But it's important to also note the rise of other formats. In percentage terms, more premium offerings such as pods (up 19.9%), filter coffee (up 21.2%) and whole beans (up 32.9%) have seen far stronger growth than instant.
The shutdown of coffee shops has led to an explosion in demand for pods, says Michael Haynes, category team leader at Jacobs Douwe Egberts. Essentially, as shoppers faced the closure of their local cafés, they were "looking for a higher-quality experience" at home, explains Haynes. He points to strong growth for Tassimo compatible pods and Kenco Duo, which combines espresso and milk in a pod for barista-style lattes without the need for a machine.
"Pods have proven really popular and have continued to grow ahead of the category"
It's not just coffee pods that have proved a hit as shoppers have looked to turn their kitchens into barista-style bars. There has also been demand for premium hot chocolate. "Pods have proven really popular with consumers and continue to show growth ahead of the category," says Mars Chocolate Drinks & Treats general manager Michelle Frost. "This is not at the cost of other hot chocolate products, but is attracting new millennial consumers to the category."
Of course, fancier formats such as pods tend to need a machine. So home coffee machines have seen growth, too. In April, John Lewis revealed its coffee machine sales were up 30% year on year, while related accessories such as coffee grinders and coffee pots had grown by 24%. Dualit, which manufactures coffee machines and pods, claims the closure of coffee shops widened the market for machines, tools and capsules to attract new customers who previously relied on takeaway coffees.
The desire for a takeaway coffee has also delivered a boost for high-street names in grocery. "Without the ability to go out to a café or coffee shop, or consume hot drinks in at work, our consumption has shifted dramatically," says Kantar analyst Madeleine Peck. "Occasions have been brought into the home and we have seen volume sales increase as a result. As time progresses and we ease back into a new way of living, with a higher proportion of people working from home, the role of coffee shop brands play will be crucial to the sector."
"Without the ability to go to a coffee shop, our consumption of hot drinks has shifted"
For proof, see Starbucks, which is now the second fastest-growing brand in grocery after Nescafé (see p42). That's partly down to strong promotions and marketing investment. "Starbucks has been heavily promoted and doing more media in recent months," says one industry source. "I wonder if they have diverted investment they would usually spend on the wider brand into the take-home market."
Its success also reflects Britain's appetite for the coffee shop experience – something that was hard to come by during lockdown. So brands are heavily playing up their high street cues. Costa, for example, launched a campaign on Asda.com encouraging shoppers to build their favourite coffee shop serves by combining Costa At Home Nespresso and Tassimo compatible products with syrups and milk. On Tesco.com, the brand took a similar tack, encouraging shoppers to trade up their standard morning coffee for a Costa At Home offering.
Also sensing an opportunity, Pret a Manger has rolled out a range of three whole bean and ground coffees in its stores and on Amazon. It's a wise move, if the growth in online sales from smaller, artisan coffee shops is anything to go by. London's Grind & Co claims direct-to-consumer sales are 30 times higher than they were a year ago, while subscription business Beans Coffee Club says it was inundated by roasters looking to sell coffee originally destined for restaurants.
Of course, such disruption to normal buying habits posed huge challenges to players large and small. "Our roastery wasn't set up to run an online shop, so we had to quickly adapt," says Henry Ayers, co-founder of London high-end coffee shop chain The Gentlemen Baristas. Now the business is facing a dilemma as the out-of-home market begins to recover, with Ayers saying it will be a "challenge" to maintain online sales at the level they reached during lockdown.
Illy also changed its channel mix during the crisis. It stepped up investment in its direct-to-consumer sales platform to meet demand and ran a series of digital masterclasses on social media offering consumers guidance on the best ways to create barista-quality coffees at home. "We have seen a significant level of interest in this content," says MD Stuart Holmes. "Coffee is a personal luxury that many can't go without."
With that in mind, he expects the coffee shop sector to make a swift recovery. "Indeed, eating and drinking out and socialising with friends are two of the things consumers missed most under periods of lockdown," he points out.
"Eating and drinking out and socialising are two of the things consumers missed most"
That doesn't mean grocery buying habits will simply go back to normal, though. Holmes believes there is the opportunity for retailers to widen their ranges in response to the appetite for premium coffee shown during lockdown. "This means expanding their ranges across preparation types, strengths and variants, along with quality levels," says Holmes, who adds that Illy will launch an energy-efficient home coffee machine later in the year to tap growing demand for premium brews at home.
Weak Tea
Sadly, this sales boom didn't quite reach tea. In fact, it mustered only 3.9% value growth, while volumes fell 2.8%. PG Tips suffered the market's steepest decline, losing £1.5m or 5.1% of its value in the 16 weeks to 8 August [Nielsen]. Those figures only serve to highlight why Unilever kicked off a strategic review of its tea business earlier this year.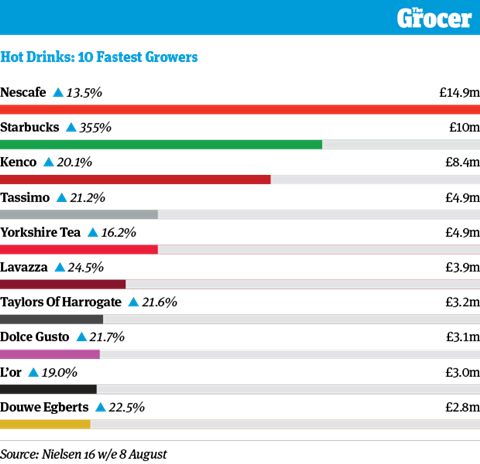 Don't be fooled by Nescafé's position as the fastest-growing brand during lockdown. An extra £14.9m is nothing to be sniffed at – but it comes from a high base, having sold £125m in the past 16 weeks.
It's also important to note its starting point. Nielsen senior analytics executive Angus Gadsden points out Nescafé was shedding sales prior to the pandemic due to distribution losses. "Many brands were declining before Covid-19, but shoppers spending more brought most brands to growth in the past 16 weeks."
The real winners here were premium brands that recreated the out-of-home experience. See the meteoric rise of Starbucks, whose £10m growth equates to a 355% rise. It comes after the brand was forced to shutter its nearly 1,000 UK outlets in March, following a major push for its at-home pod, ground and wholebean offerings, as well as its RTDs. Tassimo (up 21.2%), Lavazza (up 24.5%) and Dolce Gusto (up 21.7%) are similarly driving growth in premium coffee.
Tea is also premiumising, with Yorkshire (up 16.2%) and Pukka (up 25%) the sector's strongest growers. In the 16 weeks to 8 August, Yorkshire overtook Twinings to become Britain's top tea brand, thanks partly to distribution gains.
Stockpiling also drove growth in hot chocolate & malted drinks, with Cadbury achieving the greatest gain of £3m.
At the time, CEO Alan Jope said Unilever's tea business had a "disproportionately large footprint in black tea", which is slower-growing and had a "long track record of being dilutive to growth and margin".
The PG Tips brand is clearly trying to get back into the nation's baskets, though. In July, it claimed a category first by ditching the plastic from its teabags. Unilever said the move would provide a product that "shoppers are actively looking for". That's all part of its ongoing sustainability drive, which has also seen it begin to remove the plastic outerwrap from retail boxes.
And not all black tea brands are flagging. In fact, Yorkshire Tea overtook Twinings to become the nation's number one tea offering, with value sales up 16.2% to £35m over the 16-week period. Distribution gains have been crucial to Yorkshire taking the top spot, as has the brand's focus on quality.
"Our unwavering commitment to doing things properly is at the heart of our continued growth and this has resonated with consumers during the uncertainty of 2020," says brand manager Lucy Jordan.
"Whether that's the consistently high-quality tea that goes into our blends or our authentic communications which help us to build genuine relationships with our drinkers. By interacting with our fans on social, we know the importance that a proper brew makes to their day and that's why we've endeavoured to make our fans smile through positive and entertaining online content throughout lockdown – from puppies in flat caps to branded Zoom backgrounds."
While NPD has been limited, tea is similar to coffee in that premiumisation is a key trend. Brands have ramped up marketing that trumpets the health benefits of their products as well as launching products designed to address specific health needs (see Twinings new Cold In'fuse lines, p52).
"With heightened focus on health, products like decaf and functional food and drinks with added vitamins are proving popular," says Tetley category development director Kieran Bridges, who nods to Tetley's Supers range. It was joined by the Tetley Herbals range in June, which Tetley billed as a selection of entry-level herbal teas for habitual black tea drinkers.
"Tetley's strategy for Supers has been to develop products that meet genuine consumer needs. Perhaps unsurprising given recent times, particularly strong performers include Tetley Super Green Immune Tropical in Mango & Pineapple flavour with added vitamin C, which helps support the immune system and is up 19% in volume."
So it seems that health will continue to be a key trend in hot beverages. But it won't be the only factor shaping the market. A recent study by researchers at the Universities of Cardiff and Southampton found that nine in 10 workers would prefer to continue working from home even if there were no longer risks relating to office work and Covid-19.
"Our analysis suggests there will be a major shift away from the traditional workplace, even when social distancing is no longer a requirement," said Prof Alan Felstead of Cardiff University.
That could translate to a more long-lasting shift away from coffee shops. So expect more activity from the likes of Starbucks and Costa in grocery soon
Iceland and Co-op gain: hot beverage value sales by retailer