With the Tokyo Olympics finally set to go ahead, yoghurt brands are encouraging Brits to get active. Who's on a winning streak?
Brits might be advised to follow Team GB's example. With the delayed Tokyo Olympics finally set to kick off in July, the nation's squad of athletes has been getting into peak physical condition. For many other people, it's a different story.
Let's face it, the pandemic has been hugely challenging for waistlines. In fact, almost half (48%) of the 2,254 adults interviewed by Ipsos Mori and King's College London last May said they had already put on weight as a result of the first lockdown.
The effects of more comfort eating and drinking alcohol were compounded by increased inertia. Research published by Sport England revealed in October that the overall number of regularly active adults fell by 7.1% due to the disruption from mid-March to mid-May. But things look set to change. As the UK slowly emerges from what the government claims will be the final lockdown, there's a summer of high-profile sporting events on the cards. The Olympics, Wimbledon and football's Euros will hopefully inspire Brits to shed those lockdown kilos.
As such, dairy suppliers are putting health and activity front and centre, in a bid to maintain the level of demand that has helped the yoghurts and pot desserts category to 8.6% value growth over the past year [Kantar 52 w/e 21 February]. Take Yoplait, which last month signed a deal to sponsor Team GB for the next three Games. Meanwhile, Müller is in its fifth year of a long-term sponsorship deal with British Athletics, which the brand says allows it to "inspire people to live healthier lifestyles".
So what's in it for yoghurt brands when it comes to backing sport? And how can more names cash in on the summer of action?
Yoghurts and pot desserts didn't benefit from the same massive uplifts enjoyed by other categories during the pandemic. Nevertheless, it still grew to a healthy £2.86bn on the back of a 4.1% rise in volumes [Kantar], having "remained an essential fridge item" according to Kantar analyst Oliver Outen.
"Consumers are more concerned than ever before about immunity and gut health"
The long-running gut health trend was a notable driver of gains, as shoppers turned to it in the hope of bolstering their immune systems against Covid. Biotiful Dairy reports "unprecedented" demand for its kefir products, after a poll the brand ran in December found around 60% of consumers were "more concerned than ever before about their immunity and gut health".
Danone's Activia has also benefited from the gut health craze, seeing value rise by 11.4% to £147.4m [NielsenIQ 52 w/e 27 February 2021]. That follows its 'Love What's Inside' campaign in September and its part in the launch of a chilled 'gut health bay' in selected Sainsbury's stores (an initiative that also involved Biotiful).
That particular move "helped deliver the health message at fixture and build awareness of the benefits of supporting gut health" says Danone essential dairy & plant-based marketing director Sarah Dossett. It also drove a 6% uplift in value sales in Sainsbury's for such products, she adds.
Gut health isn't going to be star of the show for much longer, predicts Clair Prior, insights manager for food and drink consultancy Levercliff.
With lockdown restrictions easing and exercise now "top of consumers' minds", there is renewed interest in products with a wider health halo, she says. "In our survey in January of 1,000 UK adults, 31% felt Covid has acted as a catalyst for change."
This is filtering down to purchasing decisions, Prior adds, citing Levercliff analysis of NielsenIQ data [52 w/e 16 January 2021], which found branded yoghurts carrying a protein claim boosted sales by 8%.
And with soya and dairy-free the fastest growing yoghurt sector by value (up 20.7% to £87.3m) and active health growing by 11.2% to £98.2m [Kantar], Prior argues shoppers want "more positive health benefits from yoghurts".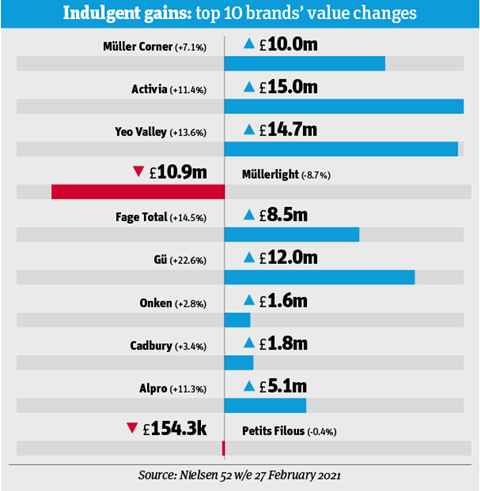 The UK's top 10 yoghurt and chilled dessert brands are worth an extra £57.7m between them, according to NielsenIQ's read of the market.
Eight of the top 10 brands have seen sales grow on the back of increased consumer demand during Covid-19.
The appeal of luxurious and indulgent lines has driven growth, notes NielsenIQ analytics client team leader Helen Porter. As such, Yeo Valley and Fage Total have benefited, as have brands outside the top 10 including Bonne Maman and Müller Bliss.
It's a mixed story for healthier options. Gut health-focused Activia has delivered the biggest absolute gain (£15m) in the top 10, but reduced calorie Müllerlight is down 8.7%, with promotions no longer delivering growth.
"Although health is a big trend at fmcg level, we are not necessarily seeing this replicated in the yoghurts and desserts category," says Porter.
Dairy-free yoghurt is becoming increasingly popular, with Alpro and Coconut Collaborative both in growth. Skyr and protein yoghurt variants remain a popular choice, with Müller moving into skyr and Yeo Valley adding protein-rich Super Thick Kerned.
Many yoghurt brands are tapping consumer preference for confectionery flavours, says Porter, pointing to the likes of Müller Corner Skyr Raspberry & Hazelnut Granola and Müller Light Crunch Toffee Cheesecake.
Olympic activity
Shoppers' renewed focus on health makes sponsoring Team GB "more relevant than ever" says Yoplait head of marketing Joanna Goodman. And while Yoplait's range of kid-friendly yoghurts can hardly be described as sports nutrition, she says they can still encourage healthier lifestyles.
The brand – which was sold back to French dairy co-op Sodiaal in March by US food giant General Mills – wants to "encourage families to be active as we leave lockdown and will be using Olympians in our marketing as role models for active lifestyles" she adds.
Yoplait's plan is to get the country moving via "the nation's biggest sports day" over the summer by organising an online mass-participation sports event.
"We will be using Olympians in our marketing as active lifestyle role models"
Goodman hopes the Olympics tie-in will propel Yoplait further in the children's market, where its Kids, Frubes and Wildlife ranges are up in value by 1.4%, 8.4% and 4.7% respectively [NielsenIQ 52 w/e 27 February 2021].
"We want to do more to promote the unique health benefits of kids' yoghurt, and the fact it's fortified with vitamins, is the right portion size and contains the right amount of calories," she says. "We've also done a huge job on sugar, by reducing it by 18% across the portfolio over the past five years," she says, adding the launch of no-added sugar variants over the past few years means Yoplait is "positioned well" when it comes to HFSS guidelines.
Sporting chance
Like Yoplait, Müller, which cut sugar in a reformulation of its core ranges in 2019, sees its long-running tie-up with British Athletics as a key marketing tool. "We don't focus entirely on health or indulgence. We know that shoppers want both to meet the needs of several eating occasions," says Müller Yogurt & Desserts head of category Carol Hand.
"But there are great opportunities to leverage our athletics partnership with the protein and sports nutrition trends."
Which is why the brand launched Müller Rice Protein and Müller Light Skyr last month. They both offer 14g of protein per serving, the brand's "highest ever".
"Yoghurt isn't all about gut health. We've also done a huge job on sugar"
And with such products being promoted by sprinter Dina Asher-Smith and heptathlete Katarina Johnson-Thompson, the brand is well placed to "inspire people to live happier and healthier lifestyles" claims Müller Yogurt & Desserts strategy & marketing director Michael Inpong.
In addition to TV ads and branding in and around athletics stadiums, Müller has also launched on-pack promotions "which help to inspire the next generation of athletics champions", Inpong says. "Over 20 schools, from Orkney to Sussex have secured brand new sports equipment, and visits from their athletics heroes as a result," he adds.
All of that helped market-leading yoghurt brand Müller Corner grow value sales last year by 7.1%, with volumes up 11.9% [Nielsen 52 w/e 27 February].
But the dairy giant concedes there is much more work to do to address the ongoing decline in sales seen by Müllerlight, which has now fallen back to become the category's fourth largest brand, behind Yeo Valley, after an 8.7% drop in sales over the past year.
Müller has "big plans" for the brand this year and it remains an "iconic product within a competitive category", Hand stresses, despite it losing more than £60m in value since 2017.
"This will include a major new marketing drive and various new limited edition launches. I'm confident that we will stabilise and grow the diet and low fat market," she adds, noting that some parts of the Müllerlight portfolio such as its Greek Style range have performed well compared to pre-lockdown levels."
So, big-hitters Yoplait and Müller are looking forward to capitalising on a summer of sport through their association with star athletes. Meanwhile, smaller brands are taking a different track.
Take The Collective, which had a partnership with Olympic triathletes Alistair and Jonny Brownlee from 2015 to 2019. But now the brand's messaging on health has shifted in response to retailer feedback, says UK general manager Sarah Smart. "They are asking us to cut through all the noise to focus on a [wider] health and sustainability message."
However, she stresses that "being active and healthy is still really important to us – particularly on our kids' range". So, with sport hotting up, The Collective intends to dial up that message by talking "about keeping active and how our brands can help with nutrition".
And with the brand's value having nudged up by 1.9% to hit the £40m mark [IRI 52 w/e 21 February 2021], Smart says it is in a strong position for further growth.
Its approach is mirrored by a host of others seeking to capitalise on health and activity. Fage Total, which has seen value climb 14.5% to £66.9m [NielsenIQ], says shoppers are now "more considerate of health and that the products they add to their basket have versatility".
The brand's marketing manager, Thomas Parker, explains: "What we see from insights are growing opportunities in segments that offer added value, in the form of nutritional benefits – eg high in protein, high in fibre."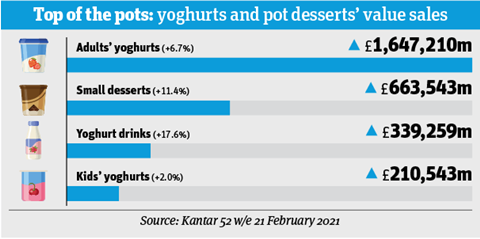 With 96.8% penetration of the UK's population, yoghurts and chilled pot desserts have remained an "essential fridge item for the majority of Brits during the pandemic" says Kantar analyst Oliver Outen.
The huge increase in at-home meal occasions drove the category's 8.6% value to £2.86bn – of which brands are responsible for £1.92bn.
Within adult yoghurt, which makes up the majority (57.6%) of the market, plain big pots, active health and dairy-free products were the biggest growth drivers, Outen says.
More brands have been taking new soya and dairy-free products to market, making it the fastest growing sub-sector at 20.7%. However, it makes up only 3.1% of the overall category.
Though a smaller segment of the category, yoghurt drinks delivered the greatest value growth, (17.6%), followed by small desserts (11.4%).
The fall in share of sales on promotion – down from 44.6% to 41.5% in the 52 weeks to 21 February 2021 – has been significant in driving price increases, Outen explains.
Prices increased in every sector apart from plain big pots, with the overall average price of the category up by 5.3%.
Adult yoghurt has seen average price increases of 3.8% overall. Within the sector, split-pot increased the most at 10.3%.
Nutritional benefits
Added benefits offer huge potential for yoghurt, agrees Lindahls marketing manager Paul Wiseman, citing a 76% value for the high-protein brand. "This growth has been driven by consumers looking for positive health solutions, rather than cutting out unhealthy foods altogether," he says. "This is a trend we expect to continue as consumers head back to the gyms."
Nomadic head of commercial marketing Tom Price takes a slightly different view. He sees shoppers eschewing single claims such as high protein, instead favouring products that offer a multitude of wider health benefits. "Fortification is a theme for future innovation in the market and we know consumers want gut health benefits, plus protein and vitamins that they're deficient in to support their immune system," he says.
"Growth has been driven by consumers looking for positive health solutions"
Whatever their take on better-for-you might be, it's clearly a focus yoghurt brands as shoppers are looking to get back into shape. And no wonder they are. "More indulgent products have seen success during this year as many shoppers have been tempted to divert their spend on out of home dining, leisure and travel to in-home indulgence," says NielsenIQ analytics client team leader Helen Porter.
That certainly explains why Gü Puds saw value boosted by 22.6% to £65.1m [NielsenIQ], making it the fastest riser in the category's top 10 in percentage terms. "While health continues to be an important factor, indulgent occasions increased over the last year," confirms marketing director Amy Heap.
All the more reason for Brits to move more. Let the games begin!
Innovations in yoghurts & pot desserts 2021


Kevin is The Grocer's fresh foods editor, overseeing our coverage related to the retail fresh foods sector, including dairy, meat, fish, poultry, fruit & veg and eggs, as well as the plant-based foods category.

He also assists in production of The Grocer's annual Dairymen supplement, while also writing about food commodities, sourcing, sustainability, politics and regulation; and has appeared as a commentator on both radio and TV on the state of the UK food industry.

Prior to joining The Grocer in 2014, Kevin wrote about retail financial services for a Financial Times business publication, and began his career as a journalist working for regional newspapers in Wales.

Follow Kevin on Twitter: @KevWhite77