Chicken takeaways are flying, thanks partly to a certain peri-peri chain. What does this say about British tastes during Covid-19?
Sunday evening. Around 7pm. The nation simultaneously settles itself in front of Strictly Come Dancing and resigns itself to another week of 2020. It's Nando's o'clock.
It's become something a ritual in Britain since lockdown hit. Early Sunday evenings have evolved into peak ordering time for the most popular Nando's takeaway dish, says the chain: chicken thighs smothered in mildly spicy Peri Peri sauce.
Kantar figures back up the popularity of a chicken dinner. A fifth of households have ordered one in the past year, up from 9.6% in 2019 [52 w/e 6 September 2020]. That makes chicken the takeaway winner, with a 10.4ppts gain, followed by burgers, up 10.1ppts.
So has Covid seen the nation ditch Chinese and Indian takeaways in favour of chicken and burgers, or is something else going on? And how is that influencing grocery sales?
It's not just Nando's, which doubled the number of outlets cooking up meals for Deliveroo to 360 in September, that's reshaped the home delivery market, of course. With most of the UK's pubs and restaurants shut from March to July – and most now shut again – operators have had to adapt.
Three thousand new restaurants signed up to Deliveroo in March alone, and the big fast food chains are doing a roaring trade on delivery as their outlets stand empty. McDonald's is now available via Uber Eats and Just Eat, while Burger King has teamed up with both services and Deliveroo, helping to explain the boom in home delivery burgers. KFC is also available on all three.
"Food delivery, especially familiar favourites, are a defence mechanism against the pandemic"
Our cravings for comfort in the midst of a crisis, coupled with the fact that we've been unable to get a fast food fix outside the home for most of 2020, have driven nearly half (46%) of UK households to order in meals for delivery in the past year, up from 30% in 2019.
And it's the classics that are winning. On top of the growth in chicken and burgers, the percentage of households ordering in fish & chips is up 8.5ppts. "Food delivery, especially familiar favourites, are a defence mechanism against the pandemic," says Alex Hayes, co-founder of food consultancy Harris + Hayes. "Takeaways are a 'food hug', comforting dishes when we need them most to make us feel cosseted and protected." At first glance, this love of a cheeky Nando's, McDonald's or fish & chips seems to have come at the expense of other cuisines. Take Chinese and other Far Eastern takeaways, such as Thai. Though still holding a slightly bigger value share than meat-centred dishes like Nando's or KFC, at 14.8%, Asian cuisines have seen a steep drop from the 19.5% they accounted for last year.
"I don't think it reflects a lack of experimentation, it's more a reaction to the restriction on movement we have all faced," agrees Stephen Barlow, CEO at Euro Food Brands. "Sit-down restaurants who haven't previously catered for the takeaway market, such as Nando's, have been able to capitalise on consumers' latent demand, utilising delivery services from the likes of Deliveroo and Uber Eats."
In other words, though British consumers have sought out comfort via familiar high street names like Nando's, that's more likely in addition to – rather than instead of – the likes of Italian, Chinese and Indian. Indeed, Indian has seen the fourth-greatest rise in penetration of the year (see below).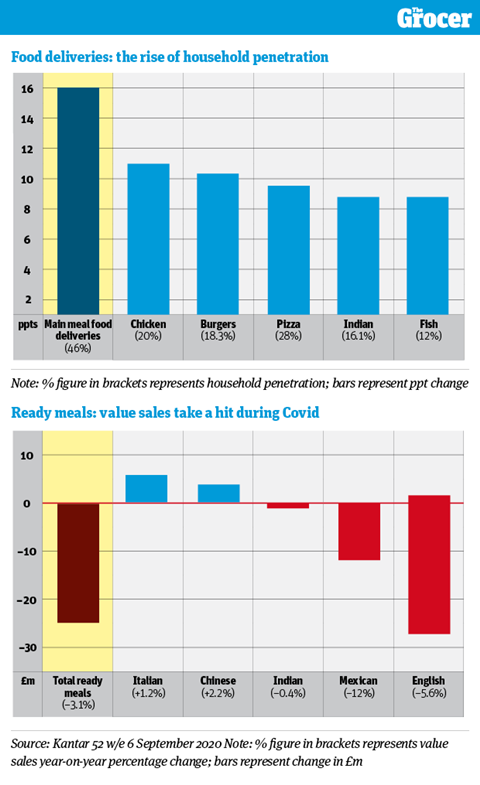 Cooped up consumers with more time to cook haven't been good news for ready meals. Overall sales in the year to 6 September fell by 3.1%. That's an acceleration on the 1% decline we reported this time a year ago. Only Chinese and Italian meals bucked the trend, up 2.2% and 1.2% respectively.
Brands fared better than own label with incremental growth of 2.2% despite losses in volume. That was partially thanks to a growing demand for premium lines, but also less focus on promotions.
"Price has then been the key driver of branded growth, with the average price of a branded ready meal rising from £2.88 to £3.09," says Kantar analyst Laura Gallacher.
Experimental
In fact, there's plenty of reason to think Brits are becoming more, not less, experimental in their approach to world foods – especially in the retail environment.
"Currently the in-home consumption market is 24% bigger than pre-lockdown, providing plenty of opportunities for people to broaden their horizons and try out new cuisines," says Liz Cooper, category development lead for Al Fez, which says sales of its Middle Eastern and North African-inspired range have doubled in the past six months. "Although consumers turned to familiarity at the peak of the pandemic, we still want to explore with brands that give us confidence."
Hayes backs that up. "Lockdown-enforced DIY cooking has made us more confident and ambitious cooks out of necessity," she says. "When suddenly forced to eat three meals a day at home, rather than running to the nearest Pret, we've had to get inventive. Consumers are generally cooking more and trying a wider variety of cuisines and ingredients as a result."
That's reflected in the 57% year-on-year rise in sales of world foods at the peak of the first outbreak of Covid-19, according to Nielsen. An inability to travel or eat at our favourite restaurant, coupled with empty hours to fill, led many to become more and more interested in cooking up international dishes at home.
"Consumers are generally cooking more and trying a wider variety of cuisines as a result"
"We've all had to cancel holidays, and so people are experiencing the world and the cultures they can't physically experience through food," says Ben Shortland-Brewer, category strategy manager at Old El Paso. "That's driven a massive increase into world foods grocery consumption."
A Waitrose report into lockdown eating habits, published in April, found 26% of UK consumers were cooking more unusual meals amid the pandemic, with searches on its website for cuisines such as Japanese and Thai all seeing a big increase. And though ready meals took a hit as a result it's led to a growing opportunity for international ingredients, meal kits, pastes and spices.
"We've seen shoppers adding more elements to their home-cooked meals to enhance the dining experience," says Andrey Sokirkin, brand director for cooking sauces and accompaniments at Premier Foods. That means more shoppers adding sides such as its Sharwood's Bombay Potato, Onion Bhaji and dips, he says, but also products that require a little more work, such as its Sharwood's Street Food meal kits. At Patak's too, sales of meal kits have grown 69% in the past 52 weeks, with Indian meal kits as a whole up 52% to £12m in the 52 weeks to September, according to data from Nielsen Homescan.
The most successful are reflecting our experiences and tastes in takeaways. See the rise of Nando's range of marinades and sauces, up 36.1% in value [Nielsen 52 w/e 5 September 2020]. Even for shoppers who would roll their eyes at the idea of simple cooking sauces, there is inspiration to be found in spice mixes, flavour pastes and condiments. Belazu says sales of its harissa pastes have grown 117% year on year, for example.
Shoppers are turning to these individual ingredients as they allow them not only to recreate their favourite restaurant dish, but to blur the geographical lines in their home kitchens too – a major trend in world foods.
"People are experiencing the world they can't physically experience through food"
"Where once Indian flavours were really only on the Indian fixture, the trend towards buying into a sauce, spice mix or marinade based on flavour profile, rather than a specific named dish, continues to grow," says Nitesh Shah, director of business development at Geeta's Foods. "Now, you might find people using an Indian spice mix to prepare chicken to serve in a tortilla."
Hayes sees this as a particularly interesting trend for grocery brands. "Consumers no longer just want generic 'curry powder' or 'spice mix', but they're looking for unique, credible, hard-to-find ingredients that really make a difference," she says. Brands have responded with innovation including Turkish chilli pastes and Indian chutneys transformed into condiment-style sauces ideally suited to these scratch cooks.
Added to this is a macro trend that has only intensified in recent months: health. "Consumers are becoming increasingly driven by health credentials," says Sokirkin. "This could either be seeking the absence or reduction of an ingredient they don't want, such as salt or sugar, or the enhanced level of something they do, like protein or iron."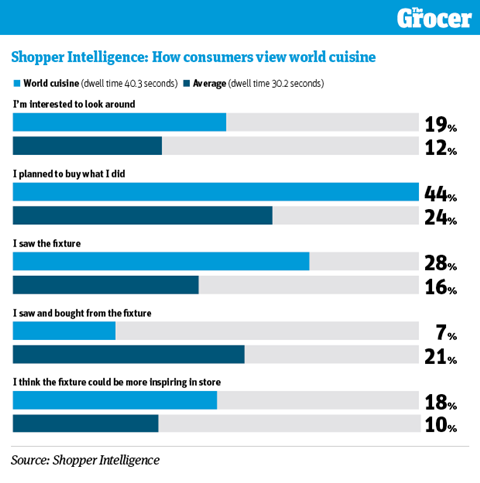 World cuisine is a category that garners more engagement from shoppers than most – 19% of its shoppers are 'interested to look around'.
Typically a meal solution category, shoppers are looking for ideas for dinner and a significant portion request 'more inspiration at the fixture' as the top priority for improvement.
Flavour is one way in which this inspiration could take shape. Forty-four per cent of world cuisine shoppers are specifically planning to buy a 'particular flavour' when they come to store versus only 24% for the average category. Signage and recipes based on this could help drive shoppers to a more premium purchase.
Immunity
Or, indeed, hunting out spice mixes linked to boosting immunity. In a poll of 2,000 UK adults by OnePoll in June, a third said they were newly mindful of their body's defence system, with ingredients like turmeric "going nuts" because of its perceived health benefits, according to Shortland-Brewer.
This preoccupation with health could well shape which world cuisines emerge as our new favourites in the next year too. "Cuisines that utilise superfoods, probiotics, broths and sauerkrauts as a common ingredient will likely gain popularity in the coming months and well into 2021, due to the overarching steer towards a health-focused diet," says Iain Burke-Hamilton, CEO and Founder of Soulful Foods. That'll bode well for the likes of Japanese and Korean cuisine, he believes. In its April report, Waitrose reported that sales of kimchi were up 43%. It could also pave the way for cuisines that combine adventure with health connotations, such as west African foods, he suggests.
"Consumers are becoming increasingly driven by health credentials"
Of course, with restaurants once again closed, there will also be interest in replicating established cuisines, suggests Scott Dixon, MD at The Flava People. "We're getting a lot of briefs focused around not moving away from them, but delving into regional varieties, such as the hot and fiery characteristics of Szechwan cooking," he says.
Ultimately, though, it's hard to forecast the next big thing in such a changing environment. "At the end of every year, lots of predictions come out from different people about what the next hot food trends are going to be," says Dixon. "But what no one could really predict for 2020 was how the entire food landscape was going to change."
Which is why sometimes it feels safer to simply turn on the TV, grab the duvet and tuck into a Nando's.
Innovations in world foods 2020