Convenience no longer means second best. Consumers are demanding quick products that taste as good as home-cooked
If there's one meal worth taking time over, it's the roast. According to AHDB, Brits will spend an average of 52 minutes chopping, seasoning and cooking to get the perfect meat, veg and gravy combo. For a nation that's addicted to microwave dinners - 72 million kilograms of ready meals were sold last year, according to Kantar - it's not bad going.

Still, it's a long way from the days when the whole of Sunday morning was spent meticulously prepping a hearty meal. As Aunt Bessie's head of marketing Sam Dolan puts it: "Nobody wants to spend three hours at a stove any more for the family to demolish it in an hour."

Instead, Dolan sees today's mantra as "medium effort, maximum reward". Essentially, Brits are willing to cook, as evidenced by a 6% rise in scratch cooking occasions [Kantar]. But if they can take a few shortcuts here and there - crucially, shortcuts that don't take away from the roast experience - all the better.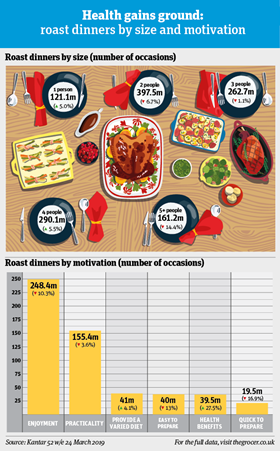 That's giving rise to a new generation of premium products. From duck fat roast potatoes to gastropub-style giant Yorkshire puddings, they promise all the convenience without the compromise. And that's presenting fresh opportunities for growth in the declining roast market.
The consumer mindset is key to this trend. Because roast dinners are still seen as something a little bit special. Yes, their frequency is steadily declining. Last year saw the number of occasions fall 2.9% to 1,232.6 million [Kantar 52 w/e 24 March 2019]. Still, the roast is the third most popular dish in Britain, ahead of national favourites such as soup, Indian and Chinese food. And half of consumers strongly considered a roast dinner one of their favourite meals in a poll of over 1,400 people by Streetbees.
Its enduring appeal is an emotional one. The notion of 'together time' drove 19% of occasions last year, according to Kantar data. Despite - or perhaps because of - the hectic nature of modern life, that is becoming increasingly important. Last year, there were 632 million more 'together time' occasions than there were in 2015.

McCain category controller Naomi Tinkler sees this as a crucial point. "That notion of getting together and connecting is important and there's a lot of nostalgia around the roast dinner," she says.

In that rare moment of together time, second best won't do. After all, enjoyment is the primary reason for a roast dinner, accounting for 82.4% of all occasions. So even if consumers take shortcuts, they still want to feel like they are pulling out all the stops.
"The notion of getting together is important - there's a lot of nostalgia around the roast"
Tinkler cites McCain's Gastro Roasts, cooked in goose fat, as one product that fits the bill. Marketed as a potato for 'extra special roasts', it's proving especially popular with younger consumers, she says.
Even the standard potato range has undergone an upgrade. "We made a massive step change when we basted rather than battered our roasts," Tinkler adds. "They taste more like homemade. You can now get a frozen roast potato that doesn't feel like a compromise."
Aunt Bessie's is also capitalising on the demand for posher roasties. Its 'exceptionally fluffy' duck fat roast potato range is proving particularly popular at special occasions such as Easter and Christmas.

That same idea of high-end convenience applies to its Yorkshire pudding offering. Dolan points to its Bake at Home Yorkshires, which rise in the oven, as the ultimate cheat.

"It's not scratch cooking, but it feels more like it. Some consumers even crimp the edges of the tin foil case so they look like they've made them from scratch."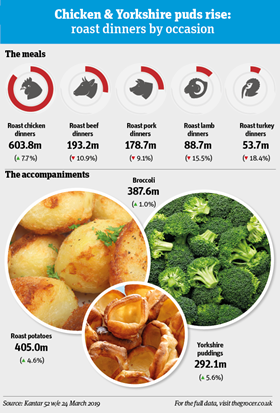 The proposition has proven popular enough for Aunt Bessie's to extend the range with a larger bake-at-home version. A "square, Gastropub-style" Yorkshire pud will launch in the near future to deliver a more "show-stopping roast".
In this case, there is no price difference between the Bake at Home Yorkshires and the standard range. For many of these no-compromise products, though, there is a premium attached. The Aunt Bessie's duck fat roast potatoes come at £2.80 for 700g at Tesco, while its standard roasties are available at just £2.10 for 800g. It's the same story for McCain's Gastro Roasts, which retail at £3 for 700g - that's 85p more than an 800g bag of its standard line.

That may not prove a deterrent, given that consumers are generally more willing to splash out on a roast. According to Kantar, shoppers will spend an average of 90p more per serving on a roast dinner compared with an evening meal.

Premier Foods believes people will pay more for a genuine benefit. "Consumers are prepared to pay more for a product that's worth it and offers ease and convenience," says category marketing director Helen Touchais. That's backed up by the popularity of its higher-priced Bisto Best range, which has seen an 8.7% uplift in value sales.

The latest innovation from the Bisto brand - its microwave-ready gravy - also comes at a price premium of £2.49 for four pots. It's aimed at consumers who will fork out for that "greater convenience". Plus, there is a 25% less salt variant to cater for the health-conscious crowd.
Health benefits
That touches on another area of importance in the roast dinner market: health. It was a motivating factor behind 13.1% of roast dinners in the past year. That's up from just 9.4% the previous year.

So consumers aren't just willing to pay a premium for taste - they will splash out on convenient products that deliver on health, too. That insight lies at the core of frozen plant-based brand Strong Roots.

CEO and founder Samuel Dennigan stresses that "taste is the main criterion" for all food. The key is combining that taste with some virtuous credentials.

"Consumers are not only looking for products with negligible quantities of sugar and salt, they're looking for fortified products to ensure they get the nutrients they need," he explains. "They want brands to deliver across all of their nutritional requirements while maintaining a clean ingredient deck."
"Consumers want brands to deliver across all of their nutritional requirements"
Fulfilling that need helped Strong Roots quadruple sales of its vegetable fries and wedges last year [Nielsen 52 w/e 8 September 2018]. That's despite prices being on the higher end of the spectrum - a 500g bag of its sweet potato fries is £3 in Tesco.
Quorn is another brand capitalising on this mix of health and convenience. The brand says sales of its chicken-style roast are up 8%, while the beef-style roast is up a whopping 18.5%.

That's partly down to the plant-based boom. But the high protein and fibre credentials touted on pack can't have hurt, either. "People are increasingly wanting to eat healthily and the roast is no different - especially because it's a family meal," says Quorn marketing director Alex Glen.

Essentially, consumers want all the health, taste and tradition of the old-style roast dinner, but without the hours slaving in the kitchen. And if you can get prep time under 52 minutes, all the better. Brits don't ask for much, do they


Emma Weinbren is group features editor at The Grocer. She commissions, writes and edits category reports, digital features and trends pieces.

Emma won the PPA New Talent Award for New Section Editor of the Year in 2016. Prior to joining The Grocer in 2016, Emma was deputy and features editor at Chemist+Druggist, a weekly magazine and website for UK pharmacists.

Follow Emma on Twitter: @EmmaWeinbren