Millions of readers now get their news online, leaving printed papers in decline. How are retailers coping with the change?
It's hard to imagine life without the internet. A time before checking emails became a national compulsion. A time before shopping was an on-screen pursuit. Or before up-to-the-minute news was readily accessible on your smartphone.

For news junkies, it's been a godsend. For the local corner shop, less so. Newspapers were, for a long time, a major footfall driver, alongside teabags and milk. Now, shoppers need not venture outside their homes to find out the latest in current affairs.

The future of the newspaper has inspired many a passionate debate. But there is another angle to this dilemma: the impact on corner shops and supermarkets. And whether they can do anything to stem the downturn.

There's no getting away from it: newspapers are in decline. The circulation of Sunday and daily titles has more than halved over the past decade.

Still, it's important to put that into perspective. The Federation of Independent Retailers (NFRN) says the newstrade category is worth £1.8bn a year. That dwarfs take-home sales of staples such as crisps, worth around £950m, and bottled water, worth just over £550m [Kantar]. So NFRN's head of communications Anne Bingham can legitimately describe newstrade as a "hugely important sector".
"The Sun in print remains the fastest-moving consumer brand in the UK"
News UK is also keen to hammer home the "incredible scale" of the news business compared to many other staples. "The Sun in print has 8.3 million readers a week, and remains the fastest moving consumer brand in the UK, selling 15 copies a second, outselling brands like Coke, Mars and Walkers," says News UK retail director Neil Spencer.

So popping into your local store to pick up a paper is far from a relic of the past. In fact, Bingham says newspapers remain one of the "top three reasons for visiting a store". And, she adds, home news delivery is the "backbone" of many a newsagent business.

News UK is also keen to stress that news brands remain a "great frequency driver". According to its figures, newspaper shoppers visit c-stores 17% more often than non-newspaper shoppers. Of these more regular consumers, 34% say the main reason for a visit to a retailer is to purchase a newspaper. A whopping 83% of newspaper shoppers would walk away if a shop didn't stock their favourite title, and 75% of them buy at least one other item when in store.

News brands also bring in more valuable customers, adds News UK's Spencer. "On average they spend 10% more in grocery and 4% more in convenience than non-newspaper shoppers."

Of course, he has an interest in extolling the virtues of papers. But those on the retailer end are also reporting strong returns. Alan Sinclair, Spar UK newspaper and magazine category manager, says newstrade "still remains buoyant".

He admits to the challenges of declining volumes and threat of reduction to magazine space. So amid this pressure, it's important to stock and promote the titles that sell.

Some areas of newstrade have been harder hit than others by the general decline in circulation. The demise of the lads' mag, for example, has been well documented. On the other end of the scale, titles that trade on premium credentials are faring well.
"On average newspaper shoppers spend 10% more in grocery and 4% more in convenience"
Katy Young, consumer behavioural analyst at Canvas8, says that's because they offer something that sets them apart from the sea of online news. And that's trust. "The frenzy over fake news and misinformation over the past couple of years has seen people increasingly look more to trusted sources," she says. "Legacy brands including The Guardian, Private Eye, The Economist and The Financial Times have all seen an uptick in sales or ­subscriptions as people have looked for alternatives to the digital sources they've lost faith in."
Crucially, some of these titles are taking advantage of new technology to boost print sales. Take The Economist, which is targeting millennials with the use of Snapchat and Instagram, alongside digital advertising targeted to their interests. In 2018, the title reported it had quadrupled its subscription profits in four years.
Download the full data at the bottom of this report

TV guides are another area that's bucking the downward trend, says Young. "Radio Times and the like are proving irreplaceable. Three of the four top cumulative circulations of 2018 were TV guides according to ABC, with people opting for the paper companions to help them avoid digital overload."

These are the established players. The clickbait nature of online news has also created new print ventures. Eleanor O'Leary, founder of branding agency Better Brand Consultant, points to the growth of Positive News, a magazine that focuses on what's going right in the world. Last year it doubled print circulation and delivered a 61% increase in turnover. O'Leary says the key point is offering something different to online. "We know we can get 'fast news' from online channels, so we actually choose print for the moments when we want to unwind and enjoy longer-form storytelling."

That idea of slower news is something the PPA - the UK's magazine media association - is promoting with the second phase of its Press Pause campaign. As the name suggests, this cross-industry campaign is encouraging consumers to "leverage the increasing importance of mindfulness and the role of magazines in offering a break from the pressures of life". All of which hopes to "market magazines as a whole to consumers and increase retail sales".
The right merchandising
It's not just the industry bodies looking to rejuvenate the category. Retailers are also looking to do their bit - and that's largely through effective merchandising.

There are general category management schemes such as NFRN's Newspro, designed to help independent retailers emulate the expertise of supermarket merchandising. According to NFRN, participating retailers save £500 and outperform the independent channel by 7%.

Then there are the more innovative ­solutions. News UK, for example, has worked with supermarkets on partnerships such as the MyWaitrose scheme, the Morrisons Café offer and designing new front-of-store display solutions for Tesco, Lidl and Asda. It says these programmes have "helped them outperform the newspaper market". For independents, it has created Deliver my Newspaper: a centralised database of newsagents that allows customers to quickly and easily arrange for their paper to be delivered by a local provider.

The amount of activity suggests the industry still has faith in this £1.8bn market. That faith is shared by many experts in the field. "Millions of readers still enjoy the physicality of the printed newspaper," Reach CEO Simon Fox told the Stationers' Annual Lecture in March. "There is nothing like browsing through a paper and coming across a stunning photo, a witty political observation, an insightful opinion piece or a moving human interest story. There is something deeply satisfying about finishing a newspaper in a way that you can never achieve online."

Crucially, those newspaper readers might just be satisfying their cravings by picking up a bag of crisps at the same time.
Newsagents call for improved supply chain service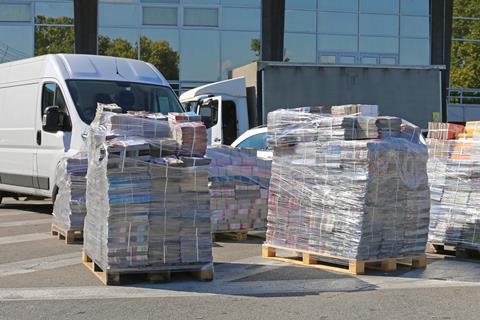 No one likes the paper arriving late, especially newsagents. Yet for years the newstrade has been dogged by supply chain issues retailers believe are caused by a lack of competition among wholesalers.
Those issues caused the NFRN to join forces with the Multiple Newsagents Association in 2000. Together, they immediately threatened legal action against the big three wholesale companies – WH Smith, Menzies and Surridge Dawson – that controlled 80% of the distribution business.
However, nothing came of the action and that lack of options for newsagents remains an issue today. The NFRN says Smiths News has a 55% share of the market and Menzies Distribution has 45%.
Last year the NFRN demanded the CMA investigate the situation, with newsagents reporting problems including late deliveries, short supplies, missing supplements and damaged stock. The NFRN said because news wholesalers "enjoy absolute territorial protection they have little incentive to provide an adequate service to retailers who have no opportunity to switch suppliers."
The NFRN has also vocally opposed the rising 'carriage charges' imposed by wholesalers under its 'Enough's Enough' campaign.
But in February, the CMA delivered a blow to NFRN members when it announced it wouldn't pursue any investigation.
At the time, NFRN national president Mike Mitchelson said: "While admittedly this was a little disappointing, what was clear from the CMA's response was that it has studied the grievances that were raised in our submission surrounding the many inequalities in newstrade, and it obviously shares our concerns around the continued use of absolute territorial protection contracts and the detrimental effect that this is having on retailers.
"The CMA has promised to take publishers to task over their failure to self-govern correctly and they will be warned that unless they mend their ways, they run the risk of a market investigation referral."
A spokesman for Menzies said it "seeks to support our customer base in any way we can, striving to be the partner of choice for our customers". Smiths News did not respond to The Grocer's request for comment.